At the end of summer, the Mallorcan air fills with the sticky smell of mashed grapes and the sounds of the bodegas' vat pumps. Then the yeast do their work and by the last days of November, the season's first wine, or the vi novell is ready to drink. Santa Maria celebrates this with one of my favorite festivals of the entire year: La Festa del Vi Novell.
2023's festival is on Saturday, November 25th. Filled with poetry, tapas and live music, not to mention wine from Santa Maria's bodegas, it's an exciting and tasty addition to Mallorca's holiday season.

Traditions of the Vi Novell
Brot de Pi
Traditionally, Santa Marian bodegas announce that their first wine of the season is ready by hanging the branch of a pine tree, known as a brot de pi, outside their front doors. This was once a common practice throughout the northwestern Mediterranean winecountry (Catalonia, Valencia, Côte d'Azur, Balearic Islands, etc.), but now Santa Maria is the only town in the world that still practices it.
As a result, it involves considerable ceremony these days with the participating bodegas riding on tractors accompanied by the Santa Maria giants to Son Llaüt where they gather the branches. They then bring them back to Plaça Nova where they celebrate with wine and food.
Caparots
An interesting and frankly surprising sight for anyone not expecting them, the caparots are typical Mallorcan characters with giant heads derived from traditional Mallorcan legends. Most Mallorcan towns have their local caparots that often travel to other towns for festivals, especially Sant Antoni in January.
They also make an appearance for the Festa del Vi Novell, usually earlier in the evening. You'll see them around Plaça Nova and in some of the bodegas.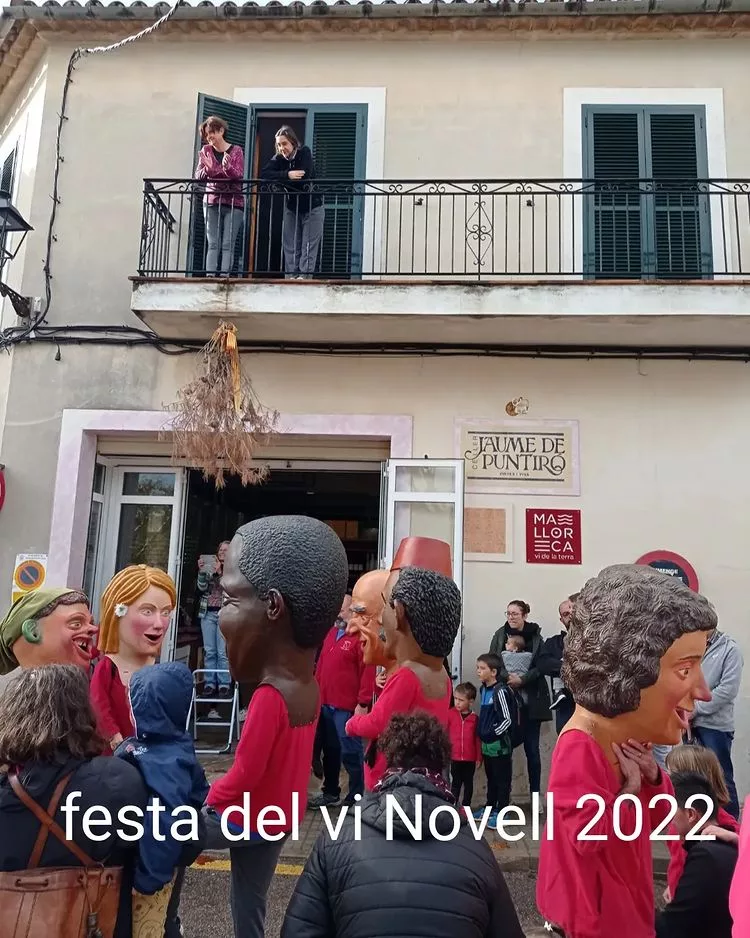 Portes Obertes
During the days surrounding the Festa del Vi Novell and especially on the day itself, most of the bodegas in Santa Maria open their doors to allow people to come in and tour the facilities and meet the staff.
Young Wine
In addition to being the only place still practicing the brot de pi tradition, Santa maria is still the only town in the world whose bodegas collectively wait to start selling the first wine of the season until the festival. In fact, though many of the bodegas have batches ready prior to the festival that they've provided to their distributors, they prohibit those distributors from selling the wine until the official date. In other words, the Festa de Vi Novell is the first place you can get the year's young wine from Santa Maria.
2023 Festa del Vi Novell Schedule of Events
Santa Maria's Festa del Vi Novell takes place on Saturday, November 25th, primarily in Plaça Nova in Santa Maria del Camí. There are events from morning till night with food, wine and music after 7 pm.
Important Events
Saturday, November 18th
 12pm: Penjada del Brot de Pi (hanging of the pine branches) – Plaça Nova
Friday, November 24th
 8pm: Brots de Pi Ceremony – Ses Cases des Mestres
Saturday, October 25th
 10am-1pm: Winery open houses
 6pm: Wine fair

See the full schedule.
2023 Festa del Vi Novell Full Schedule
Participating Wineries
In addition to selling wine at the fair for 2€ a glass, the participating bodegas will open their doors to guests on the morning before the fair in the following schedule:
Participating Restaurants
Sixteen different bars, restaurants and other providers will offer tapas for 2€ during the fair.
| Restaurant | Tapa |
| --- | --- |
| Ca'n Beia | Solomillo (steak) |
| Bar sa Plaça | Frit |
| Bojos per la Cuina | Croquetes |
| Ca'n Barry | Frit |
| Ca'n Pulit | Croquetes |
| Deli Santa Maria | Falafels |
| Pizzeria Fellini | Pizza |
| Pastisseria es Convent | Ensaïmada |
| Sahara | Kebab |
| Dolçament Gelats | Creppes |
| Ruycal | Frit |
| Es Racó de na Fanny | Pica Pica |
| Oli de Mallorca | Oil tastings |
| Padel Box Bar | Mini hamburgers |
| Dit i Fet | Mini hamburgers |
| S'Hort d'en Guillem | Calçots |
Live Music
There will be live music during the fair provided by several bands:
Pitxorines
Amulet
Negre
Reggae Ton Pare
DJ Conejo Manso
How to Get to Santa Maria
Santa Maria is on the train line and easily accessible with all three T trains. From the station, head straight south to reach Plaça Nova.
Additionally, Santa Maria is on Ma-13 and therefore easily accessible from Palma by car. There is a large community parking lot near the highway exit, from where you can easily walk a few minutes to Plaça Nova located downtown.