Every year, Activa't Inca Asociació Empresarial in cooperation with the Inca municipal government hosts a Nit del Vi (Night of Wine) in which patrons can pay a set entrance fee to visit and taste the wine from local bodegas and vineyards. Visitors also receive discount vouchers and are encouraged to use them to purchase bottles of wine. The fair is a great way to talk to local bodega owners and learn more about Mallorcan wine culture. Plus, the event usually includes music, food and other attractions.
In 2022, the sixth La Nit del Vi takes place on October 22 and features over 20 local bodegas and vineyards and over 100 wines. Admission is €15 online or €20 at the door.
Dates, Times and Location
La Nit del Vi in 2022 takes place on Saturday, October 22. It starts at 6:30 PM and goes until 10:30 PM.
The fair is located in a large plaza in Inca known as El Quartel General Luque, which is to the southwest of downtown next to the famous Museu del Calçat.
Admission
If you buy tickets online ahead of time, they come at the reduced price of €15. Tickets at the door are €20. Regardless, admission includes the following:
A commemorative wine glass
Wine tasting
Voucher for €5 discount on wine
Admission to the concert (Els 3 Jaumes)
Bodegas and Wines
La Nit del Vi features 21 bodegas serving and selling 100 different types of wine. These bodegas are:
Bodega Nacra
Son Bordils
Oloron
7103 Petit Celler
Ca Sa Padrina
Vida Serra
Blanca Terra
Ava Vins
Es Verger
Butxet
Vinya Taujana
Sebastià Pastor
Karretania
Sa Cabana
Bodega Santa Caterina
Castell Miquel
Can Gelat
Son Alegre Vi Ecològic
Vins Ripoll
Sangria Rita
Jaume de Puntiró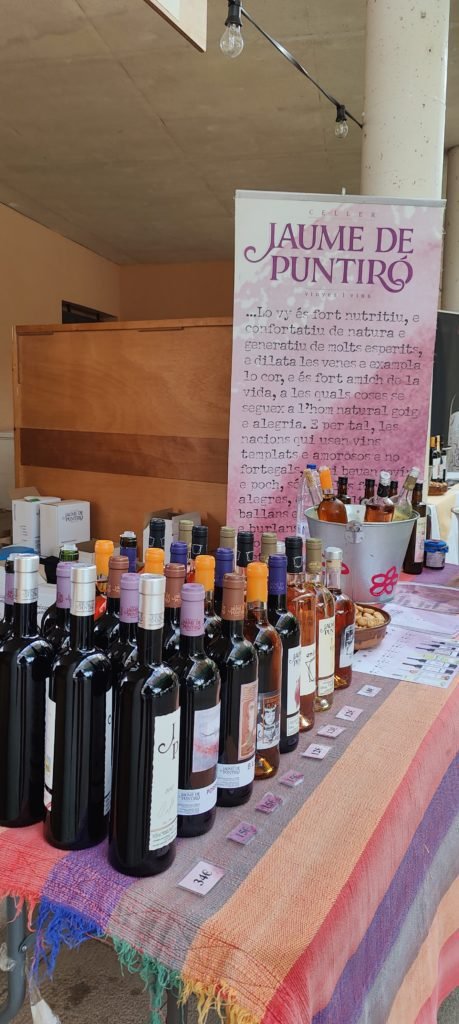 I will be working the Jaume de Puntiró table serving several of our bodega's wines, including:
Blanc
Rosat
Carmesí
Buc
Porprat
Orange
My favorite is the Buc, a red wine made with Mallorca's famous grape Manto Negro among others. If you're adventurous, I also recommend trying the orange wine, which is a white wine made from the Giró Ros grape but fermented like a red wine with the peal still on the grape, which is what gives it its unique body and orange color.
Other Attractions
La Nit de Vi 2022 also includes a concert by Els 3 Jaumes (Jaume Anglada, Jaume Mas and Jaume Perpinyà).
The organization Mater will sell tapas as well.