The GR221 Dry Stone Route is the longest and most iconic hiking trail in Mallorca, covering 170 km across the Serra de Tramuntana mountain range from the Port of Pollença down to Andratx. Along the way, hikers have the chance to see the length of the island through varying terrains and elevations, with some spectacular scenery in between like ancient dry stone structures, almond, olive, and citrus trees, mountain villages, pine forests, terraced fields, and breathtaking sea views, all while staying at convenient Mallorca hiker hostels.
This signposted trail takes an average of 7-10 days to complete, but don't let the lengthy timespan intimidate you. The GR221 is divided into eight stages with refugis, also referred to as "hiker hostels," found in almost every section that act as a haven for weary thru-hikers. These refugis have been converted and repurposed from old buildings by the Consell de Mallorca, effectively breaking up the trail into manageable parts while retaining the local history and architecture.
Staying in these hostels is unique experience in itself; not only do they help hikers recharge, they also provide cultural and social enrichment. Through these common spaces, you can connect with other hikers from around the world while also learning about the land you're walking through.
I decided to solo hike the GR221 in February and stayed in almost every refugi along the way. Here is everything you need to know about these hiker hostels along with some background on each one's distinct personality.
Costs Breakdown
For all the government refugis, one bed in a dorm costs 14 euros, with add-ons available like bed linens for 2 euros, breakfast for 5.50 euros, lunch, which can either be eaten at the hostel for 13 euros or packed as a to-go "picnic" for 8 euros, and dinner for 9.50 euros. You can select each of these options when making your reservation online.
During all my stays I chose to purchase every meal, knowing I needed to fuel up before setting out each morning and that I would be hungry after a long day of hiking once I arrived at my next hostel. They were worth the investment because I didn't have to worry about carrying enough food with me in my backpack. Plus, eating family-style meals was a great way to meet new people every morning and evening. Overall, staying in the refugis, even with the extra meal expenses, was an affordable and enjoyable way to make this trek.
For areas where there isn't an official government refugi or in case the refugi is sold out, alternative private accommodation suggestions have been included below.
Refugis From North to South
The Mallorca hiker hostels are listed from north to south because I chose to start in Pollença, but many people start from Andratx and work their way up the island. It is common to encounter hikers going both ways, so there is no right or wrong way to embark on your journey. If you want to start in the south, simply work backwards from this guide.
Refugi de Pont Romà (Pollença)
Refugi Pont Roma used to be the municipal abattoir, or slaughterhouse, built in 1908. The refugi has 42 beds total with 5 different dorm options: two 8-bed dorms, one 12-bed dorm, one 6-bed dorm, and one 4-bed dorm. There is also a small common area with a fireplace constantly crackling, a shelf full of books and board games, and a large outdoor picnic area where you can unwind when the weather is nice.
Situated in the town of Pollença near the Torrent de Sant Jordi, its central location makes it an excellent starting point for sightseeing in the old part of town before setting of for the day or after you check in. Nearby, you can walk across the Roman bridge Pont Roma, which gives the refuge its name, and walk up the 365 steps to the hill of Calvari, which takes you up to an 18th century chapel.
Refugi Son Amer (Lluc)
Son Amer is located in the municipality of Escorca in north-west Mallorca. Sitting on the top of a hill and surrounded by a number of notable mountain peaks such as the Puig de Massanella, Son Amer provides a great vantage point to take in the entire Lluc valley below.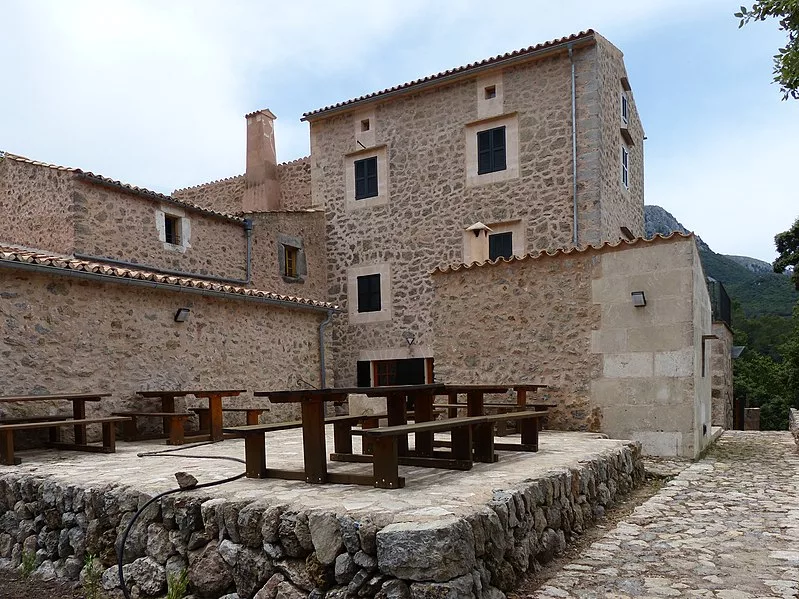 There are 52 beds total, making this one of the biggest hostels on this list. There are 6 dorms: one 24-bed room, one 8-bed room, two 6-bed rooms and two 4-bed rooms. There is plenty of space to unwind once you arrive, with multiple common areas to relax in. Outside on the expansive patio, hikers can enjoy a lovely picnic or a cold beverage overlooking the beautiful countryside. While the views are enough to keep any visitor entranced, make sure to head down into the centre of Lluc to explore the monastery grounds and the nearby attractions.
The refugi is a convenient starting or finishing point for many hikes in the area besides the GR221, such as the Old Path to Lluc, which connects to the GR222, Puig Tomir, Puig d'en Galileu, the Old Path to Pollença, and many other trails that pass through the area, making it an ideal place to stay if you want to stay in one place and tackle a few different day hikes instead of committing to a multi-day trek like the GR221.
Refugi Tossals Verds (Escorca)
After hiking about five hours southwest from Son Amer, I arrived at my third refugi, Tossals Verds, which turned out to be my favorite hostel over the entire route. Tucked in between some of the highest mountain peaks of the Serra de Tramuntana and far removed from any signs of civilization, Tossals Verds can only be described as idyllic.
Staying here was so special knowing it can only be accessed by foot and the two routes to get there, depending on which direction you are heading, are both lengthy and challenging. Just reaching the front door is an accomplishment in itself.
There are 42 beds total with 7 dorm rooms: 12-bed room, a 10-bed room, a 6-bed room, three 4-bed rooms and one 2-bed room (Note: The double bedroom can only be booked by sending an email to xarxaderefugis@conselldemallorca.net). Outside the building, hikers can explore a small garden, wonder at stone pieces that used to be part of an olive press, and marvel at the mountains looming over on all sides. Or you can relax, sit by the fire, and enjoy a beer like me.
Refugi Muleta (Port de Sóller)
Muleta occupies a former army telegraph station building, which was in use between 1912 and 1956. Muleta is smaller than the other refugis. Instead of offering separate dorm rooms, everyone sleeps all together in one large dorm room upstairs with 30 beds. This might seem problematic for some, but I personally didn't have any issues falling asleep at night due to noise or other disturbances with this setup.
The downstairs area is the only indoor common space, but its elevated location near the Cap Gros lighthouse offers some stunning views of the port promenade, the Mediterranean Sea, the cliffs along the north coast and the mountains that border the valley.
For more accomodation options in the area, be sure to check our Complete Port de Sóller Travel Guide.
Refugi Can Boi (Deia)
Largely considered one of the prettiest and most picturesque villages on the island, Deia was awarded UNESCO World Heritage Site status for the way art, history, nature and culture seamlessly merge in its streets. Staying in Can Boi, which was converted from an old residential house, allows hikers to fully experience this remarkable town.
Can Boi is located in the Clot quarter. From here, hikers have an excellent view of Es Teix mountain, one of the highest peaks of the Serra de Tramuntana, and the terracing on Sa Costa. Inside the refugi there is an old olive mill that used to be functional. Can Boi sleeps 32 people with 4 dorms: one 18-bed room, one 6-bed room and two 4-bed rooms.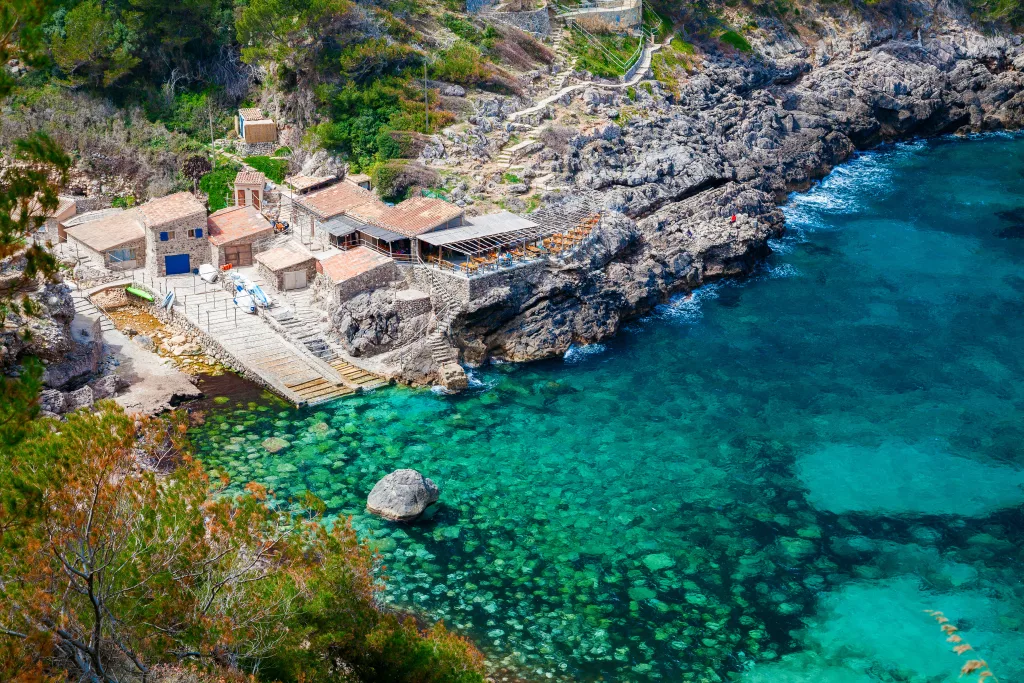 Before heading out to continue your hike, make sure to stop and enjoy all that Deia has to offer like the local boutiques, restaurants, and galleries in the village as well as Cala Deia, a small rocky cove with crystal clear water perfect for a refreshing dip after a long day on the trail.
Refugi de Galatzo (Calvià)
This refugi was under construction for three years and only reopened to the public in December 2022. Now, hikers who stay here will be treated to all new interiors and facilities while still soaking in the classic, rustic charm of the original construction. Galazto sleeps 50 people in 10 dorm rooms: seven with 4 beds, one with 6 beds and two with 8 beds.
The Estate of Galatzo on which the refugi is located is rich with historical value. For centuries, this mountain-possessió has been an integral part of traditional agriculture and cattle-raising practices, showcasing a snapshot of the island's rural heritage. Visitors can walk along the grounds and see a renovated oil mill, charcoal and lime kilns, and traditional casetas de red, or peasant sheds.
There are many myths and legends surrounding the Galatzó Estate too, such as the story of the Conde Mal, also known as the "Evil Count," who is supposedly still haunting the grounds by riding his horse around the farm.
Finca Ses Fontanelles (Andratx)
In the past, the first (or last if moving north to south like me) stage of the GR221, Andratx to Estellencs, had no overnight accommodation options or Mallorca hiker hostels, which prevented many hikers from walking the trail in its entirety until Ses Fontanelles opened in 2016. This private accommodation site is located right in the middle of the two cities this stage of the trail connects.
For long-distance hikers, there is one dorm room with 6 bunk beds. The availability here is notably smaller than the other hostels. It is also important to note that there are no stores or restaurants nearby and no kitchen or cooking facilities on site, so hikers should plan ahead and pack enough ready-made food to make it from Estellencs to Andratx, or vice versa.
To stay here, it costs 24 euros per person with an additional 1 euro tourist tax. Even though this isn't a part of the offcial government refugi network, it is worth staying here if you want to complete the GR221 in its entirety without commuting back and forth from the trail to Palma.