The second annual Raïm Fest is gearing up for this Saturday, April 22, in Deia to celebrate Mallorcan wine. In addition to eight bodegas providing glasses of wine for €2, there will be food trucks and live music. The festival starts at 1 pm but goes all evening.
Since it's a Saturday, I recommend heading to Deià early and spending the morning and afternoon at Cala Deià below the town before coming up for a drink in the evening.
Raïm Wine Festival 2023 in Deià
Organised by
Vi de la Terra de Mallorca
Participating Wineries
Musicians
Dj Chitowsky
Monkey Doo
Los del ficus
Entrance Fee
Free
Wine Glass Price
2 euros (1 euro for crystal glass)
Date
22 April 2023
Location
How to Get to Deià
By Bus: You can easily get to Deià with TIB bus 203 from Plaza España bound for Port de Sóller. The timetable varies based on time of day but runs regularly. The trip takes about 50 minutes.
By Car: Deià is about 40 minutes from Palma, located between Sóller and Valldemossa on Ma-10, the beautiful coastal highway. The best way is to simply head north on the Ma-1110, the Carreterra de Valldemossa, until to get to Valldemossa. Pass through the town and continue onto Ma-10 until you reach Deià after 15 minutes or so.
Parking in Deià can be tricky with only a small paid lot in the town and some limited parking along the highway outside the town. Coming in on Ma-10, there is a dirt lot a considerable distance walking from the city center, but it can be worth it to enjoy the beautiful views.
Getting to Cala Deià
Getting to Cala Deià is tricky. If you're driving, continue about half a mile past Deià until you reach Carrer Francisco Mas. You'll see two bus stops on either side of the highway and a small parking lot to your right. To get to the Cala, turn left and head down the many switchbacks that lead to you to paid lot for the cala. If you're lucky, you may even find a few empty free spaces on the side of the road before the lot.
During the summer, this parking lot is inevitably full if don't arrive early in the morning. In this case, they close off the road leading down to it.
This time of year, the parking lot may not fill up as fast, but if it does, you'll have to walk down to the cove. You can park in town or at the lot on the other side of the highway. It's then a 30-minute walk down to the water.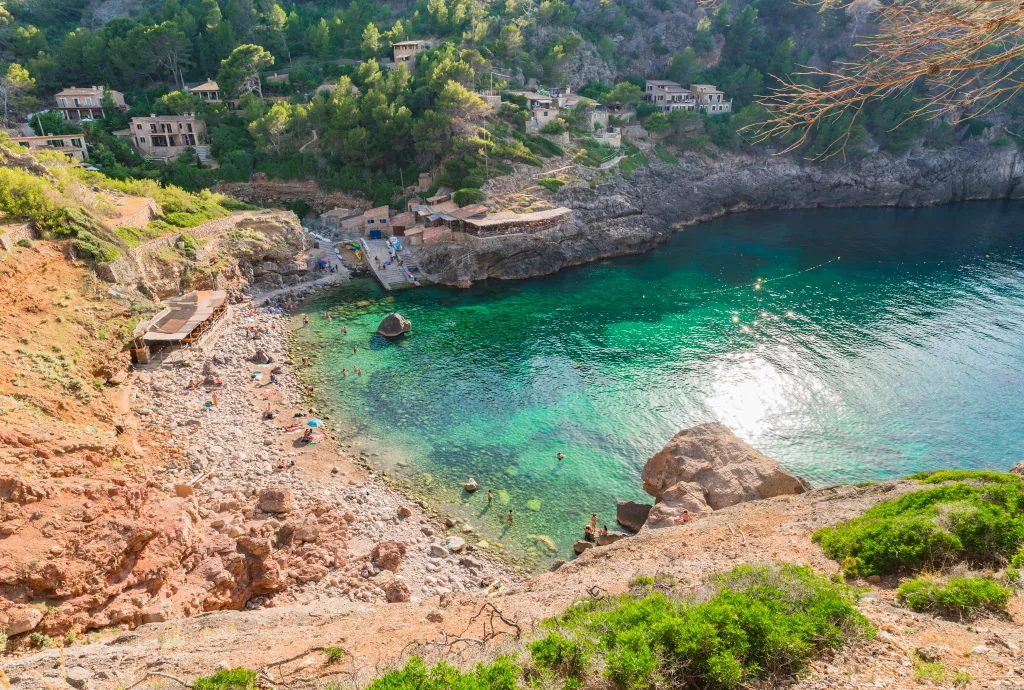 Photo
95798901
©
Fotoandvideo
|
Dreamstime.com
Check out Cala Deià before refreshing yourself at Raïm Fest!
Last-Minute Hotel Deals in Deià