Celebrated on the night of June 23rd, La Nit de Foc in Mallorca rings in la Festa de Sant Joan (San Juan in Spanish) or Saint John the Baptist on June 24th. Of course, it also coincides with the summer solstice and the longest night of the year, making it the perfect time for dressing up like a demon and participating in a correfoc.
Sant Joan is a can't-miss Mallorcan tradition, so read on to learn how, when and where to celebrate.
The Origins of Sant Joan
The Feast of Saint John celebrates the birth of John the Baptist, the cousin of Jesus Christ who was responsible for baptizing him in the Biblical account. It's often claimed that the Catholic Church placed the Feast of Saint John near the summer solstice to Christianize pagan traditions, but historians have determined this is unlikely since the summer solstice was actually celebrated much earlier in the past due to innacuracies in the calendar. Nevertheless, Sant Joan and Midsummer have always been deeply connected in Europe, and it's a popular celebration throughout the Catholic world.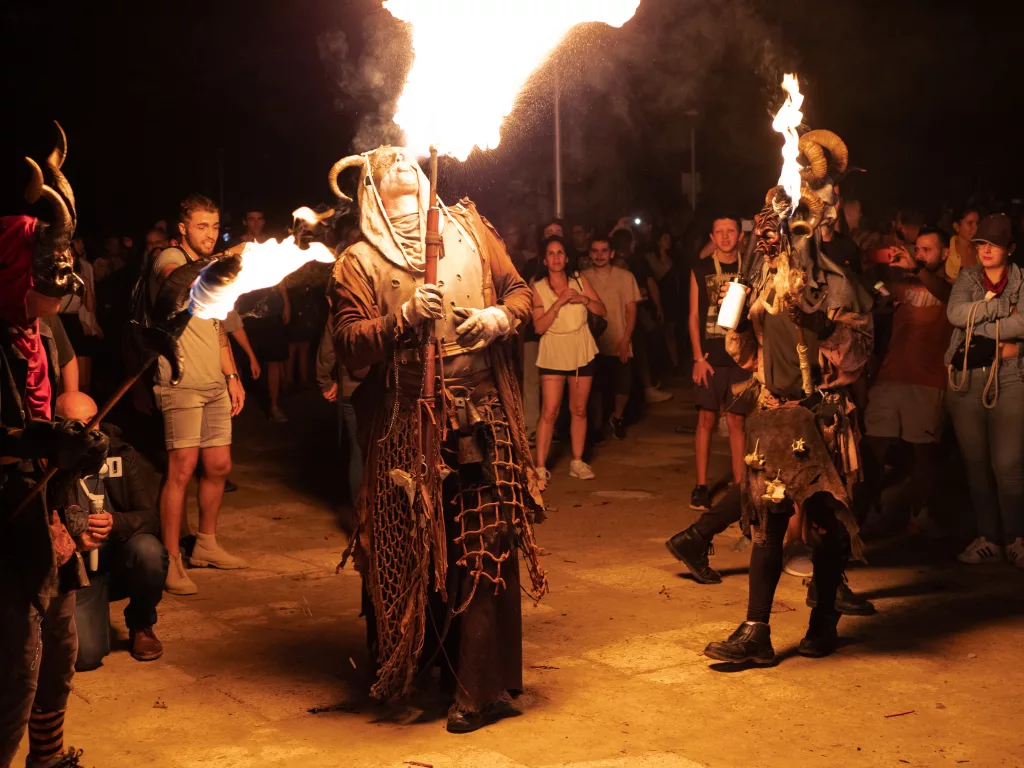 Typical Sant Joan Traditions
The Feast of Saint John and Midsummer are important festivals all around Europe, and especially in the Mediterranean parts of Spain like Valencia. The Balearic traditions are similar and incorporate typical parts of Mallorcan festivals in general.
Foguerons
Like on Sant Antoni, Mallorcans celebrate Sant Joan with large bonfires called foguerons. Instead of on street corners, Sant Joan's warm weather means people take to the beach for their barbecues. People usually meet on large strips of sand, arenals, to enjoy the sunlight that stretches late into the night.
Correfocs
Would it even be a Mallorcan festival without correfocs? These are basically giant sparklers that participants, usually dressed like demons, run around with, showering the surrounding area with sparks. Even if you don't have any fireworks yourself, you can run through the sparks, which is an exhilerating experience.
On the Eve of Sant Joan, appropriately named La Nit de Foc, which means "Night of Fire" in Catalan, you may even see the typical dragon and other legendary creatures come out. These are adorned with their own fireworks and accompanied by drumlines.
Coca de Sant Joan
Although it's more popular in Catalonia, Mallorcans also like to eat Coca de Sant Joan during la Nit de Foc. The dish is usually a sweet dessert made with fruit or cream, but you might find some savoury variants with vegetables, meat or sobrassada.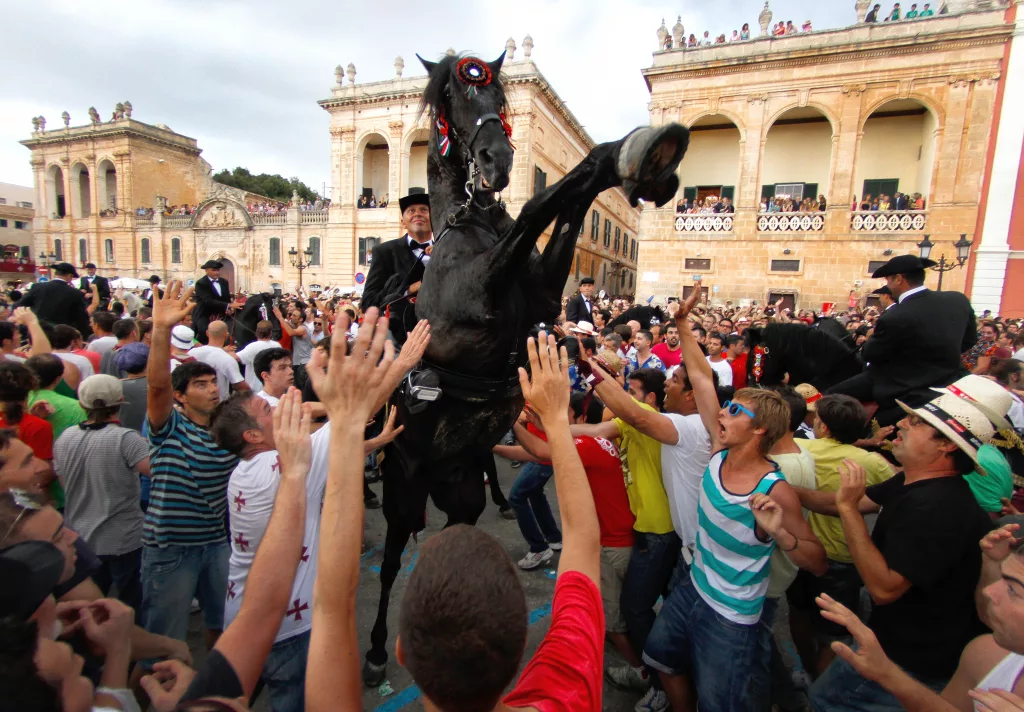 The Best Places to Celebrate Sant Joan
Ciutadella, Menorca
If you're in the Balearic Islands, the best place to celebrate Sant Joan isn't on Mallorca at all. Nearby on Menorca, the party is intense. Sant Joan in Ciutadella is considered one of the most iconic Balearic traditions and one you can't miss if you're here in June.
The festivities, mostly unchanged since Medieval times, involve large crowds of people, bands and music, food and drink, and most notably, the Caracol des Borns, a parade of locally bred horses carrying flags of the Maltese cross, a symbol originally used by the Knights of Saint John the Baptist.
Festes de Sant Joan 2023 – Ciutadella, Menorca
The Festes de Sant Joan in Ciutadella de Menorca run from June 17 to 24, 2023.
Saturday, 17th of June – Vetlla des Be
| Time | Event | Location | Description |
| --- | --- | --- | --- |
| All Day | Vetlla des Be | Ciutadella | Witness the preparation of a spotless lamb, a ritual marking the commencement of the festivities, noted for the lamb's stunningly pure whiteness. |
Sunday, 18th of June – Dia des Be
| Time | Event | Location | Description |
| --- | --- | --- | --- |
| All Day | Homo des Be | Streets of Ciutadella | The day begins with a representative of Saint Joan Baptist, the Man of the Lamb, parading barefoot with a lamb on his shoulders through the streets. |
| 20:00 | Hazelnut War | Avinguda de la Constitució | A playful 'battle' of hazelnuts commences on Avinguda de la Constitució, creating a jovial atmosphere. |
Thursday, 23rd of June – Eve of Sant Joan
| Time | Event | Location | Description |
| --- | --- | --- | --- |
| 14:00 | Fabioler Visits | Caixer Senyor's House | The fabioler, a drummer-flutist figure, starts the gathering of horsemen at the Caixer Senyor's house, ringing in the celebratory mood. |
| 18:00 | Caragol des Born | Plaça des Born | Experience the thrill of horses parading around Plaça des Born in time with the music, a spectacle not without an element of risk. |
| Post 18:00 | Hazelnut War | Contramurada Street | The fun hazelnut battle continues on Contramurada Street, providing amusement for all ages. |
| Evening | Caragol de Santa Clara | Streets of Ciutadella | Watch as riders and their horses roam the streets, even entering local homes, allowing for some beautiful photo opportunities. |
Friday, 24th of June – Dia de Sant Joan
| Time | Event | Location | Description |
| --- | --- | --- | --- |
| 08:00 | Fabioler Visits | Caixer Senyor's House | Early in the morning, the fabioler visits the Caixer Senyor's house to initiate the day's celebrations. |
| 17:00 onwards | Preparation for Jocs des Pla | Near to Es Pla | The anticipation builds as the crowd gathers near Es Pla, awaiting the commencement of the Jocs des Pla – the festival's highlight. |
| 19:00 (Approximately) | Jocs des Pla | Es Pla | An exciting spectacle featuring horse games including Carotades and Jocs de s'Ensortilla. The timing is subject to change. |
How to Get to Ciutadella from Mallorca
By ferry: The easiest way, in my opinion, to get to Menorca from Mallorca is to take the ferry. The route from Alcudia to Ciutadella is just about an hour, which is going to be shorter than a flight when you include security and all the hassle of an airport. Plus, you can take your car for better mobility around Menorca.
The only issue is getting to Alcudia. You can sometimes find ferries from Palma, but they take a bit longer and aren't as frequent.
By plane: You can easily fly to Menorca from the Palma airport, but keep in mind that flights land in Mahón, not Ciutadella. The flight time is about 45 minutes.
Last Minute Hotel Deals in Menorca
Parc de la Mar, Palma
Palma is arguably the best place in Mallorca to celebrate Sant Joan if you're a foreigner. In Parc de la Mar, just below the Cathedral, you'll find bonfires and a large number of correfocs as well as stands serving food, drinks and Coca de Sant Joan. Festivities generally begin at dusk.
Colonia Sant Jordi
Colonia Sant Jordi in the south of the island hosts a special event called the Correfoc de Cala Galiota every Eve of Saint John, the night of June 23rd. As the name suggests, the correfoc and associated verbena, a party with food and drink vendors, takes place on Platja de Cala Galiota conveniently located within the town of Colonia Sant Jordi. Like in Palma, plan to be there a bit before sundown.
The Beach!
You don't need a specific location to enjoy Sant Joan on Mallorca. Just head to any sandy beach and you're likely to find Mallorcans ringing in summer with festivities. I primarily recommend the arenals in the south of the island:
Sa Ràpita
Ses Covetes
Es Trenc
Those near Palma are also good choices:
Can Pere Antoni (Palma City Beach)
Ciudad Jardín
S'Arenal
You're likely to find activity around Alcudia as well:
Platja d'Alcudia
Port de Pollença