Mallorca: the beautiful, alluring Mediterranean island that charms its every visitor. Often when we hear the words "island" and "Mediterranean" in the same sentence, our minds immediately visualize a vespa cruising through winding roads, or friends riding in a car with the top down, blasting tunes, hair blowing in the wind. And while those visualizations are grand, and often accurate, there are plenty of guides out there about exploring the island on wheels. Today what we're here to give you is something different; a guide to Mallorca without a car, that will prove just as glamorous.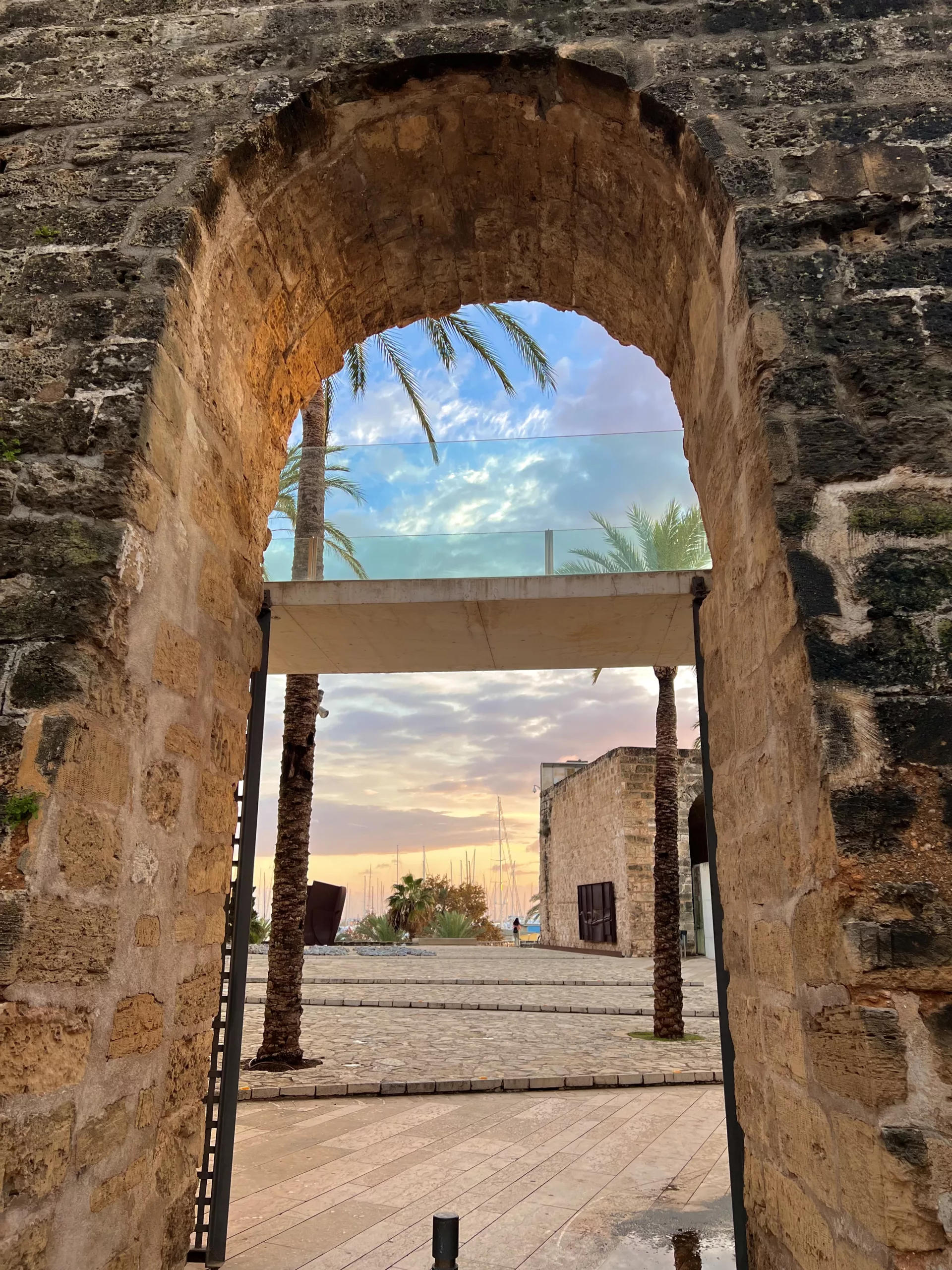 Day 1: Palma
Once you take those first steps outside the doors of the Palma airport, you are immediately greeted with rows of palm trees that feel as though they are welcoming you onto the island. Your first task is to go towards the bus stop, not too far in front of the airport exit. Simply buy a bus pass before entering or while boarding the A1 bus, which takes you anywhere you need in Palma.
Most hotels will not be too far of a walk away from a stop. There are many incredible hotels in Palma at every price point; two that I would recommend are Nakar Hotel, and Palacio Can Marqués. I think sometimes Palma gets overlooked because it's more city-like than anywhere else in Mallorca (it's the Capital, so no surprise there), but this town truly has a special place in my heart. The Cathedral (Basílica de Santa María de Mallorca) is absolutely gorgeous, and the surrounding streets are beautiful, winding, and the perfect balance between neutral and vibrant colors.
My favorite thing to do is to wander through the streets, slowly making my way from the Plaça Major area in the center to the Santa Catalina area to the west. I believe that taking your time exploring the local streets sets the right tone for the rest of your trip.
When near Plaça Major, make your way to Bar España, a classic favorite for tapas; their mini burger with foie gras is unbeatable. For coffee lovers out there, make sure you hit Mistral Coffee House; undeniably the best coffee in Palma. There are 2 branches ‑ Mistral Coffee House and Mistral Coffee Roasters. Mistral House is bigger and has the full selection of their food menu options, and Mistral Roasters is tucked in a small winding alleyway near Plaça Major, right by Bar España; perfect for a quiet afternoon pick me up.
Another gem in this area is the Forn des Teatre; a historic bakery with delectable treats. Absolutely worth a visit even for those without a sweet tooth, just to see the beautiful designs that adorn the door and its interior. As you keep making your way west you will pass by Passeig del Born; a beautiful wide street known for shopping and strolling. From here I suggest a walk through Carrer de Sant Feliu; a street lined with interesting art galleries and creative boutique shops.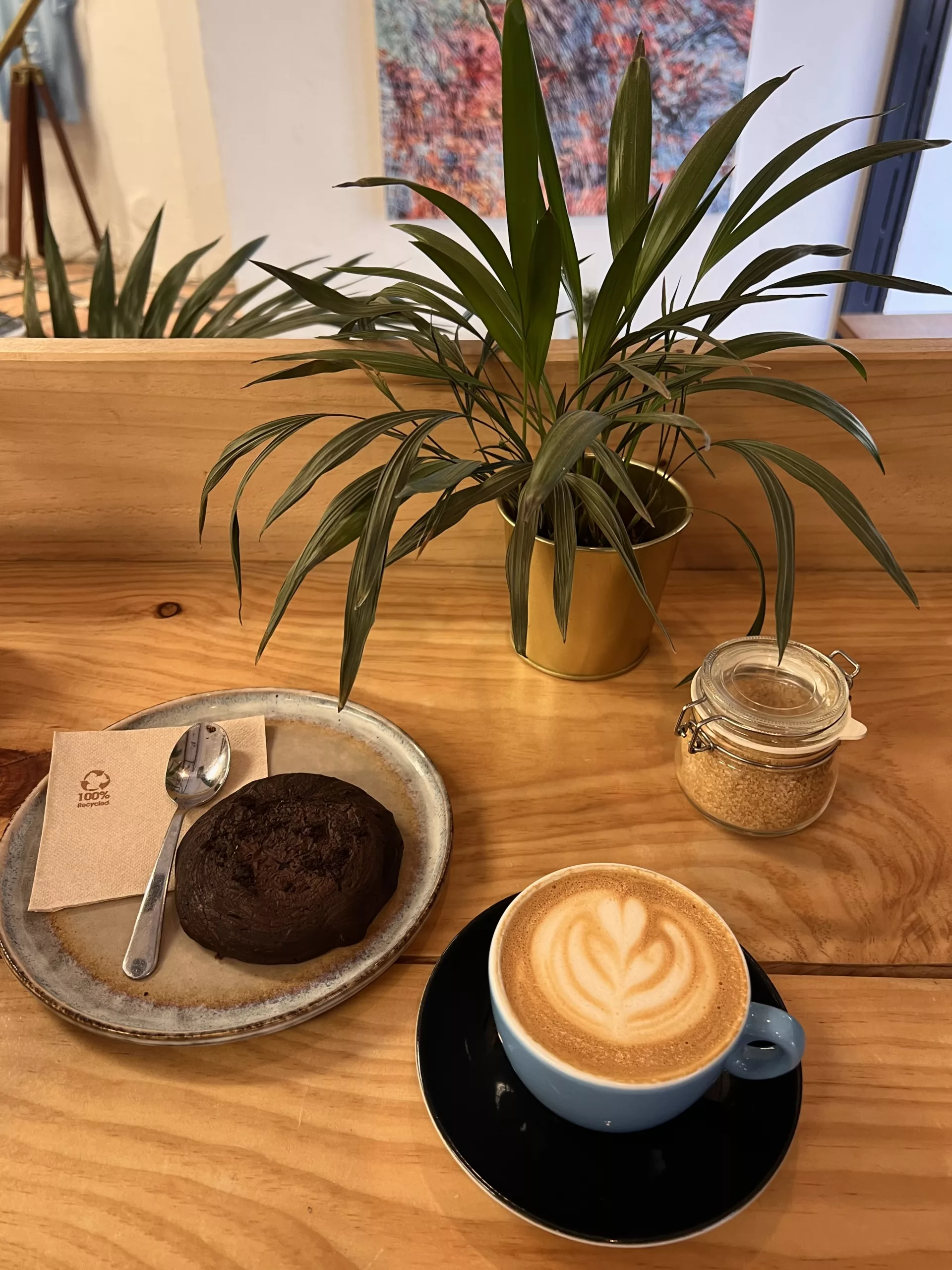 As you emerge from this creative quarter, you will find the entrance of Palma's biggest contemporary art museum: Es Baluard. This place is a treat even for those who don't have a particular affinity for art. This ultra cool museum is situated on the edge of an elevated area that oversees the Palma harbor, as well as the Cathedral. It has an outdoor open roof (no cafe, just an area to stand/sit and enjoy the views).
When dinner time rolls around, it's easy to become overwhelmed with options, each restaurant looking better than the last. If you are a meat lover who wants to have an authentic Mallorquin steakhouse experience, I recommend La Cuadra del Maño. Make sure to ask for a side of their chimichurri. Another recommendation would be to head over to Carrer dels Apuntadors, which is a street consisting entirely of delicious eateries, and take your pick. After dinner, you can enjoy views of Palma from cozy rooftop lounges such as the Nakar Hotel rooftop, or Skybar at Hotel Almudaina.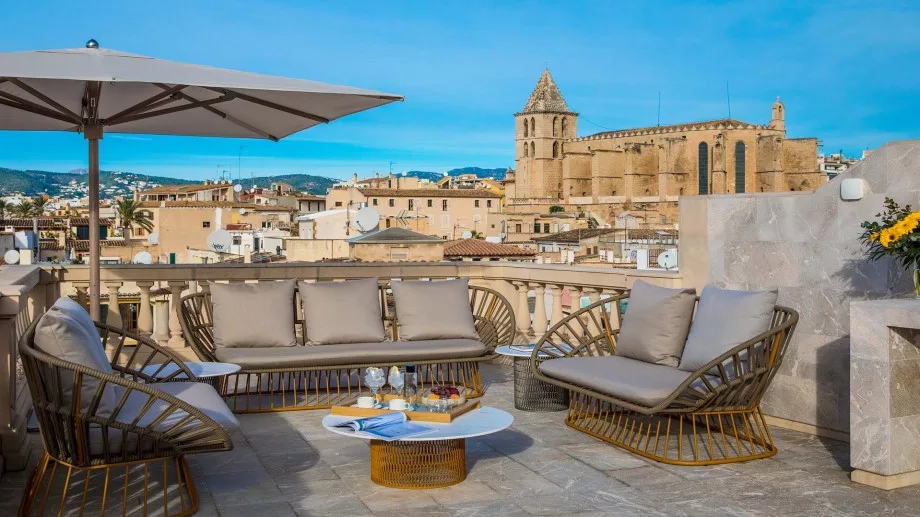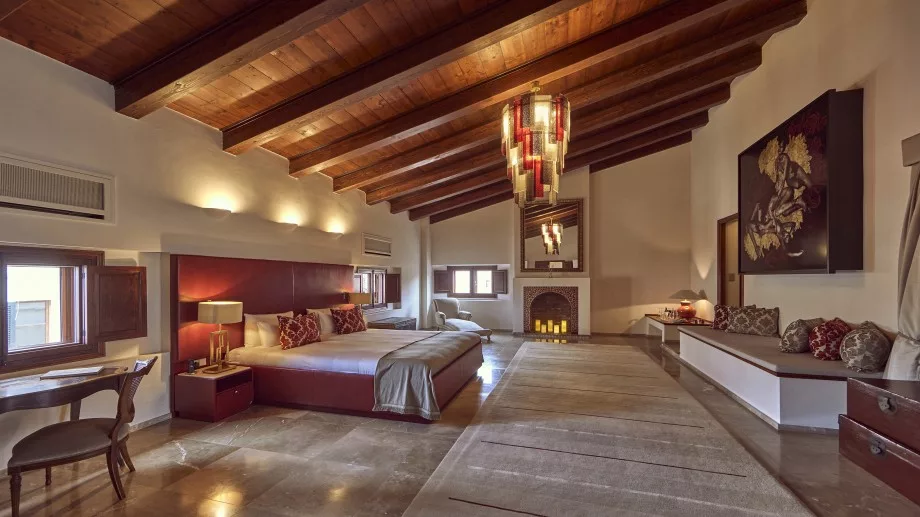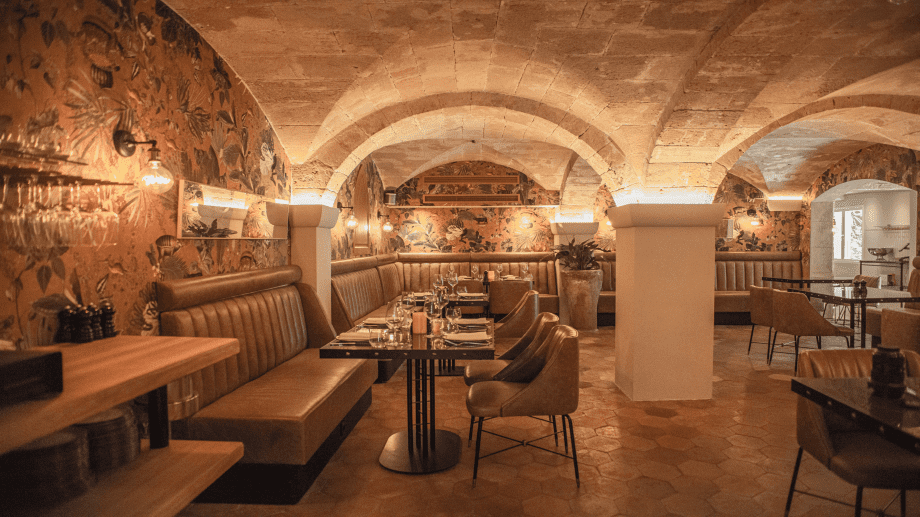 Day 2 and 3: Santanyí and Cala Figuera
After a night in Palma, the next part of this guide is going to take you east; to the beautiful white sand beaches that have crowds always coming back for more. After checking out of your hotel, head over to Estacio Intermodal, the central station that connects Palma to the rest of the island. Consider it the glue that holds together any car-less activities in Mallorca; the central base through which you will be passing through this whole trip. Love it, appreciate it, and note that the TIB buses (the buses discussed in this guide) are parked on the underground level of the station, ie two escalators down from street level.
In order to go from Palma to Santanyí, you are going to take bus 501 and then get off at stop La Verge 2. At La Verge 2 take either bus 516 or 517, and get off at the Santanyí stop. There will be multiple bus times throughout the day for this line, however take caution in checking how the 2 bus times that you will transfer between align; the entire journey should take no longer than 1 hour and 40 minutes. If the total time shows up as more, then you should wait for a different bus time. Santanyí is a beautiful, charming town with cobblestone roads and beautiful churches.
If you happen to end up here on a Saturday, make sure to go to the Santanyí market. I recommend S'Hotelet de Santanyí, a quaint boutique hotel. For an upscale Mediterranean dining experience: Restaurant Laudat. For tapas: Can Gelat. 
To get to Cala Santanyí, it is a short 15 minute bus ride from the town; simply take bus 516. Cala Santanyí is a big, white sand beach lined with rocky coves and forest on both sides, and with every shade of blue and green that exists on planet earth. If you go, make sure you don't just lay on the beach itself; there's a path parallel to one of the rocky sides winding between the trees that reaches the end of the cala, and has several sets of stone steps throughout that lead down to the beautiful, crystal blue water. If I could live on this beach, I would. Make sure to stop for a bite at Pamboleria Es Pontàs while you're there.
For day 2, take the 516 bus to go from Santanyí to Cala Figuera. Cala Figuera has a beautiful port with architecture and colors that charm you the second you lay eyes on them. Bring a blanket and some snacks and spend the day on the marina, and then head back to Santanyí in time for dinner. The 516 bus will take you back in just a short 15 minute ride.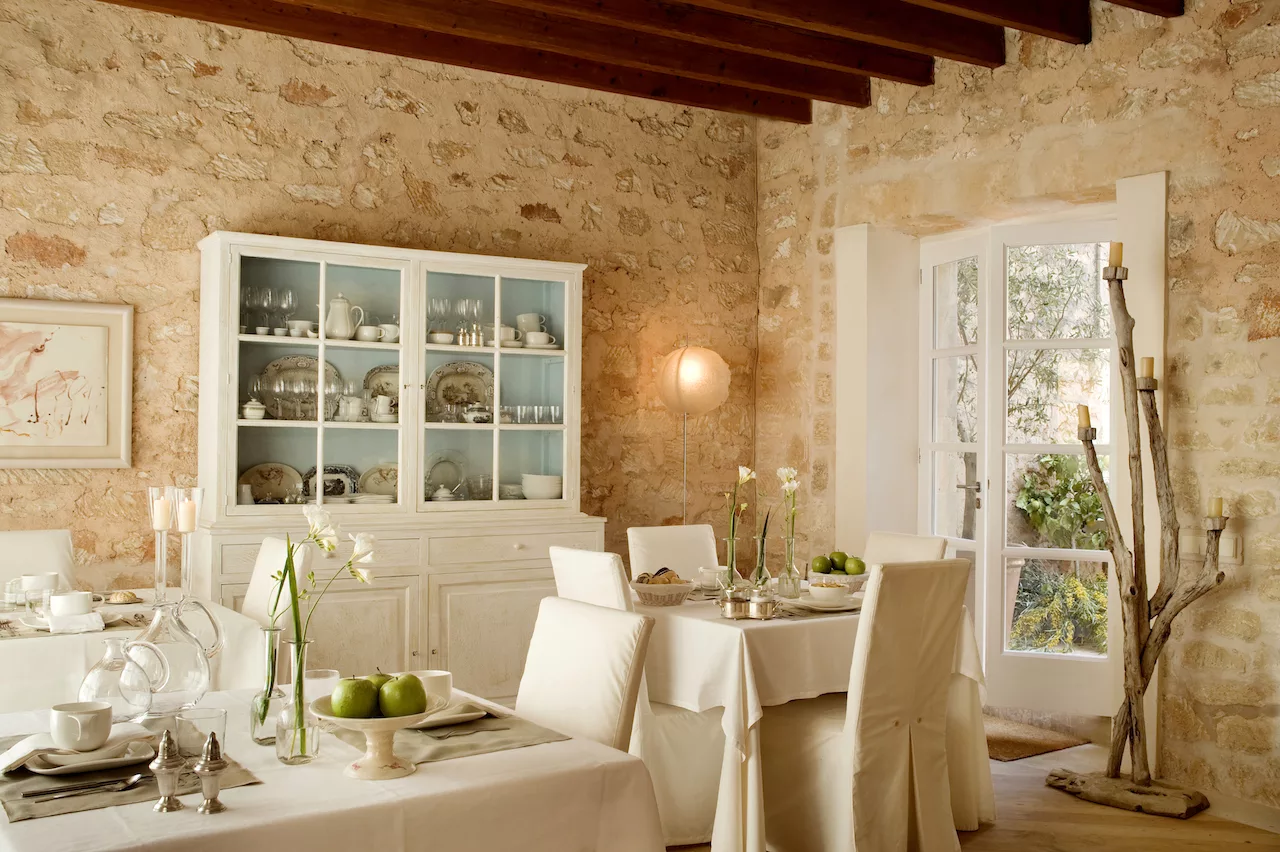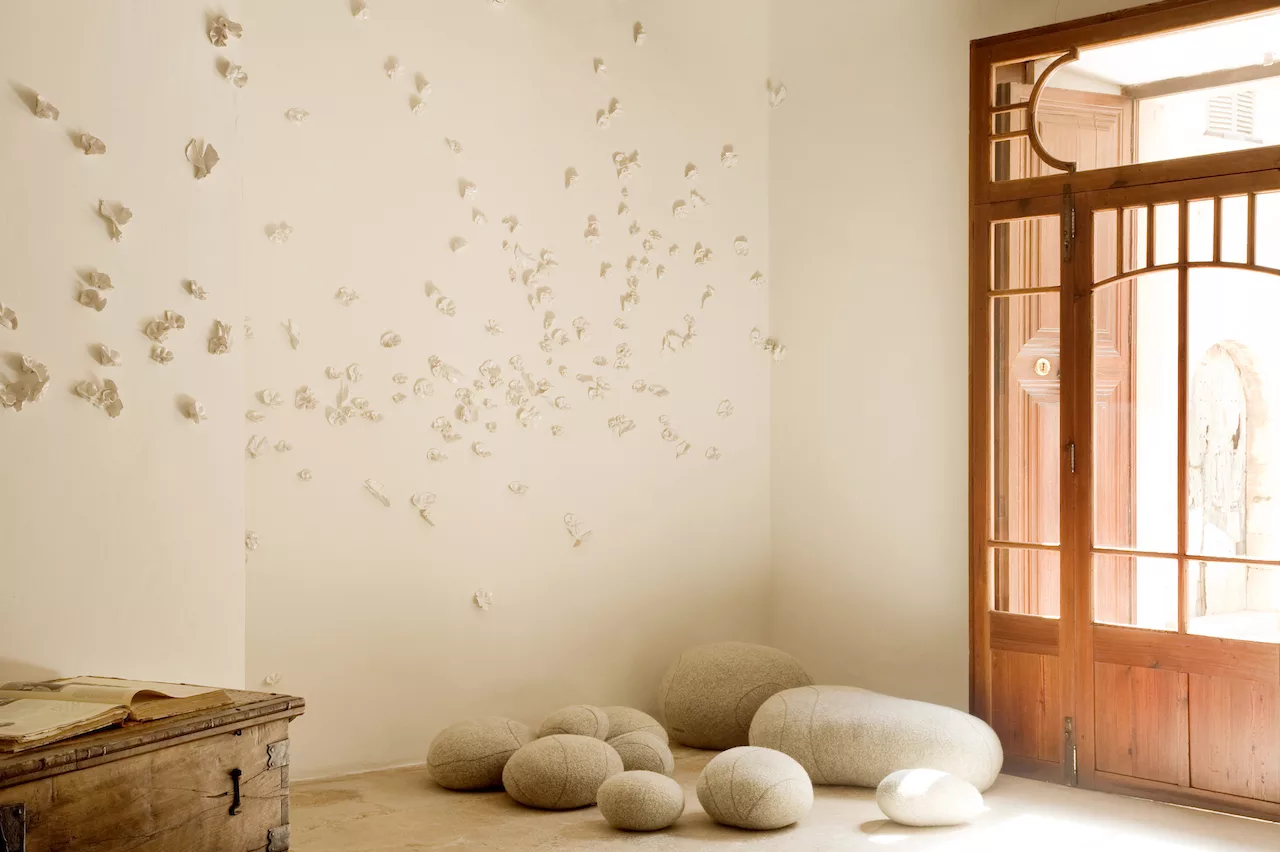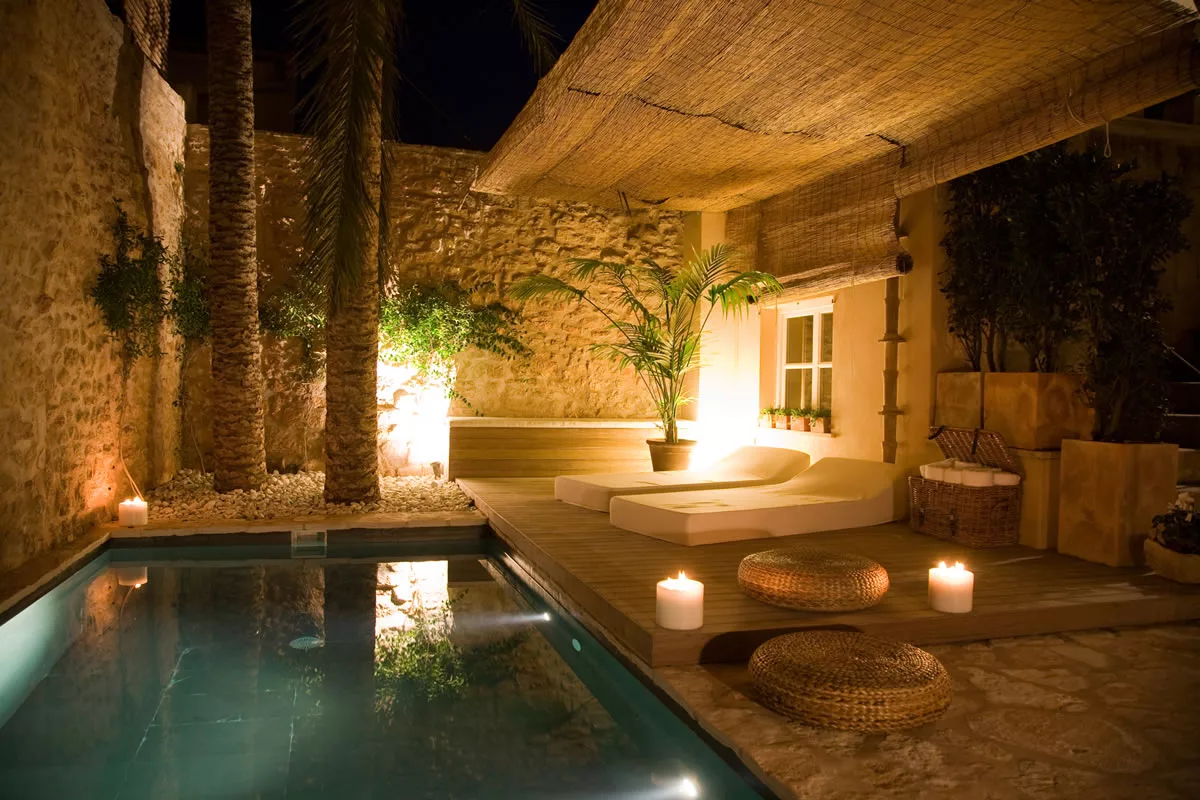 Day 4: Valldemossa
To go from Santanyí back to Palma, take either the 516 or 517 bus, get off at La Verge 1, and take bus 501 back to Palma. From there, take bus 203 from Palma to Valldemossa.
A fairytale town in the mountains, Valldemossa is a place that will put you under a spell. Whenever I want to feel lost in my surroundings and separate from my own mind, I find myself on the road making my way here, almost automatically. The mountain air here is crisp and refreshing, and its charm is palpable as you walk through its roads.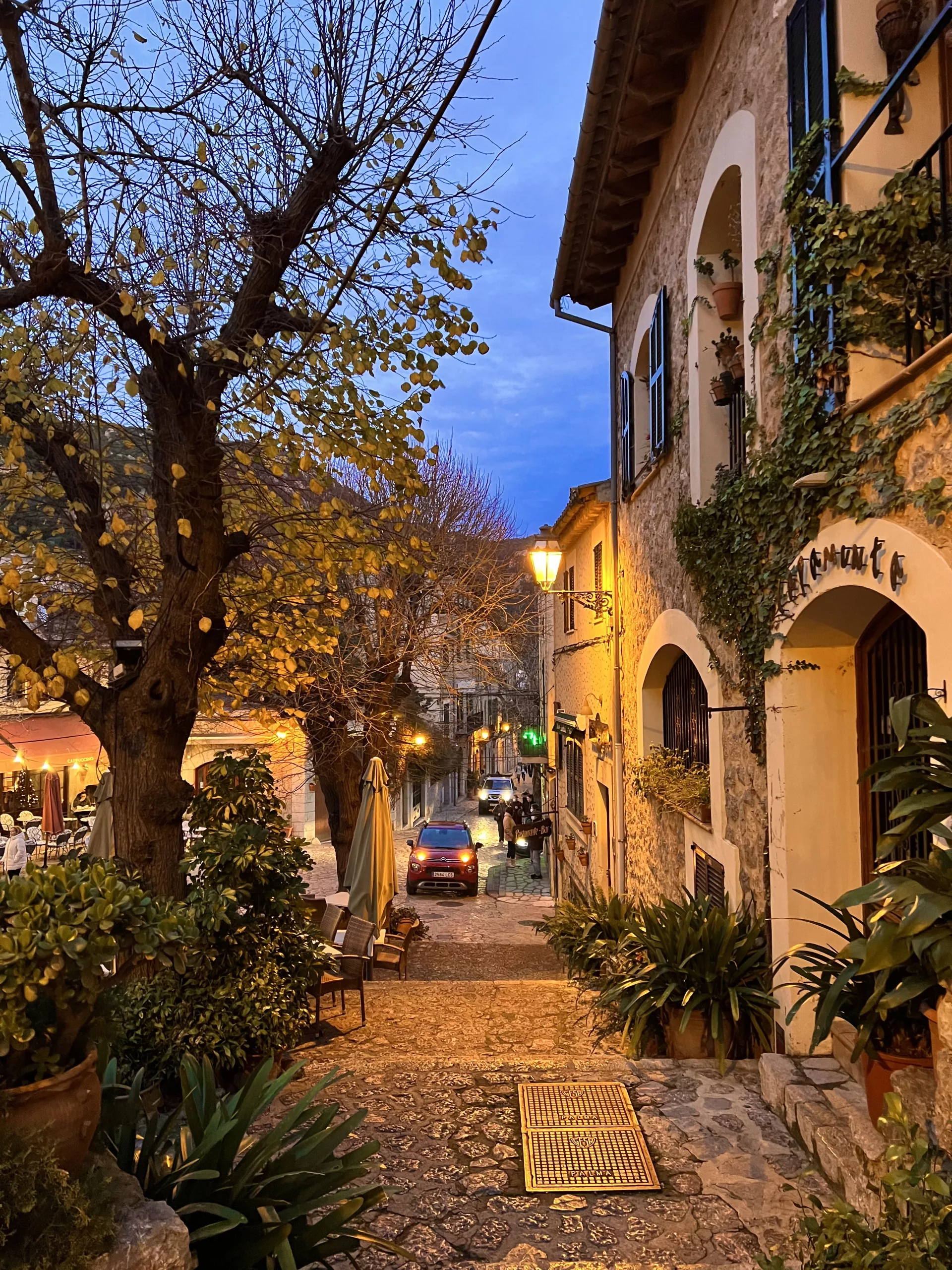 Two hotels I recommend here are Es Petit Hotel De Valldemossa, and Ca's Papà. A staple of Valldemossa is Pastisseria Ca'n Molinas; birthplace of the coca de patata. Be sure to stop by to try it, as well as their other delicious pastries. For lunch, head over to QuitaPenas for some of the best traditional pa amb oli on the island.
For dinner I suggest 2 options: La Posada, or Can Costa. For Can Costa, reserve dinner at 7:30, and take bus 203 from the Valldemossa center stop for 5 minutes to get there. The last bus back to the Valldemossa center leaves at 9:20, so don't lose track of time here!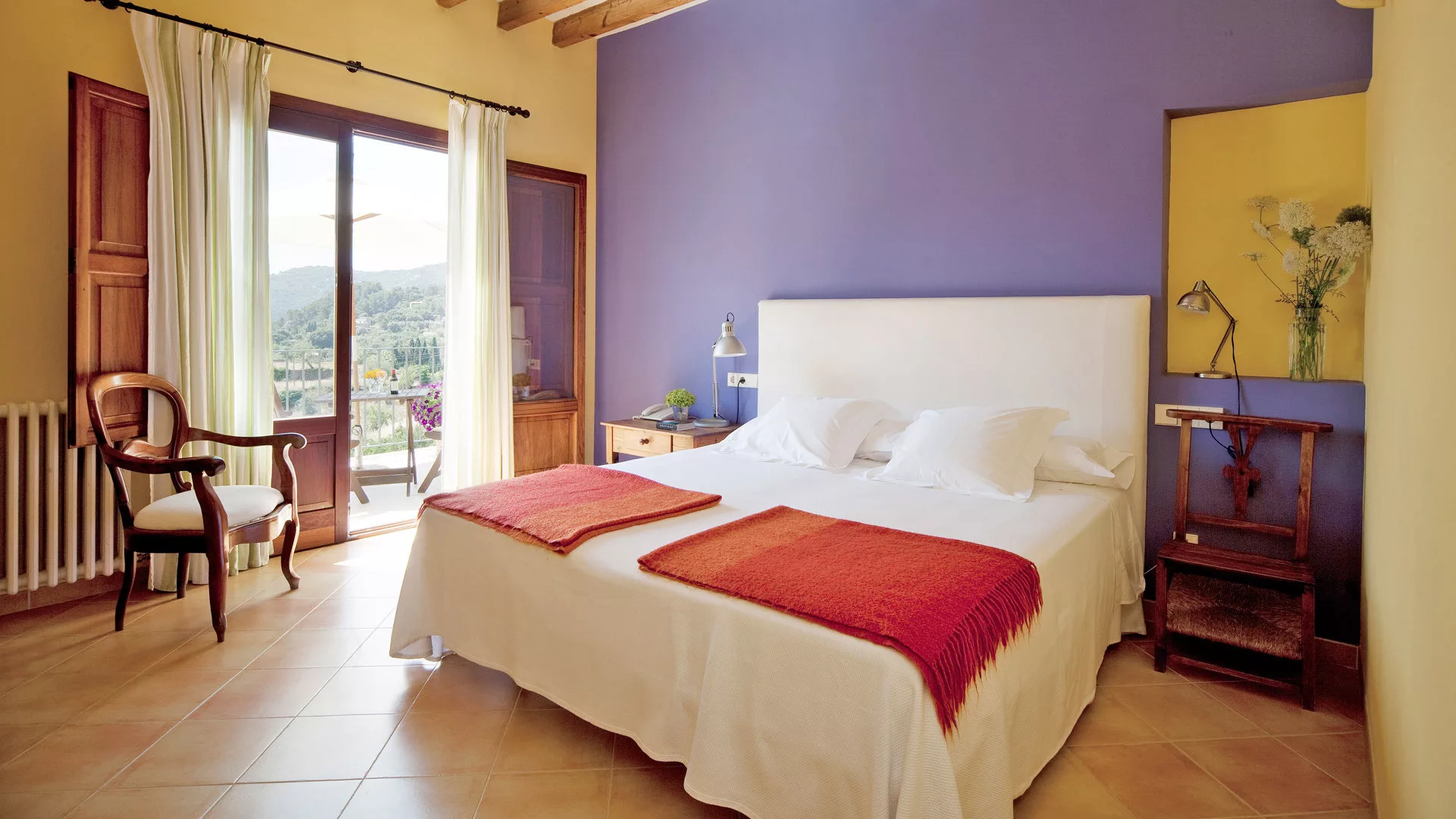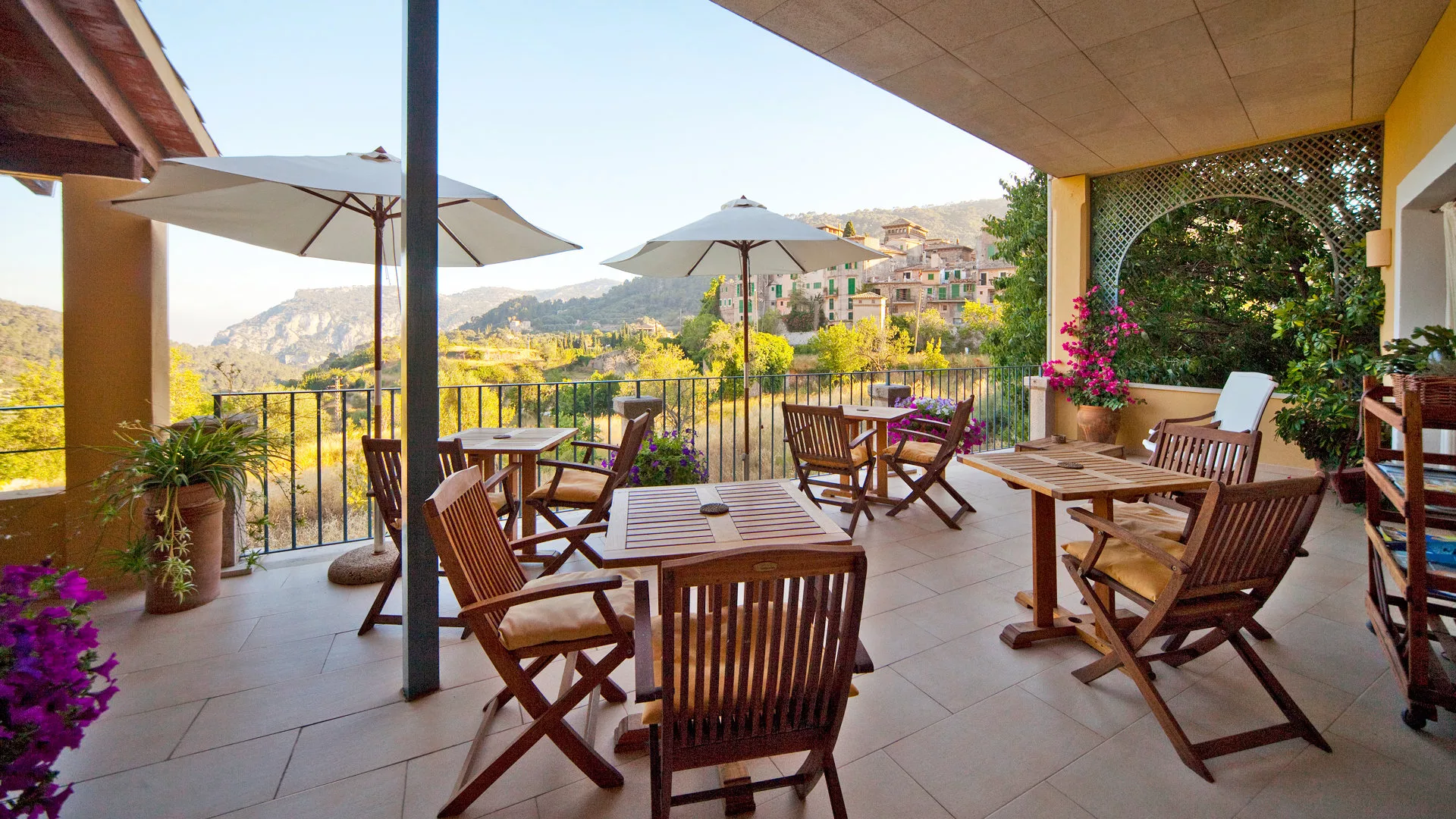 Day 5: Deià
From Valldemossa, Deià is a short 15-minute ride away on the 203 bus. Easily one of the most beautiful places I have ever been to in my life, Deià is both similar and very different to Valldemossa. It is smaller, more mountainous, and due to its altitude and proximity to the water shows unparalleled views of the sea. Two hotels I recommend here are Hotel des Puig, and for a splurge, the famous Belmond's La Residencia.
Spend your day walking through the steep, beautiful streets, and make sure to make your way up to the church at the top of the mountain: Sant Joan de Deià. For dinner, El Olivo is an absolute must here. Another beautiful dining experience is Trattoria Italiana. At night, my favorite place to be is Cafe sa Fonda; where there's live music and everyone is out of their seats dancing and swaying to the beat.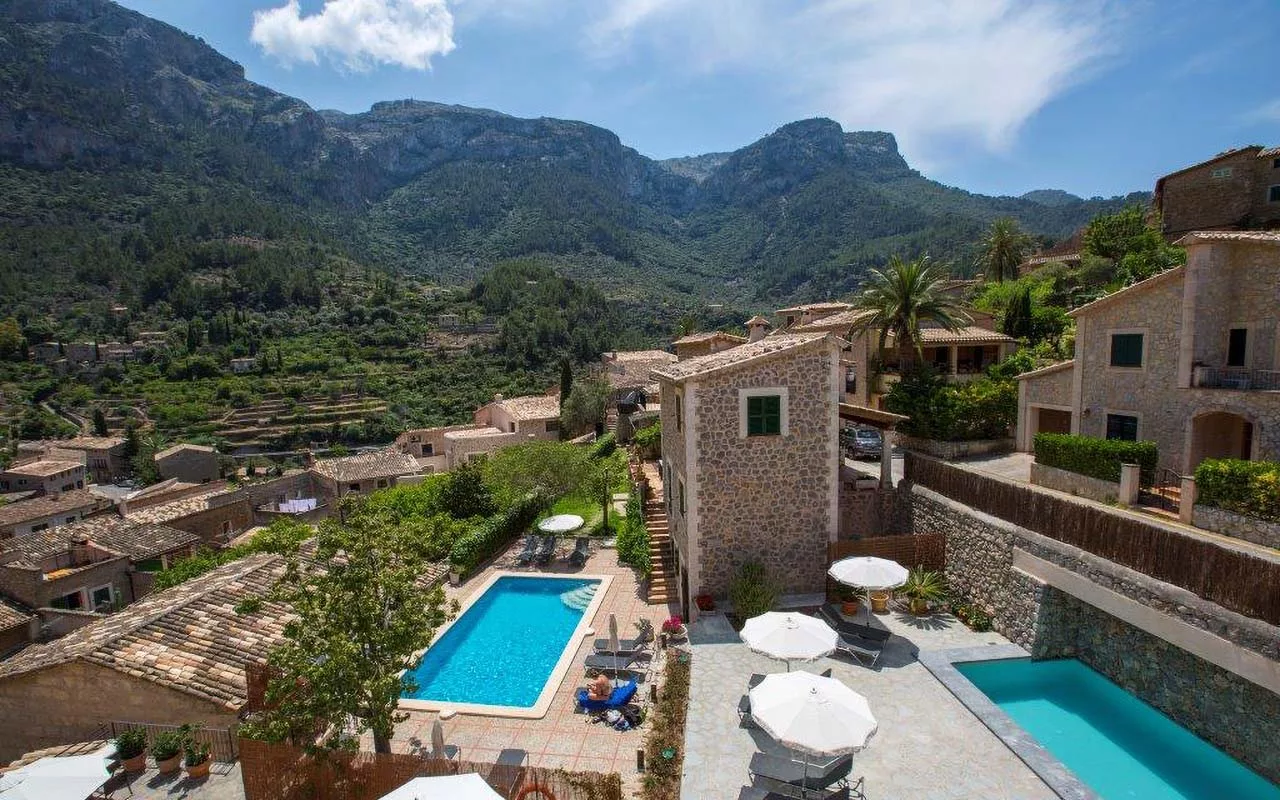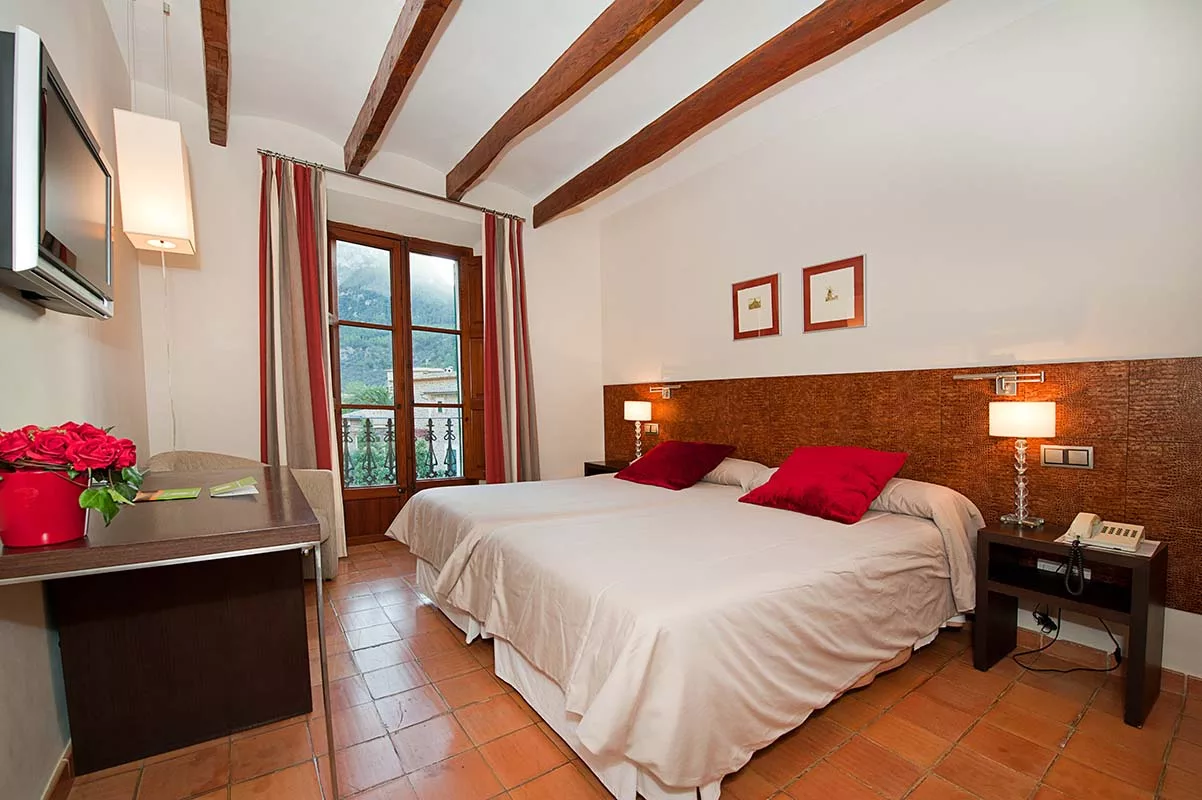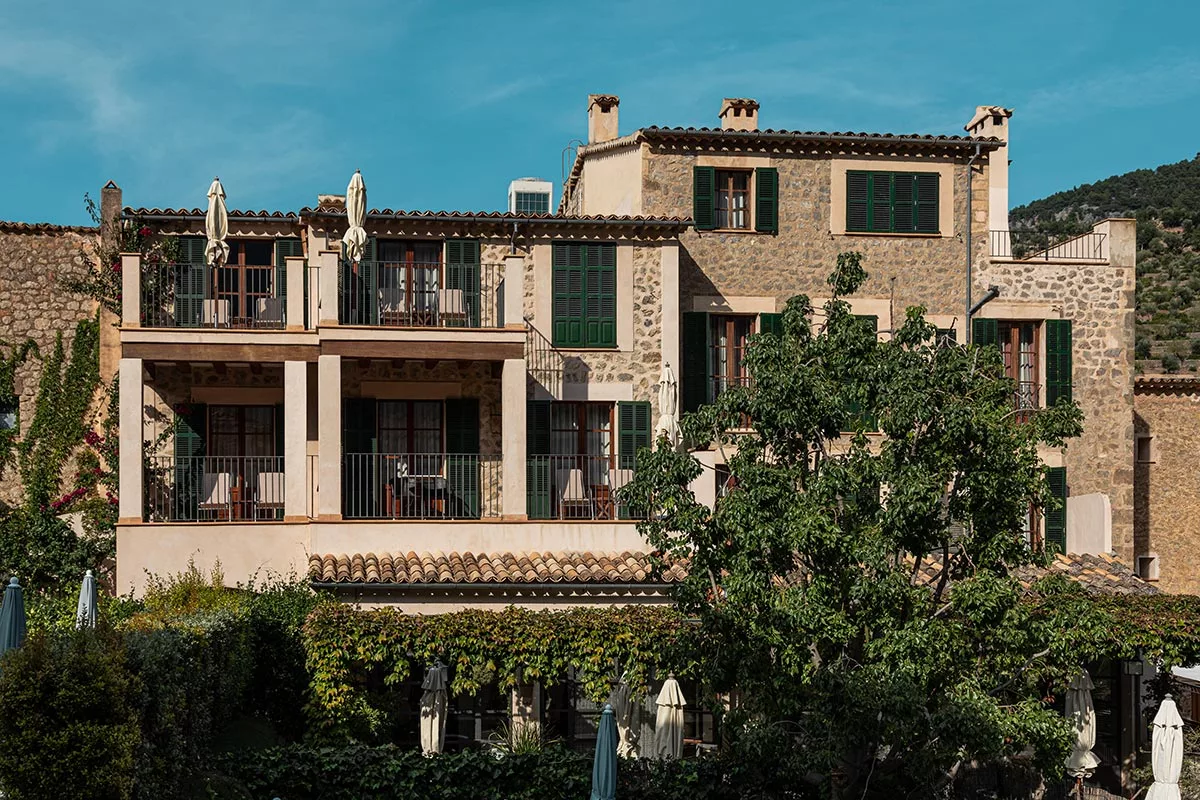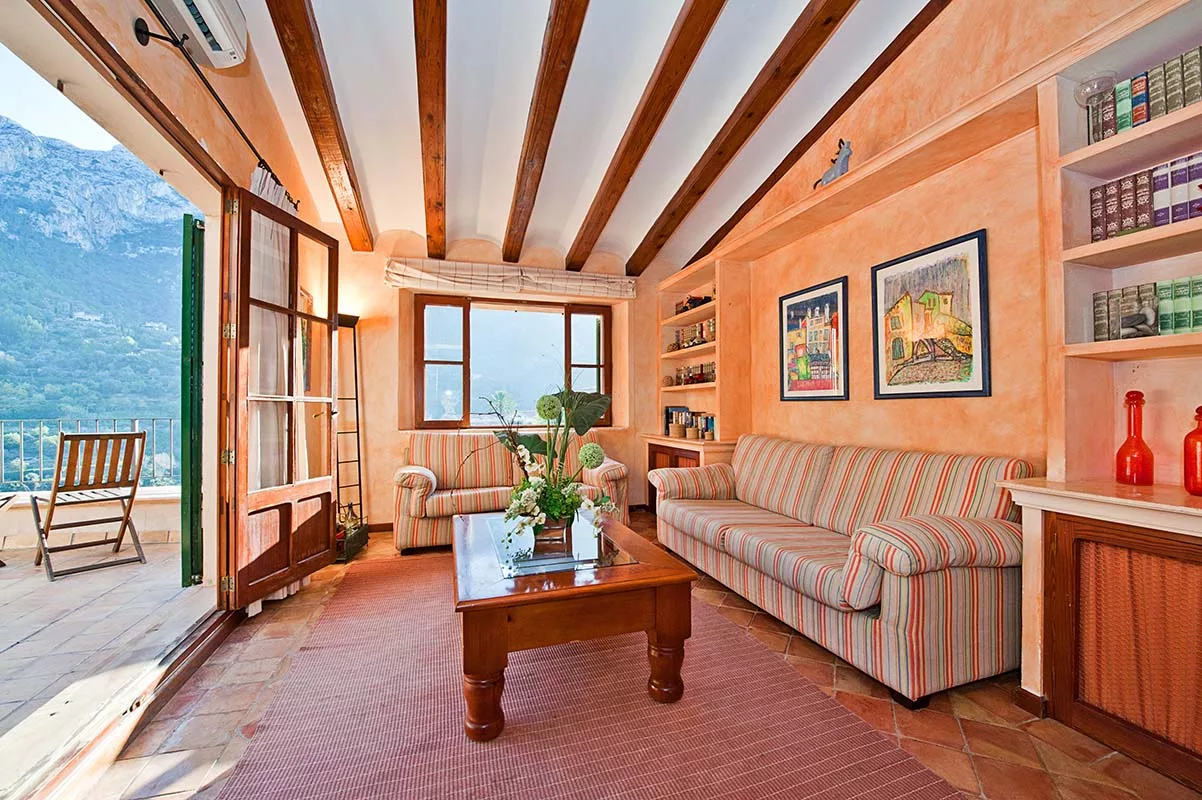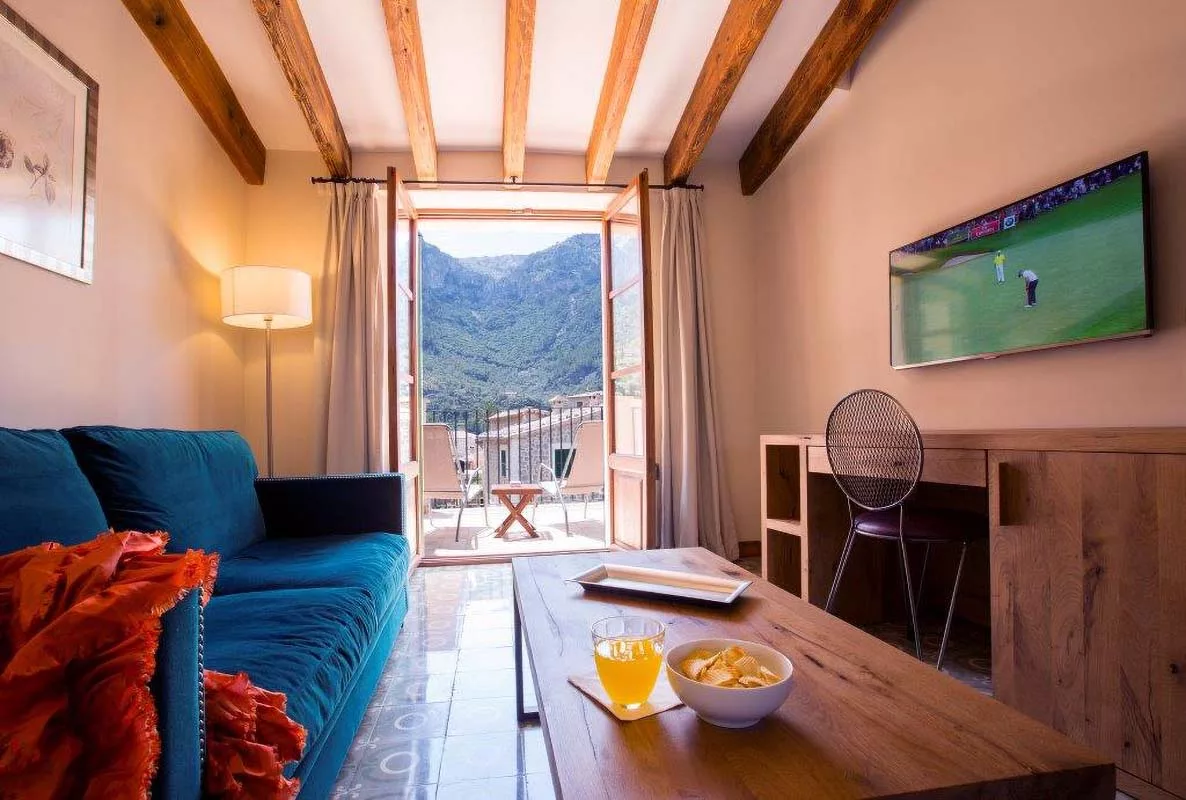 Day 6: Soller and Port de Soller
From Deià, take the 203 bus to Sóller (30 minute ride). In Sóller, I recommend staying at either El Guía Hotel & Restaurant, or S'Ardeviu. Sóller is a charming and beautiful town, known for its citrus groves. After spending the morning exploring, you can take a historic tram from Sóller to its port. You can find a link to the timetable here: tram timetable.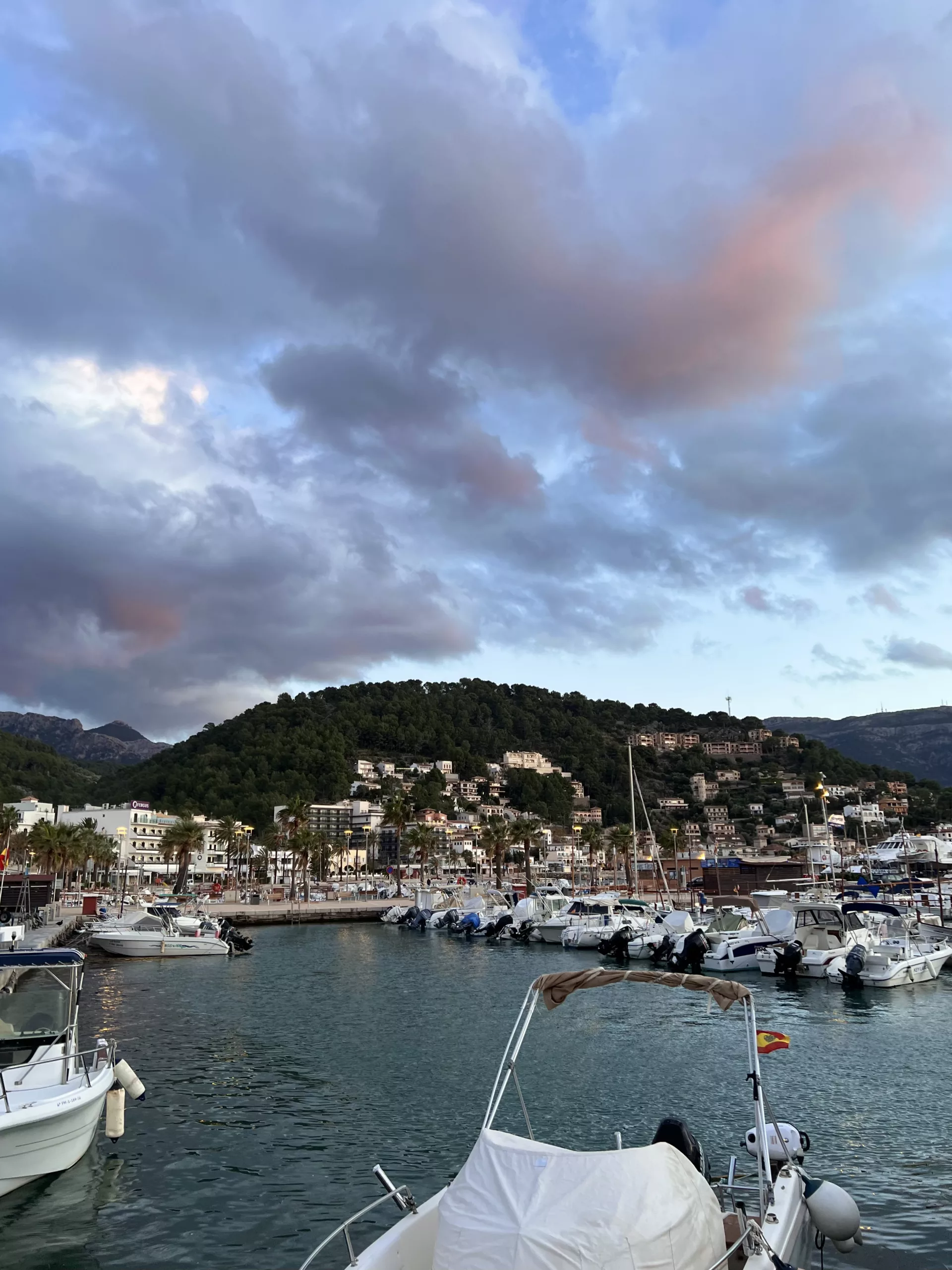 Make sure you toggle it from train to tram at the top of the page. Port de Soller, in my opinion, is one of the most beautiful ports on the island. The hills encase the water on three sides, with houses built throughout and cute cafes lining the boardwalk. I recommend Villa Luisa for an incredible dining experience; it has some of the best food in Mallorca. After watching the sunset on the water, take the tram back to Sóller.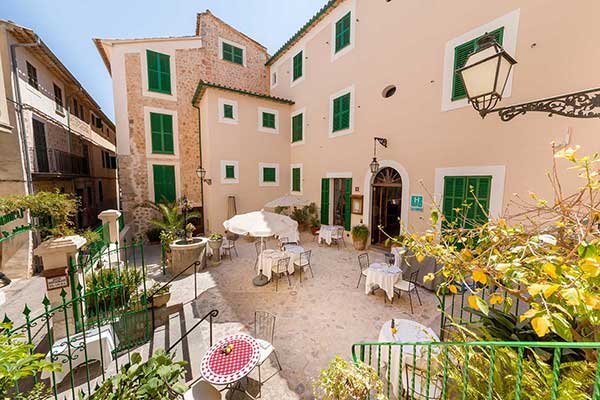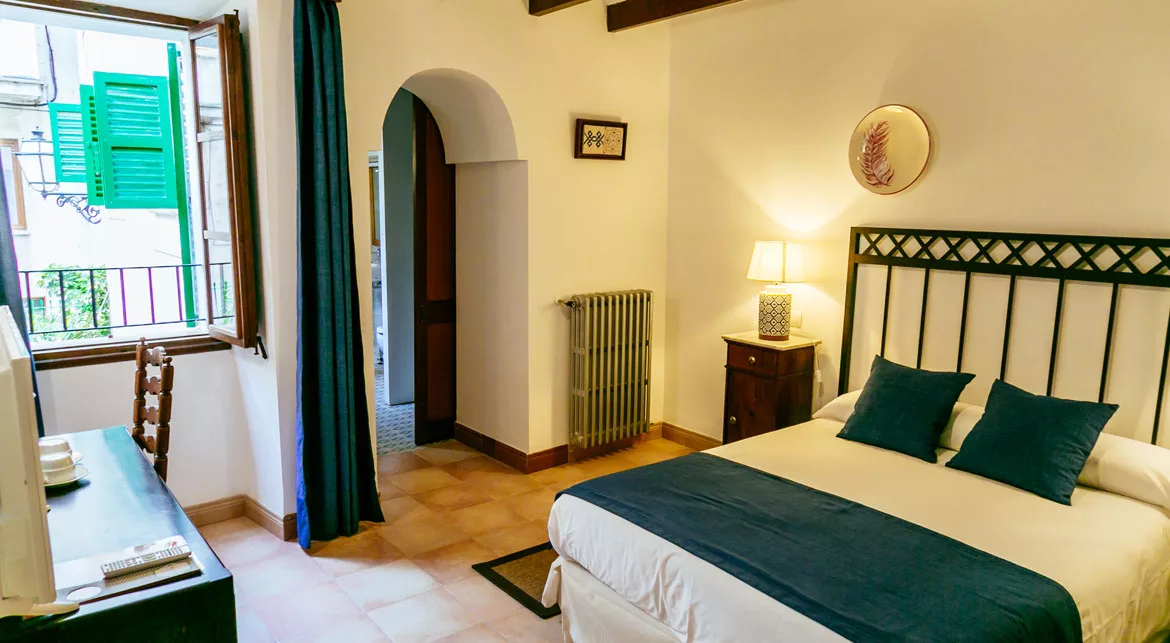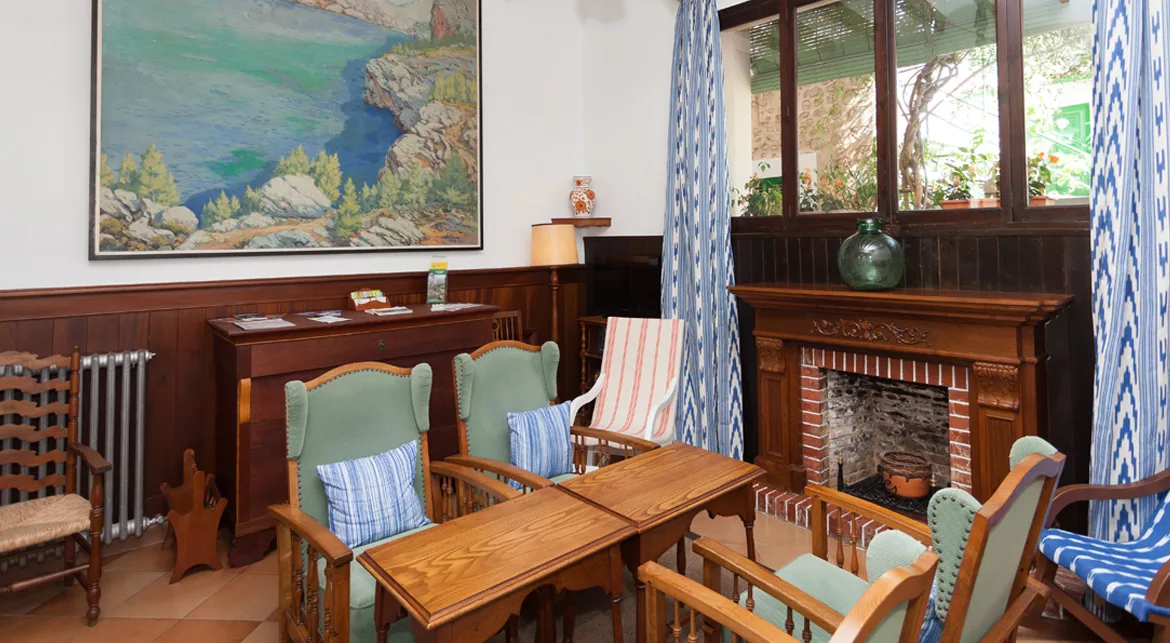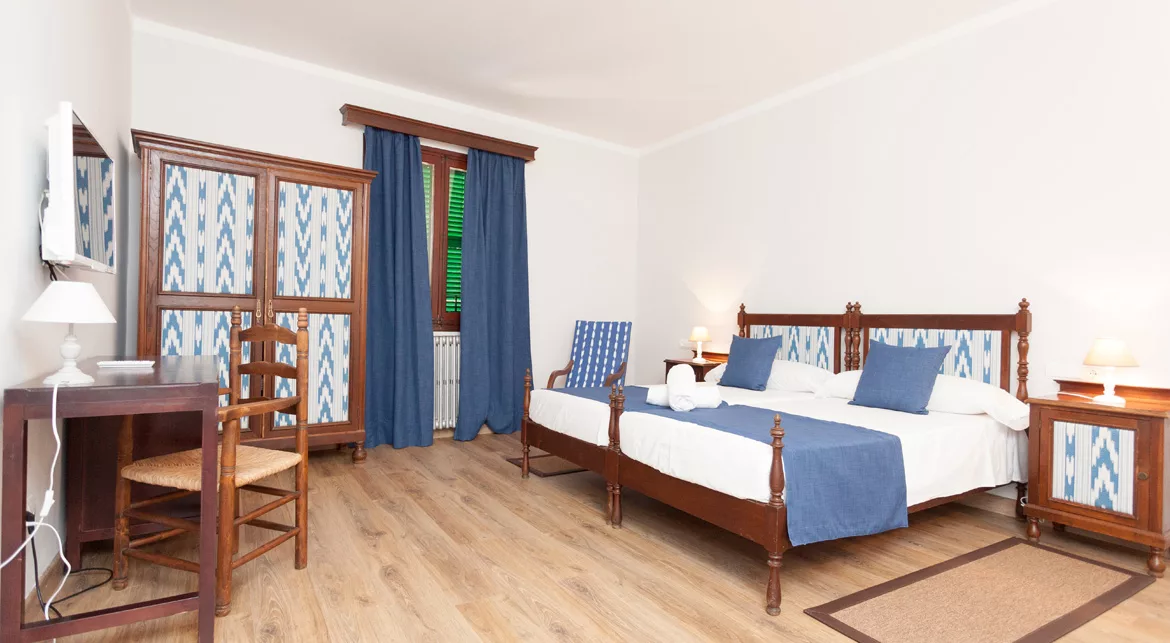 Day 7: Cala Fornells
The final stretch of this guide: Cala Fornells. From Soller, take the 204 bus to Palma (40 minute ride), and then the 102 bus from Palma to Cala fornells (35 minute ride). I recommend Hotel Petit Cala Fornells, a beautiful seafront hotel that is by far the best in the area.
After enjoying the day taking a dip in Cala Fornells and Cala Noelia (also known as Calo de Ses Llisses), take a stroll from the hotel to Restaurante La Gran Tortuga; a stroll which will take you through Carretera de Cala Fornells. This whole street is an elevated road parallel to the sea, with beautiful cream houses, forest, flowers, and vibrant tiles woven in. Think Santorini had a love child with Amalfi and Côte d'Azur.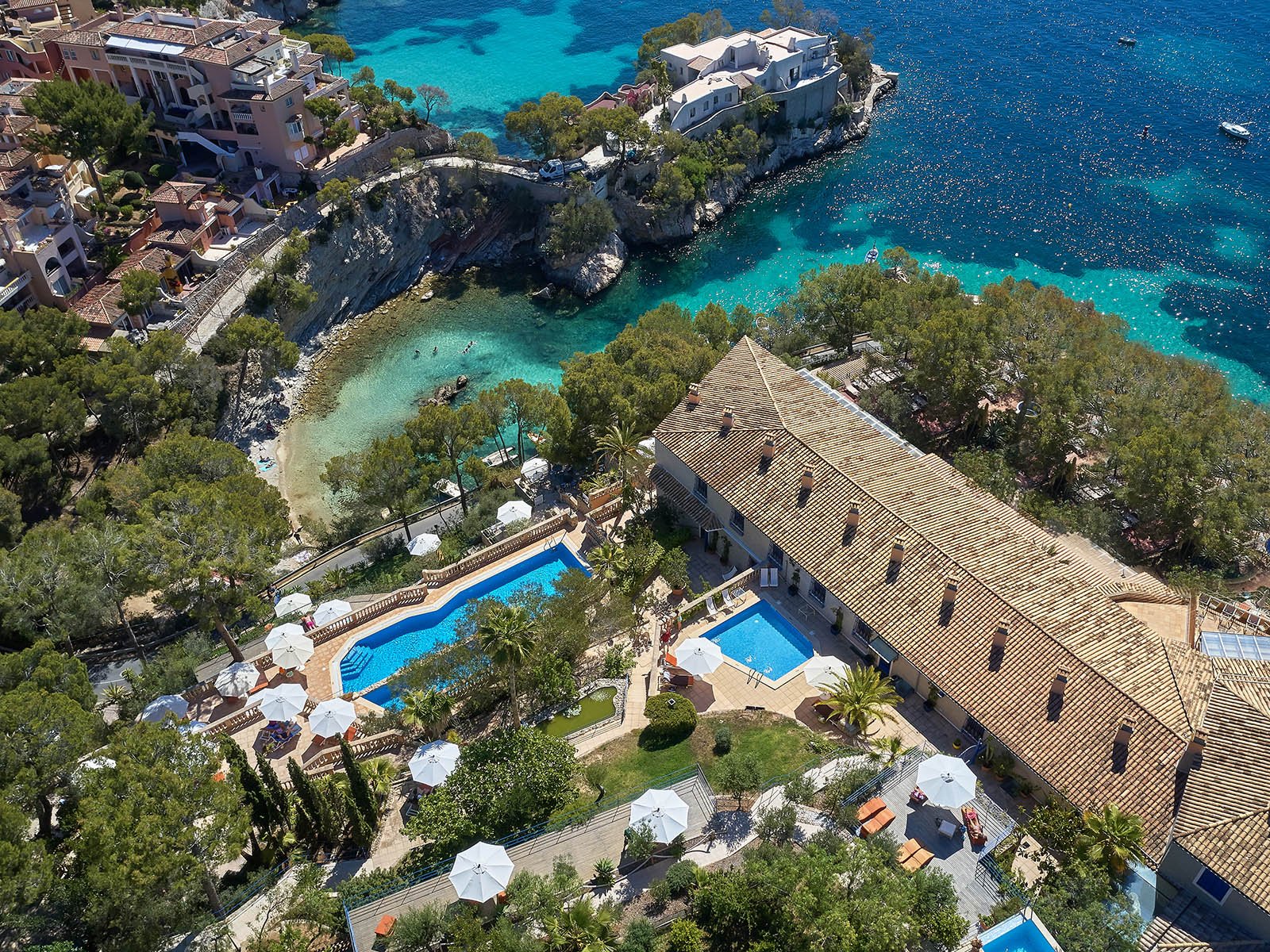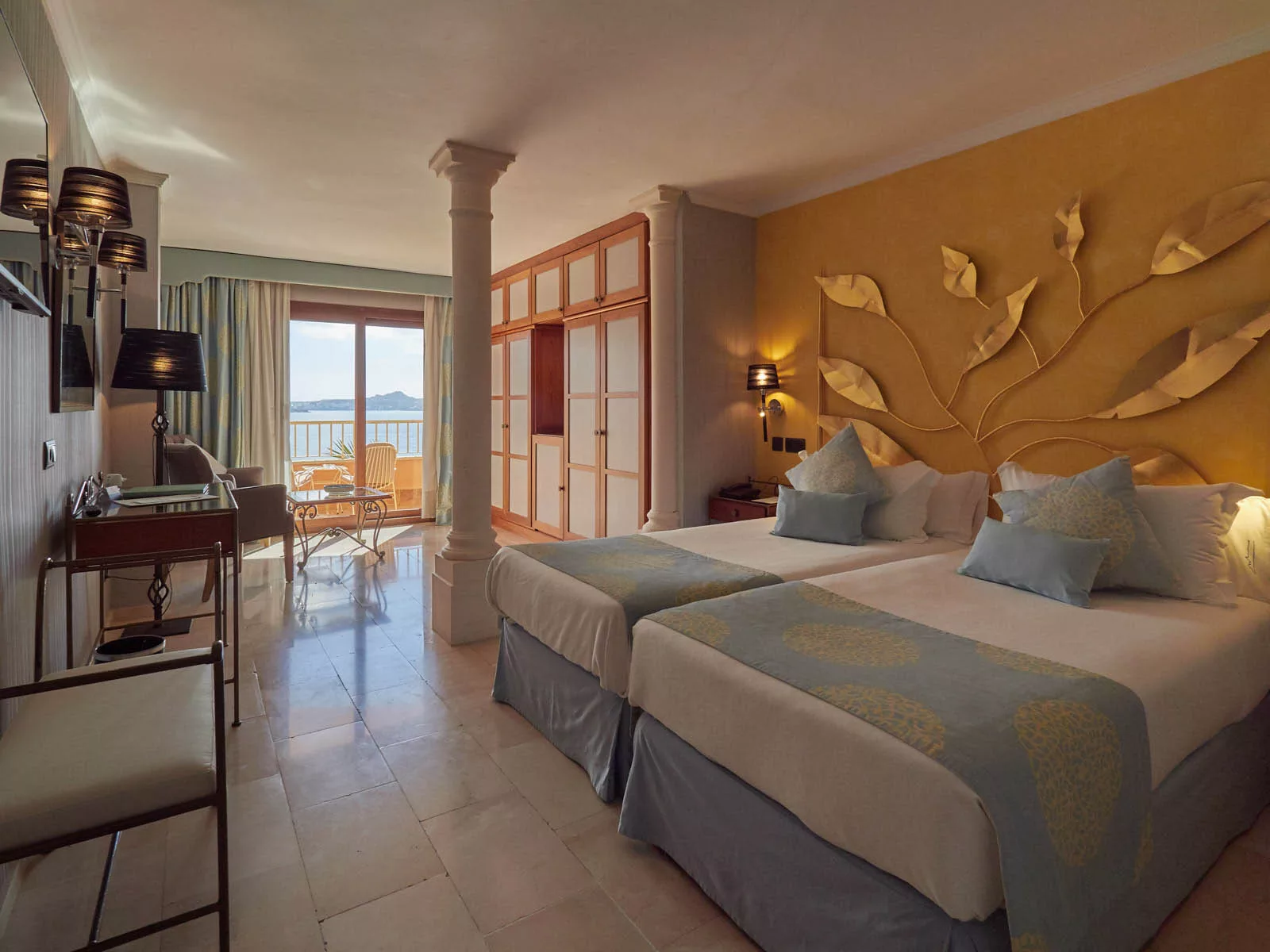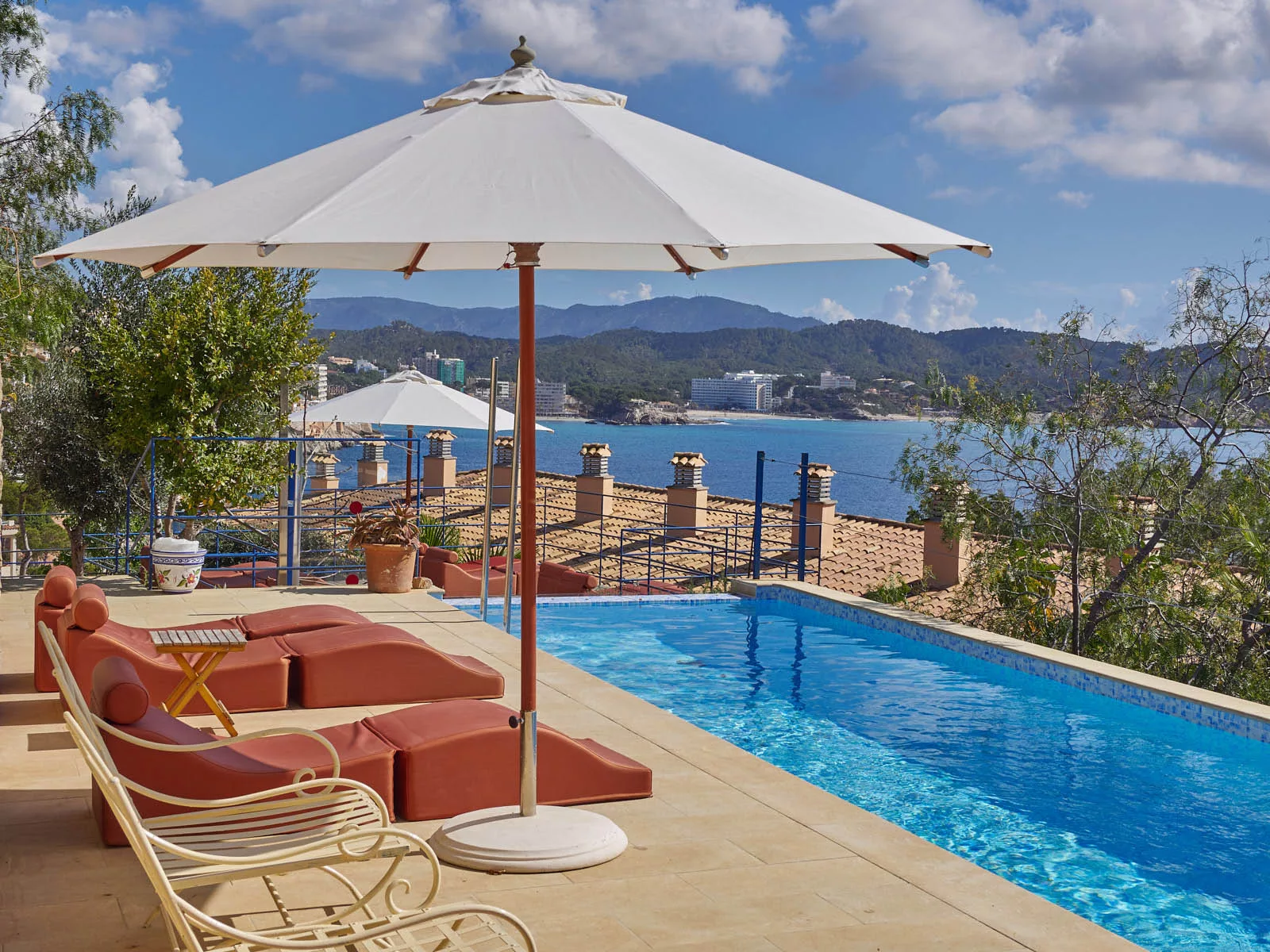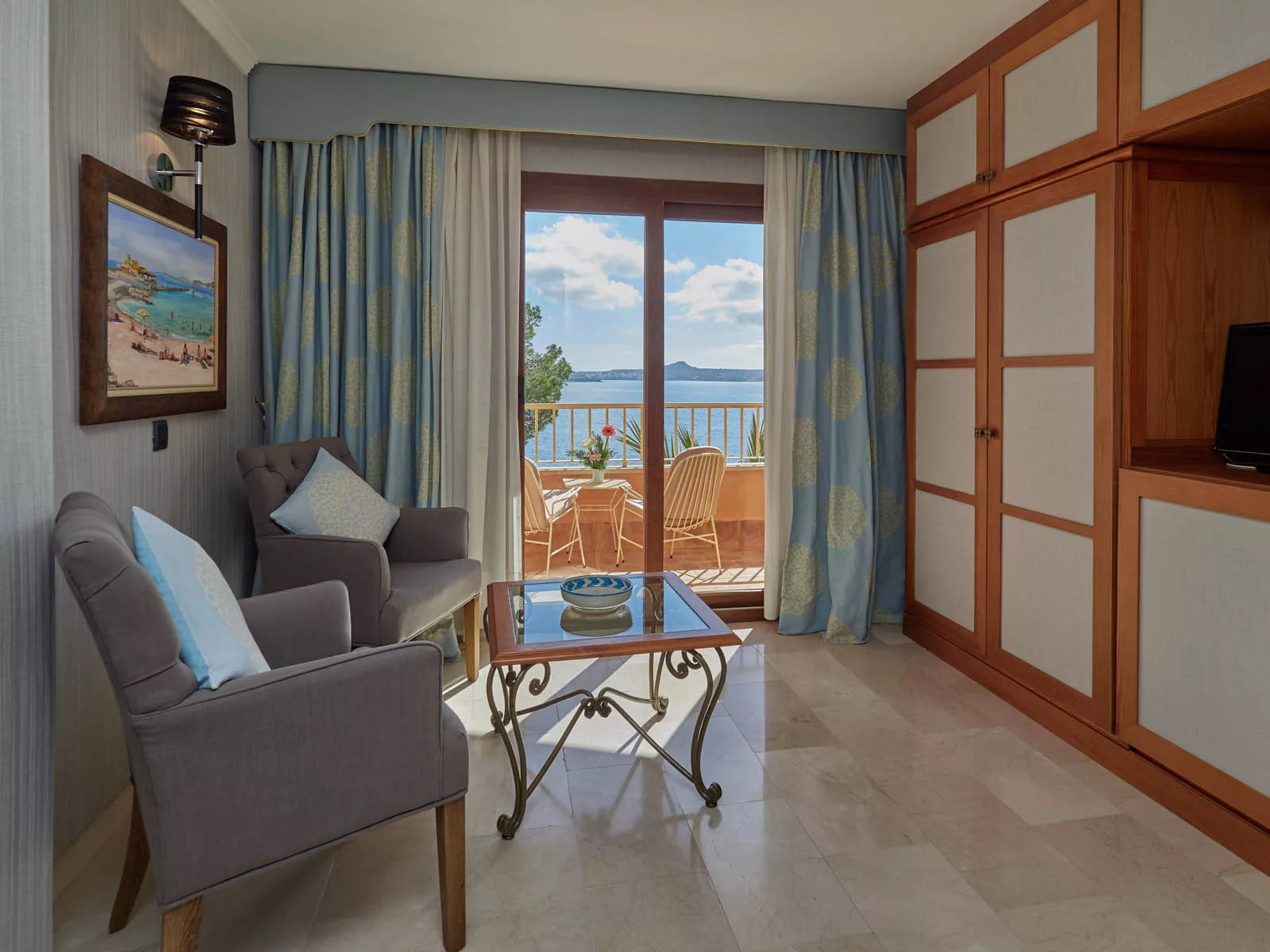 Day 8: Palma & Airport
This day is short and sweet, ending your journey through Mallorca. After checking out in Cala Fornells, you can take the 102 bus back to Palma (estacio intermodal), and then take the A1 bus from Estacio Intermodal to the airport.
So… Do You Need a Car in Mallorca?
Mallorca is a beautifully diverse island; from mountains and farmland to white sand beaches and rocky coves. Each place on the island has its own individual spirit and character, influenced by the local culture and customs of the town, and by the wonderful intricacies of its history.
No two parts of the island are the same; and that is truly the island's charm, and its gift that keeps on giving. One could spend many trips, and even many years in Mallorca and still have plenty of uncharted territory left to explore. What this means for the earnest traveler is that the island will always have an abundance of places to be seen and enjoyed, both with and without a car.
Can you go to every site on the island without a car? No. However, are there many, many trips' worth of beautiful places on the island that are perfectly accessible without a car? Absolutely. And it is my hope that this guide serves as proof.