I was excited to write this guide to Santa Maria del Camí. It's the place I've called home for going on a decade now. Quaint and picturesque yet easily accessible, this authentic Mallorcan village bordered by vineyards and backdropped by mountains is the perfect place to take a step back and appreciate the best of what this island and culture have to offer.
How to Get to Santa Maria
Santa Maria is just outside of Palma and easy to reach by car, public transportation, even cycling or walking.
Driving
Santa Maria is connected to Palma via the Ma-13 autopista, so the easiest way to get there is to just hop on the highway taking the Ma-13 in the direction of Alcúdia and Inca. Exit 12 pops you right off into Santa Maria with a large public parking area right before you enter the town. The drive takes 15-20 minutes depending on the traffic.
TIB Train
Santa Maria is on the train line, and since it's before Inca, all three trains go there. This means there a train leaving for Santa Maria from Estació Intermodal about every 20 minutes on weekdays. The train ride takes about 20 minutes except for the T3, which only takes 15 minutes.
Walking or Cycling
Santa Maria is about 15 kilometers or 10 miles from Plaça d'Espanya. While you can't walk or cycle on the Ma-13, it's easy to go through Es Pont d'Inca and Marratxi. There's even a bike trail for much of the distance. Walking takes a little over three hours, cycling one hour.
Where to Stay in Santa Maria del Camí
Unfortunately, lodging options in town are limited in Santa Maria, but there are a lot of fincas and agrotourism options just outside of town. It's best to have a car if you stay at one of these, and parking in Santa Maria is fairly easy. Another option is to stay in Palma since Santa Maria is so accessible by car and train.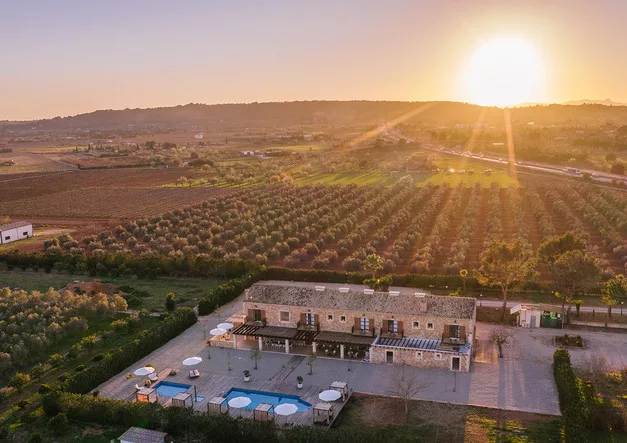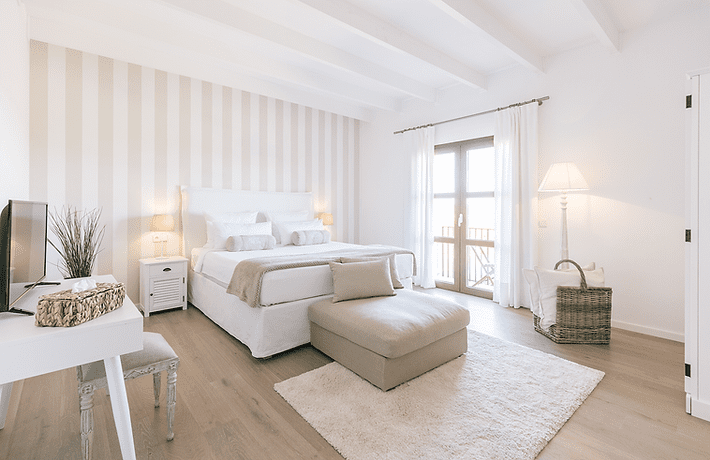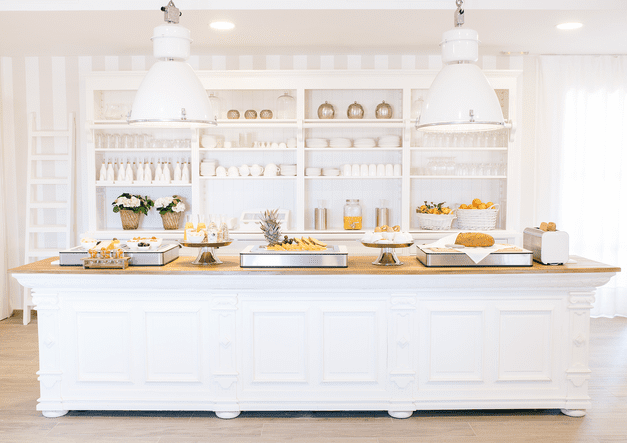 Right outside town, Antonia's Finca is in a quiet part of Santa Maria known as Es Pla de Buc. This open plain is filled with vineyards backdropped by the Tramuntana mountains.
The location alone is a tranquil escape from the stresses of life, but the open pool area and fresh breakfast with local ingredients complete the process of relaxation. I recommend waking up early and taking a sunrise walk through the vineyards before enjoying a full breakfast. As a Santa Maria local, this is how I start my day.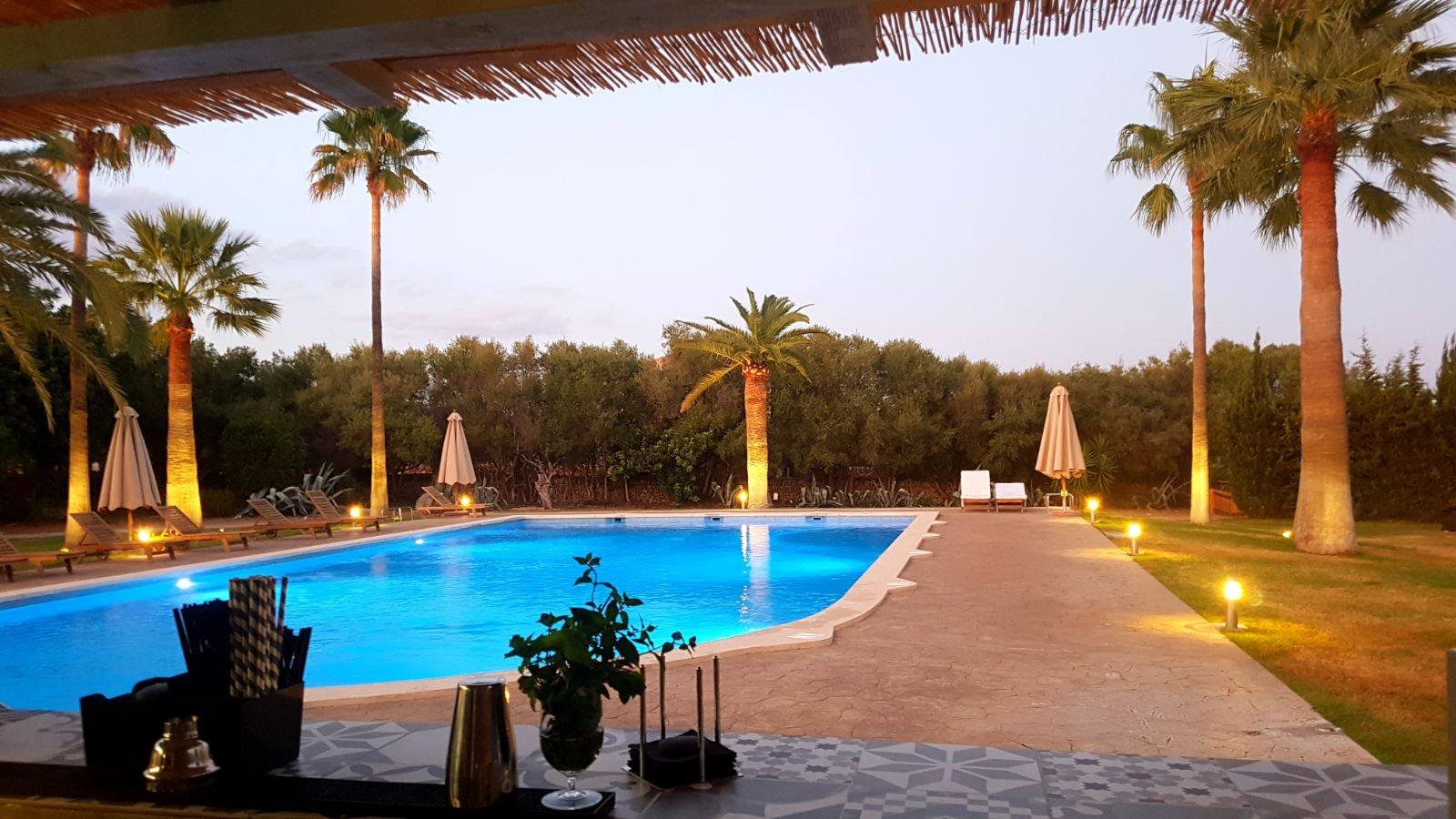 Reads Balance Hotel is in a beautiful location on the other side of Santa Maria closer to the mountains. Like most of the lodging options around town, it's a good option if you're looking for a country getaway in a peaceful setting. There are available yoga and spa services for advanced reservation.
I also like this hotel because it offers a unique and more authentic experience. You stay in a 500-year-old Mallorcan possessió, and the owners maintain a lot of the old agricultural equipment, making it a live-in museum.
This is another finca hotel located in an old possessió complete with yoga classes and an outdoor pool, not to mention impressive views of the mountains. It's admittedly a little pricier than the other fincas around Santa Maria, but it's also on a main highway that gives you easy access to the mountain towns like Sóller and Valldemossa.
Where to Eat in Santa Maria del Camí
Most Authentic: Sa Sini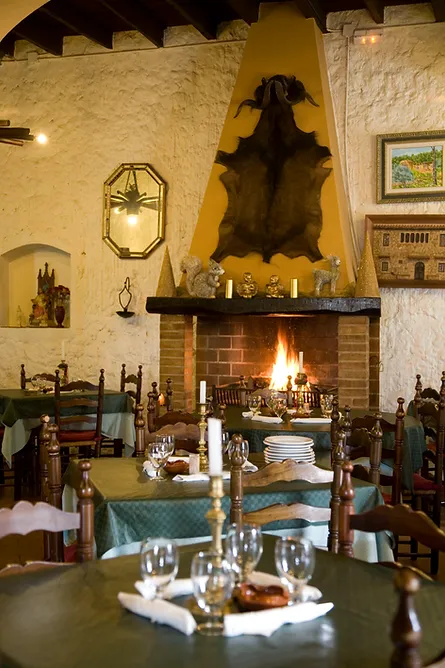 Sa Sini is always the first restaurant I take my friends and family to when they come to visit me in Mallorca. It is authentically Mallorquin, from the cozy fireside atmosphere to the black olives they bring to the table. Sini means "well" in Catalan, and you'll find the restaurant in the quaint Santa Maria old town near an old preserved Arabian well.
Sa Sini calls itself a pizzeria, and they do make some good ones. However, I actually recommend trying some Mallorcan specialities like tumbet or caragols (snails). The restaurant's main claim to fame is the large dessert bar at the center of the dining area. The fluffy cakes and pies make your mouth water as soon as you enter and build your appetite as you see them throughout your meal. When you've finished, you're welcome to go get a slice.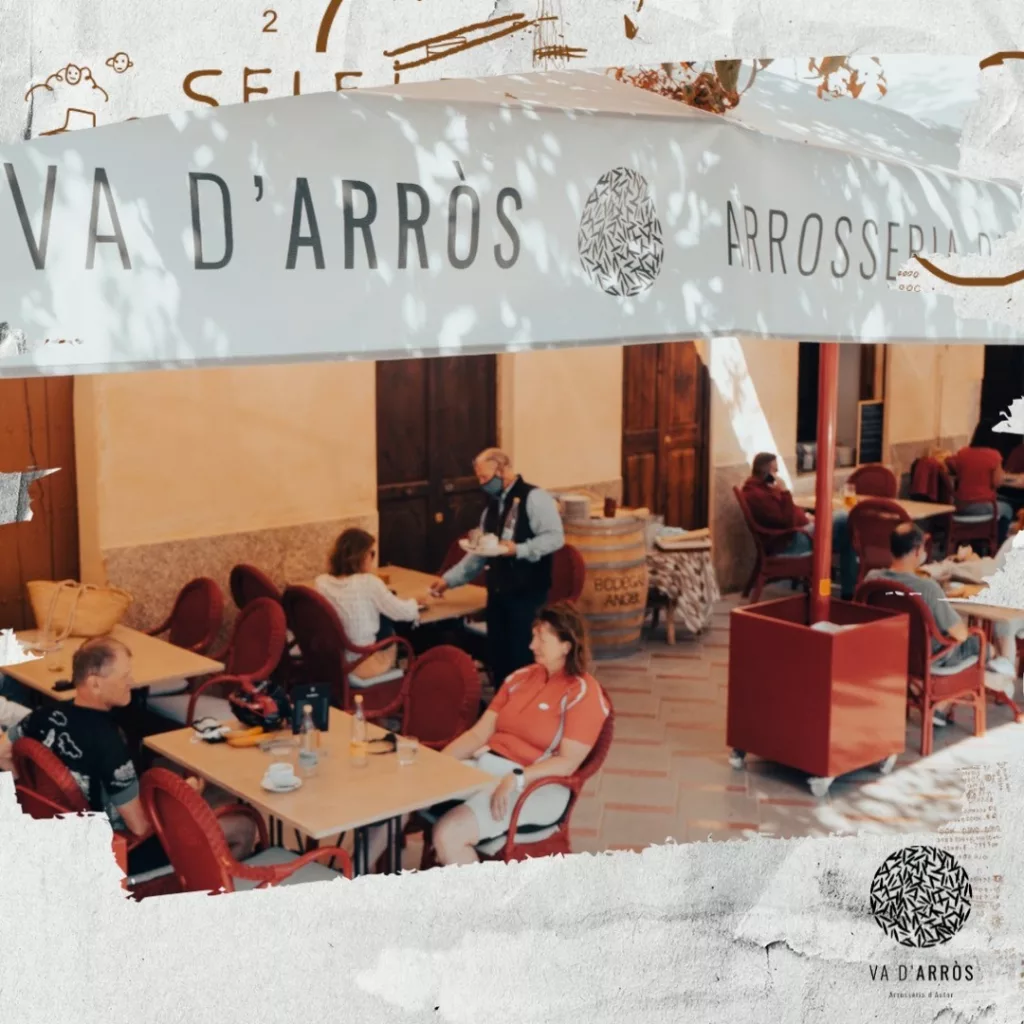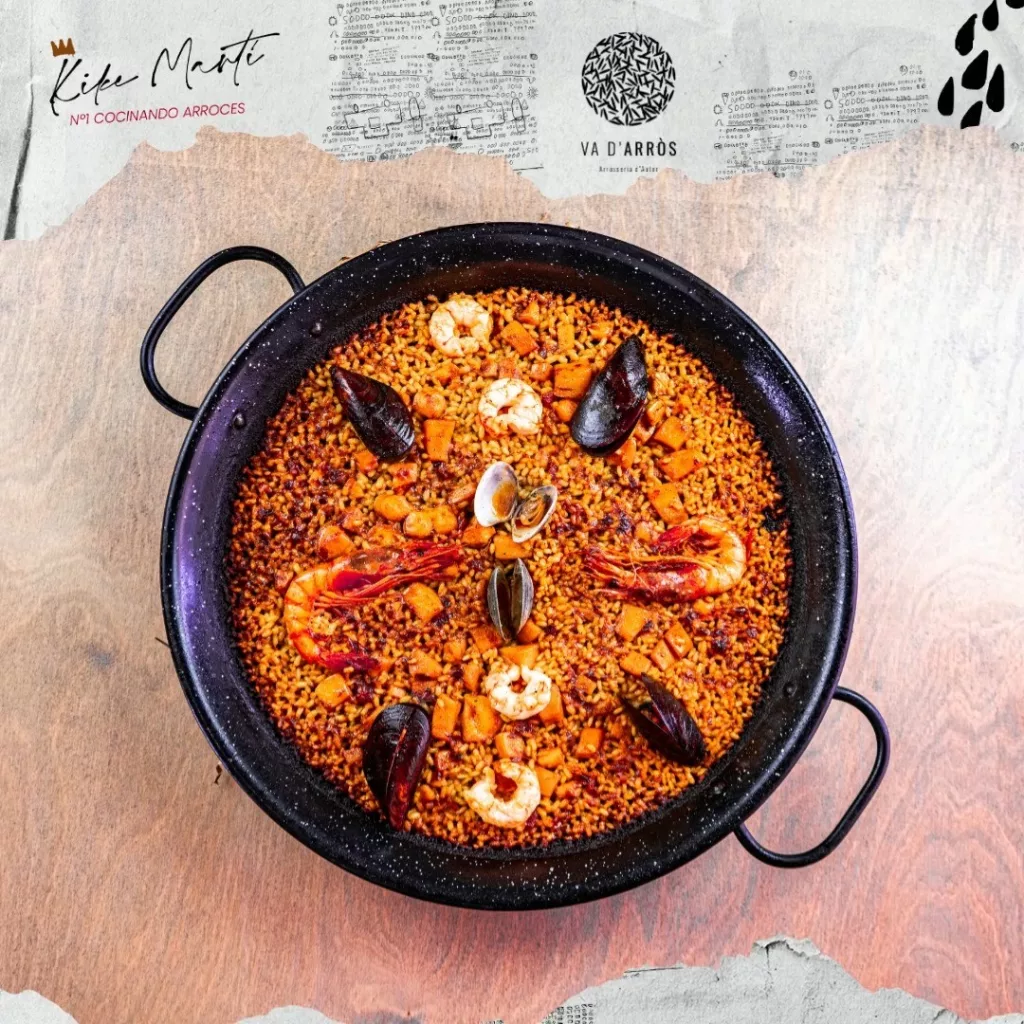 Va d'Arròs is not only the best paella in Santa Maria, I dare say it's the best in all of Mallorca. In addition to traditional Spanish paella, the master rice chef Kike Marti, originally from Valencia, uses local Mallorcan ingredients like sobrassada to create speciality paellas.
Whether you're a paella purist or a fan of the novel, there's something for everyone. I personally recommend the paella de secreto.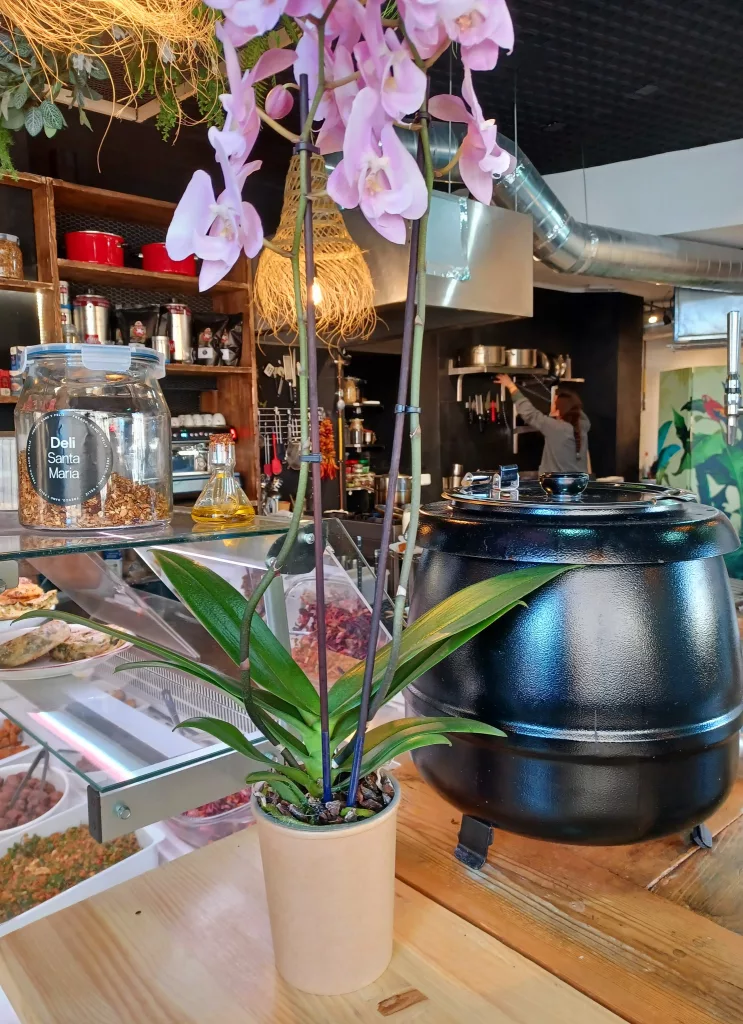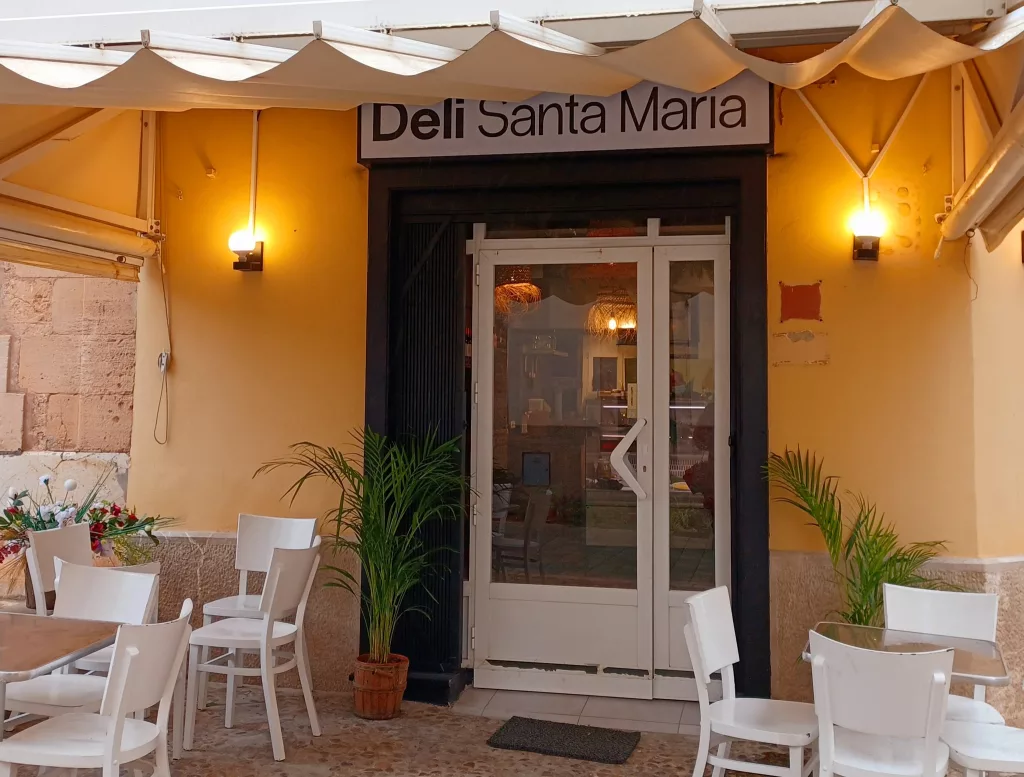 Most dining options in Santa Maria are Spanish or Italian, so Deli, with its authentic Israeli and eastern Mediterranean cuisine is something unique. Located just off Plaça Nova in the shadow of the church, it's a great place for a healthy breakfast or coffee while enjoying the scenery of the town.
Most of the seating options are outside, but they've been adding more inside, so it's usually my go-to for meetings or getting some work done out of the house. While everything is delicious, you absolutely have to try the hummus.
What to Do in Santa Maria del Camí
Go to the Market
Santa Maria's market is one of the best in Mallorca along with Sineu's. Plaça Nova provides a lot of room for several rows of vendors including butchers, bakers, produce sellers, live animals, hand-made goods, clothing and toys.
The market, known as mercat municipal, officially runs from 8 am to 2 pm on Sundays, but not all vendors are there that whole time. I recommend arriving around nine to beat the crowd, but most stalls will still be selling through around one. Plus, Plaça Nova is surrounded by local bars and restaurants as well as wineries like Jaume de Puntiro where you can relax and have a drink after shopping.
Be aware that the town closes off the square to vehicles during the market, so your best option for parking is the municipal parking lot called Aparcament de Son Gulla right off the Ma-13 autopista. From there it's just a five-minute walk through the beautiful old town to reach the market.
Wine Tastings and Tours
Santa Maria is in the heart of the raiguer, Mallorca's main wine region. The town is nestled amongst luscious green vineywards that run up to the foothills of the mountains.
Many wineries are located in and around town, including the largest on the island, Macià Batle, located right next to the train station. There are also two wineries belonging to the Denominació d'Origen Binissalem: Jaume de Puntiró and Sebastià Pastor.
In total there are seven wineries in Santa Maria:
Macià Batle

Jaume de Puntiró

Sebastià Pastor

Angel

7103 Petit Celler

Ramanya

Son Crespí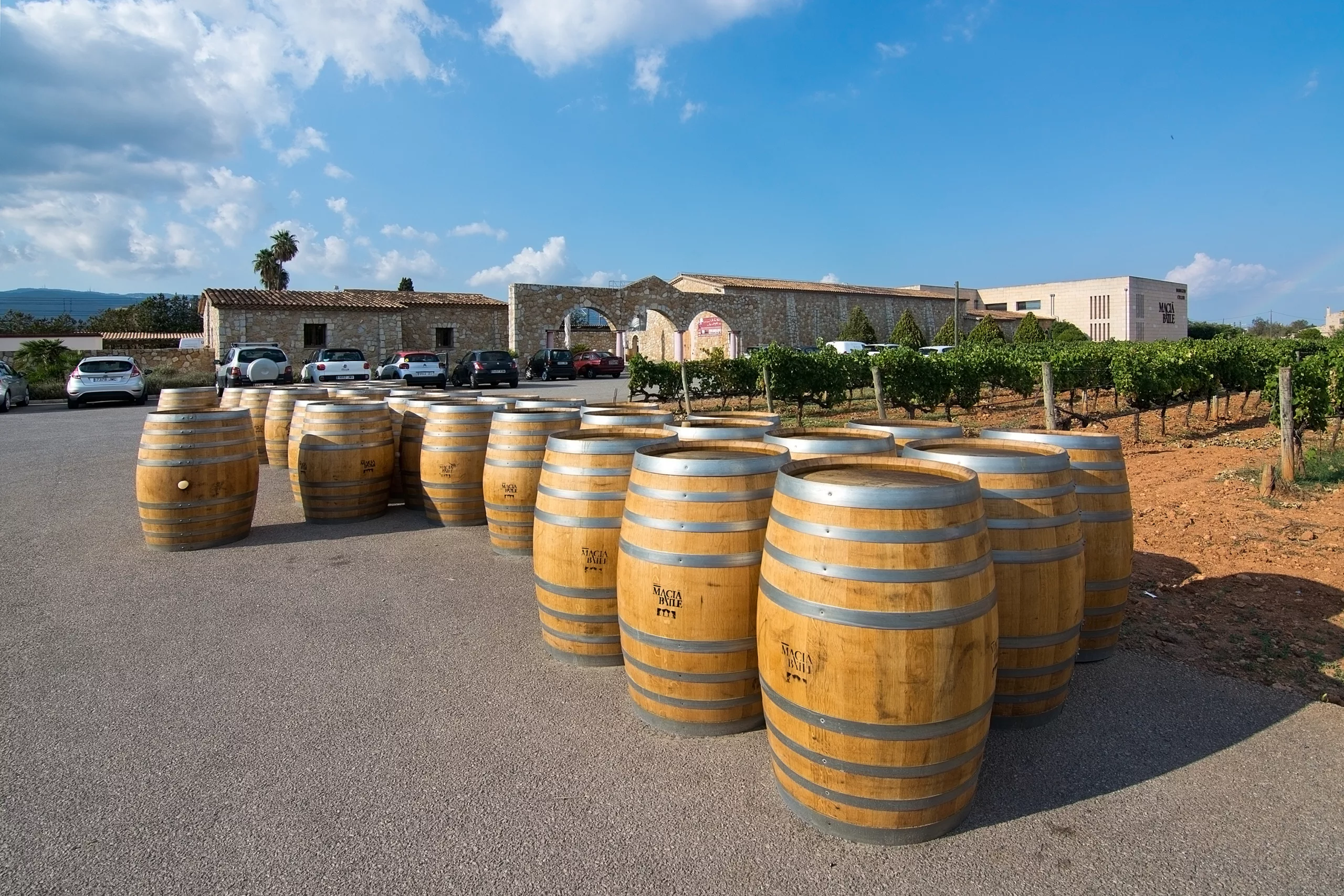 Macià Batle is the largest winery in Mallorca, producing over a million bottles each year. They have a beautiful tasting room right next to the Santa Maria train station where they also offer tours of the facilities.
Jaume de Puntiró was one of the first wineries in Mallorca to grow grapes organically, starting in 1980. A part of D.O. Binissalem, their wine is both high-quality and authentically Mallorcan. Because the bodega is located right on Plaça Nova, it's a great place to go after visiting the Sunday market. You can order by the glass or flight, or call ahead to reserve a tasting combined with an array of Mallorcan chacuterie. With enough people, you can even reserve a vineyard tour through Es Pla.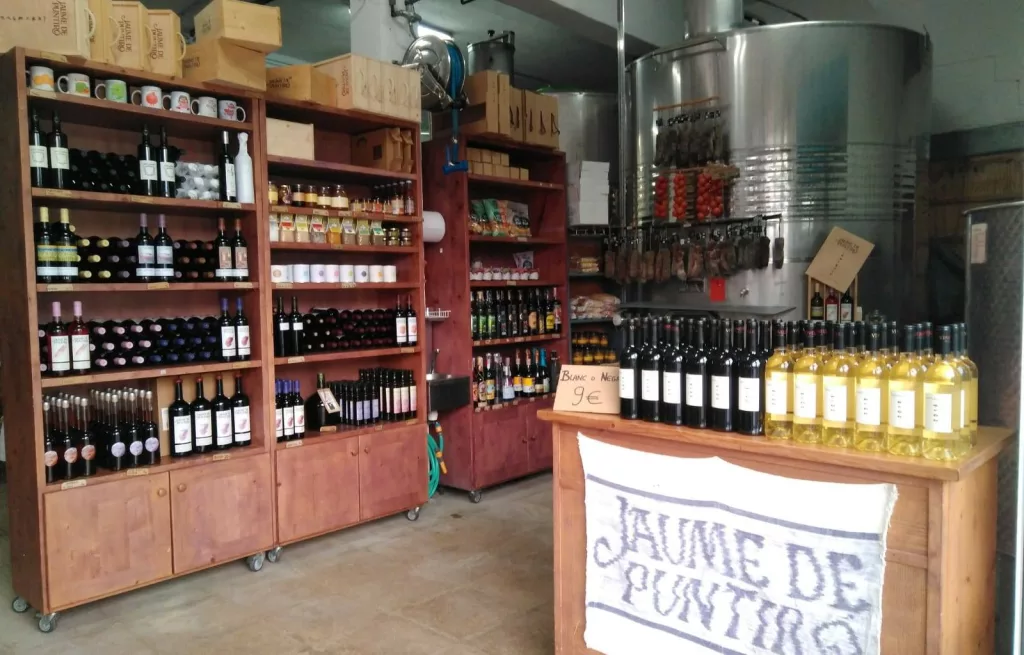 Sebastià Pastor is the other winery in Santa Maria that's part of D.O. Binissalem. As such, the wine is top quality. You can enjoy it in Can Vinagre, their tasting room and bodega in the Santa Maria Old Town. You can also visit the main vinery on the village's outskirts.
Angel is a large but relatively new winery located to the south of the Santa Maria old town. You can easily arrange a two-hour visit that includes wine tasting and a tour right on their website.
7103 is a winery devoted to fun. They attend all the usual wine festivals and have a lot of experiences the other bodegas don't offer. For example, in addition to tastings, you can tour the vineyards in a classic Mallorcan Jeep.
Located on the outskirts of town just a bit past Sebastià Pastor, Ramanya is well-known for their gardens that you can stroll filled with many different Mallorcan plant species. They also have a museum of traditional farming equipment.
Son Crespí is a microcellar devoted to growing local grape varieties using traditional and organic methods. They only produce a few thousand bottles a year, but they're some of the best on the island. They have a range of experiences you can book, all wine tastings but with various Mallorcan dishes including pa amb oli, paella and porcella.
Whether you want to visit all of them at once or spend your time enjoying one bodega, the choice is up to you. I highly recommend coming to Santa Maria by train, and then starting at Sebastià Pastor, working your way to Jaume de Puntiró for lunch and then finishing it off at Macià Batle before taking the train back. If you'd like help setting up a tour with multiple wineries, email tours@mallorqueta.com.
Hike Cami de Coanegre
Santa Maria lies just below the Serra de Tramuntana, so it makes a good starting point for hiking. In particular, I recommend the trail known as Camí de Coanegre, which heads north from the train stration directly into the mountains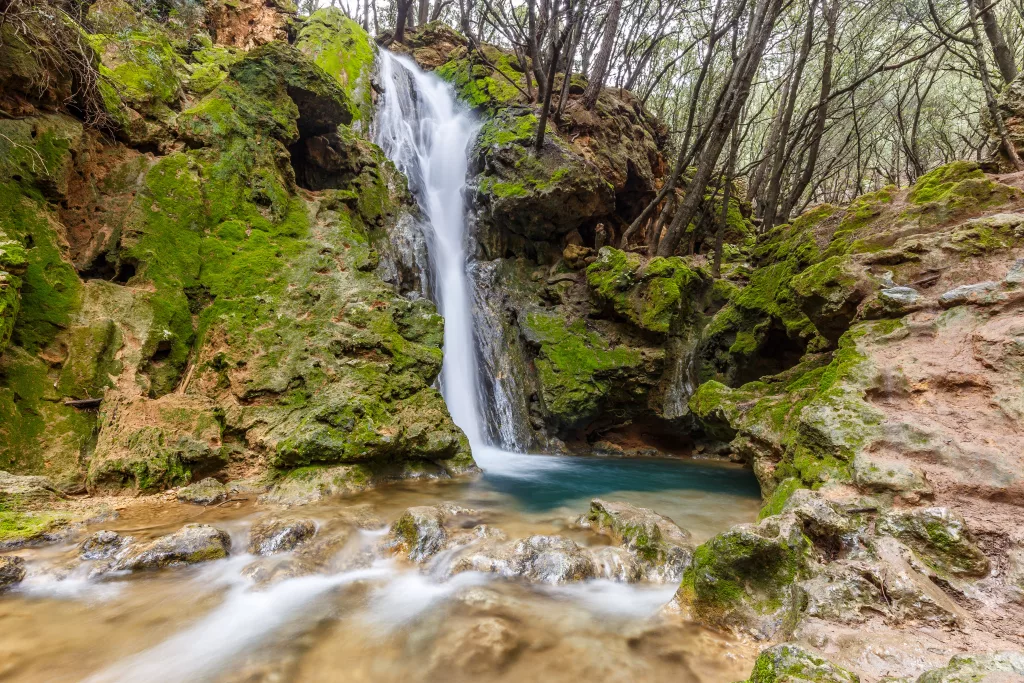 Although you can't park along the trail itself, you can park at Parc Can Borreó, a large municipal park with a public calistenics gym, children's playground, skate park and basketball court. From there you can head north on the Camí de Coanegre highway until you reach a large possession known as Son Torrella a little over a mile or around two kilometers later. From there a short turn will present you with the trailhead.
The Camí de Coanegre takes you along a stream known as Torrent de Coanegre, and it's an enjoyable walk no matter how far you take it. If you're feeling especially ambitious, you can take it some six miles or 10 kilometers to Es Salt des Freu, one of Mallorca's few natural waterfalls. Just remember you'll need to walk back!
Explore the Town
Santa Maria del Camí is a beautiful town that's a perfect example of a traditional Mallorcan village. Take the day and walk around the old town enjoying the architecture as captured by the church dating to the 13th Century, with its iconic blue-tiled Baroque facade and connected garden.
Other picturesque spots include:
Carrer de l'Església: a short pedestrian street decorated with locally made dreamcatchers
Plaça de la Vila: a small but quaint square in front of the town hall, often decorated with seasonal displays
Plaça Nova: the town's large main square with two parks on either end
Avinguda Jaume III: a large avenue lined with businesses and anchored by a park
Plaça Hostal: a square along the town's main thoroughfare that hosts many of its most notable restaurants and shops
Fires i Festes
Reis d'Orient – January 5
As a small town full of families and small children, the Three Kings are an important part of the Christmas holidays. You may see the Kings well before January when they visit schools to collect letters, but you'll certainly see them the night of the January 5th as they make their way through town in their parade.
Sant Antoni – January 16-17
Sant Antoni, the patron saint of animals, is one of the most important figures in Mallorcan culture, and his feast is an important holiday for most of the island. Santa Maria does not have the massive festivals you'll find in Sa Pobla or Manacor, but the people do mount a few bonfires for barbecues with friends along with correfocs.
Carnaval – End of February
From the Thursday before Lent until Ash Wednesday, Carnaval is celebrated throughout the island with fun costumes, events, and parades filling every town, including Santa Maria.
Semana Santa – Mid April
Santa Maria celebrates Easter much like the rest of Mallorca: processions on Maundy Thursday and Good Friday. Families also get together to make panades, rubiols and crespells.
Sa Fira – End of April
The fair comes to Santa Maria at the end of April each year, often lasting into May. Vendors mount carnival rides, games and shops in Plaça Nova, and there are special events at businesses around town. The official Dia de la Fira involves large expositions of classic cars, agricultural equipment, and streets of stalls selling artesenal goods.
Sa Nit de sa Bubota – Beginning of May
Every year, the first weekend in May after the end of the fair, the Gegants de Santa Maria host giants from other Spanish town. Together they put on a show in Plaça de la Vila.
Festes de Santa Margalida – Mid July
Saint Margaret is Santa Maria's patron saint, and her feast day is July 20th. However, the town celebrates her for a full two weeks ending on this date. In addition to nightly concerts and verbenas, events include Sopa a la Fresca, when the entire town comes together for an outdoor dinner in Plaça Nova, and the jocs populars where groups of young people called colles compete in elaborate games.
Festes de la Parròquia – Beginning of September
The Feast of Saint Mary is September 8th, and the town hosts a few small events during the surrounding days to celebrate.
La Nit de les Ànimes – October 31
Because Santa Maria is a family town with a lot of small children, the people have adopted English Halloween to a certain extent, and it also coincides with the traditional celebrations of the night before All Saints' Day. There is a small parade and few haunted houses. Children usually dress up and go trick-or-treating.
Festa de Vi Novell – End of November
Santa Maria del Camí is the only town in the world to have maintained continuously the Mediterranean tradition of hanging a pine branch above the bodega to announce the arrival of the season's young wine. Nowadays, the town even celebrates the first batch of wine from the grapes harvested in August and September with a festival where the town's many wineries sell their young wine and local restaurants provide food.
Nadal – December
Santa Maria turns on its Christmas lights at the beginning of December, and the festive anticipation only intensifies from there. There is often a small Christmas market in mid December.
Last-Minute Hotel Deals in Santa Maria del Camí