Cala Bóquer is my favorite beach in Mallorca. A virgin cove accessible through a picturesque valley, it captures the magical beauty of Mallorca. I've been many times, and each visit leaves me with shimmering memories that only fill me with further love for this island. Though it does require a hike, it's well worth it, especially if you are interested in snorkeling and appreciating the natural world.
Cala Bóquer
Basic Information
| | |
| --- | --- |
| Type of Beach: | Rocky cove |
| Closest Town: | Port de Pollença |
| Body of Water: | Cala Bóquer |
| Best Hotel: | Villa Phoenix |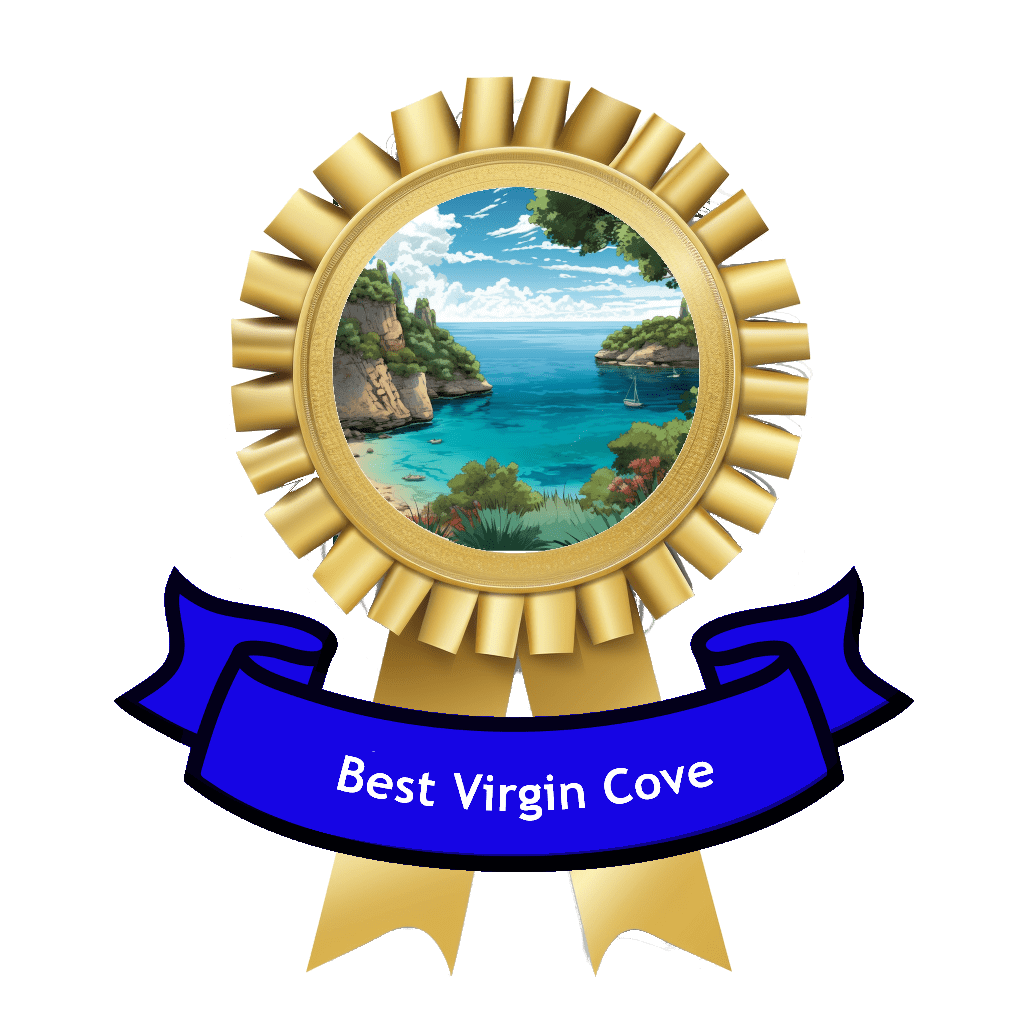 Mallorqueta Superlatives
Best Beach for Snorkeling
Best Nudist Beach
How to Get to Cala Bóquer
Cala Bóquer requires a hike. It isn't a long hike, just about a mile and a half one way (2.5 kilometers), or 30-40 minutes depending on your pace. It's not particularly strenuous, but it does get hot in the middle of the day during the summer.
The hike starts at a large gravel parking lot right off a roundabout on Highway Ma-2200 in Port de Pollença, so access by car is easy. There's also a bus stop right next to the trail head.
Driving
The hike to Cala Bóquer starts in Port de Pollença, the coastal town right on the Bay of Pollença to the northeast of Pollença itself. From Palma, the drive takes about 50 minutes. Follow Google Maps directions for "Camí de Bóquer." (Results for "Cala Bóquer" are incorrect.)
From Palma, take the Ma-13 autopista northeast in the direction of Alcúdia. Drive roughly 26 miles (42 kilometers) past Sa Pobla. Take Exit 40 and head north onto Ma-2200 following signs for Pollença. This is the last exit before the autopista converts into a traditional highway.
Follow Ma-2200 for roughly seven miles (11 kilometers) to where it bypasses Pollença. Make sure to stay on Ma-2200 and follow signs for Port de Pollença.
Continue another four miles or so (six kilometers) until you reach Port de Pollença. You will have to navigate several roundabouts, so make sure you stay on Ma-2200. You'll come to a roundabout with an airplane mounted in the center and an Eroski supermarket ahead of you. Take the third exit heading northeast towards Formentor, once again remaining on Ma-2200.
You will pass one more roundabout, continuing straight, until reaching a second roundabout, the third exit of which opens up right into the trailhead's gravel parking lot. You will see signs for "Camí de Bóquer."
TIB Bus
There are a few ways to get to the Camí de Bóquer trailhead using the TIB bus system:
The Camí de Bóquer Hike
From the trailhead, the path to Cala Bóquer is easy to follow. Head north up the path until you see a large possession now called "Cases de Bóquer." There is a large gate for vehicles with a step-through door that you can open on the left. Walk up over the possession's terrace, which will give you a spectacular view of Port de Pollença and the surrounding countryside.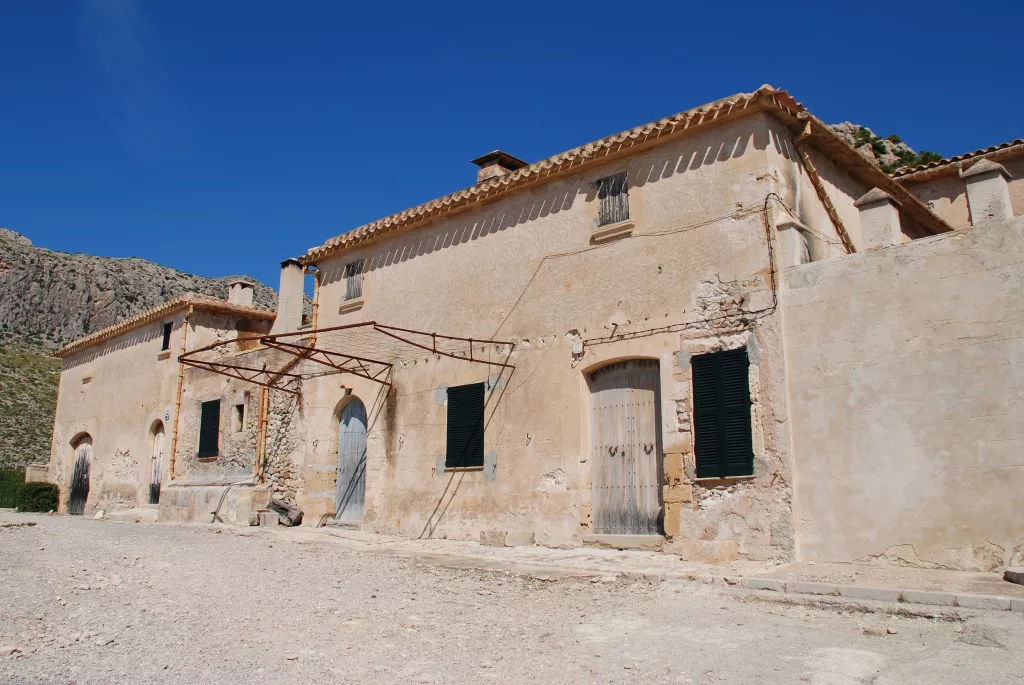 At the end of the possession house, you'll find another gate closed with a chain. Simply lift up the chain to open the gate. Continue up and to your right onto the dirt path.
The first notable landmark is a crag between four rocks with artificial steps. This is an excellent place to cool off if the heat is getting to you. There is little shade for the rest of the hike.
After the crag, you will continue into a wide, easily followable trail through the Bóquer valley. The sun beats down on it considerably, so bring water in the summer.
As you continue on, the cove itself will come into view over the horizon, breathtaking no matter how many times you've seen it. Eventually you'll come to a viewpoint that allows you to see the green water of the shallow cove.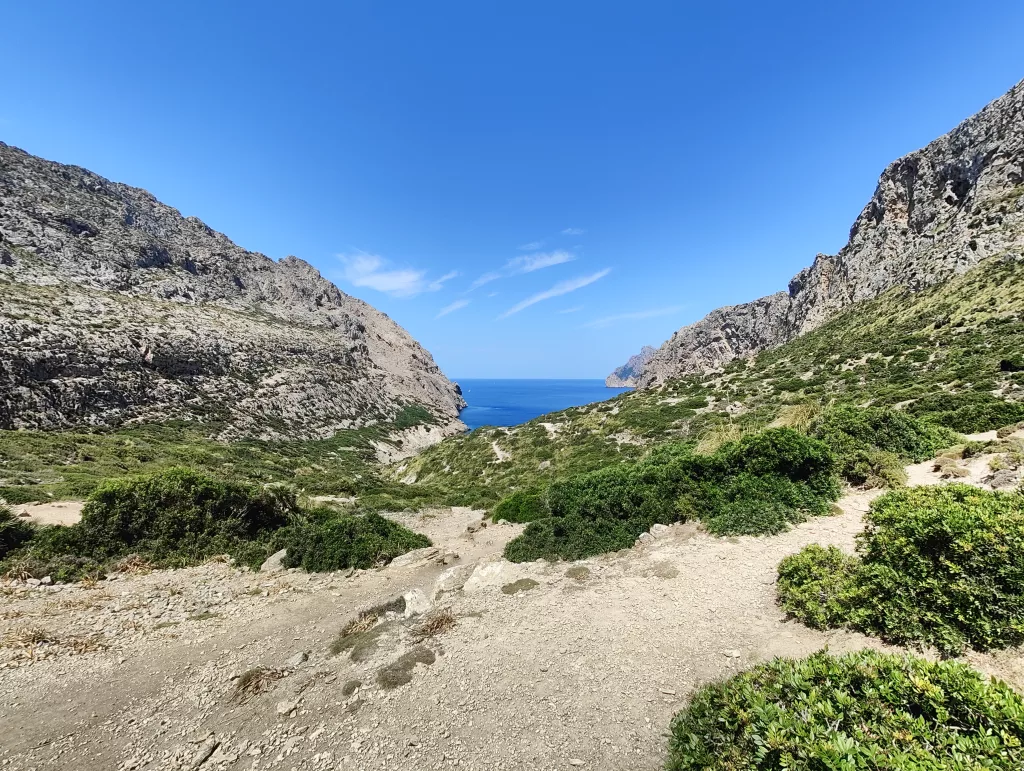 Here the trail becomes a sharp downward slope with numerous routes. Luckily, the government has put up signs to show the proper trail, which is the most easily navigated. After 10 minutes or so you'll reach the cove.
There's a wide open beach with smaller pebbles and dried algae, but you can also continue hiking to the right to reach secluded areas with the rocks.
There are a lot of large resorts in Port de Pollença, but I like this small villa better than any of them. Not only is it right next to the Camí de Bóquer trailhead, but its position up on the hill gives you spectacular views of the bay. Add in comfortable pools and porches as well as stylish common rooms with amenities such as fireplaces and lounges, and this is one of the best stays on all Mallorca.
Cala Bóquer Rankings
Natural Beauty: 10/10
From the hike to the cove itself, Cala Bóquer is a humbling testament to the wonder of the natural world. Slight Mediterranean cliffs tower of torquoise water turning to a deep blue as you look out to sea past the peninsula of Formentor.
Family Friendly: 4/10
I've regularly seen children at Cala Bóquer, but remember that they have to make the trek in the heat while staying cool and hydrated. The cove is also regularly advertised as "nudist," so keep that in mind.
With little sand and no development, young children could get bored, the only way back being the return hike. Therefore, it's probably best for older kids over eight.
Accessibility & Parking: 4/10
Despite the hike and drive from Palma, Cala Bóquer is relatively accessible for a virgin cove. For one thing, the trailhead features a large parking lot, and you don't have to look for parking along the highway as with many coves. Plus, the trail is easy to follow, well-marked and not especially rigorous.
Space & Crowd: 9/10
I consider Cala Bóquer to be a hidden gem, so please do not take a party there and fill it with trash. On summer weekeds, the main beach can sometimes fill up, but there is almost always space on the flanks amongst the rocks. You can often get a secluded area all to yourself. There are usually a few boats, but not to excess.
I pray this article doesn't change that.
Activities: 0/10
If you're looking to rent a jet ski on the beach, Cala Bóquer is not the place. Consider nearby Platja de Muro.
Swimming: 6/10
The water in Cala Bóquer is beautiful and transparent. Because it's under the shadow of the mountains, it takes longer to warm up in the summer, but it's comfortable come July.
Entering the water requires navigating some slippery rocks, but then you reach a large patch of sand. This quickly becomes deeper than head-high, but there is a considerable swimming area.
Sea Life & Snorkeling: 10/10
The cold water and rockiness of Cala Bóquer make it a great place for snorkeling. Plus, it quickly becomes deep with flat rock faces along the sides and several rock outcrops. You can find the typical Mallorcan coastal species like the ornate wrasse and dreamfish. I once saw a lone barracuda far out.
Be careful, as in the deeper water I've seen a buried weever, which delivers a painful sting if stepped on (though this is difficult at the depths it lives). I've rarely seen purple people eater jellyfish, which sting. There are a lot of crabs, too.
Restaurants & Amenities: 1/10
Cala Bóquer is a virgin cove with no restaurants or amenities, but you will find restaurants and shops closeby in Port de Pollença, many right on Ma-2200 where the trailhead is.
Nudity: 9/10
You will often see Cala Bóquer advertised as a "nudist" beach, and there is spraypaint on a wall along the trail stating as such. Now, you're likely to find nudists in any virgin cove in Mallorca, but it's somewhat more common at this one. This is especially true if you go into the rocks to the right of the beach.
Safety: 1/10
The hike to Cala Bóquer is not rigorous, but there is a risk from the heat in the summer. Additionally, the end of the hike involved climbing down uneven rocks, so falls are possible.
In the cove itself, there are wild goats, which, while generally tame and friendly, can be bothersome or aggressive, especially if you feed them. (Don't feed them!) There's also a lot of sea life.
There is rarely cell service, and there are no lifeguards. The nearest development is Port de Pollença, returning along the 30-40 minute hike. In other words, it may be hard to get immediate help in case of emergency.
Hotel Deals Near Cala Bóquer