When I want to get out of the city and go to a cala but don't want to take multiple buses or go an hour to an hour and a half away, I go to Ses Illetes. It's a short drive—or an easy bus trip—from Palma and it is so beautiful. It's located near Portals Nous and Cala Mayor, not far outside of Palma. A beach resort town, the small beaches are popular and fill up quickly, but the atmosphere is relaxed and the cliffs make the beaches feel more isolated than they are. When you want to have a more relaxed, intimate beach experience while still staying close to Palma and having access to amenities, come to Ses Illetes.
There are three different beaches to choose from: Playa de Illetes, Cala Comtessa, and Cala Xinxell. Playa de Illetes is the largest and is right in front of a hotel. Cala Comtessa—my favorite—has a small island nearby that you can swim to if you're feeling adventurous. And Cala Xinxell has a few beach bars to choose from.
How to Get to Ses Illetes
Ses Illetes is easily accessible by car or bus. It's a quick 20-minute drive from Palma, or you can take the city EMT bus and be there in forty minutes. I've had issues finding the cala on Google and Apple Maps since there is also a Ses Illetes in Formentera, so I recommend searching for "Playa de Illetes."
Driving
From Palma, take Av. de Gabriel Roca. It will become Avinguda de Joan Miró/Ma-1 past Portopí. Take exit 9 towards Bendinat/Illetes. Then follow Carrer de l'Arquitecte Francesc Cases and turn right onto Passeig Illetes.
EMT Bus 4
This cala has an easier bus journey than many others. You can take EMT Bus 4 from the Palma center and ride it for about 40 minutes until you arrive at the Ses Illetes stop. Don't worry about missing your stop because it is the end of the line.
These buses run about every 10 minutes.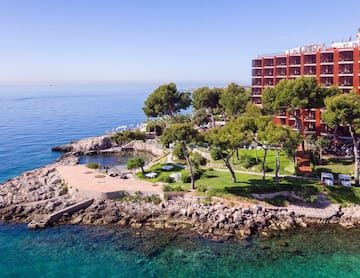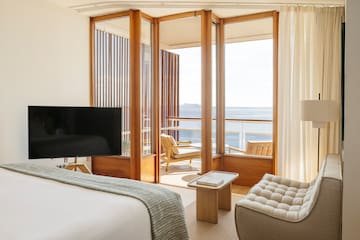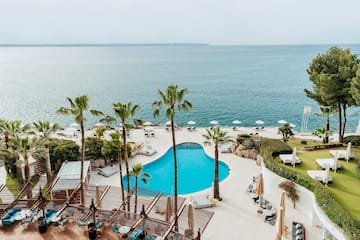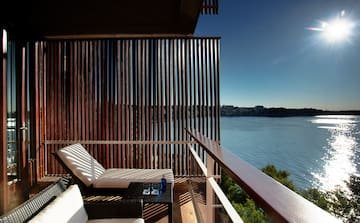 Ses Illetes is a resort area, a place for outsourcing your cares and worries and relaxing, so just lean into it. There's no better way to enjoy the many beaches than at the luxurious Hotel de Mar Gran Meliá. In addition to spectacular views and easy access to the beaches of Ses Illetes, you get attentive, friendly service that puts you in the beach-life frame of mind.
Ses Illetes Rankings
Natural Beauty: 8/10
These calas and beaches are beautiful with their clear, turquoise water and soft white sand, but they are in a developed resort area and can be very busy.
Playa de Illetes is very nice but it doesn't have that virgin cala look since it is in front of a hotel. Cala Comtessa is the prettiest in my opinion. It's slightly more tucked away from the hotels and has a tiny island nearby (Ille de Sa Caleta). It is surrounded by pine trees and small cliffs. Cala Xinxell is also very nice with the same shallow, turquoise water and white sands, but it has more parking lots, roads, and beach bars in view.
Family Friendly: 8/10
I've seen all ages at these beaches, but Playa de Illetes is perhaps the most family friendly of the three with a larger beach and a few more amenities (such as paddle boat rental). All three are family friendly but Cala Comtessa and Cala Xinxell are just more limited on space. At Cala Comtessa, you're lucky to have enough space to put your towel down sometimes, much less for kids to run around and have fun. The water is calm and shallow at each one.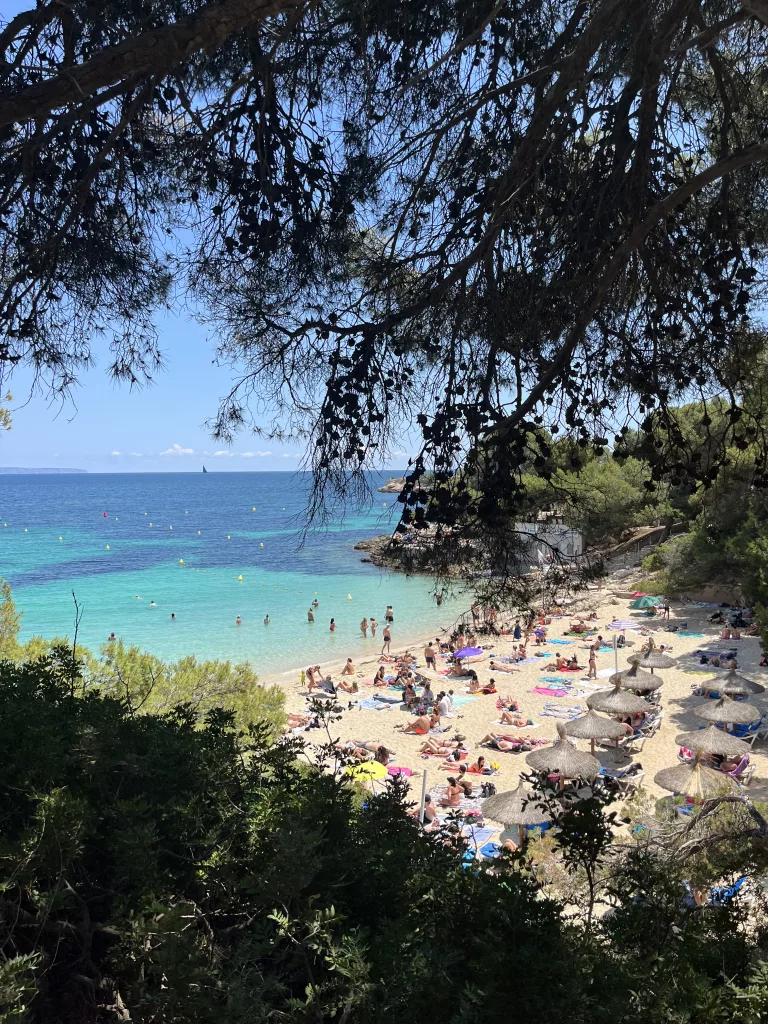 Accessibility and Parking: 9/10
I love these beaches because of how accessible they are from Palma. The buses are frequent and it's an easy, shorter trip from the city. It's also a short drive from Palma. There is parking, but it's more limited so it's perhaps best to get there early. There are both paid and free parking spots.
The beaches are relatively easy to get to, with Playa de Illetes being the most accessible with a small, paved walkway. To reach Cala Comtessa, there is a dirt path down from the street on one side and stairs on the other. Cala Xinxell is interesting to get to because there is a road, but the sign says it is a military base and there is a gate blocking the road. The only thing on the other side of it is the beach and some beach bars as well as a parking lot, but you still have to go around. The walk is short, but rocky and rough so be careful in flip-flops.
They don't appear to be very accessible for wheelchairs.
Space and Crowd: 2/10
These beaches are small and very popular which means space is limited. It's been packed every time I've gone, with Cala Comtessa busy by 9:30-10 am in the middle of August. Arriving in the afternoon, it can be like trying to solve a puzzle with figuring out where you can put your towel.
I recommend going to Ses Illetes early. It's even a great location for a sunrise swim if that's something you're interested in. In the water between the beach of Cala Comtessa and its small island, Illa de Sa Caleta, you can have an unobstructed view of the sunrise over the sea, or even watch it from the little island.
When I went to Cala Comtessa for a sunrise swim, we arrived by bus at 7:00 am in mid-August, people started arriving at the beach by 8:30, and it was packed by mid-morning.
Activities: 7/10
There are a few rentals, like SUP and paddle boats, available. Other watersports are not. Space is limited on the beaches for activities. There is no space for a volleyball net. The water is shallow so hitting a volleyball or playing some beach tennis in the water is an option. The general atmosphere here is pretty relaxed. People are tanning, swimming, reading, and talking to friends for the most part.
Swimming: 9/10
The water is shallow and clear and lovely to swim in at all three beaches. There are a few shallow rocks at Cala Xinxell, so be careful to not trip or scrape your foot like someone hypothetically might have. At Cala Comtessa, the swim to Ille de Sa Caleta is very nice. It feels a little more like an adventure.
Sea Life and Snorkeling: 7/10
The water is shallow and sandy and usually has a lot of people in it that can interfere with seeing sea life, especially compared to other locations more known for snorkeling. I did see fish though and some people were swimming with snorkel masks.
Also, the rocks around Illa de Sa Caleta provide for great snorkeling. There were crabs on the rocks of the little island.
Restaurants and Amenities: 9/10
Ses Illetes is a beach resort town. There are plenty of hotels, restaurants, and beach bars to choose from. There is a café overlooking Cala Comtessa. The views are amazing there, but the food was expensive for what it was. But again, this is a beach resort town so that's expected.
There are showers and bathrooms.
The beaches have sunbeds for rent.
You can rent SUP and paddle boats at Playa de Illetes.
Nudity: 0/10
These beaches are crowded and full of all ages. It's not a nudity-friendly environment nor have I seen nudity there besides occasional topless tanning.
Safety: 9/10
The water is shallow, clear, and calm. There are some shallow rocks in Cala Xinxell, but besides that it is very safe to swim. Playa de Illetes has a lifeguard during the summer.
Hotel Deals Near Ses Illetes