Deià and Cala Deià represent Mallorcan exceptionalism, where relaxed locals live in vigorous landscapes and welcome starry-eyed travelers. More than a casual beach day, a visit to Deià and its cala is an experience. 
On Mallorca's northern coasts, steep, rugged cliffs of the Tramuntana Mountain Range fall into tranquil turquoise waters. Deià sits atop these cliffs, and Cala Deià sits below, as a pristine swimmer's paradise. 
From the parking lot, your eyes scour the natural beauty of steep canyon walls as you descend to the cala. You reach the rocky seaside cove in awe. Sunbathers drape themselves over the stone beach; swimmers dive off boulders into crystal-clear waters; and snorkelers come up wide-eyed from life seen below the waves as diners clank forks, knives, and chit-chat over fresh seafood platters at one of two seaside bars.
Cala Deià is small, rocky, and somewhat challenging to access. It's popular, often crowded, and the restaurants are overpriced. It's worth it. The same can be said of its town. Worth it.
Cala Deià
Basic Information
| | |
| --- | --- |
| Type of Beach: | Rocky cove |
| Closest Town: | Deià |
| Body of Water: | Ferros de Can Poloni |
| Best Hotel: | Sa Pedrissa |
Mallorqueta Superlatives
How to Get to Cala Deià
Cala Deià is a charming little cove hemmed in by high cliff walls in the northwestern area of Mallorca. It is recommended you go by car, but if you're up for a good walk, you can also get there on foot.
Driving
Driving is recommended as no bus stop is directly next to the cove. That being said, parking is first come, first serve, and the lot is small. Come early to ensure a spot, or get lucky upon arrival.
From Palma, take the Ma-1110. It is a pleasant road passing the University of the Balearic Islands and the historic Valldemossa. Drive through Valldemossa and catch the Ma-10 on the other side of town. Ma-10 is a gorgeous seaside road that can get quite crowded during peak travel season.
After passing through the town of Deià on the Ma-10, you will see a bus stop near the gated road Carrer Francisco Mas. Turning left onto this road, you will take it, steep and winding, down towards Cala Deiá. The road ends in a paid parking lot. The gate will close when the parking lot is at capacity. 
Be warned, the road to Cala Deià is steep and narrow and may not be comfortable for all drivers. 
TIB Bus
Bus 203 from Palma's Estació Intermodal takes less than an hour and passes through Valldemossa and Deià before stopping at S'Empeltada 1. A very steep walking path from this bus stop can take you down to Cala Deià.
The hike down takes about 30 minutes. The hike back up is seriously steep, so be sure you and your group are prepared to take it on.
Hiking
The Tramuntana Mountain Range, where Deià and its cala sit, is awash with hiking trails. If you have the time and determination, I highly recommend hiking to Cala Deià. There are multiple ways to approach Cala Deià on foot, but my favorite is the trail from Sóller, past Finca Son Mico Café, along a relatively flat walk high up in the mountains above the sea, and then down, down, down to Cala Deià.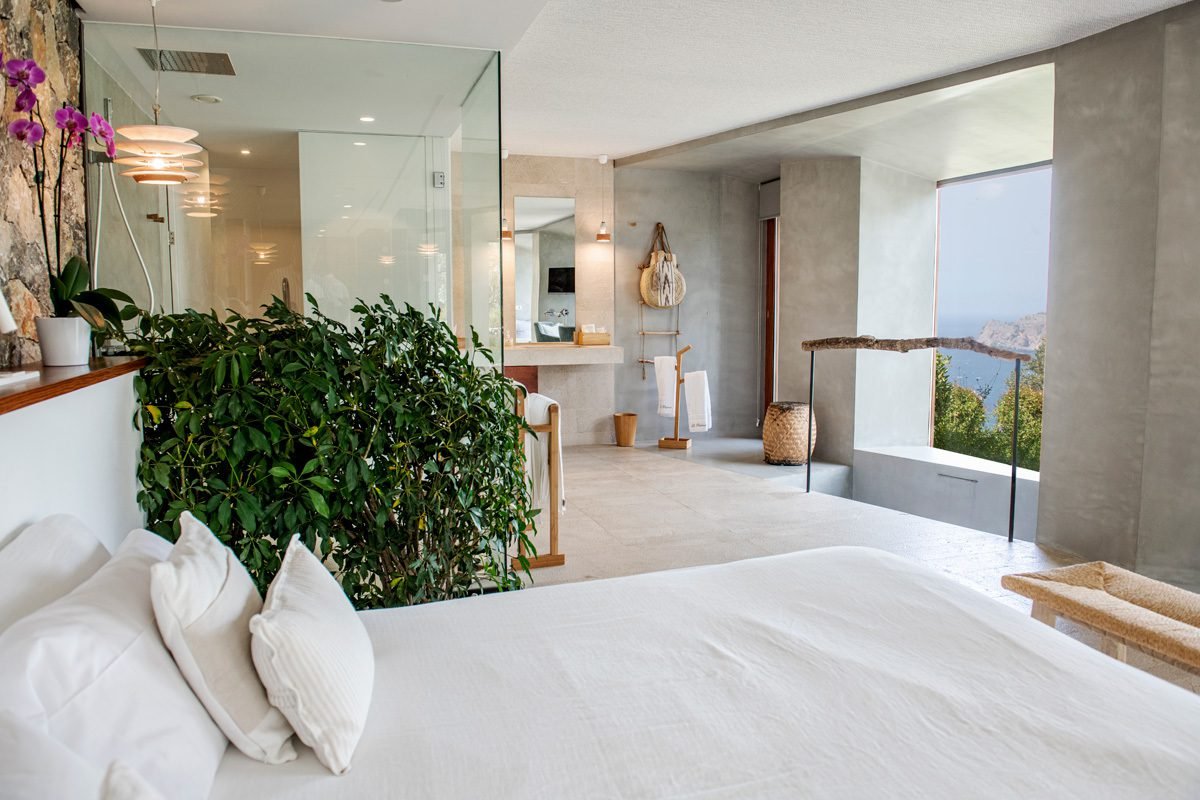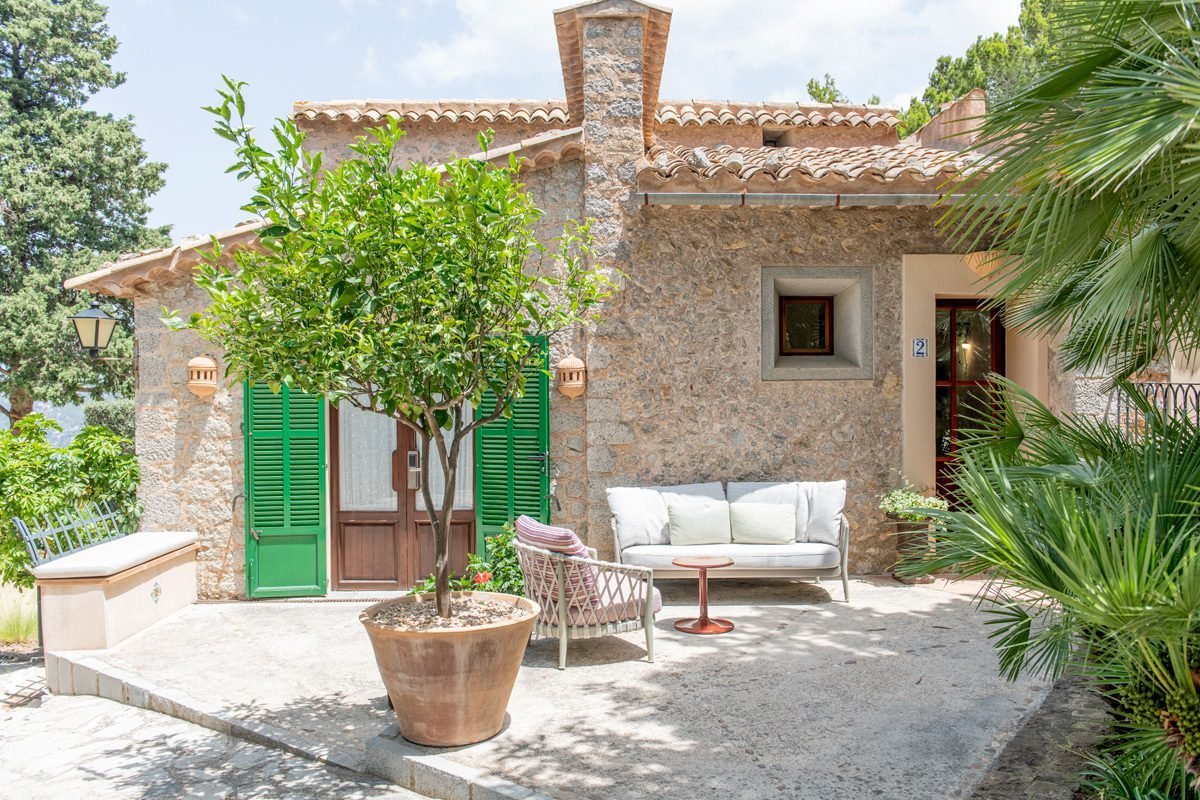 Deià is full of exceptional, unique, pricey, and not-so-pricey stays. (See my Complete Guide to Deià for more choice accommodations). Amongst these Sa Pedrissa stands out. Despite not having direct access to it, Sa Pedrissa is one of the few hotels with full views of Cala Deià. The renovated 17th-century house is boho chic, perfectly complimenting the town's ambiance.
Cala Deià Rankings
Natural Beauty: 8/10
The small cove's bustling restaurants, clear blue-green waters, and steep cliffsides capture the holidayer spirit. From the drive along the Mediterranean coast high up in the Tramuntana Mountains to the walk through the canyon from the parking lot, Cala Deià is an experience of natural wonder. 
Family Friendly: 6/10
Access is easy enough with a car, and walking to the cove is simple and enjoyable. There is a restaurant selling ice cream, and the water is calm thanks to the shore sitting deep within its rocky frame. There are bathrooms on-site and very basic first aid, but no lifeguards.
Also, the beach is very rocky, covered in seaweed, and only about 70 meters long, so there is not a lot of space to spread out as a family; though, I have seen plenty of families enjoying the day at Cala Deià; it just isn't as simple or safe a stop as, say, Platja de Muro.
Accessibility & Parking: 5/10
Especially during peak travel seasons, the small number of parking spaces at Cala Deià will fill up. Often this means that the gate at the top of the access road will be closed. Furthermore, the road down has narrow hairpin turns, so the drive is not for the faint of heart. Once you have parked, however, access to the rocky beach and its restaurants is easy.
Space & Crowd: 4/10
It depends on when you go. I went to Cala Deià on a warm day in April, and the cove was practically empty. In summer, on the other hand, we had no choice but to set our towels right next to others. Again, it's a small space that can quickly fill up, but with the two bustling restaurants and the hip Deià vibe, the gathered crowd can enliven the experience as opposed to detracting from it.
Activities: 2/10
There are no rental services at Cala Deià. Swimming, snorkeling, and eating ice cream bars are the main activities. It is also fun to scramble around on the cliffsides and boulders above the water.
Swimming: 7/10
Cala Deià is a dreamy place to plunge into the water on a hot summer day. Backstroking in the clear water under the stunning Tramuntana cliffs is hard to beat. And there is a lot of fun space to discover along the cliffsides. But the cove is narrow, so you will likely share the waters with others. Also, many boats anchor in the cove, obstructing passage to the deeper seas.
Sea Life & Snorkeling: 7/10
Cala Deià has quite a bit of seaweed close to the shore, and the swimmers scare off many of the fish. Swim out along the rocky cliffs, though, and find plenty of fish snacking on sea fauna clinging to the walls and taking shelter in the rocks.
I once parked a boat at Cala Deià a few hundred yards from the beach. Out there, we snorkeled with hundreds of fish. Therefore, the snorkeling has potential. You may just have to swim out a bit to find it on a busy day.
Restaurants & Amenities: 7/10
Cala Deià has two restaurants, Ca's Patró March and Ca'n Lluc. Ca's Patró hovers above the water upon a rocky seaside cliff. Only a thin wooden railing sits between you and the turquoise blue. It serves up fresh seafood platters and is the type of place celebrities frequent. 
Ca'n Lluc has a laidback bar feel with plastic chairs and a shade awning. It is an excellent place for a beer and some fries or an ice cream. They, too, serve up fresh seafood.
Nudity: 2/10
Cala Deià is not a nude beach, and due to the crowds and rocky/seaweedy coast, it would probably be uncomfortable to try. But, as with every beach in Mallorca, it is topless.
Safety: 4/10
There are restaurants with phones and small first-aid kits, and thanks to the large population that gathers at Cala Deià, there is usually someone around to help. Yet, there are no lifeguards and the steep drive out of Cala Deià, especially on a busy day, can be long and hectic.
Hotel Deals Near Cala Deià