Cala del Toro (not to be confused with the sandy Playa de Toro) feels a world away from the rest of Mallorca even though it is an easy 30-minute drive from Palma and is minutes away from Puerto Adriano and Santa Ponsa. Despite its proximity, it is a hidden gem—and I hope it stays that way. It's a part of Reserva Marina de L'illa del Toro so bring your snorkel mask!
Standing at the edge of the cliff by the trailhead, looking down at the sea and the islands dotting the distance, it feels like you're somewhere rugged and wild in spite of the residential neighborhood behind you and the few fancy houses on the cliffs, and even in comparison to other calas in Mallorca, no matter how remote or virgin they are.
After a steep climb down the stairs from the mirador, the residential neighborhood you just left leaves your mind as you stare back up at the rocky cliffs that look like someone carved them out with an ice cream scoop. At the bottom of the stairs is an outcropping of stone where you can find natural pools, rocks to sit in the sun on, and a few places to hide in the shade, including a small, shallow cave.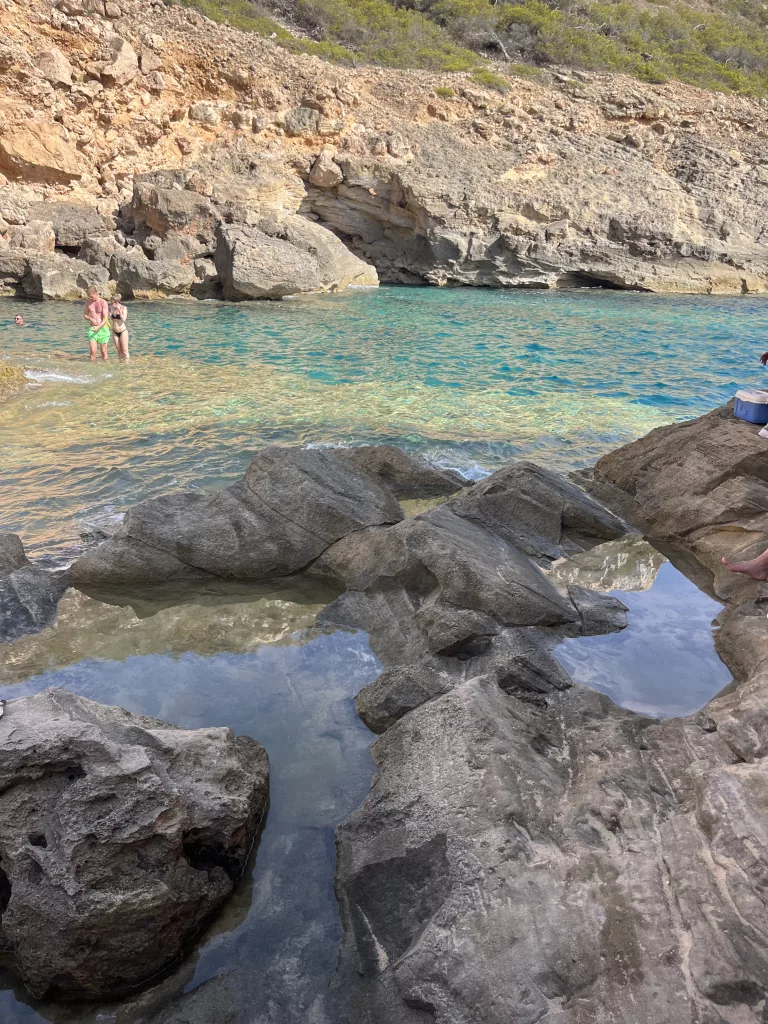 The natural pools are more or less flat, almost looking man made, and they are shallow, offering a respite from the waves and deep water of the cala. They are heated by the sun and home to a few small fish and some crabs that you can see in the clear, turquoise water.
The cala itself goes from rocks to deep water. This is a place to snorkel and enjoy the marine life, not to play volleyball or other beach sports. It is also wider than some calas and there are more waves. It requires a higher level of swimming ability. Compared to other calas, it feels more like swimming in the open ocean.
The sunset from the cala and the mirador was absolutely stunning. It was the best sunset spot I've been to in Mallorca thus far, with an uninterrupted view as the sun turned the rocks and cliffs golden and dipped below the sea. Even if you decide to not visit the cala, I recommend watching the sunset from the mirador.
Cala del Toro
Basic Information
| | |
| --- | --- |
| Type of Beach: | Rocky cove |
| Closest Town: | El Toro |
| Body of Water: | Cala del Toro |
| Best Hotel: | Pure Salt |
How to Get to Cala del Toro
Despite feeling a world away, this mirador and cala are easily accessible by car and bus. It's approximately 30 minutes from Palma by car and an hour from Palma by bus. It's minutes away from Port Adriano and close to Santa Ponsa. Then, it's a short hike down many, many stairs to the water from the mirador.
Driving
It's an approximately 30-minute drive from Palma. From Palma, take Ma-1, past Ses Illetes and past Portals Vells. Then, you take exit 14 from Ma-1 towards Magaluf/El Toro/ Son Bugadelles.
At the roundabout, take the third exit onto Camí Cala Figuera. Continue on Camí Cala Figuera through the next two roundabouts. Take a slight right onto Carrer de Magaluf. Continue onto Carrer Tudó.
At the third roundabout, take the second exit onto Ctra. el T Ctra. Magaluf-S. Ponsa. Continue. Then turn left on Av. Central. At the roundabout, take the second exit and continue on Av. Central. Then turn left on Avinguda de la Mar. You will be in a residential area and there is street parking.
TIB Bus
There are a few options to get to Cala de Toro by TIB bus:
Bus 106: Bus 106 from Plaça d'Espanya is the easiest. The trip will take approximately an hour, including a 12-minute walk from the final bus stop to the mirador.
Bus 103 and 123: If the times for Bus 106 don't work for you, don't worry, there are more options! If you take Bus 103 from Plaza España, you will ride 10 stops until Malgrats 1 where you will wait for Bus 123. With Bus 123, you will ride three stops until Plaça Migdia. Then it is a 12-minute walk to the mirador. The total journey is a little over an hour.
Bus 104/105 and 123: With Bus 105 from Plaza España, you will ride 14 stops to Zona Poliesportiva 2 where you will wait for Bus 123. From Bus 123, you will ride seven stops to Plaça Migdia. Then it is a 12-minute walk to the mirador. The total journey is a little over an hour.
The walk down to the cove from the mirador takes about 10-15 minutes, more if you stop to take pictures every two seconds like I do. It'll take a little longer to get back up. Especially if you're climbing the stairs at sunset and stopping to take even more pictures every two seconds.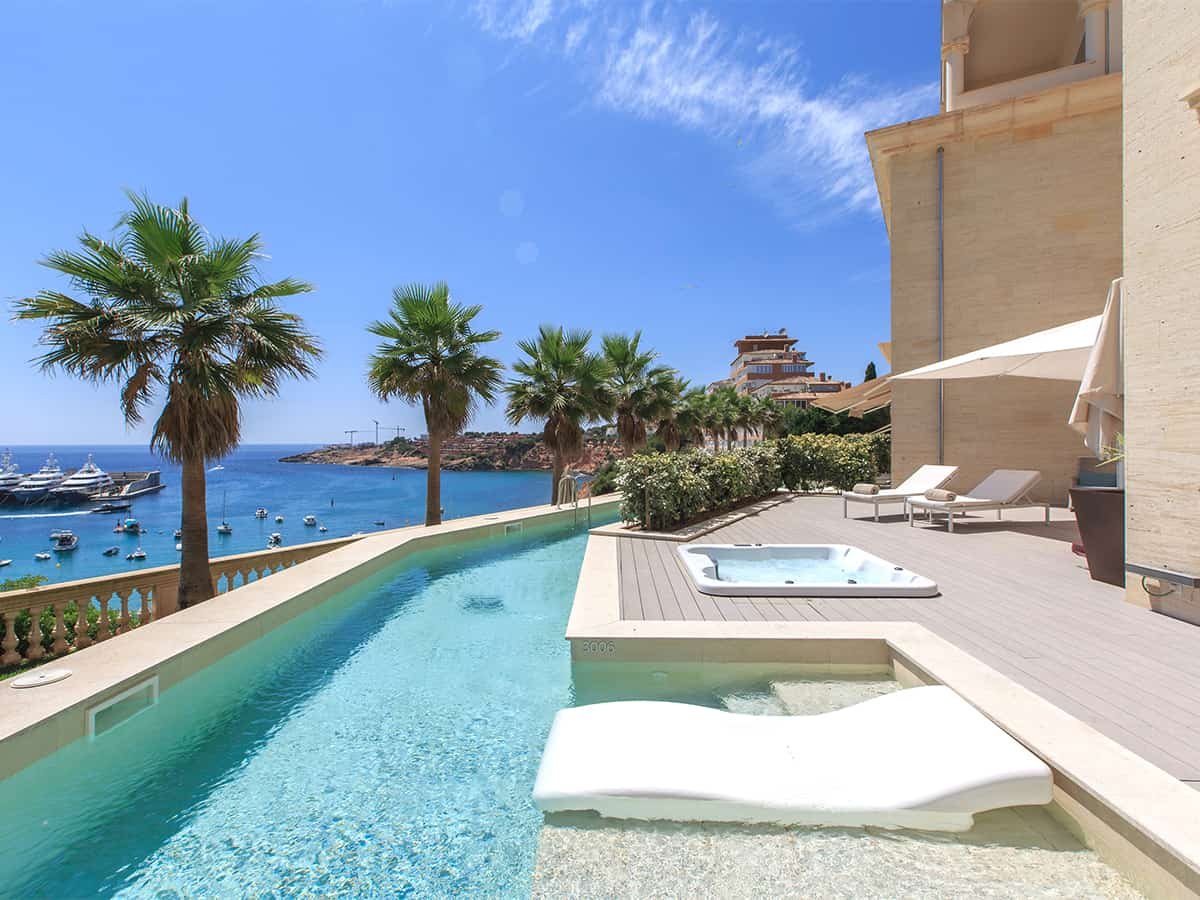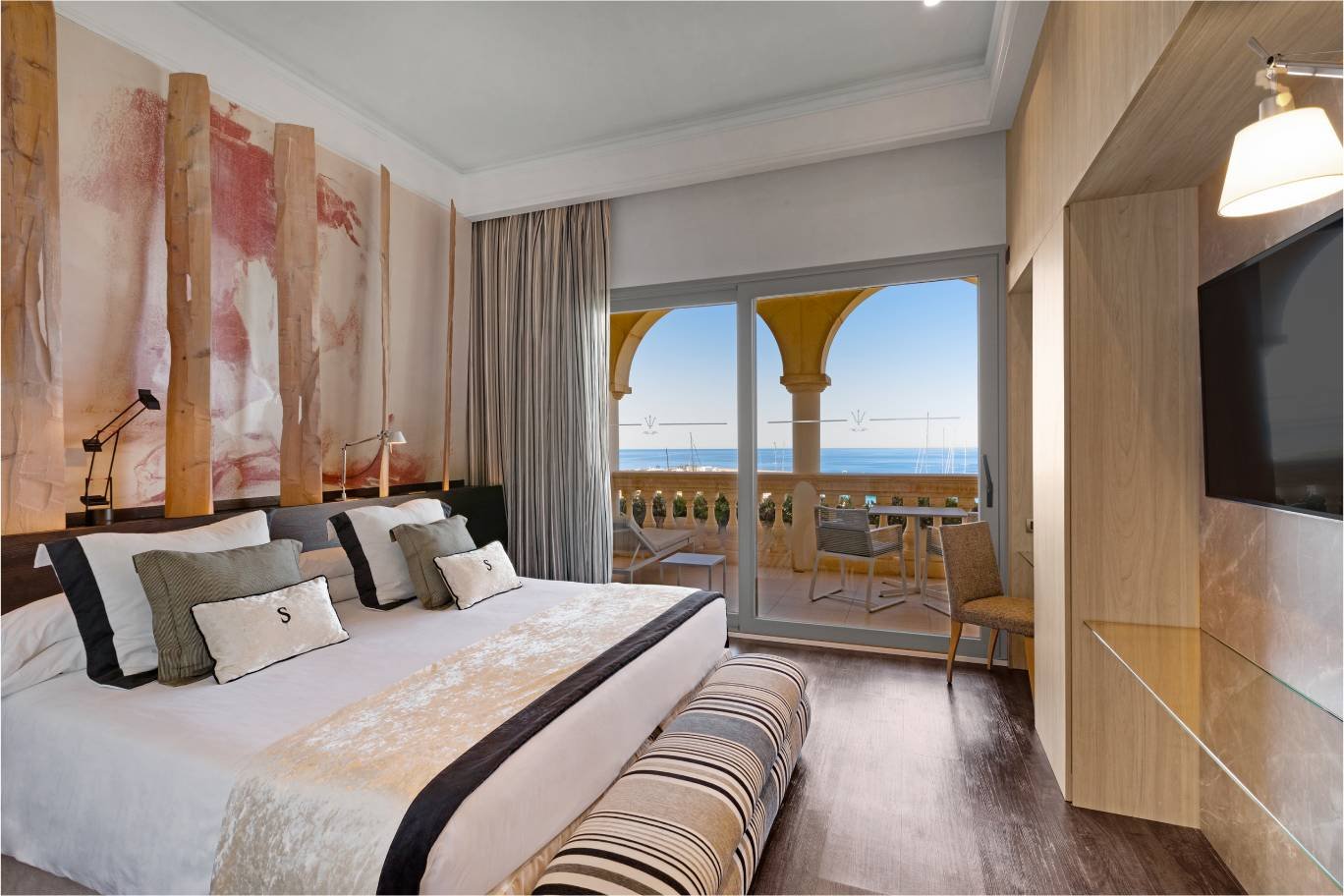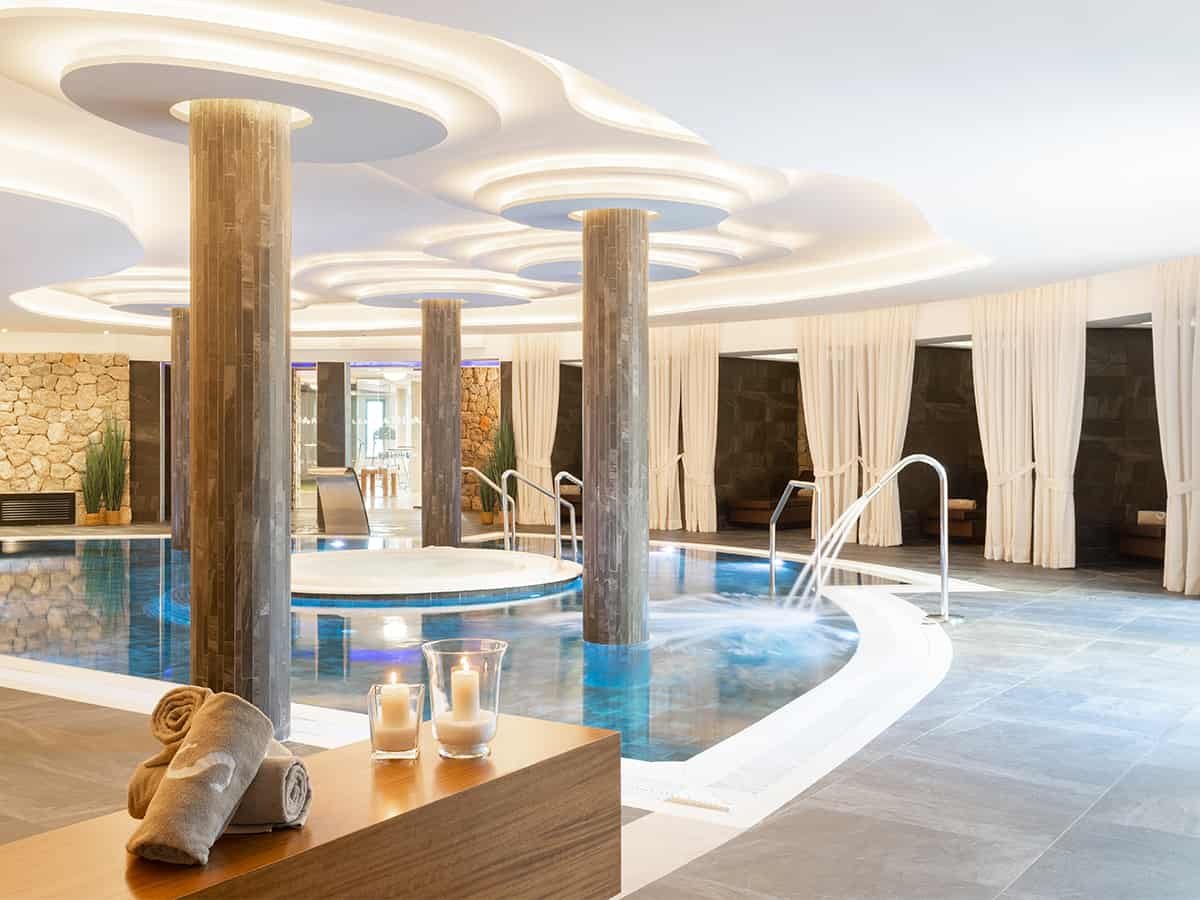 Pure Salt is a luxury hotel overlooking Port Adriano. It has easy access to the sandy beach of Playa El Toro and is near more secluded areas like Cala del Toro, not to mention high-class amenities like golf courses and yacht charters (the hotel itself even has an on-site golf simulator). Many suites include terraces attached to the swim-up pool, and you can enjoy the sunset over the sea right from your balcony.
Rankings
Natural Beauty: 10/10
The rocks and cliffs feel rugged and wild. There are so many shades of blue with the sapphire open sea, the deep turquoise cala, and the nearly clear blue-greens of the natural pools. On one side, the coast curves into a small smattering of islands, and on the other, the coast and cliffs stretch on forever.
As part of the Reserva Marina de L'illa del Toro, the cala is an amazing place to snorkel and see fishes and marine life. I've never seen natural pools like I did at Cala Toro. They were formed by slabs of smooth rock, were warmed by the sun, and were shallow and clear with the exception of some algae. Sitting in them felt like a spa.
Also, the sunset views were incredible. You can watch the sun dip below the horizon along the coast. Many were sitting above at the mirador watching the sunset.
Family Friendly: 1/10
This is not the cala to bring small children to. While there are stairs coming down to the cala from the mirador, the rocks can be smooth, slick with dirt and sand in places, and the way down is steep.
Additionally, navigating the rocks down in the cala can be tricky and needs to be done carefully. The main activity here is snorkeling and sunbathing as well, so children would most likely get bored anyways.
Accessibility & Parking: 4/10
Despite the ruggedness of the cala, it is easy to get to by car or bus. Additionally, the path to the water is well marked because there is only the one trail/staircase. However, the way down is steep, and it seems even steeper on the way up.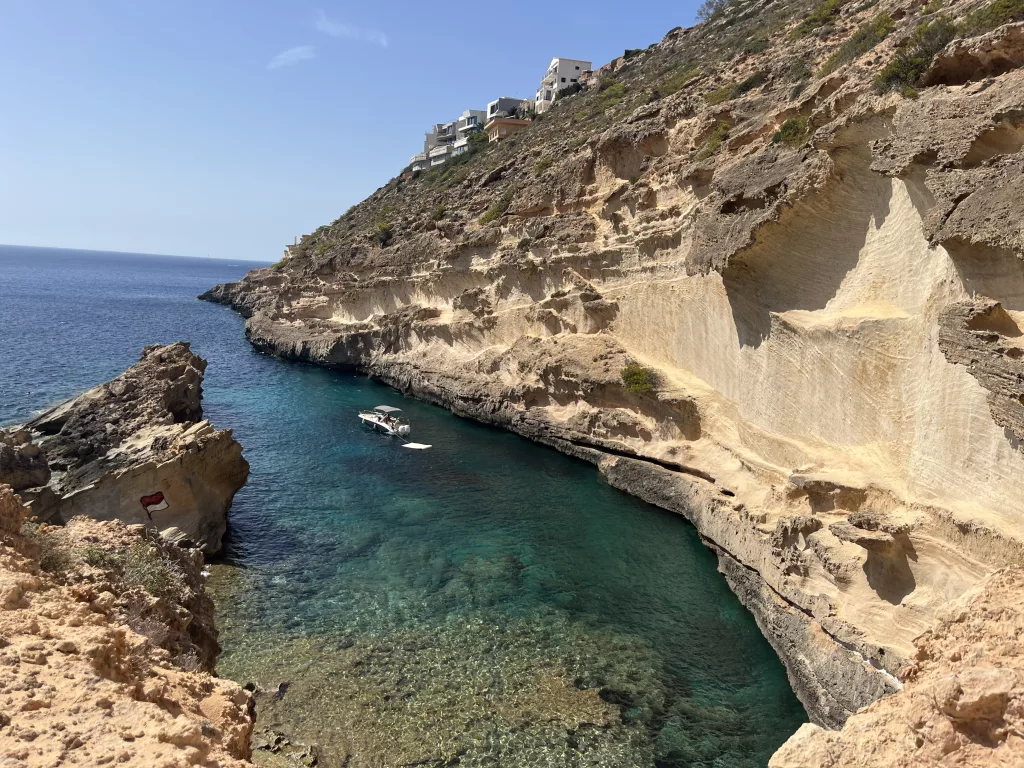 Space & Crowd: 8/10
The space on the rocks is limited, but it wasn't busy when I went in the middle of August (although it was a Wednesday). Also, the space to sit and to get into the water is on rocks so I recommend bringing water shoes. I did not have any and survived, but it would have been a nicer experience (and less painful getting into the sea) with them.
Activities: 4/10
While the snorkeling is amazing and the natural pools are beautiful, those are the activities you are limited to more or less.
When I was there, everyone was either snorkeling, tanning on the rocks, relaxing in the natural pools, or reading while tanning on the rocks or relaxing in the pool. Our volleyball and beach tennis set remained unused—we had zero expectations for this cala—because there is simply nowhere to play these games. One group did try to play with a volleyball in the water but they were struggling. Remember, the cala is deep and once you're in, there is nowhere to stand.
Fishing is prohibited.
Swimming: 6/10
Swimming in this one felt similar to swimming in the open ocean. The cala is wide, so it isn't well-protected from waves and the water is very deep.
Other calas almost feel like a swimming pool with their calm, shallow water and soft sand. This is not one of them. But remember, you can relax in the natural pool when you get tired of swimming in the cala.
Sea Life & Snorkeling: 10/10
The snorkeling at Cala de Toro is amazing. It is a part of the Reserva Marina de L'illa del Toro and I saw so many different kinds of fish while I was there. The water is clear and you can see all the way to the bottom and the fish feeding on plant life and coming in and out of hiding places. Additionally, we saw a lot of crabs in the tide pools, which was fun.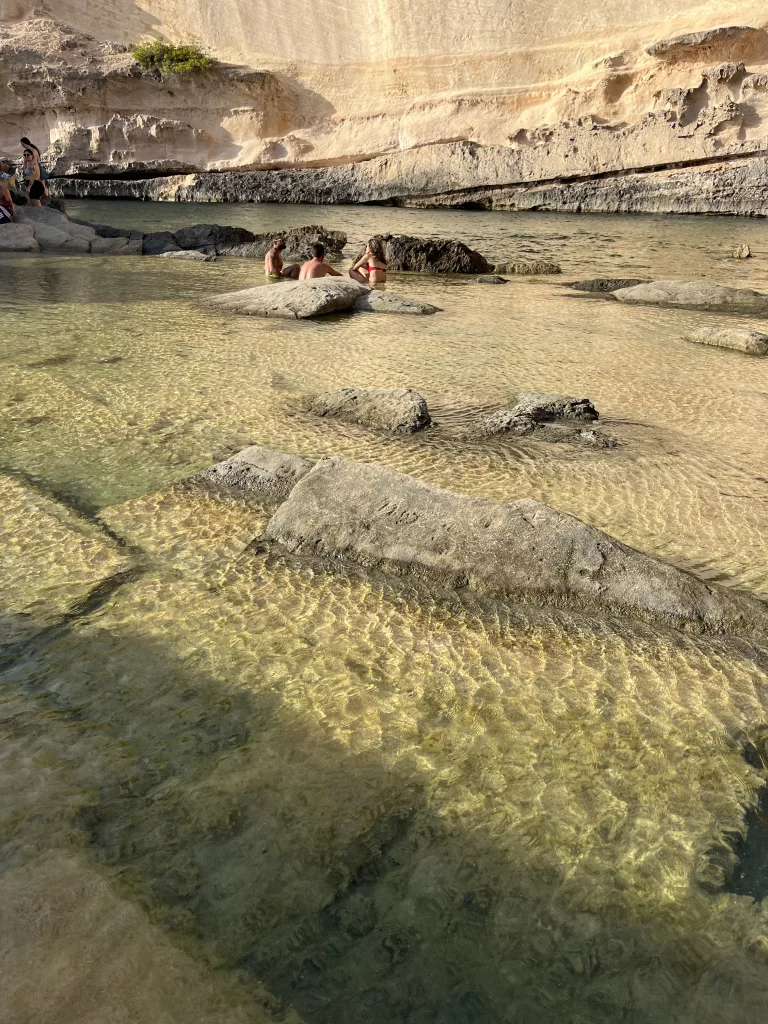 Restaurants & Amenities: 1/10
There are zero amenities in the cala. The parking is in a residential area and it is a 15-minute walk up the cliffs if you forget anything. Bring whatever you need with you. However, it is a five-minute drive from Port Adriano (30-minute walk) and a 10-minute drive to Santa Ponsa (22 minutes by bus).
Nudity: 4/10
I'm not sure how nudist friendly this cala is. It is not explicitly nudist. The space on the rocks is limited, so everyone is rather close together. There was no nudity while I was there besides some topless sunbathing.
Safety: 1/10
While I saw many coming down the stairs in flip-flops, please do not. Wear good shoes with tread. There are stairs, but sometimes the trail down is a sandy slope that is slick underfoot. I was wearing old sneakers and almost slipped a couple times because they had no tread.
It's a steep, rocky way down with no easy way out if an injury does occur. There is cell service, but it just isn't the easiest place to get out of if something does happen. This is not a place to take small children.
It's a steep, long climb back up to the mirador and parking, so it's best for people with a decent fitness level. The walk isn't long, but you want to wear good shoes and be very careful. Additionally, navigating in the cala itself takes a little caution since it is very rocky.
There are no lifeguards.
Hotel Deals Near Cala del Toro