Where rugged, limestone mountains roll through terraced olive groves and fall into the sea sits a tiny village clinging to the cliffsides. "Deià is perhaps the most beautiful place in the world," said one friend. "This is really special," said another. Robert Graves – the late prolific author and longtime Deià resident – professed that in Deià, "perfect tranquility reigns."
While Deià may no longer be the archetype of tranquility – as summer tourists flock to the one-road town – it does, for all who visit, enrapture the spirit. Perched on a gorge, Deià captures sea clouds that enliven the flora falling from the terraced landscape. Below town is a picturesque stone beach hemmed in by steep rocky walls. Optimal turquoise waters welcome swimmers, snorkelers, and anchoring sailboats. Back up in town, luxury and laidback vibes combine. At the restaurants, you can eat well on or off a budget. The hotels range from celebrity-style stays to reasonably priced hostels.
Deià is a one-of-a-kind town only found in the unparalleled Mallorca.
How to Get to Deià
Deià is the cherry on top of the Teix Mountain Range, which includes the other perfectly picturesque towns of Valldemossa and Sóller. One of these two neighboring towns must be traversed to reach Deià as it is squeezed between them.
Driving
From Palma, take the MA-1110 to Valldemossa. Drive through Valldemossa until you hit the MA-10. MA-10 is a coastal drive that will take you to Deià (and on to Sóller if you so choose).
Be forewarned that the road from Valldemossa to Deià is narrow and winding. Traffic in the height of summer can get backed up as people search for limited parking in Deià.
Without excessive traffic, the drive takes about 45 minutes.
Bus 203
There is only one road in and out of Deià, so the bus will follow the same route as the cars.
From Palma, take bus 203 from Estació Intermodal and get off at the Deià 2 stop. The ride takes 55 minutes without traffic.
This bus passes through Valldemossa and ends in Port de Sóller. Therefore, it is possible to see multiple towns on the same bus line in a single day.
The bus has a flat rate of 2.70€ if you purchase a ticket online or if you simply tap your credit card on the chip reader in the bus. If you pay cash on the bus, the fare jumps to 4.50€. (Don't forget to tap your card on the chip reader when you exit the bus, or you'll be charged an additional 0.30€ fee.)
Where to Stay in Deià
Staying in La Resdiencia by Belmond is like being a resident of a 16th century town crafted in a fairy tale. The hotel spans a hillside below Deià's main road. It boasts 71 rooms, indoor and outdoor pools, tennis courts, a spa, and three restaurants varying in atmospheric sense. Beyond this, the hotel offers art classes, boat tours, and pack donkeys. Hotel Belmond is more than a hotel, it's a dreamscape.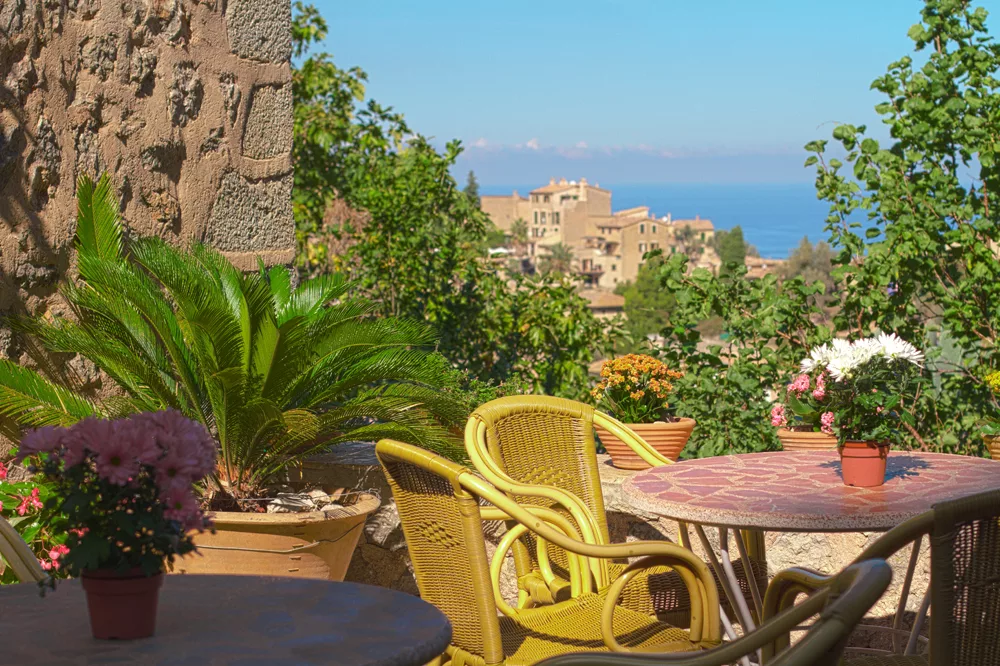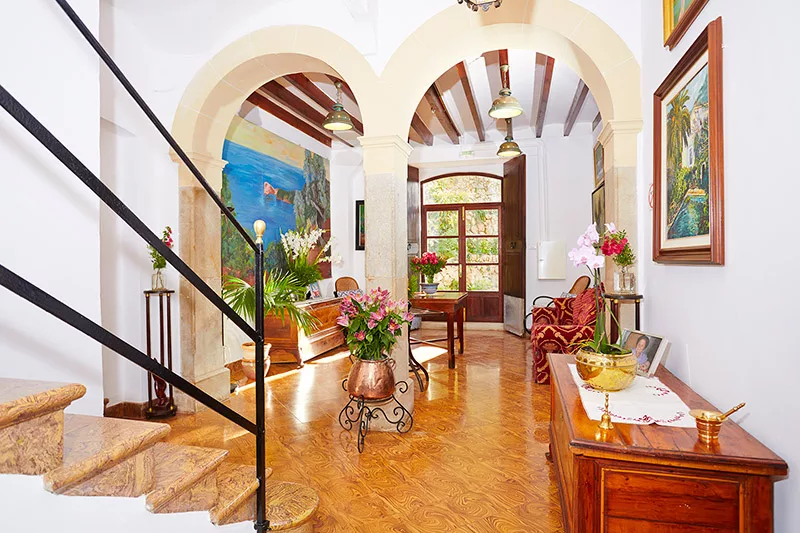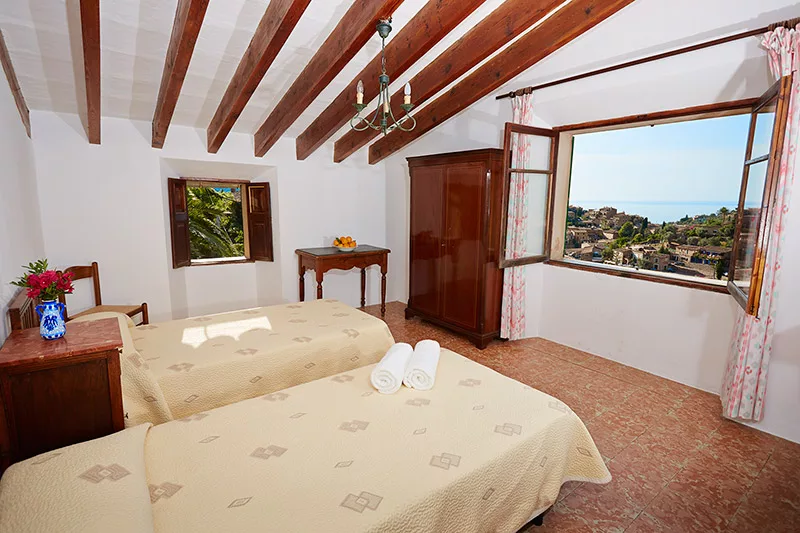 For rooms in paradise under 100€, Hostal Miramar is an easy choice. This gorgeously restored 19th-century home of arched doorways and exposed beams is clean, comfortable, and thoughtfully designed. The old large-paned doors and windows allow the natural reflection of light from the sea and fauna to spread indoors. Outdoors, enjoy a complimentary breakfast surrounded by fruit trees on their sea-facing terrace.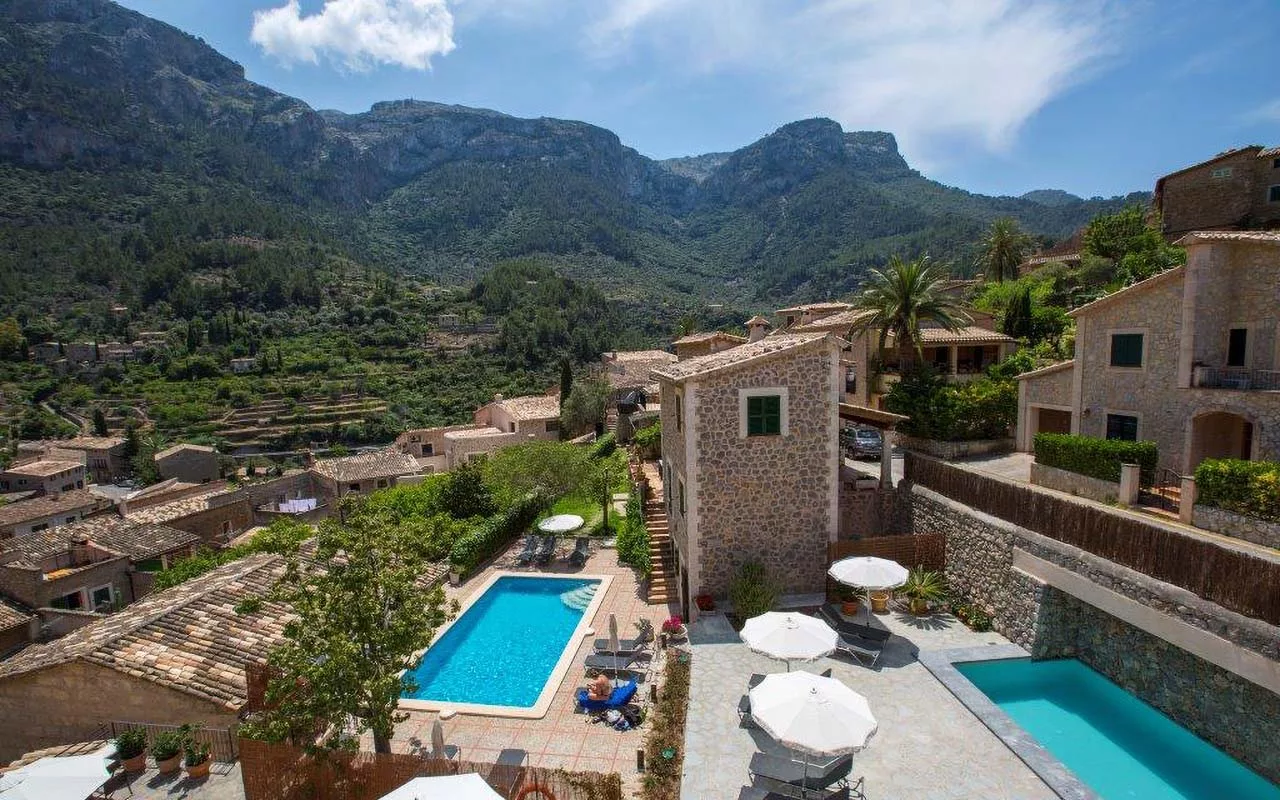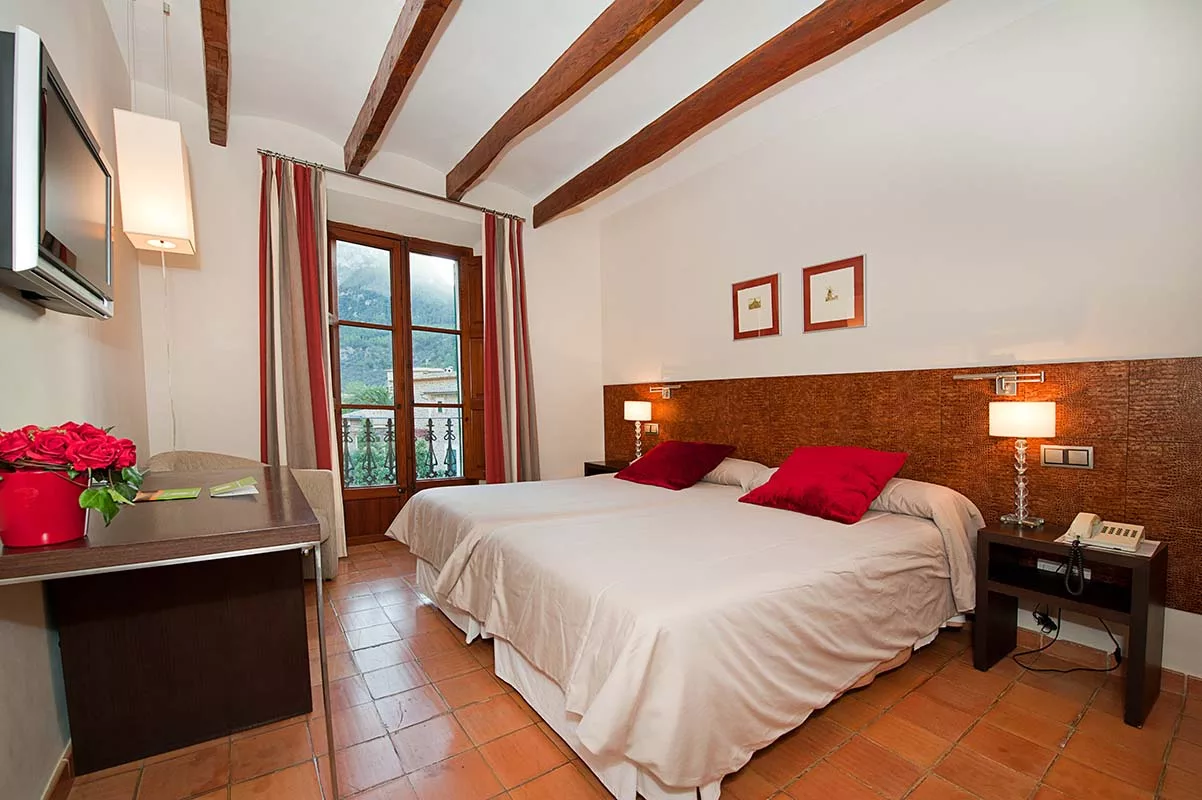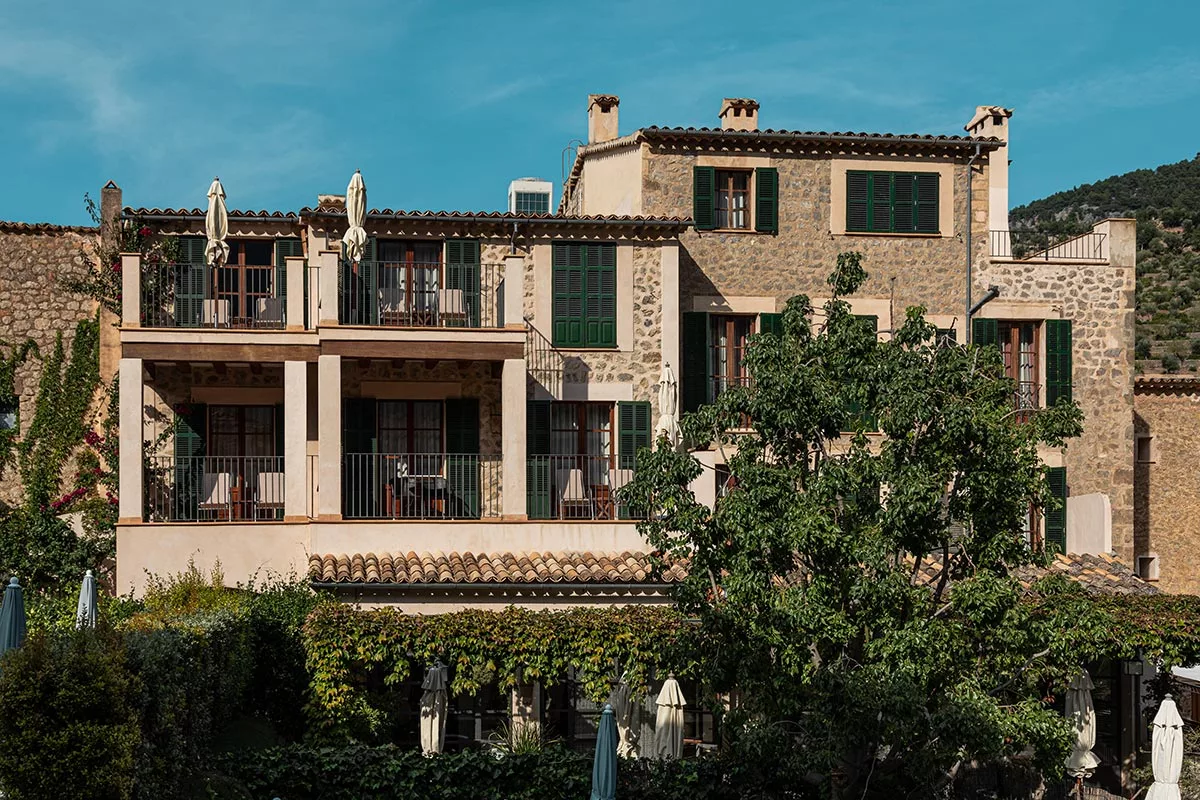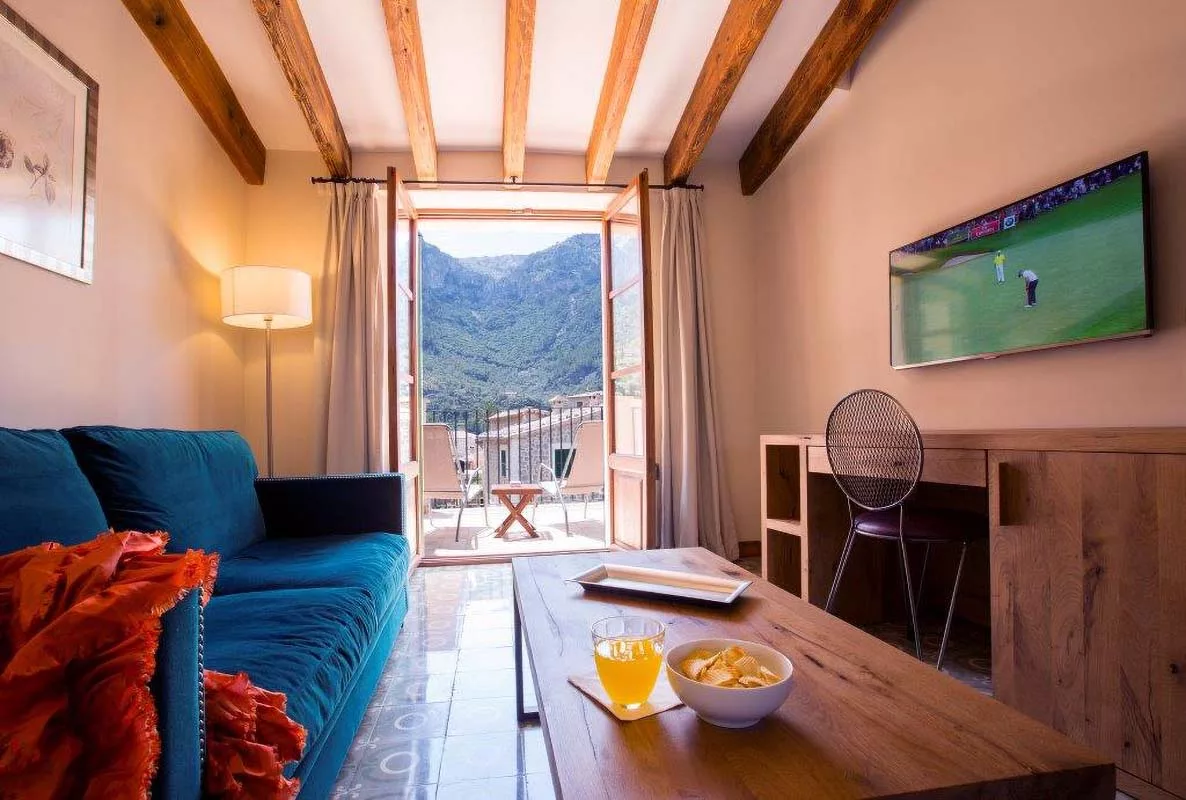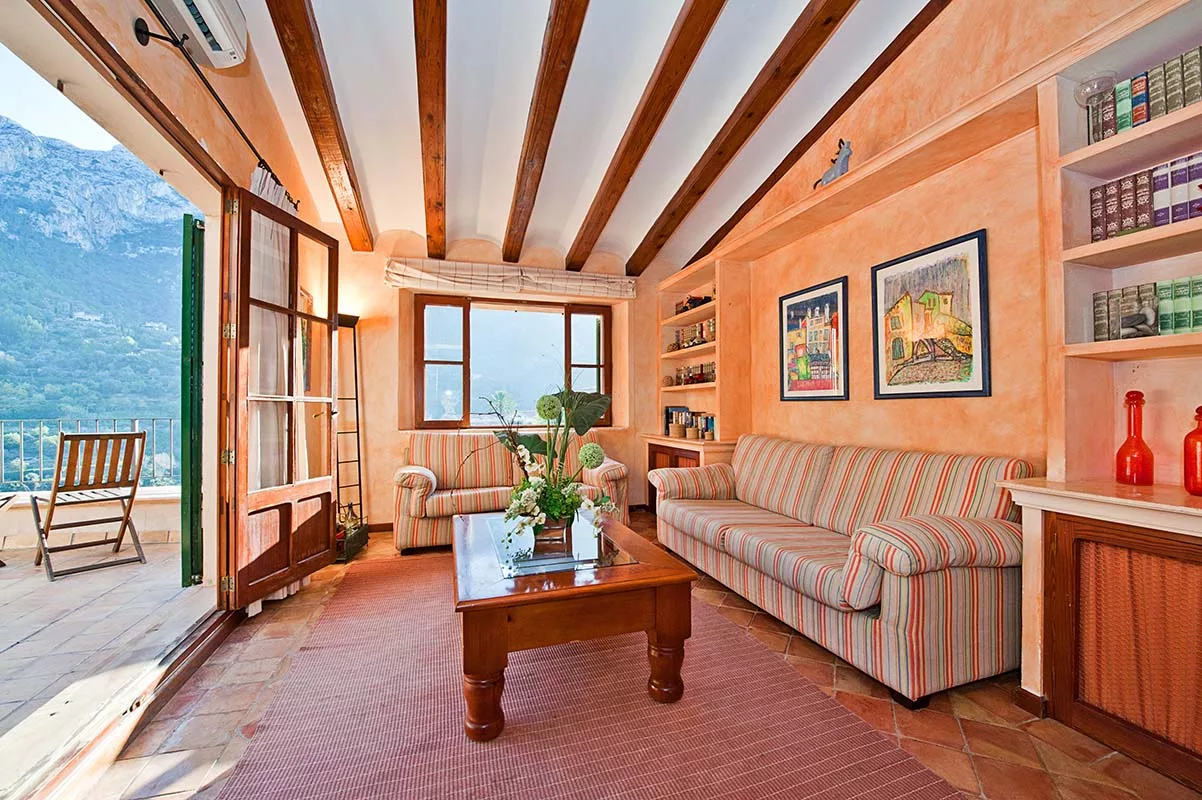 What I like about Hotel des Puig is the variety of rooms available at various prices. In the off-season especially, it is a steal of a deal. This hotel provides a high standard of hospitality without pretense; it is a beautiful, quaint hotel set in an extraordinary landscape. Enjoy the expansive sea views from their rooms, multiple terraces, and pools.
Where to Eat in Deià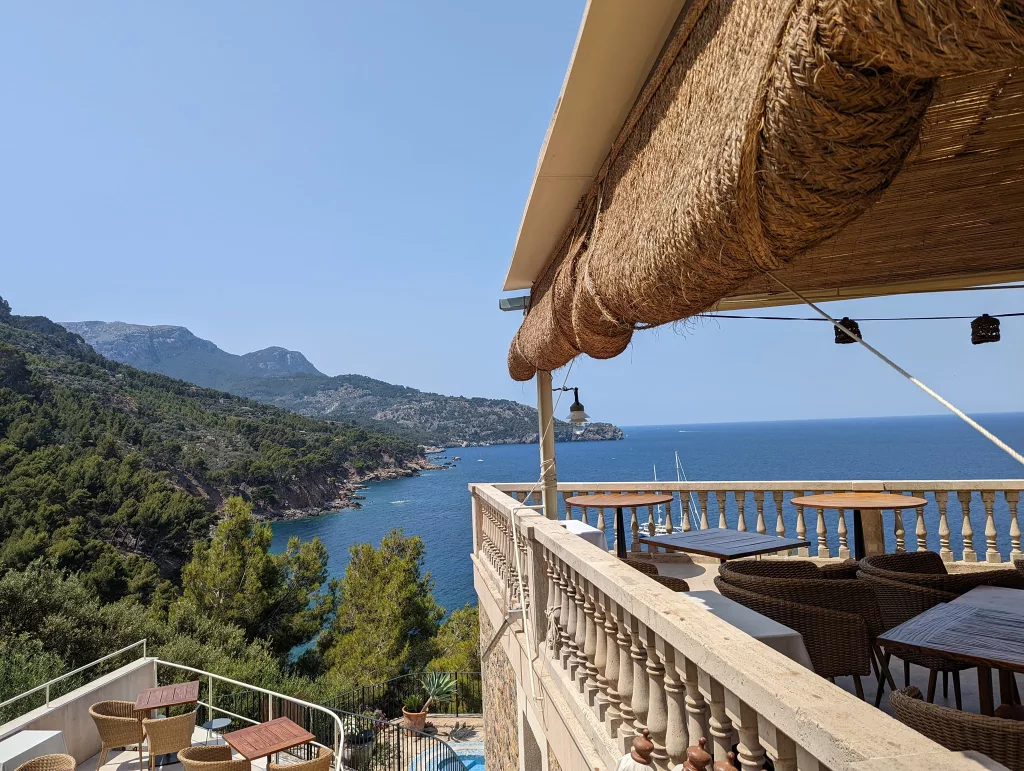 Bens D'Avall celebrates Balearic cuisine in a setting gifted by the gods. Since the 1970s, this Michelin Star restaurant has offered honest, fresh, and local food high on its hillside balcony. Here amongst the endless blue of water and sky, enjoy a 12-course set menu that changes each month with the seasonality of produce.
The full tasting menu costs around 130€ a person. For an additional 60€, I recommend sampling several local wines with Bens D'Avall's curated flights. Online reservations are easy and honored.
This may be the most beautiful restaurant setting on the island. The eatery sits on a rocky outcropping at the picture-perfect Cala Deià. Finding parking and getting a table can be a hassle as reservations are only accepted during shoulder seasons. Furthermore, you do pay a decently hefty price for the experience. But the fish is fresh, and the scenery is unbeatable.
Café Sa Font Fresca is the first restaurant encountered when entering Deià from Valldemossa. It immediately entices with its large outdoor seating balcony perched above a cascading stream.
Stop by for a coffee and almond cake or enjoy a traditional Mallorcan "menu del día," which includes a starter, a main dish (often with a choice of fresh fish), wine, water, and dessert for less than 15€.
Perhaps the best bar on the island, Sa Fonda hosts quality live music and DJ shows on their open-air patio and serves unfussy bar fare such as chicken fingers, fries, and burgers, including a veggie patty. Come for lunch and stay all night!
What to Do in Deià
See the Sights
Go for an Adventure
Hiking
Beat the traffic and hike to Deià! As a resident of Sóller, that's what I do. The hike from Sóller to Deiá is fantastic and features the delectable Finca Son Mico Café on the way. From Deià to Port de Sóller is another world-class trek. And with the connecting bus route, these treks, and more, can be done point-to-point by quickly returning to your start by bus.
Cycling
Deià can be a stop or the start of an exceptional bike tour. Reynes Cycling has all the equipment to get you comfortably on the road and offers custom bike tours across the Tramuntanas.
Swimming at Cala Deià
Cala Deià is a stunning rocky ocean inlet with magnificent turquoise waters. Put on your snorkel and find all colors of fish below the calm waves. Two restaurants have set up shop on Cala Deià. Ca's Patro March offers high-priced seafood, while Ca'n Lluc provides a more laid-back bar atmosphere. Parking can be an issue in summer, so go early, come late, or get lucky.
Swimming at Llucalcari
A delightful 30-minute walk from Cala Deià along the coast to Llucalcari lands you at another exceptional cove for snorkeling in crystal clear waters. Llucalcari does not have restaurants nor crowds.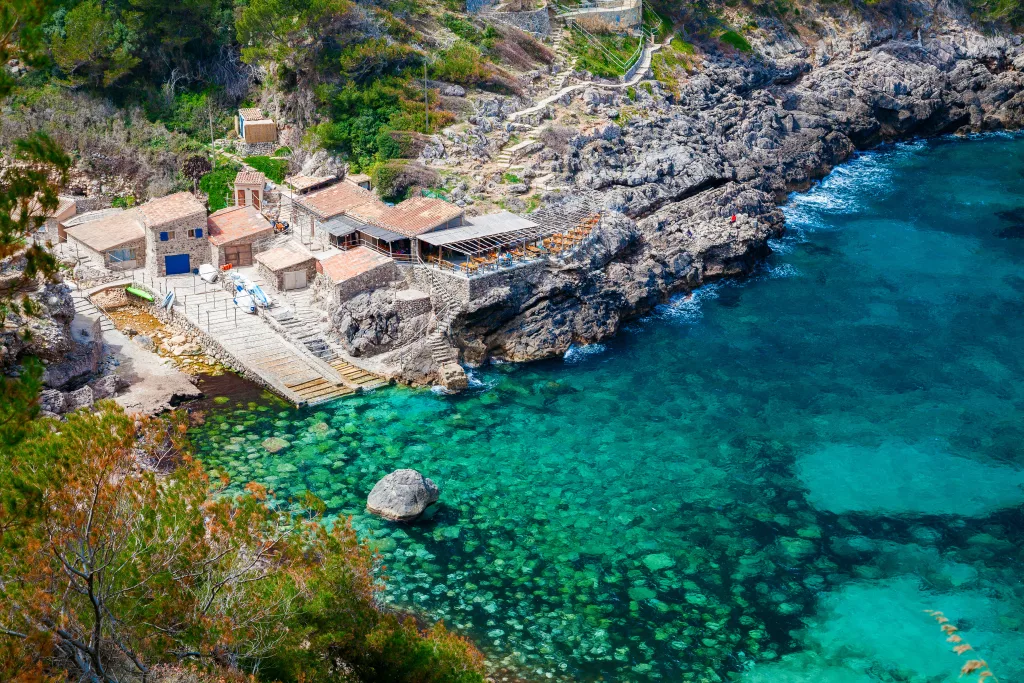 Take a Tour
Tramuntana Panorama Tour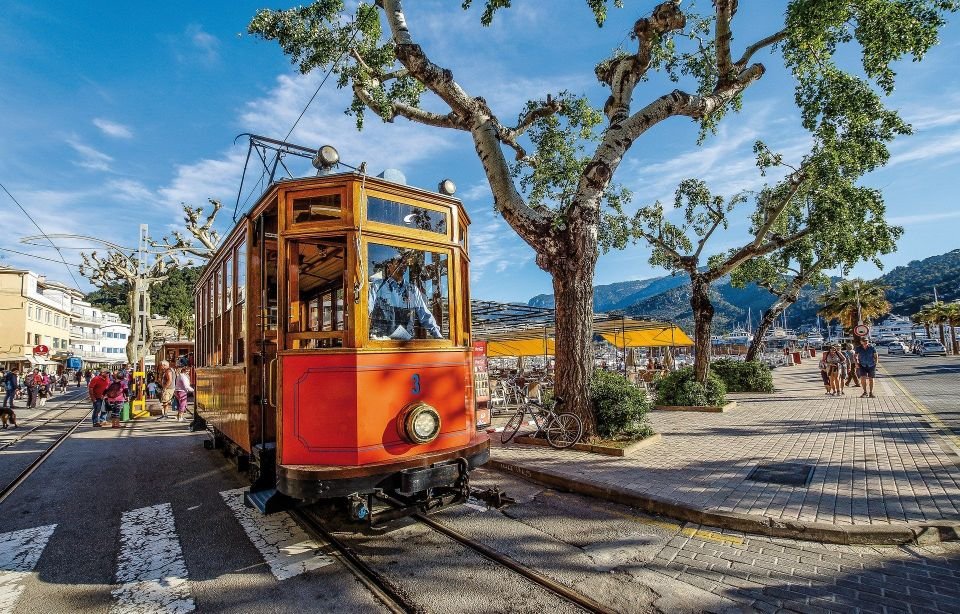 Round trip from Palma, this minibus tour takes you to the most beautiful towns in northern Mallorca. It begins in Sóller, then heads to Port de Sóller for a tapas lunch, then to Deià for a stunning viewpoint hike, and finally to historic Valldemossa. The only drawback of this tour is that you won't want to leave the places you visit.
North Coast Nature Escape Day Tour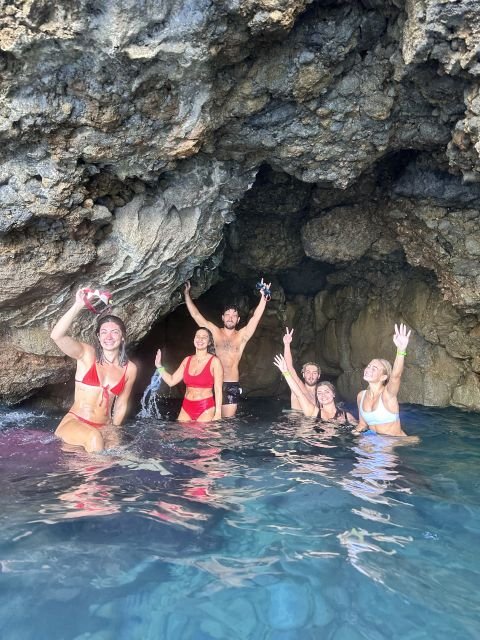 This is the tour I would choose if I found myself in Palma for the holidays. A single guide, Alex, will take you from the city and into the pristine nature of Deià. Swim in Cala Deià and Llucalcari, have lunch in town and climb to the viewpoint around Son Marroig. This is Deià at its best.
Fires i Festes
Deià likes to party. This naturalistic town welcomes the eclecticism of the international character it attracts, making for some of the best low-key but energetic parties on the island. Some of these fiestas follow the regular schedule of Mallorcan cultural festivities, but others happen as one-off parties. Below is a list of yearly festivals to get you started.
Sant Antoni – January 17th
There are few places on the island in January where you cannot find barbecues, bonfires, and demons celebrating Sant Antoni. If you are in Deià this time of the year, pick up some of your grilling favorites and follow your nose to the closest BBQ pit. The fires will warm you while the demons' dance will entertain.
Carnaval – End of February
Carnaval is celebrated throughout Mallorca in schools, plazas, clubs, and bars. So grab your colorful garb and enjoy the playful atmosphere of Carnaval wherever you find yourself on the island. If in Deià, keep an eye out for Sa Fonda's Carnaval revelries.
Sant Joan– June 23
This is the big one for Deià as Sant Joan is the village's patron saint. For a week straight, Deià is alive with cultural activities and late-night parties.
Deià International Music Festival – June-September
All summer long, Deià hosts local and international musicians. Most shows are performed at the Son Marroig Country House, providing a world-class atmosphere for world-renowned music.
Last-Minute Hotel Deals in Deià