With over 2,000 years of history and nearly half the population of the island, Palma is the cultural and economic hub of Mallorca. If you're visiting Mallorca, you'll inevitably pass through the city's airport or port and likely pass some of its impressive sights like the looming La Seu Gothic Cathedral or Bellver Castle. If you want more than just a passing glance, it's truly a city you could explore for days on end. Use this complete travel guide to plan your trip and experience everything Palma de Mallorca has to offer.
How to Get to Palma de Mallorca
Palma's Son Sant Joan airport, PMI, is not too far outside of Palma itself. It's about a 15-20-minute drive depending on the traffic and your exact destination. There are also public transportation options available, made faster by the new carpool lane. There is even talk of building a tram to the airport.
For a more detailed guide on getting to Palma from the airport, read our article on just that.
Driving
If you choose to rent a car at the airport and drive into town, simply follow signs for Palma from the airport and take Ma-19. As you approach the city, you have two options: continue straight to the port, usually the best choice for the Old Town, or exit right on the Ma-20 beltway to access other parts of the city.
While public transportation is improving, and a tram is supposedly in the works to be finished who knows when, this is still my recommendation. For most accomodation, a car will get you there faster and more directly, and it will give you access to the rest of the island.
Bus A1
The EMT A1 bus is the main public transportation option from the airport into Palma. It runs daily from 4:30 am to 12:20 am and takes about 30 minutes to reach Plaza España in the city center. It then continues to loop around the Old Town. A one-way trip from the airport is €5. When you exit the airport, cross the large parking lots beneath the skybridge, and you'll find the bus stop near the entrance to the parking garage.
The Best Hotels in Palma de Mallorca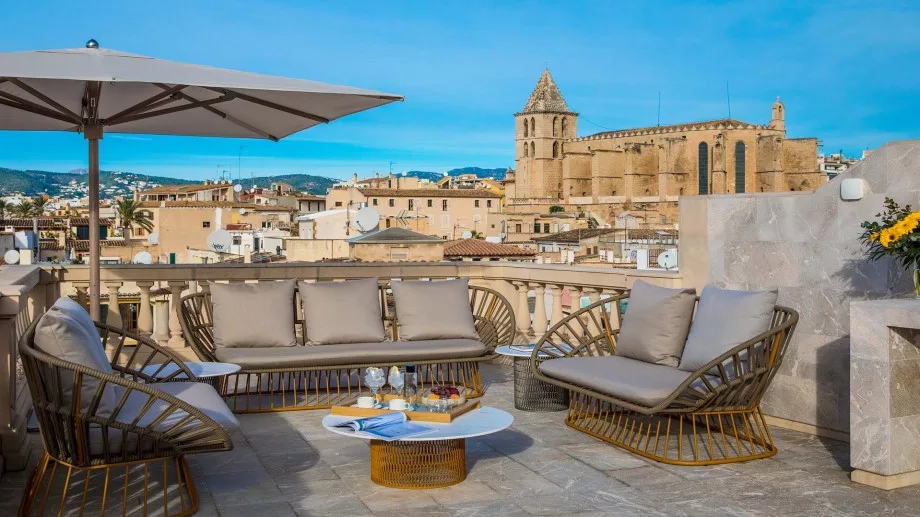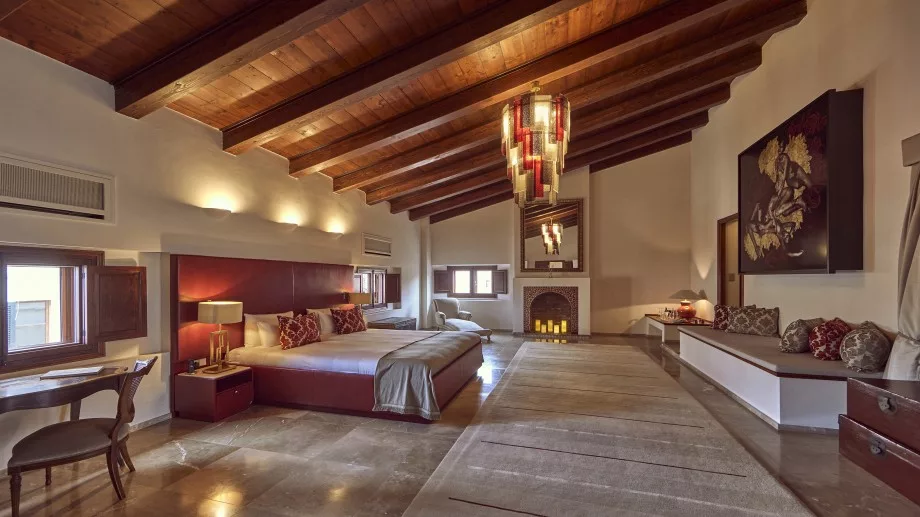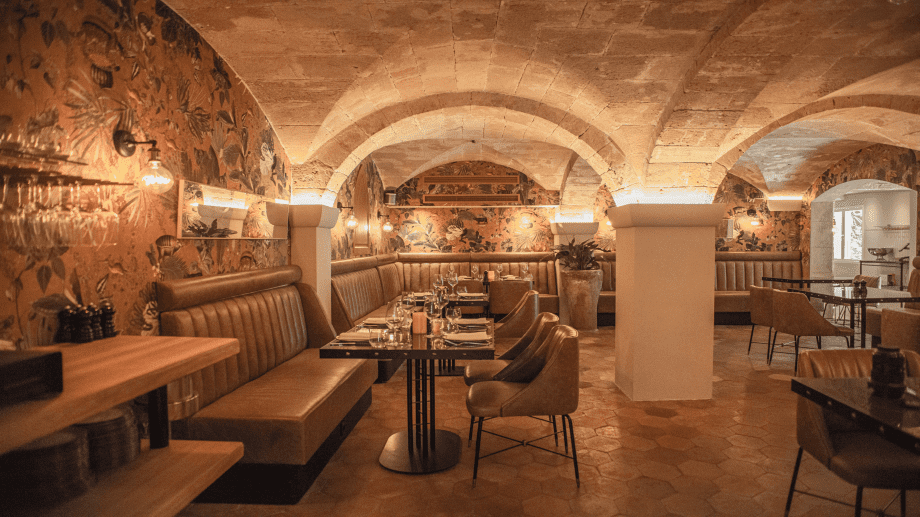 Palacio Can Marques took the top spot in my roundup of Palma boutique hotels. If you want an authentic experience in the Palma Old Town with easy access to the historical city center as well as the nightlife of Santa Catalina, there's no better option. In fact, it's located right on Plaça de la Drassana.
The staff is classically Mallorca, which is to say friendly, hospitable and kind. I also recommend checking out the Merchants bar and grill on site and drinking some Mallorcan wine.
Best Hotel for Beach Access: Nixe Palace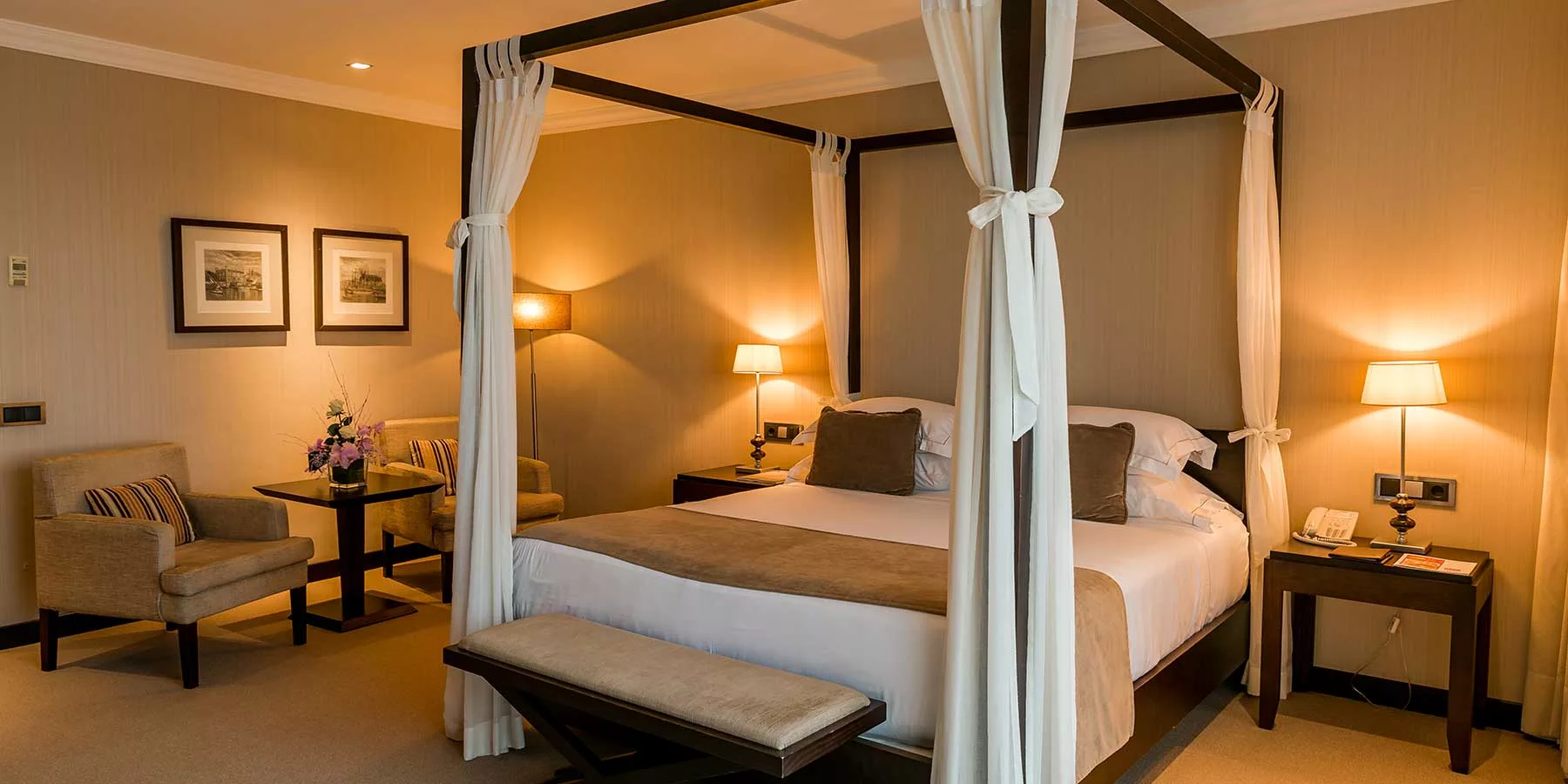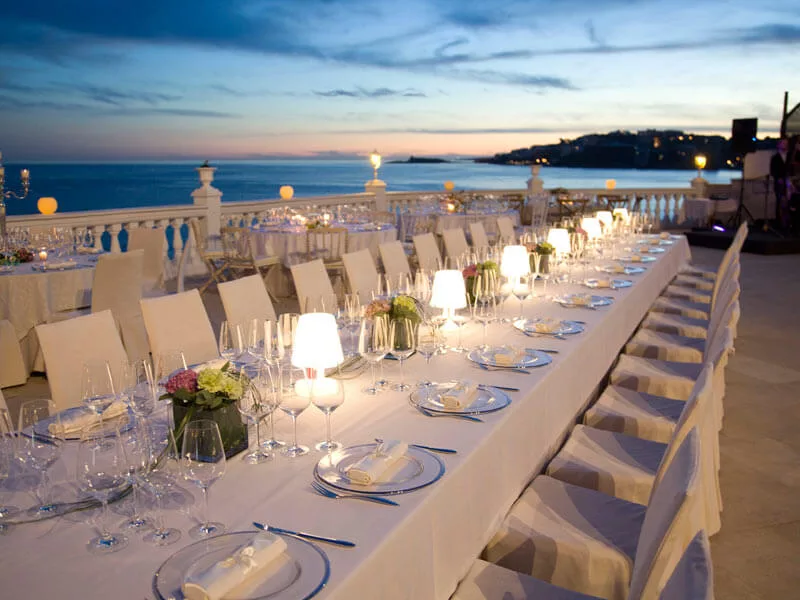 You've probably seen me recommend Nixe Palace a lot. I love this hotel. It's one of the few in Palma that give you access to the beach, and it certainly has the best view of the sea. (Just be careful not to let the seagulls steal your breakfast.) I highly recommend the spa as well.
As for location, Nixe Palace is a little bit outside the Old Town, but you're still close to all the nightlife of Santa Catalina.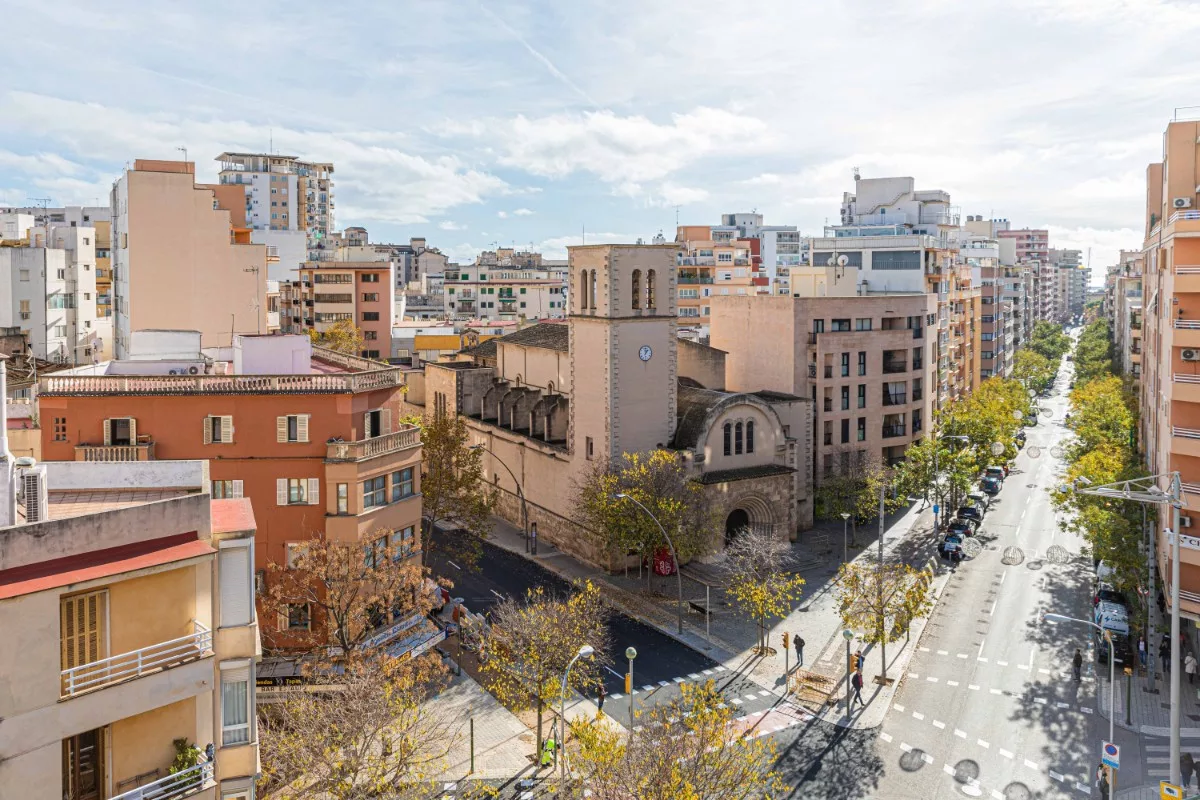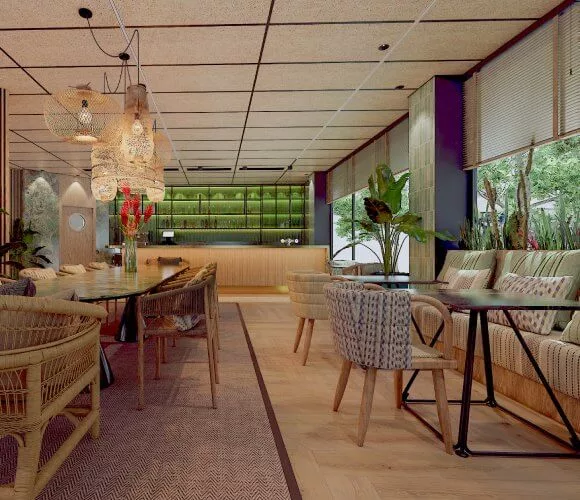 The JS Palma Plaza Hotel is the best choice if you want something authentic without going over budget. Even during peak season, you can often find rooms under €200. This is mostly due to its location on Plaza Madrid. A mostly residential area, it might not have the fame of Santa Catalina, but it's a quiet place to experience what life is really like in Mallorca. In fact, I lived nearby when I first moved to Mallorca and enjoyed the area quite a bit.
That said, Palma Plaza Hotel is still within walking distance of Santa Catalina and El Forti park. You can also entertain yourself with the rooftop pool featuring amazing views of the city and sea beyond, not to mention the gym and spa.
Stay Brick is frankly a… weird hotel. Though it's a full hotel, it draws on a youth hostel vibe, and I'd primarily recommend it for young travelers or backpackers. Aside from the artistic and chique interior design, it's also one of the best hotels for accessing the historic Old Town. Right in Sindicat, you're a few steps away from the coolest Bohemian cafes, and you also have Sant Miquel and Plaza Mayor right around the corner.
The Best Restaurants in Palma de Mallorca
Best Fine Dining: Zaranda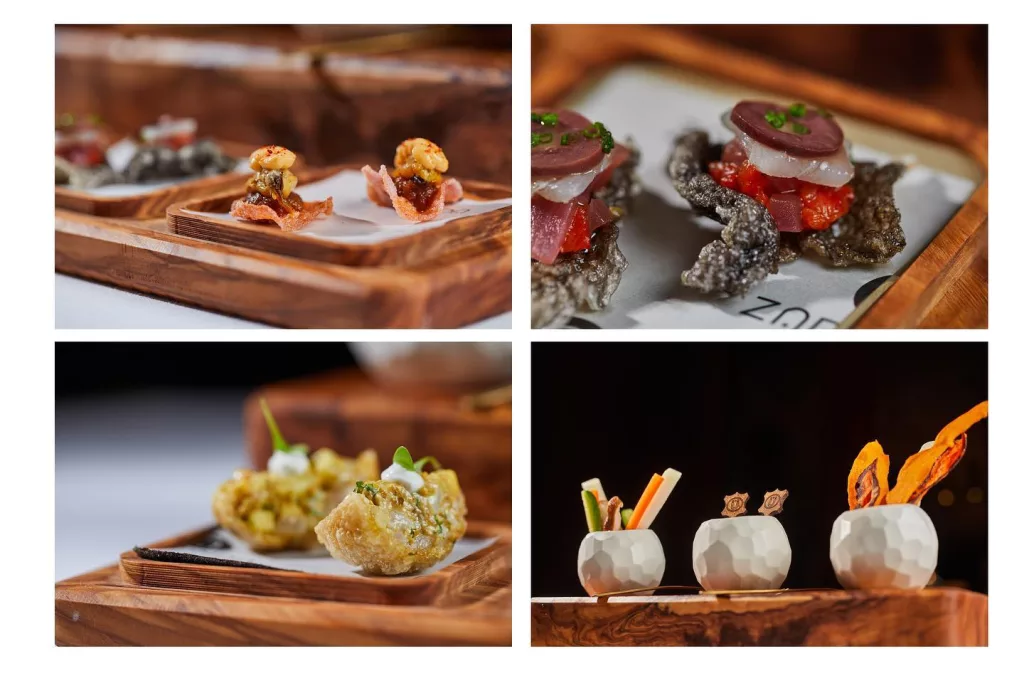 Zaranda is actually homed right inside the Es Princep hotel, one of my favorite boutique hotels in Palma, though it was originally located in Es Capdellà, a small village in the Tramuntana mountains, where it became a Michelin Two-Star establishment.
Fernando P. Arellano heads the restaurant and creates dynamic tasting menus based on his experiences in restaurants around the world, having slowly worked his way up to chef from a dishwasher in Dublin. Neverthless, he's always sure to draw on his Mallorcan roots, giving the unique dishes an authentic base.
Obviously you can't come to Mallorca without eating Mallorcan food. The best place to get that in Palma is Sa Premsa. Located right off Plaza España, it's easy to get to and serves classic Mallorcan fare like tumbet, frit and paella paired with Mallorcan wine. Be sure to check out the daily menus as well.
Best Brunch Cafe: Maui Café & Brunch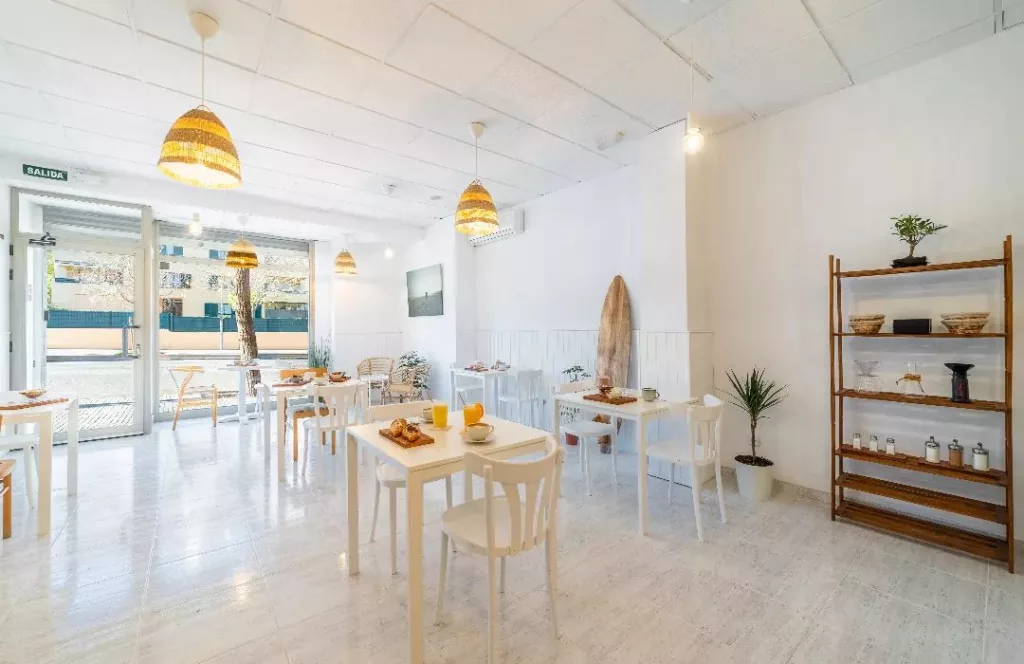 This may seem like an odd choice given how far away it is from central tourist areas, located on the northern edge of Parc de la Riera, but that's honestly why I like it. It's a real cafe dedicated to providing good food for Palma residents.
More importantly, they make the best cup of coffee I've had on the island. I ride in regularly from Santa Maria just to have a flat white and get some work done.
Founded in 1700, Ca'n Joan de s'Aigo is a Palma institution. It's the best place to get Mallorcan desserts in the city, from ensaïmada to ice cream. The biggest and most popular location is on Sindicat, caddy-corner to Corte Ingles, and you'll find it full of Mallorcans in the summer. However, there are two other smaller locations, one on Carrer del Baró just of Jaume III and another tucked inside the Old Town on Carrer de Can Sanç.
What to Do in Palma de Mallorca
See the Sights
Walk the High Streets
Visit the Markets
Go to the Beach
To be blunt, Palma is not the best place in Mallorca if you're looking to enjoy some sand and surf. However, there are a few places accessible by walking or public transportation.
Enjoy the Nightlife in Santa Catalina
The best nightlife in Palma is located in Santa Catalina, the neighborhood just west of the Old Town running along the coast. Because of its proximity to the port, it's the go to for yachties and boat workers when they come to town, so tons of bars and clubs and sprouted up in the area.
While the list of great establishments covering everything from gritty dive bars to upscale cocktail joints is nearly neverending, there are a few cornerstone locales to start with:
Go to the Aquarium
If you're visiting Mallorca and don't have time to get in some serious scuba diving or snorkeling, I recommend hitting up the Palma Aquarium, especially if you have kids. There's something magical about the blue glow of the tanks and the glints of light off the fish's scales as the swim. You can view over 700 species from the Mediterranean and other parts of the world.
The main attraction of the aquarium, however, is the shark tank. Known as "Big Blue," the tank is 8.5 meters or 28 feet deep, making it the deepest shark tank in all of Europe. It holds six large and formidable sand tiger sharks, five sandbar sharks and over 1,000 fish.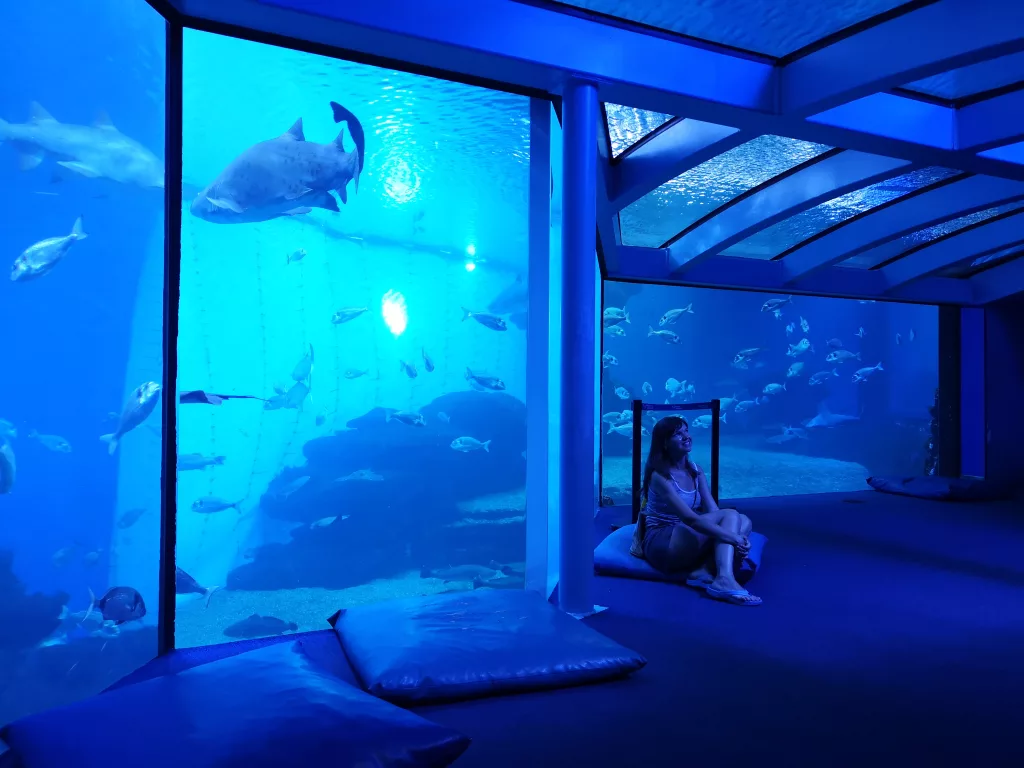 In addition to walking the exhibits and watching the animals, the aquarium participates in numerous research and conservation efforts and provides workshops and training as well as unique activities for adults and children:
Dive With the Sharks
Underwater: Adults and children over age eight can swim in the stingray tank.
Shark Sleepover: Children from age six to 16 can spend the night in front of the Big Blue shark tank, an eerie but exhilerating experience.
There are also guided tours, a 3D cinema and a shark vision boat. Plus, the aquarium is a popular place for children's birthday parties due to the outdoor cafe and extensive play area.
I recommend reserving your tickets online becuase it comes with a discount resulting in €25.70 for adults or €16.20 for kids aged three to 12. Children under three enter for free. There are also discounts for Balearics residents.
The Palma Aquarium is located near the airport just a few blocks off s'Arenal. You can easily get there with public transportation. You can take the EMT city buses 23, 25, 31 and 35. It's about 30 minutes from Plaza España. You can also arrange a shuttle when you reserve your tickets.
Take a Tour
24-Hour Hop-On Hop-Off Bus Tour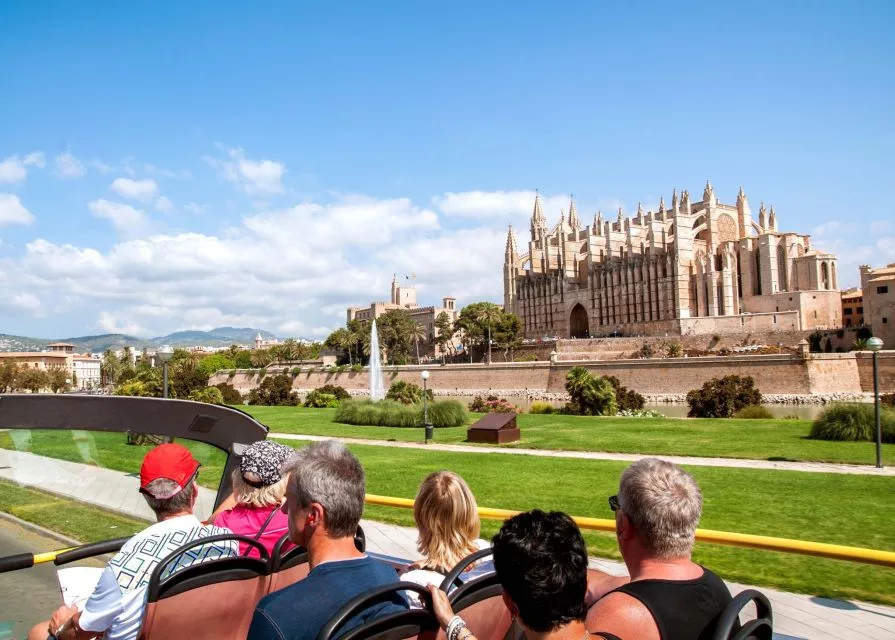 There's a lot to see in Palma, so a hop-on hop-off bus tour gives you the flexibility to spend more time where you like and still see the whole city in a day. Plus, you get an audio guide with plenty of language options. Choose the "essential experience," and you even get ice cream, a drink and entry to Bellver Castle.
City Walking Tour With the Cathedral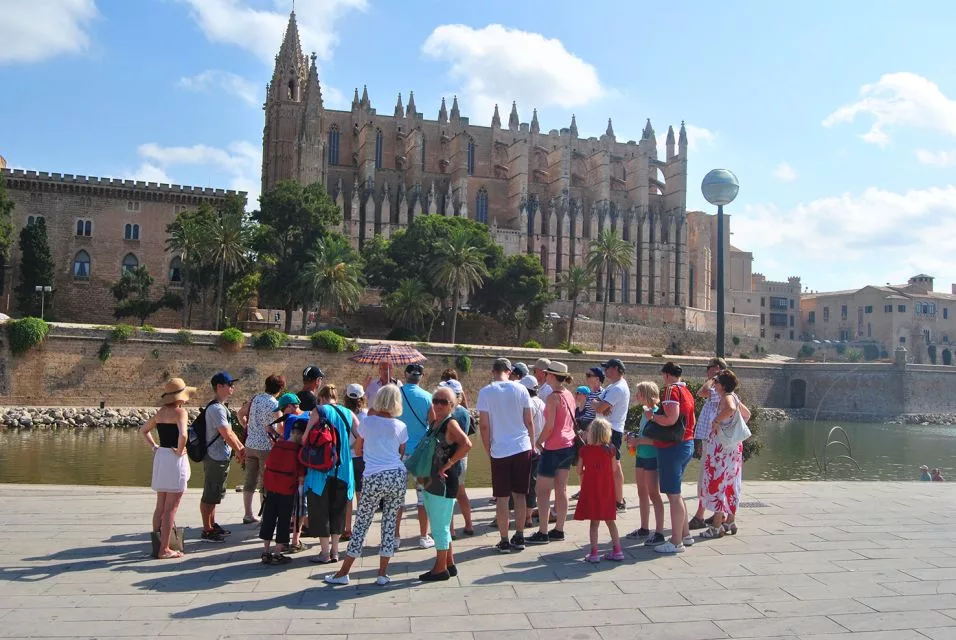 I recommend this tour if you're especially interested in the La Seu cathedral, which is certainly one of the most beautiful and mesmerizing Gothic cathedrals in all of Europe. The tour comes with a guide who gives you the local history while exploring the city as well as entrance and a guided visit to La Seu.
Old Town Guided Bike Tour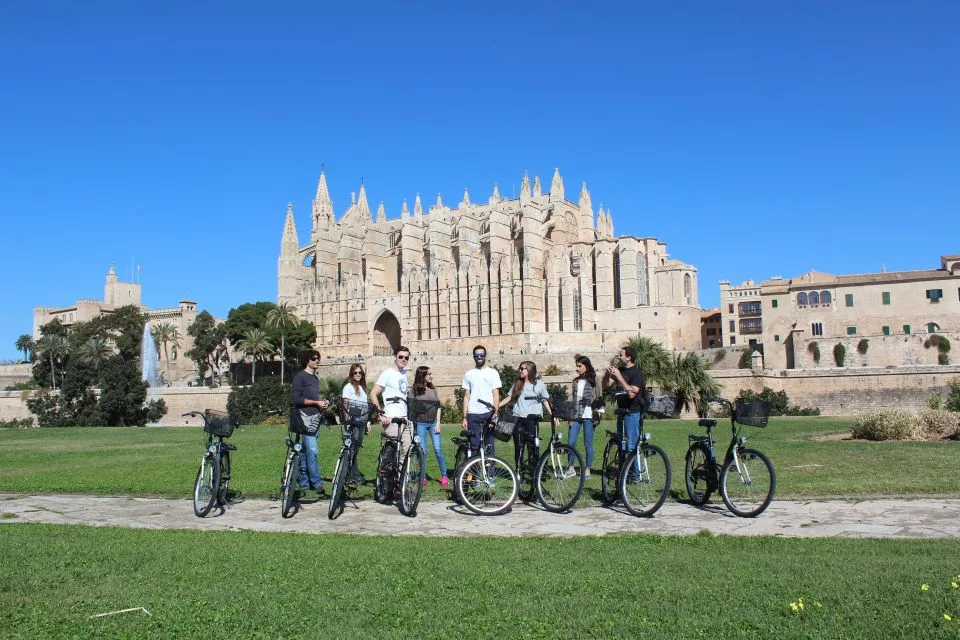 Palma is the perfect size for exploring by bike, so this tour is a great way to do that with an experienced guide who can show you the best sights. You get the bicycle and helmet and travel in a small group that makes everything easy and comfortable.
Market Visit and Traditional Cooking Workshop
Forn de la Llotgeta is a famous bakery and culinary school in Palma. With their traditional cooking workshop, you'll learn the ins and outs of Mallorcan cuisine and produce. In fact, you'll visit Mercat de l'Olivar to source local ingredients and then create a full four-course Mallorcan lunch that comes with two glasses of wine.
Palma Bay Boat Tour and Snorkeling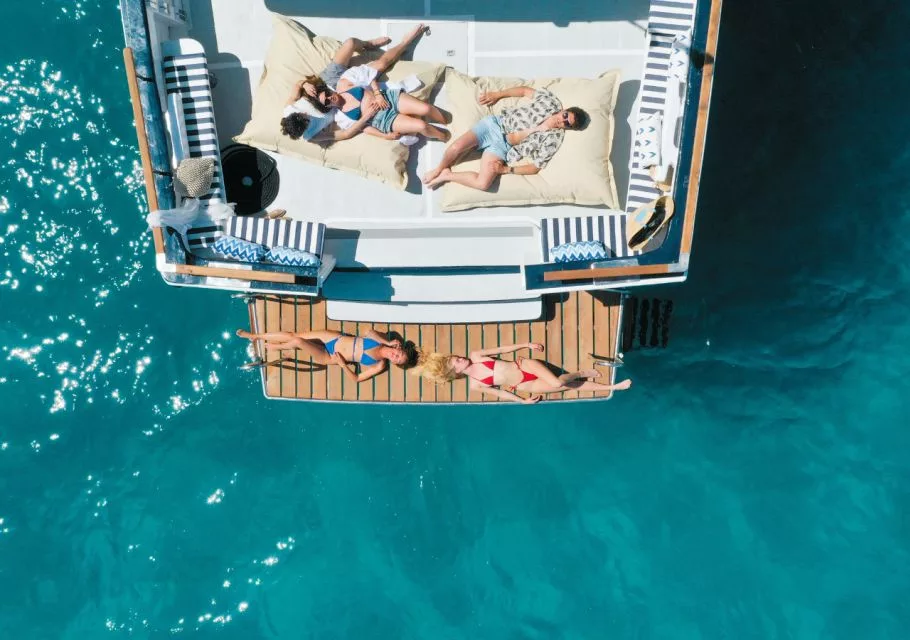 This boat tour of Palma Bay is the ideal way to experience the beauty of the Mediterranean without having to leave Palma. Along with cruising the bay, the tour provides you with a snorkel and expert biologist, or you can pick the sunset option that comes with a drink.
Fires i Festes
Reis Magos – Jan. 5
All of Spain celebrates the Three Kings, who bring presents to the children the night of January 5th. However, Palma brings int he holiday with particular style, involving an enormous parade the night of the 5th that involves the Kings themselves coming into the city by boat.
Sant Sebastià – Jan. 20
While most of Mallorca celebrates Saint Anthony, Palma has its own patron saint: Sebastian. To honor him, the city parties for a week cultimating on the night of January 19th. Live music and bonfires are set up in several of Palma's many squares, and the people bring their own meat to barbecue. They then sleep in because the 20th is a holiday.
Carnaval – End of Feb.
In Mallorca, the people primarily celebrate Carnaval with parades featuring floats and groups of matching costumes. This is called Sa Rua, and it usually runs down La Rambla and through the Old Town to Passeig Mallorca on a Sunday evening in late February.
Fira del Ram – Feb.-April
Fira del Ram is Palma's fair, set up in the large fair grounds in Son Fusteret. While you can easily see the ferris wheel light up above the city's skylines, there are plenty of other attractions as well as food stalls and entertainment.
Fira del Llonguet – April
Like oranges in Sóller and cuttlefish in Alcudia, fairs devoted to a municipality's signature product have become the rage on Mallorca. In the case of Palma, this means the Llonguet, a bread roll often turned into a sandwich. The food is so popular with Palmasanos that other Mallorcans sometimes jokingly refer to them as such. Event takes place throughout April and involve specialty sandwiches and sales at local bakeries.
Semana Santa – April
Palma is arguably the best place in Mallorca to view the famous Spanish Easter processions. Maundy Thursday and Good Friday fill the city with the typical parades where you can witness traditional Spanish Catholic dress and Easter customs.
Sant Jordi – April 23
Sant Jordi is an important holiday on Mallorca because it is known as El Dia del Llibre, or the day of the book. On this day, Mallorcans celebrate the legend of Saint George, in which a town plagued by a hungry dragon is forced to use a lottery to sacrifice townspeople to the beast. When the local princess's name is drawn, the saint puts on his shining armor and rides off to save her. He slays the dragon with is lance, and its blood transforms into a rose bush. Therefore, it's traditional on this holiday for a man to give the woman in his life a rose, after which she will give him a book in return. Throughout Palma on the day of the 23rd, you'll find book stands also selling single roses A particularly fun place to enjoy this is Plaça Major.
International Boat Show – End of April
As a major destination for yachts from around the world, Palma hosts a boat show at the end of every April featuring over 200 exhibitors. These professionals show off new designs and techniques in the industry through a dazzling collections of yachts.
Palma Vela – Early May
Palma Vela is another boat show hosted by Palma's Real Club Náutico. It's specifically devoted to classic and vintage boats of the sail variety, hence vela.
Palma Beer Festival – Early May
Independent microbreweries from around the Balearic Islands and even other regions of Spain come to Palma in early May to sell their craft beer. Located in front of the La Seu Cathedral, the festival also includes food and music.
La Nit de Vi – End of May
As one of the premier wine regions in the world, Mallorca's activities devoted to the drink have become increasingly popular. One of the most extensive is wine night, or La Nit de Vi, at the end of May or beginning of June. There are often more than 200 local wines to taste.
Sant Joan – June 24
Sant Joan represents the ringing in of summer coinciding with the summer solstice, opposite Christmas in the winter. In Palma, it's one of the best places to experience correfocs, the night of 23rd known as La Nit de Foc, or the night of fire. This means drums, demons and fireworks in the Parc de la Mar below the cathedral as well as other celebrations around the city.
Copa del Rey Regatta – Early Aug.
The King's Cup Regatta is hosted by Palma's Real Club Náutico and is one of the most important and prestigous boat races in the Mediterranean if not the entire world. It's attended by the Spanish royal family who often participate in the competition.
Mare de Déu de la Salut – Sept. 8
While not as elaborate as Semana Santa, Palma celebrates the Virgin Mary's mass on September 8th with processions and celebrations on the night of the 7th.
La Nit de l'Art – Late Sept.
The night of art takes place across the entire city as museums and art galleries stay open until midnight. Many host special exhibits for the event as well.
Palma Marathon – Early Oct.
As the weather finally begins to cool off, you can run—or watch—the 42 km or 26 miles drawn through Palma's Old Town.
Palma International Film Festival – End of Oct.
Palma's film festival is one of the fastest growing in Europe and often attended by famous filmmakers and cinematographers from around the world. Activities and films take place around town.
Nadal – Nov.-Dec.
Festivities in Palma ramp up for Christmas starting at the end of November with the turning on of the decorative lights. The entire city becomes illuminated as well as large buildings like the Corte Inglés on Avenidas. Businesses stay open later as people hit the shops to get gifts.
Last Minute Hotel Deals in Palma de Mallorca