Right in the heart of the Serra de Tramuntana mountains, Sóller is one of the most popular destinations in Mallorca due to its natural beauty and rustic atmosphere. With a population of around 14,000, the town maintains a quaint charm while still providing enough amenities for extended visits. Along with traditional Mallorcan architecture, Sóller is famous for its orange production, historic buildings, and the historic train and tram car.
Whether you want an authentic Mallorcan cultural experience or are just looking for a relaxing vacation away from the bustle of the city, Soller is one of the must-see places on the island. This guide has everything you need to know to make that trip a success, from where to stay to what to do.
How to Get to Sóller
Sóller is located deep in the mountains, but thanks to the Sóller tunnel, which was completed in 1997, it only takes about 35 minutes to drive there from Palma. For this reason and others, driving is my personal recommendation, but you can also get there by bus and train.
Driving
It's easy to get to Sóller by car. Signs for Sóller adorn the Ma-20 beltway around Palma. Just take exit 5A for Ma-11 and take it to Sóller. You'll have to pass through the Sóller tunnel, which is free.
Alternatively you can take Ma-11A around the tunnel. It's a gorgeous scenic route but does invovle a lot of twists and turns and increases your travel time to 50 minutes.
You don't necessarily need a car to explore Sóller, but I still recommend it because it allows you to visit the port, see nearby villages like Biniaraix and Fornalutx, and cruise the coastal highway and experience some of the most breathtaking views on the planet. If you're visiting Mallorca for a short time, it's worth it to rent a car just so you can see Sóller. It's often less expensive than you think.
Bus 204
You can take a TIB bus from Palma to Sóller. Your best bet is the 204 bus which leaves the Estació Intermodal across from Plaça d'Espanya every 30 minutes on the hour and half hour and stops in three places in Sóller, the Centre station being the most central. The ride takes about 30 minutes.
Not including various discount schemes, the current price is €2.70 if you buy the ticket online ahead of time or €4.50 if you buy it on the bus.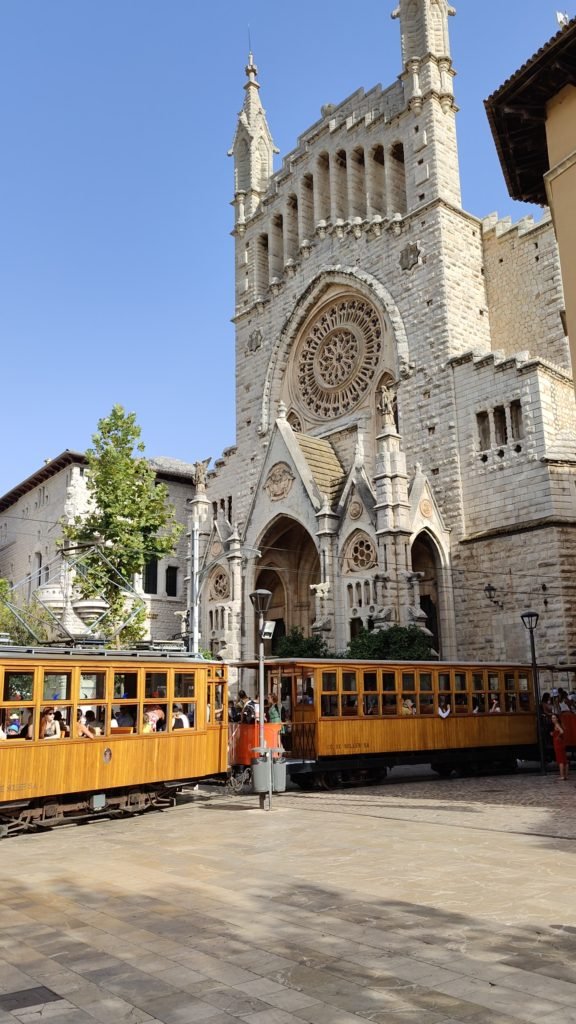 Tren de Sóller
You can actually take the train to Sóller. However, this is not one of the three TIB lines. It's operated by Ferrocarril de Sóller and is more a tourist attraction than a practical means of transportation. The train leaves six times a day and takes an hour to get to Sóller with a stopin Bunyola. A one-way trip to Sóller is €18 and a round-trip ticket is €25. You can include the separate tram to Port de Sóller in your round-trip ticket for a total of €32.
Normally you have to buy tickets at the station, which is just across the street from the Estació Intermodal in Palma. However, if you want the full ticket including the tram to Por de Sóller, you can buy it online.
Where to Stay in Sóller
Gran Hotel Sóller is luxury accomodation located right next to Sóller town market and just a few steps away from the historic city center, one of the most beautiful in Mallorca.
Built in 1880, the hotel retains the passion for hospitality and attention to detail of Europe's Belle Époque. There's a rooftop pool with views of the mountains and valley that's served by a bar in the summer.
Can Coll is a rustic escape in the heart of the Serra de Tramuntana. If you enjoy ecotourism, it's an excellent way to experience the nature of Mallorca in addition to the local cultivation of fruits like oranges and lemons.
In my opinion, the best part of Can Coll is the breakfast, which you can enjoy the garden next to the pool with views overlooking Sóller and the surrounding mountains.
With rooms often available for less than €60, Hostal Nadal is the best way to see Sóller on a budget. Not only is it located on a charming historic street just a few blocks from the main square, but it has the feel of a traditional Mallorcan townhouse.
The bar and terrace dining area are comfortable as well. You can relax with personal service after a day of exprloring the town.
Where to Eat in Sóller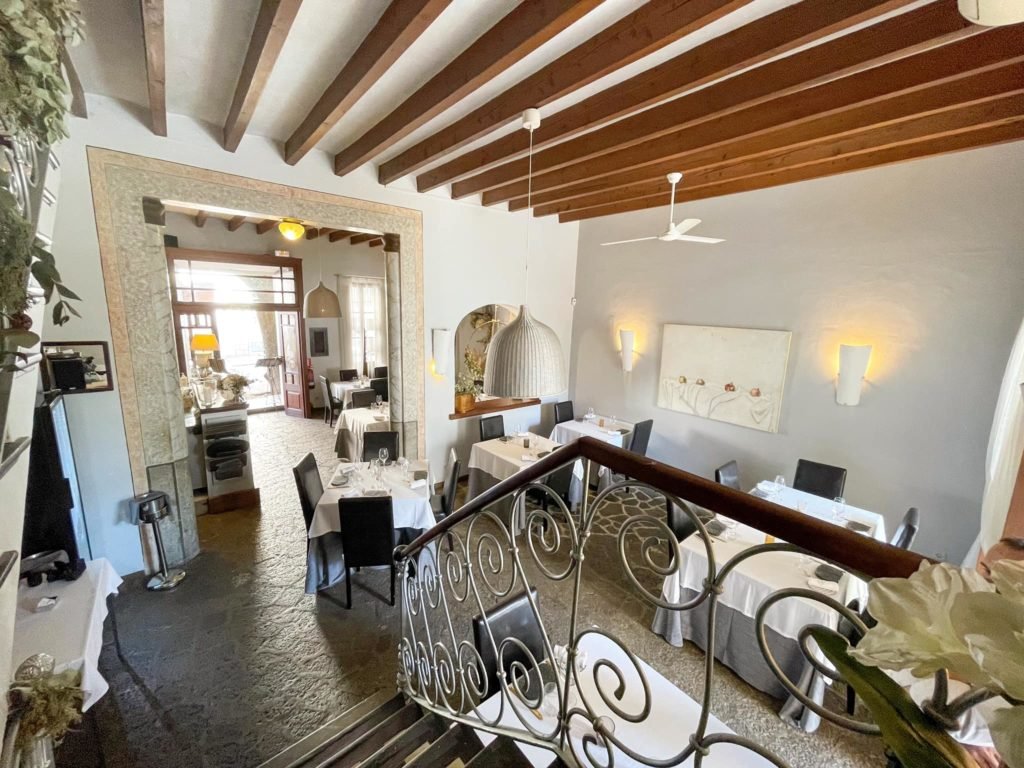 If you want to know how much I like the food at C'an Boqueta, I had my wedding rehearsal dinner there. Recently awarded with a Michelin Bib Gourmand, it's fine dining in the traditional Mallorcan style including Sóller shrimp. They also have a wide selection of Mallorcan wines.
I recommend the tasting menu to get the full experience, but the daily menu is always a good choice, too. Make sure to make a reservation beforehand.
One of my biggest complaints about Mallorca is that every cafe is the same. Sometimes you want a creative style with new drinks and dishes to inspire your taste buds. That's Miga de Nube. Located on the picturesque Carrer de sa Lluna, Miga de Nube apparently moonlights as an art gallery and antique shop. I recommend going for brunch, but even if you just need a jolt, try the Curcuma Coffee.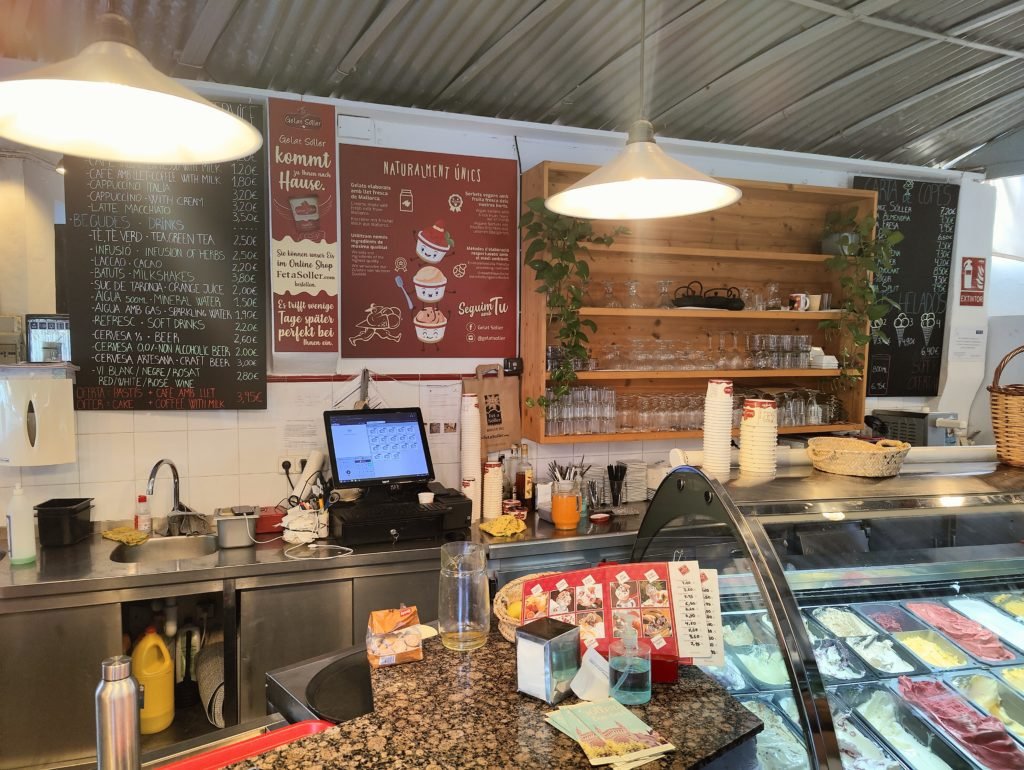 Gelat Sóller is famous around Mallorca for their ice cream and sorbet, especially the flavors made with Sóller oranges. It's a couple of blocks from the main square and easily accessible after dinner and a long day exploring the town. Don't worry. You don't need a reservation.
What to Do in Sóller
See the Sights
Take a Tour
Tramuntana Tour with Sóller Train Ride
This tour incorporates the Tren de Sóller with the mountain towns of Sóller, Deía and Valldemossa. This is a great way to get the views and the experience all in one.
Guided Tour With Lunch in Sóller
This guided tour is the perfect way to explore the Serra de Tramuntana because along with having lunch in Sóller and visiting Valldemossa, the local guide takes to some rarely visited spots along the way.
Jardines de Alfabia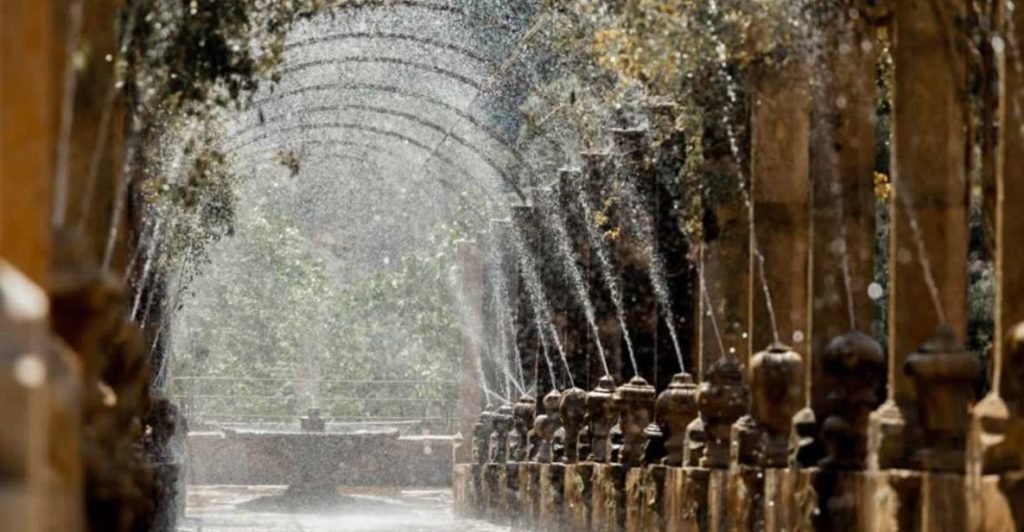 Unkown to many, Sóller's original city plan as well as much of the architecture dates back to pre-Catalan Moorish times. A tour of the Alfabia Gardens is an excellent way to experience this.
Go for a Hike
Since Sóller is deep in the mountains, it's a great base for hiking. If you're short on time, you can even hike to nearby hamlets of Biniaraix and Fornalutx. Biniaraix is a little over a mile (1.8 km) outside of Sóller, and takes about 30 minutes to walk there. Fornalutx is another mile (1.6 km) or 25 minutes.
If you're more ambitious, I highly recommend hiking from Sóller to Puig de sa Bassa. It's not a technically difficult hike, but it is over 11 miles (18 km) round trip, taking nearly four hours. It'll take longer if you stop at Mirador ses Barques for a refreshment, but the views make it more than worth it.
Honestly, though, there are endless trails around Sóller. If you're an avid hiker, I suggest you check out Wikiloc to find enough hikes to spend a week in town.
Fires i Festes
Reis Magos – Jan. 5
Per Spanish tradition, the Three Kings bring presents to the Children during the night of January 5 for the Feast of Ephiphany on January 6. Most towns in Mallorca have a parade on the evening of the fifth where the Three Kings arrive on individual floats and throw out candy to the children. Sóller's is one of the more elaborate with the Kings coming up by tram from Port de Sóller and parade past the church and around the main square.
Sant Antoni – Jan. 17
Sóller celebrates Saint Anthony much like the rest of Mallorca, with sobrassada and botifarra (types of Mallorcan sausages) cooked over bonfires, or foguerons, in addition to dancing demons and songs. Unique to Sóller, there are also games on horseback.
Carnaval – End of Feb.
Carnaval celebrates the beginning of Lent. In Mallorca, it's primarily an opportunity for children to dress up in creative costumes. In Sóller, there are parades, Sa Rua and Sa Rueta as well as dances..
Sa Fira de Taronja (Orange Fair) – End of Apr.
One of the best things about Mallorcan spring is the orange harvest. Since Sóller is located in what's colloquially known as "the valley of the oranges," it's natural that they would celebrate this harvest with festivities. Along with craft markets and workshops, the festival involves participating restaurants in town creating special dishes using Sóller oranges.
Semana Santa – Apr.
Semana Santa is the week before the Easter holiday. As in most of Spain, Sóller celebrates with processions of floats in traditional dress. These take place on the evenings of Maundy Thursday and Good Friday as well as the morning of Easter Sunday.
Es Firó – Second Weekend of May
Firó i Fira is a unique festival to Sóller and one of the largest in all of Mallorca. It celebrates the Sóller people's defeat of invading pirates in 1561. The festival cultimates with a re-enactment of the battle at the port that Monday, but it starts the Thursday before with speeches, plays, parades, dances and much more. It's one of the defining events of the entire island.
Sant Joan – Jun. 24
Sant Joan is another large holiday important to the entire island of Mallorca. A celebration of the summer solstice, it involves an evening of music and dancing with the typical Mallorcan demons shooting off fireworks and swinging carrefocs.
Festes de l'Horta – Second Sunday of Jul.
A smaller festival, the Feast of the Garden in Sóller celebrates the Virgin of the Victory, one the town's patron saints. There are cultural activities and sporting events.
Sant Bartomeu – Aug. 24
Another festival unique to Sóller, the Feast of Saint Bartholomew celebrates the primary patron saint of the town and namesake of the famous church. It's not as large as Fira i Firó, but it is a summer event and typical of other summer festivals on the island. There are activities, concerts, or verbenes, and even fireworks.
Fira de la Il·lusió – Dec. 8
December 8, the Day of the Immaculate Conception, is a national holiday in Spain. In Sóller, the town takes advantage of the day to welcome Christmas with a craft fair in the main square, Plaça de la Constitució.
Last Minute Hotel Deals in Sóller