UNESCO declared the Serra de Tramuntana Mountain Range a world heritage site in 2011. The massif, stretching from the west to east coast across northern Mallorca, is a confluence of natural and cultural significance. To understand why, take a trip to Valldemossa.
Former Valldemossa resident and composer Frédéric Chopin called Valldemossa "the most beautiful place in the world." Here, in the highest elevated town of Mallorca, the true beauty of nature and the sculpted beauty of culture converge. This convergence has lured some of the most mystic minds in history, including Frédéric Chopin, George Sands, Archduke Louis Salvador, Ramon Lull, and Jorge Luis Borges. All have been inspired to integrate their lives into the natural and ethnological history of the area.
In the streets of Valldemossa, one can stare directly into life from another era: the eras of the mystics that came before, and yet, at the same time, a traveler remains securely in the modern age with convenient services and access. Below, learn everything you need to know about arriving, staying in, and enjoying Valldemossa.
How to Get to Valldemossa
Though Valldemossa happens to be the most elevated town in Mallorca, it is easy to access.
Driving
Getting to Valldemossa is a treat in itself. From Palma, a single scenic road – the MA-1110 – takes you straight into Valldemossa. The drive should only take half an hour and will pass fields of poppies, olive groves roamed by sheep, and high, sheer cliff faces.
Bus 203
Getting to Valldemossa by bus is easy and convenient. Take bus 203 from Palma's Estació Intermodal for 30 minutes and get off at the Valldemossa 2 stop.
The bus has a flat rate of 2.70€ if you purchase a ticket online or if you simply tap your credit card on the chip reader in the bus. If you pay cash on the bus, the fare jumps to 4.50€. (Don't forget to tap your card on the chip reader when you exit the bus, or you'll be charged an additional 0.30€ fee.)
Where to Stay in Valldemossa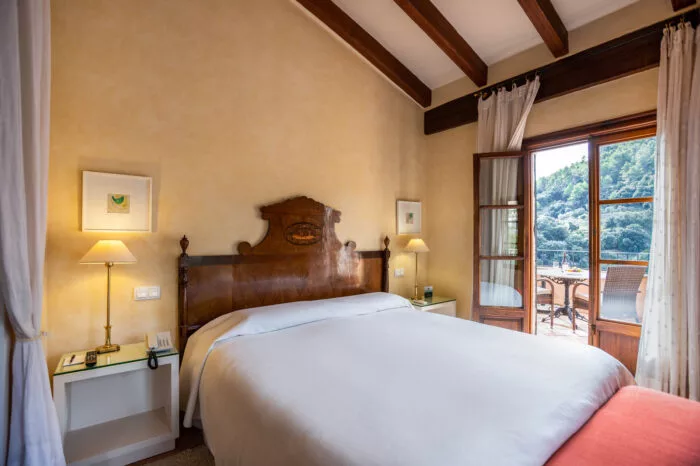 This is the most beautiful hotel in the most beautiful town in the world. Hotel Valldemossa sits atop a hill and gives the impression of a quaint hillside hamlet.
The rooms are stacked here and there, each with a separate outdoor entrance and patio. Relish fine, local, and fresh Mediterranean cuisine and international flavors for breakfast, lunch, and dinner on their terraces overlooking the Valldemossa Valley. Relax to light live music or refresh in the pool for a perfect holiday retreat.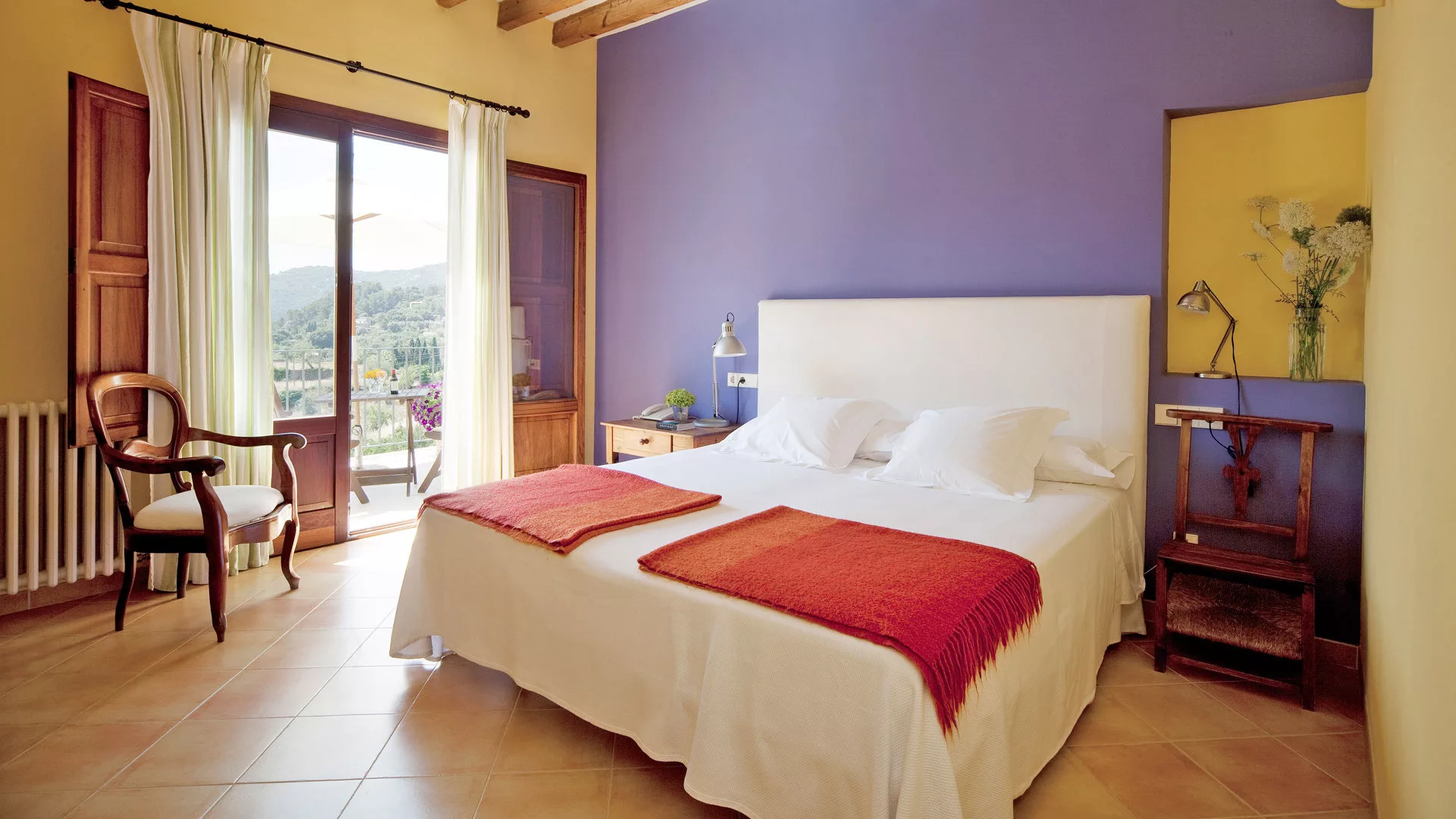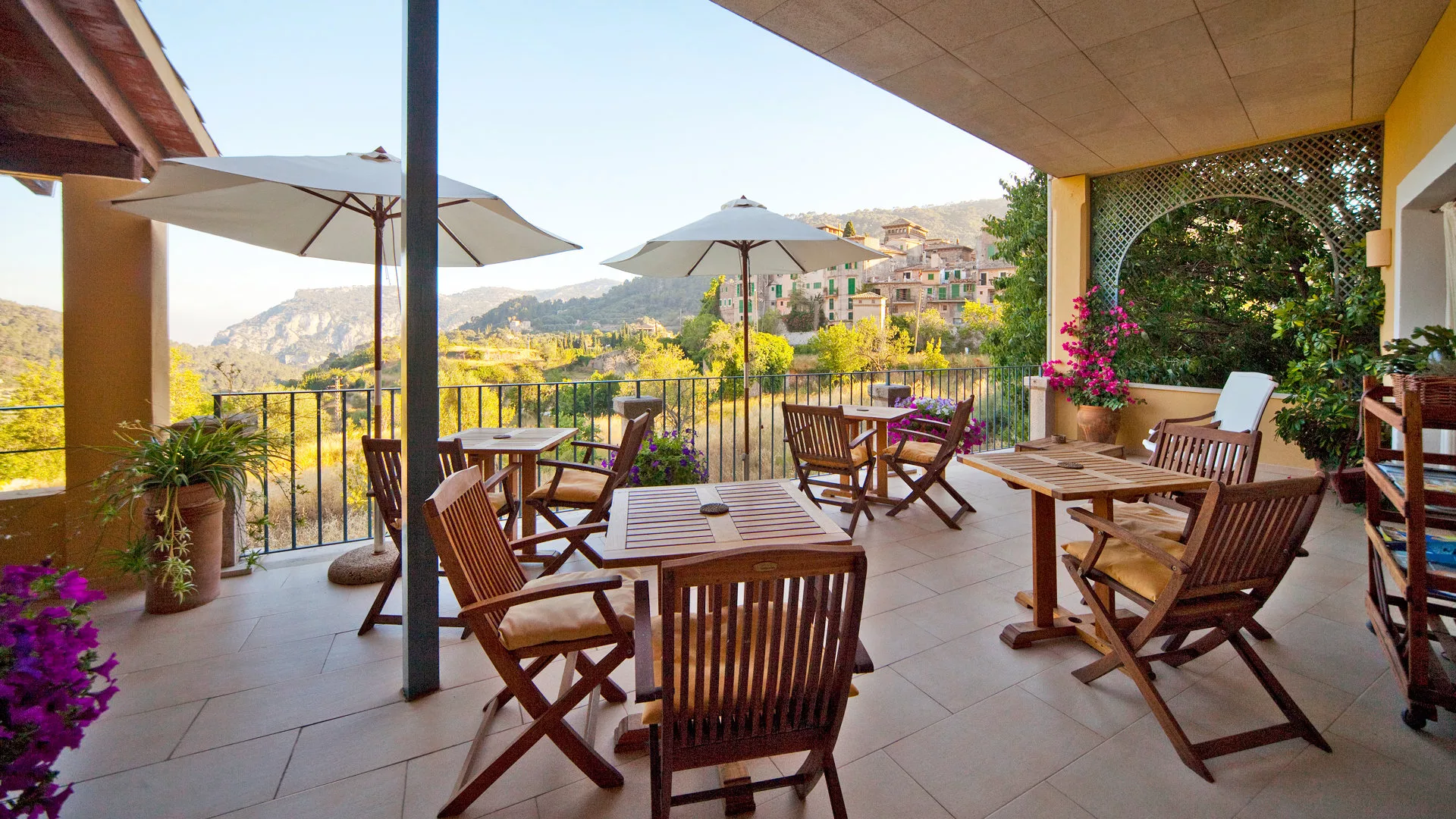 This family-run hotel provides an ideal Valldemossa experience. The centrally located, renovated old house has eight rooms. Those with a terrace have incredible views of the Valldemossa Valley. A delectable breakfast is served on a floral patio each morning. Parking is free, though it is a 10-minute walk from the hotel. (This is not an unusual parking situation for Mallorcan hotels.)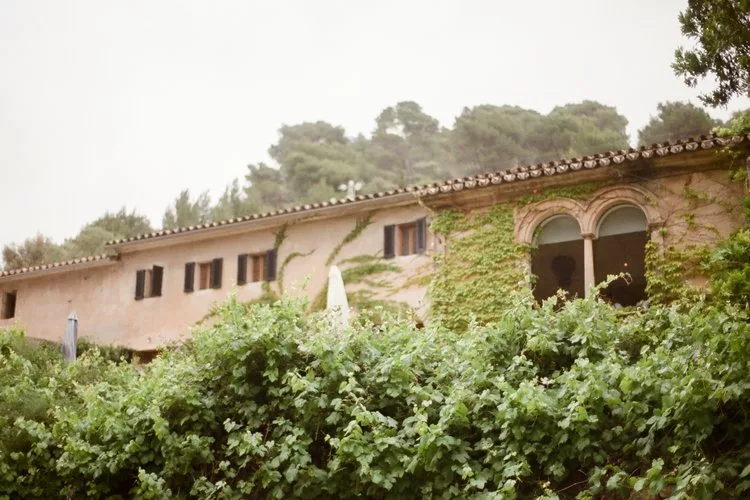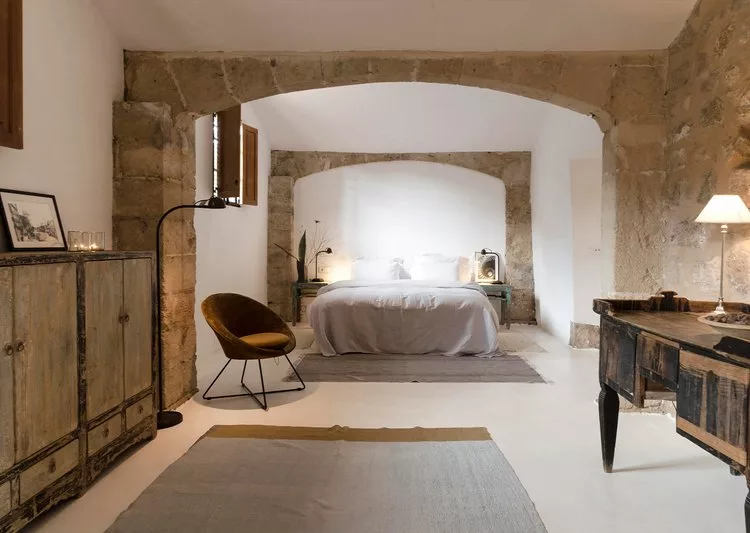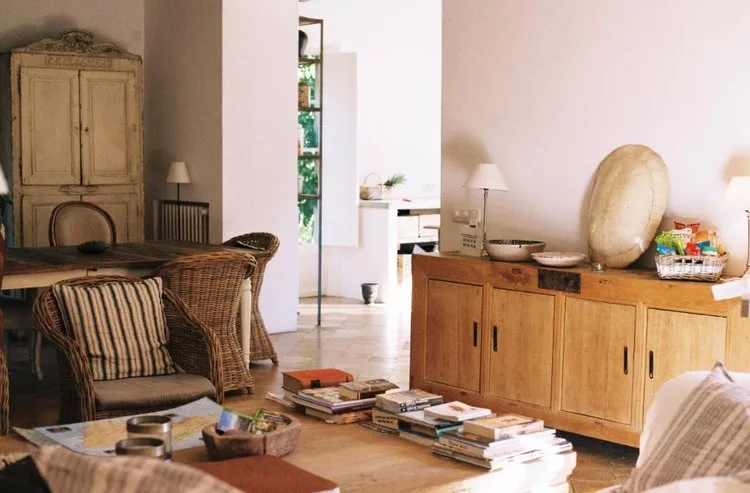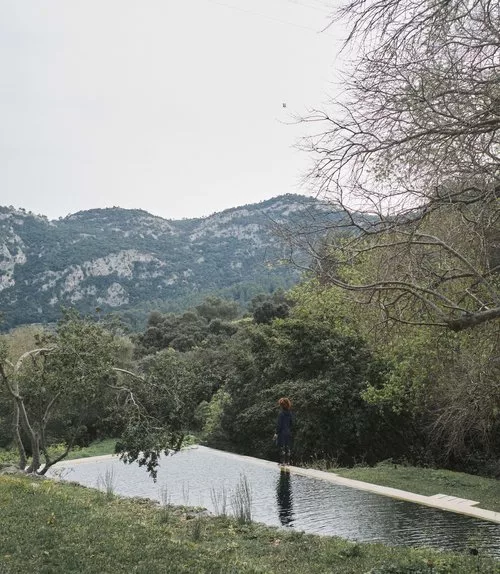 Son Viscos offers that splendid mix between nature and luxury characteristic of Valldemossa. The spacious and elegant rooms are designed to reflect the beauty and openness of the surrounding landscape. The bar, pool, and breakfast areas are also designed to encourage relaxation, in tune with the natural surroundings. Moreover, this peaceful retreat is conveniently located just a 5-minute drive or a 15-minute walk from the center of Valldemossa.
Where to Eat in Valldemossa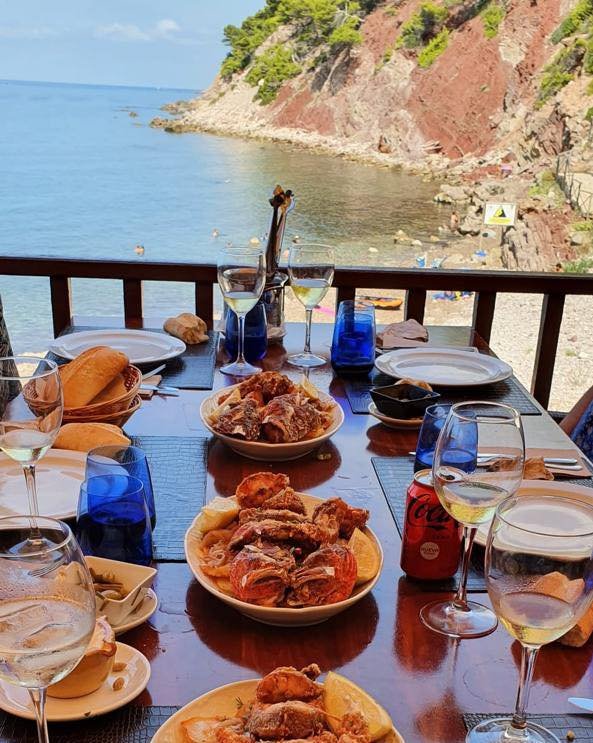 Valldemossa is in the mountains, but it is also right next to the sea. Head down the winding road to Restaurant Es Port de Valldemossa for delicious seafood. They have two-story outdoor seating from which to enjoy remarkable sunsets. I recommend diving into the grilled seafood platter.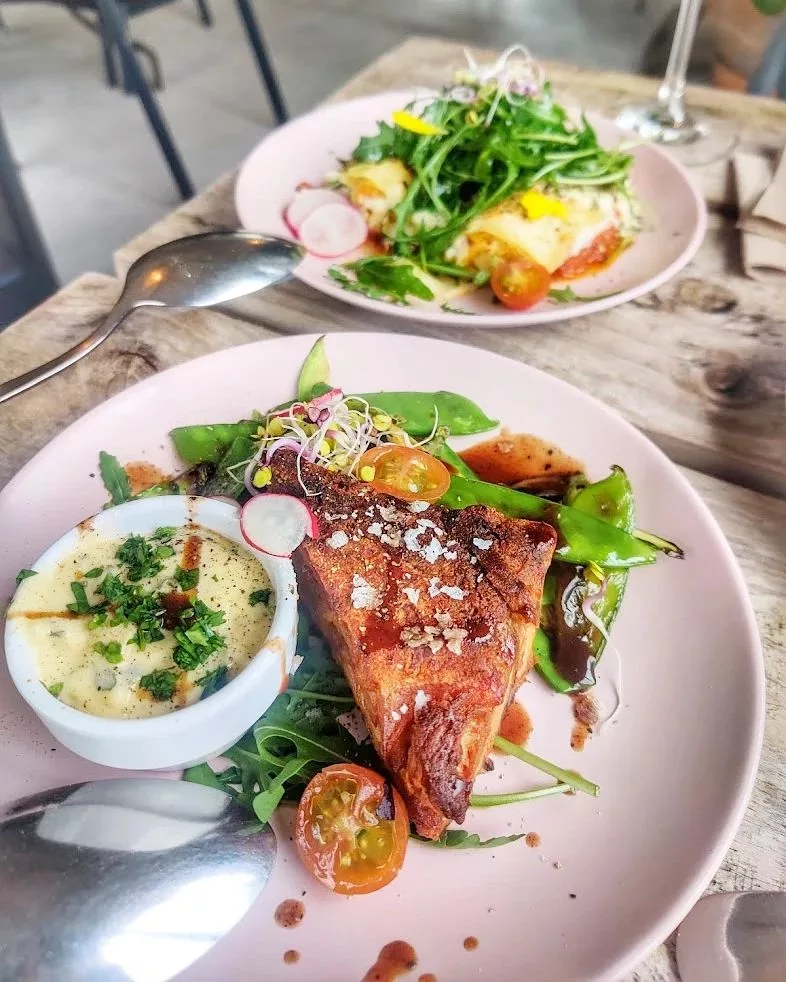 Just off the beaten track and in an old mechanic's shop, chef Nicolás Gago cooks up great food to great music in a laidback atmosphere. Picked straight from his garden just outside the restaurant, his food is made to be healthy and fresh. I had a blast mixing and matching from a long list of worldly tapas.
The charming arched doorway, adorned with flowers, welcomes you into an antique interior that opens up to a well-planted terrace. The location and ambiance are perfect for enjoying a quick beverage and a snack while reflecting on the historical streets just outside.
For some light, local lunch flavors, try Quita Penas. It's a little tricky to find, which makes it all the more intriguing. It has a fun atmosphere with a simple menu of charcuterie-type tastings. Here you'll get to try the Mallorcan staples like pamboli and sobrasada.
What to Do in Valldemossa
See the Sights
See the Sights
Cartoixa de Valldemossa
Initially built for the King of Mallorca in the 14th century, the complex was then acquired for the use of Carthusian monks in the 15th century. Mallorca's only patron saint was born here, and Chopin spent a winter in the complex. Art exhibits and daily concerts featuring Chopin's compositions are also enjoyed with the low cost of admission – 12€. They also have a VIP entrance that comes with a glass of wine and a visit to the tower for 18€.
Jardins del Rei Joan Carles
A quaint garden worth a stroll with busts of Chopin and other notable icons from the past. There is no admission fee.
Try Coca de Patata
Left: Coca de patata típica de Valldemossa, Mallorca. Rafael Ortega Diaz. (https://commons.wikimedia.org/wiki/File:Coca_Patata_Valldemosa_Mallorca-20.jpg)
Right: Spacerowa uliczka miasta z licznymi Kawiarenkami. Antekbojar. (https://commons.wikimedia.org/wiki/File:VALLDEMOSSA-MAJORKA,_AB-299.jpg)
Valldemossa is home to a delectable treat called coca de patata. This cake is soft and spongy and made of potatoes and lard. It's paired with hot chocolate in winter, and in summer, with almond ice cream. Pastisseria Ca'n Molinas is one such bakery offering the cake and has a comfy back patio where you can enjoy it.
Enjoy the Views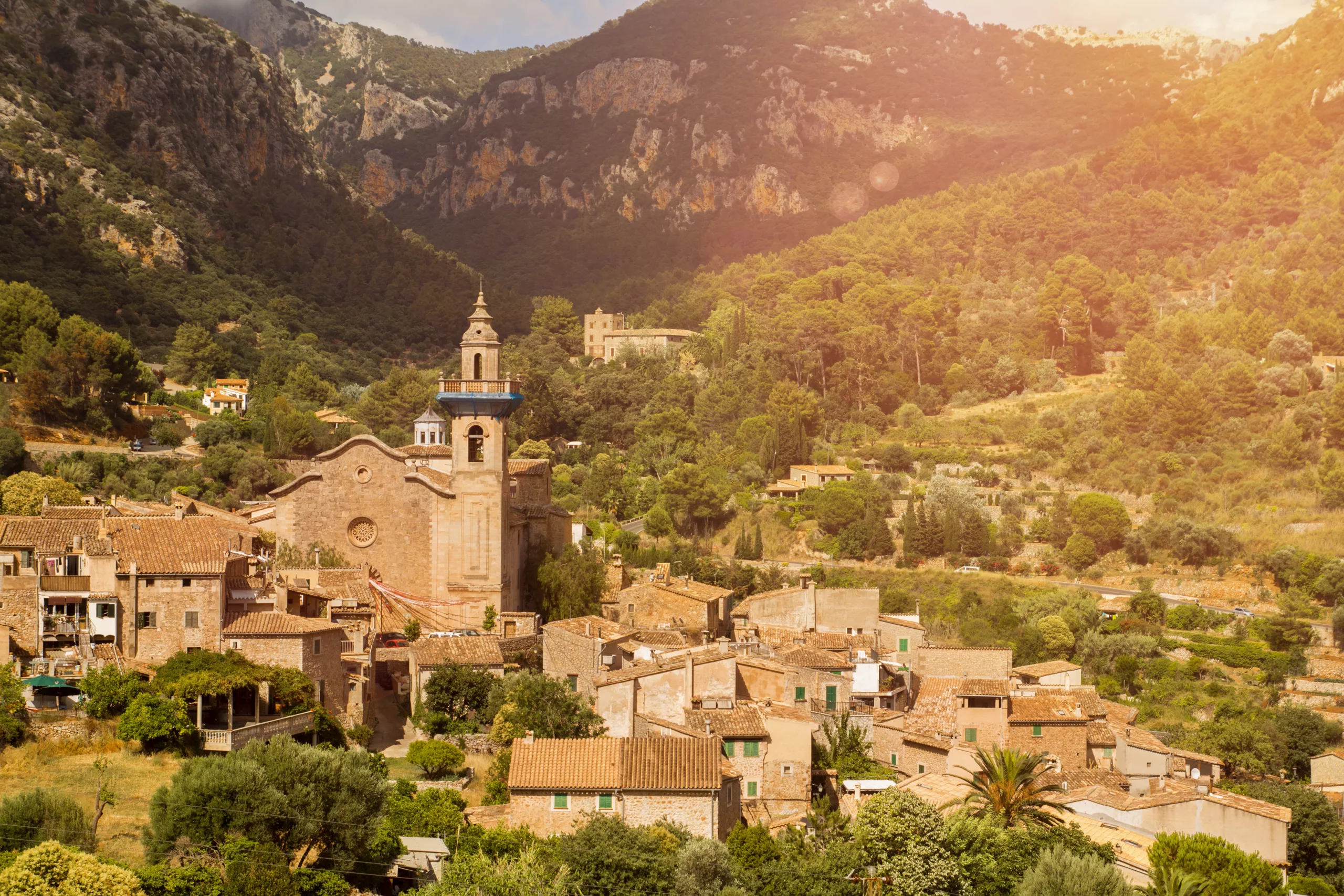 Sa Miranda Des Lledoners Viewpoint
A view that encapsulates Valldemossa's intrigue. Follow a winding path and pass through a stone archway to discover an expansive view of the valley below. Two restaurants sit on either side of the viewpoint offering refreshments to complement the scenery.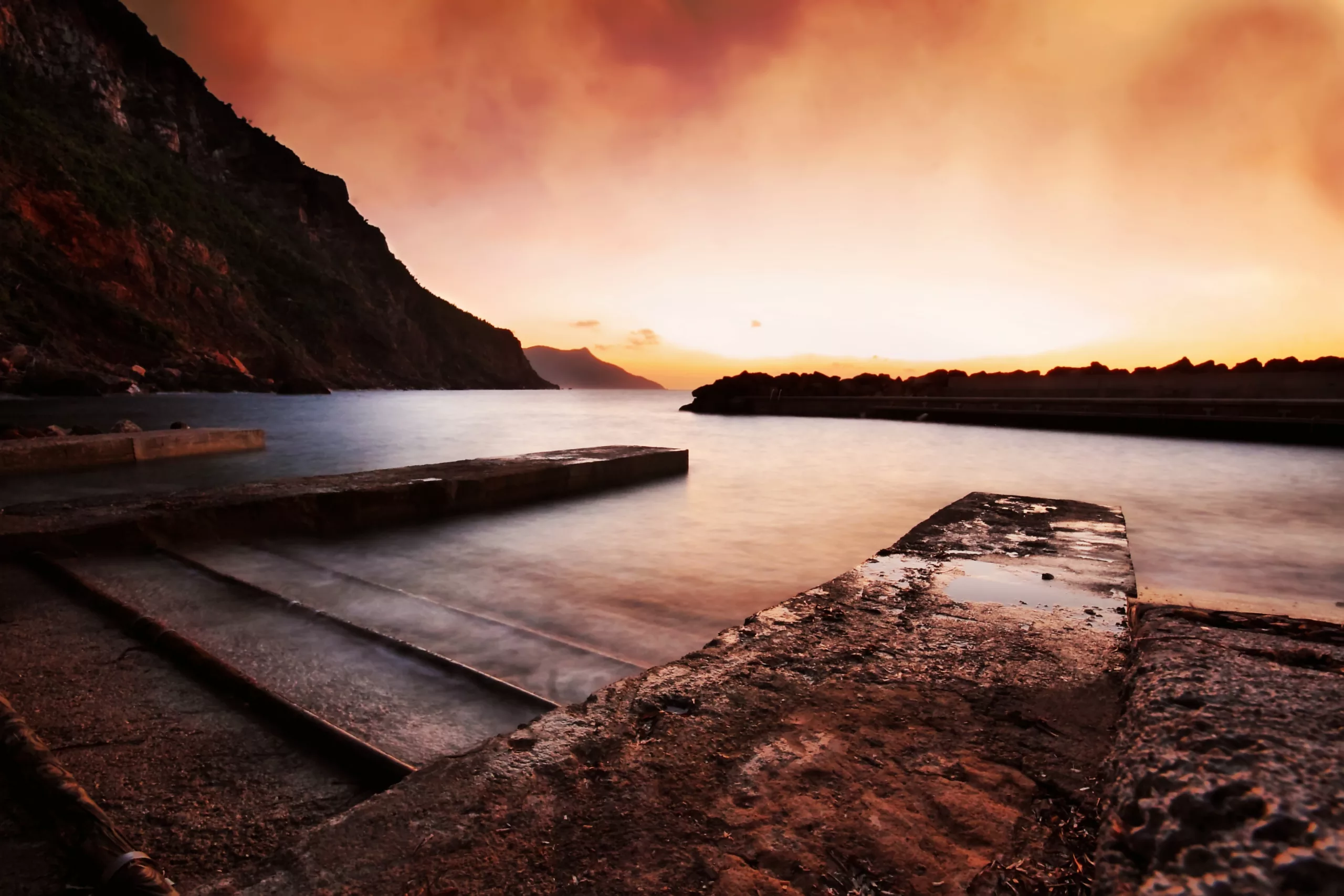 The Sunset From Port de Valldemossa
I have witnessed one of the most spectacular sunsets from this quaint port. It's a bit of a treacherous, windy road to get down to it, but once you do, you can marvel at the beauty of the town above you and the sea before you, especially as it swallows the setting sun.
Go for an Adventure
Hiking
Valldemossa is a fantastic starting, mid, or endpoint to numerous hikes on the island. For example, the famous GR221 trail, which extends the island's width, crosses through Valldemossa. Or choose to place yourself in the shoes of naturalist Archduke Louis Salvador on the gorgeous path that bears his name. Outbound Mallorca, found in town, can help you get outdoors and the trail.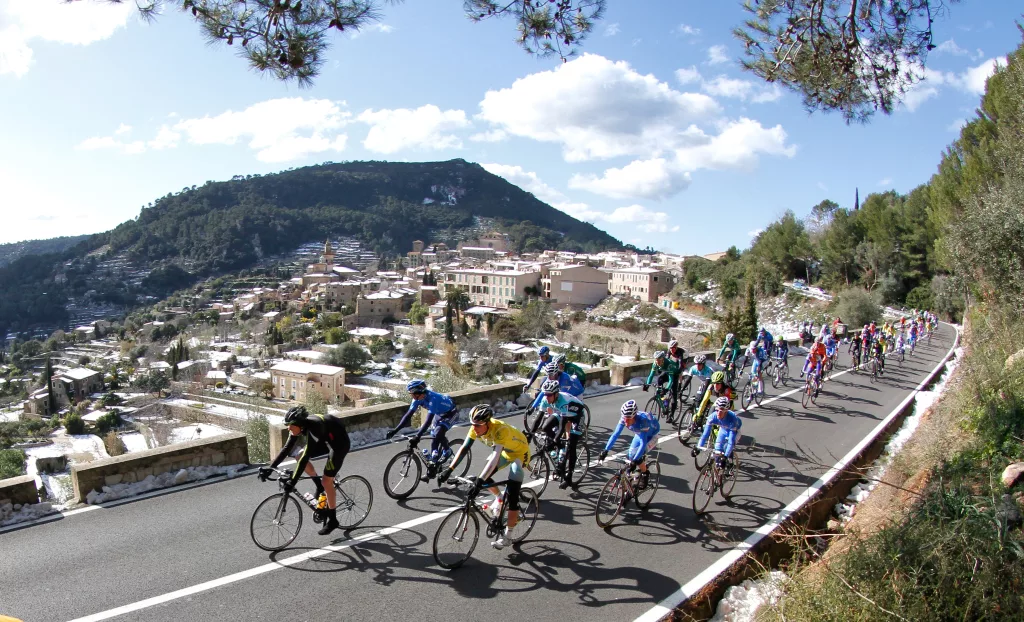 Cycling
Due to its scenic roads, Valldemossa is a popular hub for road biking. Afterall, what could be a finer destination than the highest and most historic town in Mallorca. Rental Bikes Mallorca, located in the middle of town, can get you equipped for the ride.
Rock Climbing
The towering cliffs on either side of the drive into town exemplify why some of the best rock climbing on the island can be found in Valldemossa. There are two climbing areas with routes for all skill levels: S'eseret on the southern side of town and Valldemossa to the north. Rockfax is your guide to climbing in Mallorca.
Take a Tour
There are many companies offering tours of Valldemossa and its gleeful neighboring towns. Here are couple with itineraries I would recommend.
Tramuntana Mountains Tour With Local Guide and Lunch
This is a great, low-key tour that happens in your personal vehicle or that of your local guide. The guide will accommodate you to both Valldemossa and Sóller. You will visit a family-owned olive mill and savor local delicacies along the way.
No Frills Tour of Valldemossa and Sóller
If you would prefer a larger bus tour, No Frills offers transportation from Palma to Valldemossa, Sóller, Port de Sóller and back to Palma. The views along the coast from Valldemossa to Sóller are worth the trip alone. Also included is a ride on the historical Sóller tram up to Port de Sóller, the tour's last stop. Nothing like relaxing seaside after a long day of touring.
Fires i Festes
When it comes to festivals, Valldemossa tends to be more subdued than its neighbors to the east, Deiá and Sóller, but there is no shortage of annual events to celebrate Valldemossa's culture and landscape.
Reis Magos – January 5
The Three Kings are an integral part of the Mallorcan Christmas and New Year holiday. In Valldemossa, the children anticipate the king's procession through town as they are always carrying candy and promising gifts.
Sant Antoni – January 16-17
This is the celebration of Sant Antoni, the patron saint of animals. On the evening of January 16th, the locals of Valldemossa build small fires in town to keep themselves warm as they sing traditional songs and barbecue. The following day a parade blessing all animals proceeds through town.
Carnaval – End of February
From the Thursday before Lent until Ash Wednesday, Carnaval is celebrated throughout the island with fun costumes, events, and parades filling every town.
Festes de la Beata – July 28
The people of Valldemossa hold Saint CatalinaThomas in high regard as she is their patron saint, born in their town in 1531. The festival celebrating her is a source of pride for the town, with the "Carro Triomfal" being the main event. During this procession, a young girl representing Catalina Thomas leads the way through the historic streets of Valldemossa.
Chopin Festival – August
Since 1930 Valldemossa has hosted the Chopin Classical Music Festival. Throughout the month of August, international talent descends upon Valldemossa, filling the Carthusian Monastery with music and the art galleries with sculpture, art, and photography.
Sant Bartomeu – End of August
A weeklong party celebrating Sant Bartomeu has Valldemossa hosting food events, classical music concerts, and fun for the kids. Neighboring Sóller also takes part in the festivities with fireworks and fire dancers.
Last-Minute Hotel Deals in Valldemossa