Do De Pit catches the eye. The eclectic, colorful furniture, diner-like tiled floor, and funky decorations are on full display through large glass doors facing Plaça d'Amèrica in Sóller. The place is not to be missed. Its fun decor matches its diverse menu, offering clever takes on Asian, Italian, Mallorcan, and American foods, and while I often avoid fusion restaurants, Do De Pit has won me over again and again and again. 
I have tried almost everything on the menu, and it is all beautifully and deliciously prepared. I also love that many dishes come as easy-to-share tapas, adding to the fun, open-air Spanish atmosphere. 
Reserve a table for the full experience or stop in for a drink. They have locally brewed craft beers and even a California IPA, as well as choice selections of vermouth and Spanish wine.
Do De Pit
Location
Sóller
Cuisine
Spanish fusion
Price Range
€€
Dish Recommendation
Salmorejo
Website
Do De Pit
Phone Number
+34 651 70 12 93
Social
Mallorqueta Superlatives
Inside Do De Pit
Do De Pit is away from the crowds of Plaza de la Constitución in Sóller. But its off-the-beaten-track location on the roundabout of Plaça d'Amèrica fits perfectly with its funky, fusion style. 
The large, open glass doors allure, bringing the outside in – in terms of atmosphere and in terms of passersby. The chairs and tables are of different sizes and comforts, so being sat feels like a unique adventure. The single dining room follows the curve of the l-shaped bar that welcomes anyone just looking for a quick cocktail. 
On my first visit, I sat in the back corner at a little bar on high stools. Here, as in many other corners of the restaurant, games, books, and strange gadgets are placed for your entertainment. That said, it doesn't feel kitsch. The light colors, cool furniture, games, and books make it feel like a comfortable living room with hip hosts.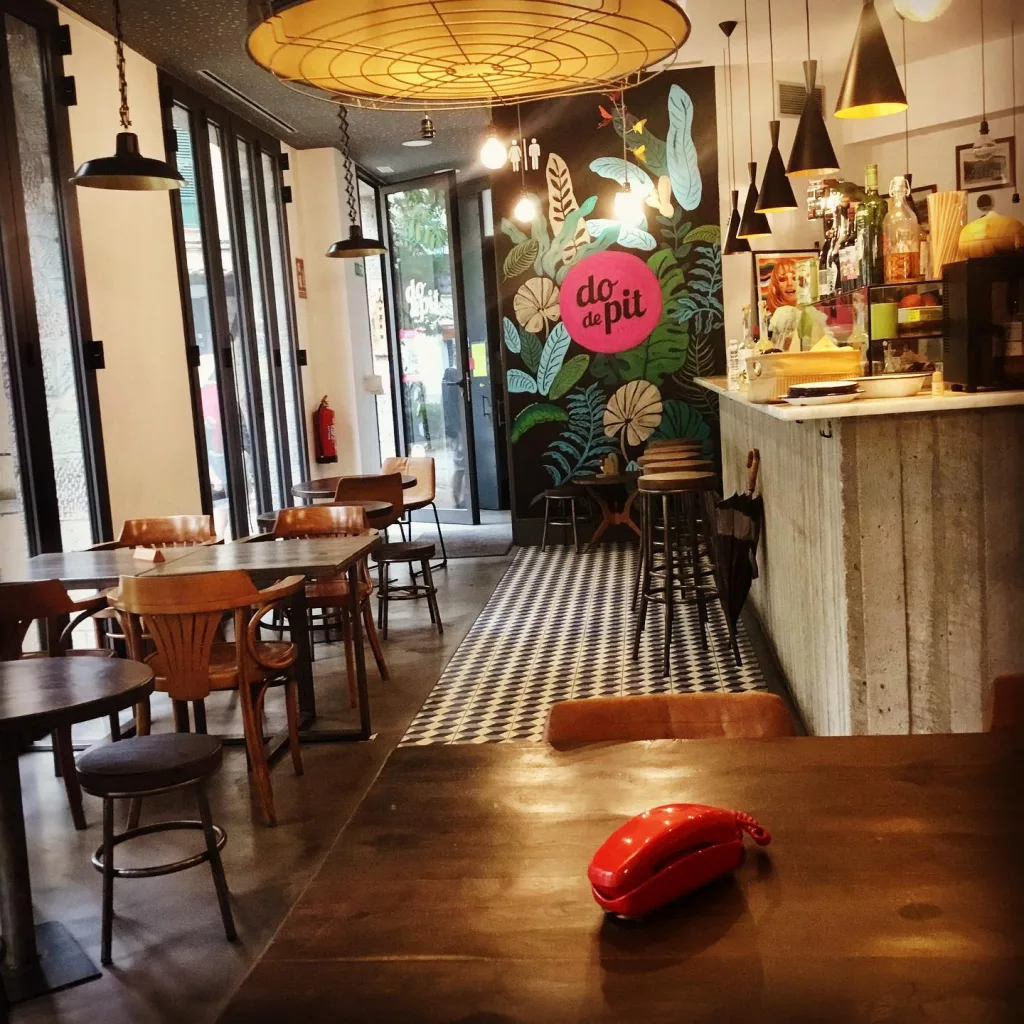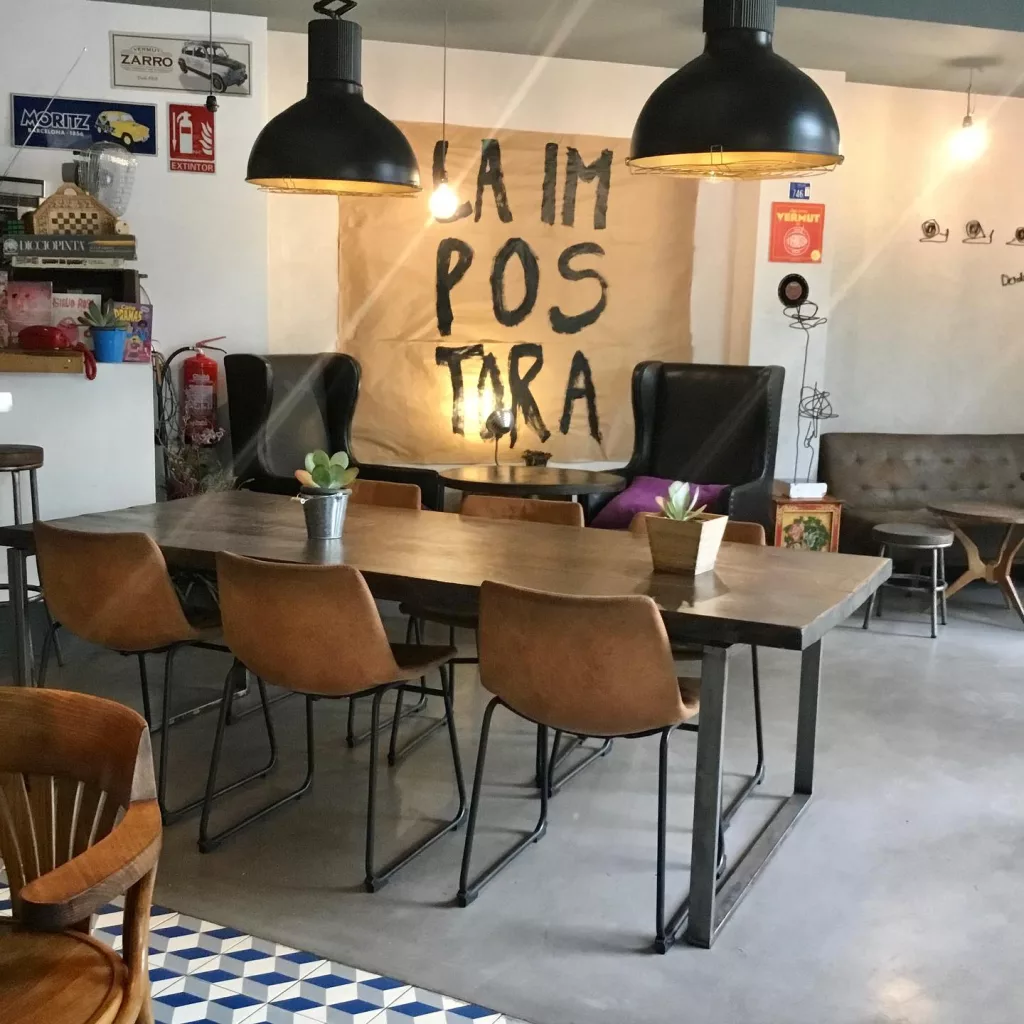 Do De Pit's Best Dishes
I can recommend loads of dishes. The Karaage Chicken is expertly battered and combines succulently with the vinegary seaweed salad with which it is served. The fish in the fish and chips is fresh and flaky and served in bite-size portions, making it a fun tapa. The salmon salad is full of color and flavor and is good bang for your buck. The Angus Menorcan Burger is large, juicy, and topped with creamy Mahon cheese from neighboring Menorca. But the dish that blew me away was the salmorejo. 
We have all heard of gazpacho, but salmorejo? It appears to be gazpacho's Andalucian relative. Both are cold, tomato-based soups. The difference is that while gazpacho's base includes green pepper and cucumber, salmorejo's base includes bread and garlic, making salmorejo pinker and creamier than its cousin.
Salmorejo is a simple recipe, but Do De Pit does it perfectly. Their added avocado, seasonal fruit, and homemade tortilla chips put it over the top. The dish proves that Do De Pit is not just randomly throwing together a menu of favorites but crafting exceptional food.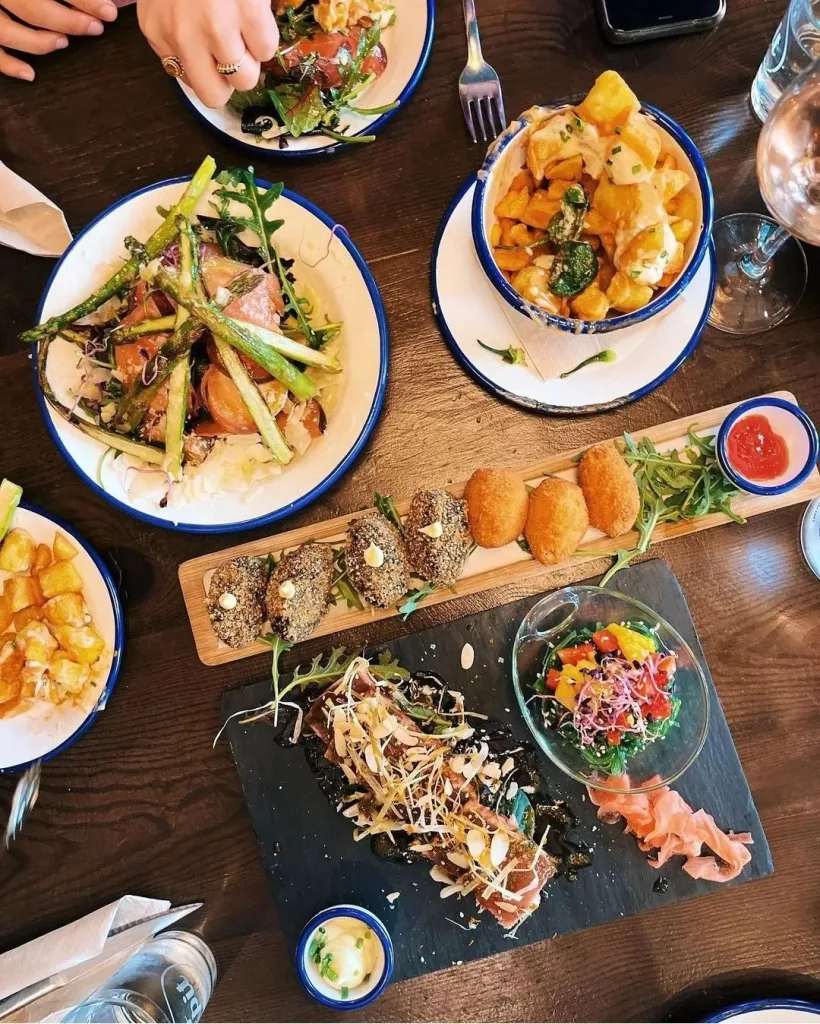 When to Visit Do De Pit
Travelers and locals fill Do De Pit at every operational hour, so getting a reservation is advised. However, I have been turned down over the phone several times, only to go by in person and get lucky with an open table, so always check, especially if you are a party of two.
The restaurant begins service on Tuesdays from noon to midnight. Wednesday to Saturday, breakfast and excellent coffee are served from 9 a.m. The kitchen stays open from Tuesday to Saturday until 10 p.m., but you can drink at the bar until midnight.
How to Get to Do De Pit
Do De Pit is a short jaunt from Sóller's main bus stop. Take bus 204 from Palma and get off at Sóller's Centre stop. The restaurant is just a two-minute walk up the road on the attractive roundabout of Plaça d'Amèrica. 
Driving to Sóller is simple as well. Take the Ma-11 north from Palma to Sóller. There is paid parking within town, or you can park for free on the main road you head in on. I recommend making it past the one gas station in town before you start looking for parking. This will place you a short walk from Do De Pit.
Or make the day exceptional and take the old, open-air wooden train to Sóller from Palma. Round-trip tickets from Palma to Sóller are a bit expensive (as compared to the bus), but it's a great experience. The train will head straight to Plaza de la Constitución, but I recommend not getting too distracted by all the other eating options in Sóller's main square and making the short walk to Do De Pit.