For those who want a true Mallorcan experience, Ca'l Dimoni is a crash course. Yes, the food is your typical Mallorcan fare: pa amb oli, sobrassada, wine and snails. But it's more than that. Elaborately yet classically decorated, it might be a bit kitcsh, but that's all part of the fun. Just don't leave without getting a photo with the demon!
Ca'l Dimoni
Location
Algaida
Cuisine
Mallorcan
Price Range
€
Dish Recommendation
Botifarra with pa amb oli
Website
Ca'l Dimoni
Phone Number
+34 971 66 50 35
Social
Mallorqueta Superlatives
Inside Ca'l Dimoni
Where to begin. When you walk into Ca'l Dimoni, the first thing that greets you is a giant statue of a typical Mallorcan demon, the island's unofficial mascot. He's just the first of many because the entire bar and dining area is adorned with demons. Their red and black faces glare down at you from just below the wooden ceiling, atop the wine cooler, scattered amongst the bottles of liquor and, of course, on the menus.
That probably won't even be the first thing you notice, though. Instead, you'll probably wonder at the hundreds of sausages hanging cured from the rafters as well as the large open-fire grill in the corner. This is all complemented by rustic wooden tables, chairs and stairs.
The waiters bustle to and fro, dropping off heaping plates of pa amb oli and bottles of hierbas.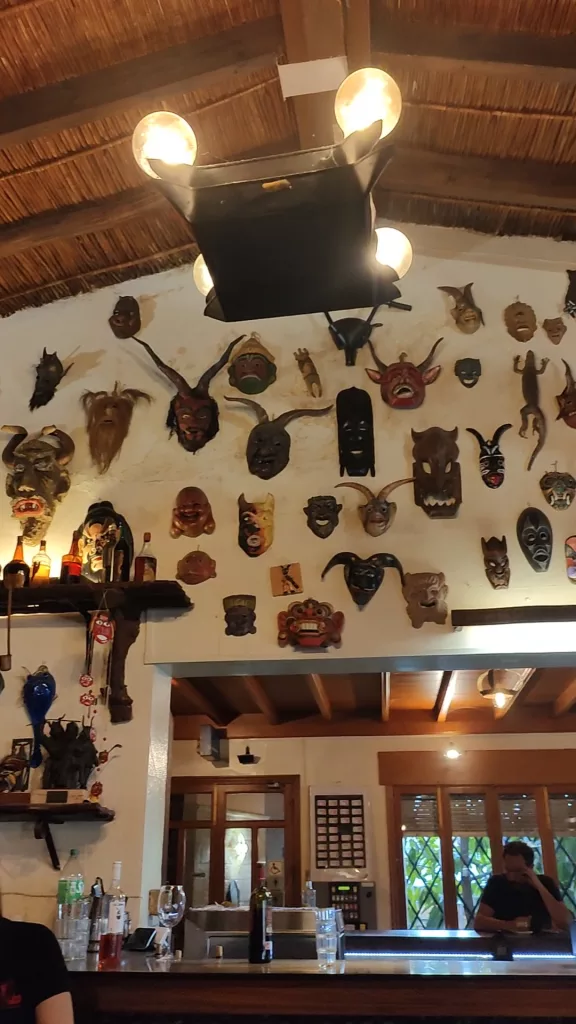 Ca'l Dimoni's Best Dishes
You can get large plates as like steak or roast piglet, but I recommend keeping it simple. Get pa amb oli torrat amb tomatiga. This is toasted bread with oil and tomato. Then get a bunch of stuff to go on it. I personally like the botifarra, a rich black sausage with a lot of spice. You can't skip the sobrassada, though, and some frit always seals the deal.
If you're daring, the true Mallorcan experience would also include caragols, snails. They come boiled in oil, and you remove them from their shells with a toothpick and dip them in Mallorcan aioli. Regardless of whether you get the snails, you should get olives and aioli as well.
To drink, there is a reason Mallorcans love red wine. It goes great with their cuisine. Finish it all off with some hierbas. They'll bring the bottle to you.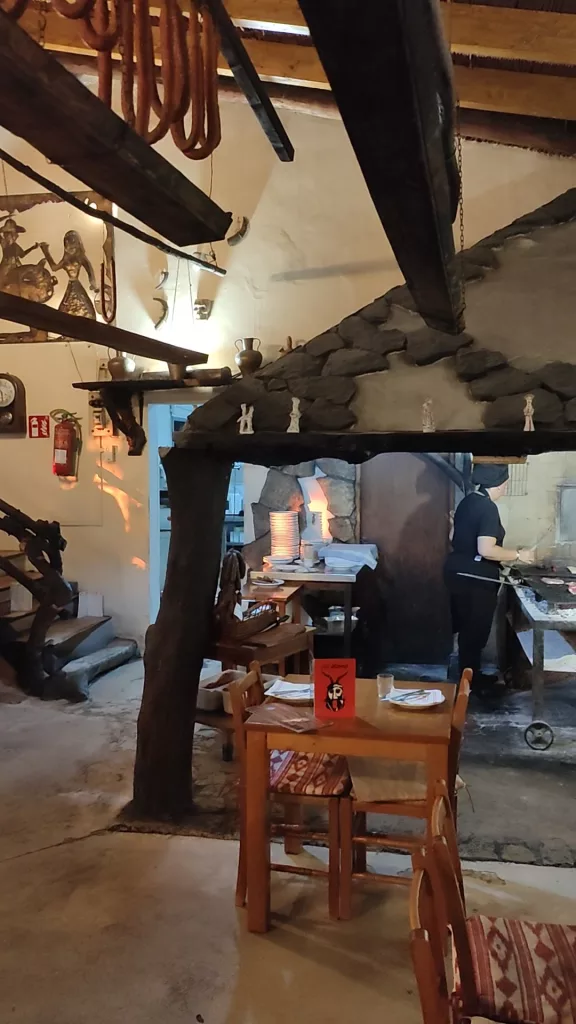 When to Visit Ca'l Dimoni
Ca'l Dimoni is popular, but they also have a lot of seating. I would only worry about getting a last-minute table if you have a large group or are going on a Saturday or Sunday afternoon when the locals swarm it per menjar. It can also get busy for dinner, but that's not till nine o'clock or so, so if you're eating at an American or Northern European hour, you shouldn't have trouble.
Ca'l Dimoni is open all day from 9 am to 11:30 pm, but it's closed on Wednesdays.
How to Get to Ca'l Dimoni
Driving: Coming from Palma, Ca'l Dimoni is conveniently located on the outskirts of Algaida right off the Ma-15 highway to Manacor. Driving takes about 25 minutes. Get of the Ma-15 at exit 21. You'll come to a large roundabout where you'll take the third exit for Ma-15E. Ca'l Dimoni is then just a few hundred yards farther on your right.
TIB Bus 401: Bus 401 is also an option because it stops nearby. Just take it from Plaza España to the S'Hostal 2 stop by the gas station, a 20-minute trip. From there it's just about 500 meters, a third of a mile or seven minutes walking to the restaurant.