Although there is an extensive bus system on Mallorca as well as a few train lines, the fact is that driving remains the best way to access the most beautiful parts of the island and take advantage of everything Mallorca has to offer. That begs a lot of questions, though. Whether you're just visiting for a week or have moved to Mallorca as a longterm resident, understand the legal situation around driver's licenses is essential to enjoying your time here.
Can You Drive in Spain With an American Driver's License?
The answer is yes and no. The Spanish government allows tourists just visiting Spain to drive with their American driver's license for up to six months if it's accompanied by an International Driving Permit. After six months, you must have a Spanish driver's license. Since the standard Schengen tourist visa only lasts 90 days anyway, you would most likely be staying in Spain on some kind of longterm visa if you're here for longer than six months.
Unlike most European countries, Spain does not have any covalidation agreements with any US states, so regardless of where you're from, you cannot exchange your US driver's license for a Spanish one. In other words, after six months, you have to go through the entire process of getting a Spanish license from scratch just as if you had no license at all. Just driving on your US license would count as driving without the appropriate license, which could be punished by a fine, usually around €500, and could result in your vehicle being impounded.
As a side note, you can only use your American license if you're over 18. Although some US states provide licenses to those under 18, these individuals would not be able to use their US licenses in Mallorca or other parts of Spain even as tourists.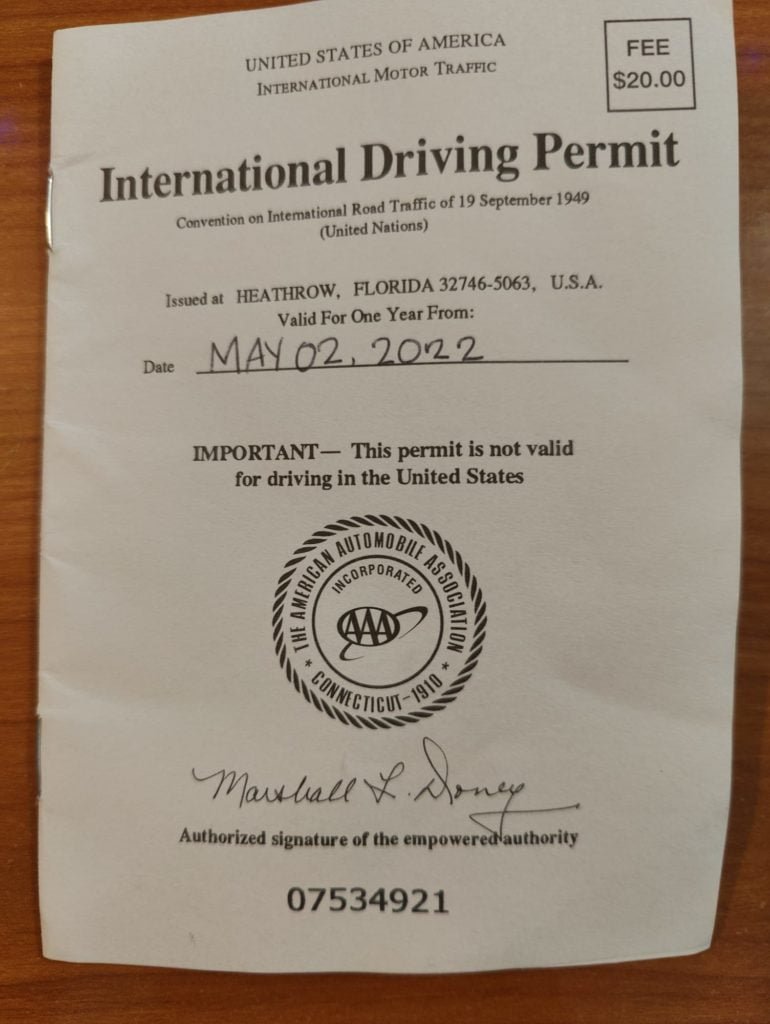 Driving With an International Driving Permit in Spain
Spain requires that American tourists driving with their American driver's license have an International Driving Permit to accompany it. The IDP is not a driver's license. Rather, it's merely a standardized document that translates the details of your license for Spanish police. If you don't have one and are stopped by the police, they can give you a fine for driving without a license, currently around €500, and even impound your car.
How to Get an International Driving Permit
Getting an IDP is pretty simple. If you're in the US, you can go to most AAA offices and pay a small fee. It was about $20 the last time I did it. You need your license as well as a passport photo, but most offices can also take one on site for an additional fee if you don't have one. The entire process just takes a few minutes.
If you're already abroad, you can apply for an IDP through the mail, but it takes up to two months. In other words, if you're going on vacation in Mallorca, make sure you get your IDP ahead of time.
Can You Rent a Car in Mallorca With an American License?
Yes. Since Spain allows American tourists to drive for a limited time on their American licenses, you can also rent a car with your American license. You should just keep in mind that legally you must have the International Driving License. I mention this because many rental car companies, especially budget ones, won't ask for it and will provide you with a vehicle just based on your American license.
Even if you get a rental car without an IDP, though, it doesn't change the legal situation. It's still possible that the police could fine you and even impound the rental car.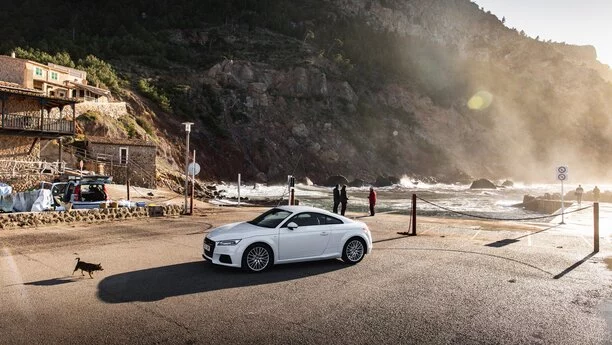 How to Rent a Car in Mallorca With an American License
Renting a car in Mallorca with an American license is pretty straightforward and works the same as in the US. Just remember that you need the IDP. Some of the more reputable companies like Enterprise and Avis will likely even require it. Mallorca has great rental car deals, though, so don't be afraid to shop around using our search tool below.
How to Get Your Spanish Driver's License
If you're moving to Mallorca longterm, you have to get a Spanish driver's license. There's just no way around it. Unfortunately, this is a fairly long and drawn out process, so my advice is to start it as soon as possible.
To give you an idea, I started the process at the beginning of April and finished at the end of June, about three months. Altogether, it cost around €600 including payments to the driving school, or autoescuela, and taxes and fees. Here's a basic breakdown of the costs:
| | |
| --- | --- |
| Enrollment in the driving school | €99 |
| Dirección General de Tráfico (DGT) exam tax (includes three total exams, written or practical) | €94 |
| Driving school fee for scheduling the written exam | €43 |
| Driving school fee for scheduling the practical exam | €43 |
| 10 practical driving classes | €300 |
| Total | €579 |
I went to Autoescuela Forti, which has a number of locations in Palma and Marratxi, not to mention great teachers. My driving instructor was Xisco.
Can You Ride Moped in Spain on an American Driver's License?
Yes, if you have your D driver's license in the US that allows you to drive normal cars, you may use it to drive motorcycles with an engine displacement of up to 50cc for up to six months as long as you have the corresponding International Driving Permit and your state allows you drive mopeds on a D license.
Now, this is arguably the most confusing situation when it comes to driving in Spain, and nothing I say here should be taken as legal advice. I called the Guardia Civil myself to clear up some of these questions and I've known Americans who have rented mopeds in Spain on their US driver's license during the six-month grace period, but I would recommend calling the Guardia Civil or DGT to verify that your exact situation is legal.
Basically, what I was told is that the International Driving Permit allows you to operate whatever vehicles you're allowed to operate under that license. Most (but not all!) states allow you to drive mopeds up to 50cc on your regular driver's license, so that privilege transfers to Spain. However, what's more confusing is that Spain actually allows holder of B-class licenses for cars to drive motorcycles up to 125cc if they've had the license for at least three years. However, you would probably need the M endorsement in your state to drive this type of motorcycle, so you would not have this privilege in Spain either. The exception would be if you have a Kansas driver's license which allows you do operate motorcycles with engines up to 130cc in size on a standard D driver's license.
Like with cars, you must be at least 18 years old to use your American license to ride a moped. Once you've been in Spain for six months, you'll have to get the appropriate Spanish license. If you aren't sure, the following states allow holders of their D licenses to operate mopeds with engine displacements up to 50cc:
Arizona
Arkansas
Colorado
Connecticut
Delaware (up to 55cc)
Washington, D.C.
Georgia
Hawaii
Idaho
Illinois
Indiana
Iowa
Kansas (up to 130cc)
Kentucky
Louisiana
Maine
Maryland
Massachusetts
Michigan (up to100cc)
Minnesota
Montana
Nebraska
Nevada
New Hampshire
New Jersey
New Mexico
New York
North Carolina
North Dakota
Ohio
Oklahoma
Oregon
Pennsylvania
Rhode Island
South Carolina
South Dakota
Tennessee
Texas
Vermont
Virginia
Washington
West Virginia
Wisconsin
Wyoming (depending on the county)
Because US licenses don't explicitly mention this permission, it's best to talk to AAA about it when you get the International Driving Permit and see if they can specify on the permit what motorcycles your American license allows you to operate.
What About Full-Sized Motorcycles?
The situation regarding large motorcycles is a bit more clear cut. If you have your M endorsement in the US, and this allows you to ride a motorcycle of any size in the US, then you can rent and ride a motorcycle in Spain of any size during your first six months here as long as you have the corresponding International Driving Permit. However, just like every license, it's no longer valid after six months and you can be fined for driving without a license. You'll have to get the appropriate Spanish license instead.
To use your M endorsement in Spain, it must be specified on your International Driving Permit. Make sure AAA stamps that box.