Mallorca, also known as Majorca, is a famous island in the Mediterranean Sea off the east coast of Spain. With stunning beaches and easy access to the rest of Europe, it has become the tourist capital of the continent, arguably the world. Nevertheless, it's less known to Americans, who are often unsure of where Mallorca is or why it's such a popular destination. Prepare to be informed.
Mallorca's Geographical Location
Mallorca is the largest island in the Balearic Islands archipelago, which is situated in the western Mediterranean Sea. The island lies about 124 miles, or 200 kilometers, off the eastern coast of mainland Spain and is part of the autonomous community of the Balearic Islands. It is roughly 190 miles, or 300 kilometers, south of Barcelona, making it a six-to-eight-hour ferry ride or a short 45-minute flight.
Mallorca covers an area larger than many visitors expect at 1,405 square miles, or 3,640 square kilometers, almost as big as Rhode Island. This makes it the seventh-largest island in the Mediterranean Sea.
As a result, Mallorca has a number of diverse landscapes, ranging from sandy beaches and crystal-clear waters to dramatic cliffs and the Serra de Tramuntana mountain range with green forest coverage. The center of the island, or Es Pla, is also fairly flat and devoted to agriculture.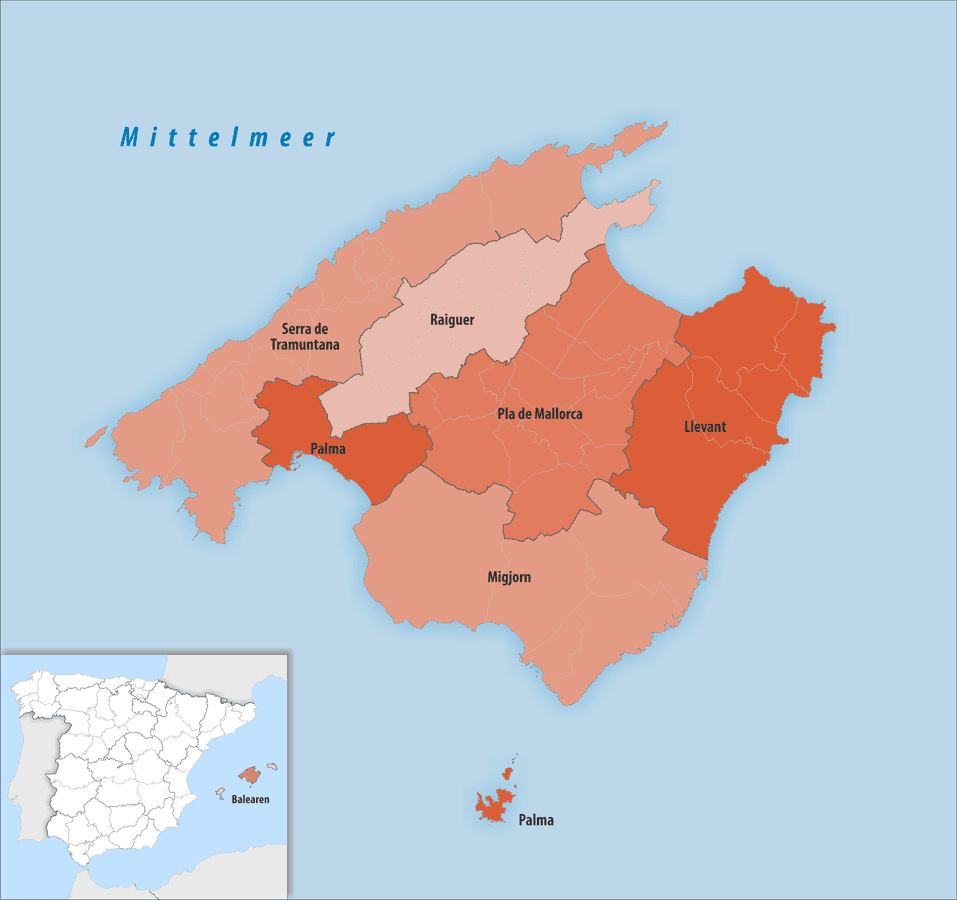 Mallorca's Location Within Spain and the Balearic Islands
As part of Spain, Mallorca shares the official language, Spanish, and the currency, the Euro. However, Mallorca's native language is Catalan, which is the dominant language for communication, especially outside Palma, the capital of the autonomous region and its largest city with over 400,000 inhabitants, over 40 percent of the islands total population of 925,000.
The Balearic Islands, of which Mallorca is a part, consist of four main islands: Mallorca, Menorca, Ibiza, and Formentera. Each island has its own unique characteristics, but Mallorca is known for its larger size, picturesque landscapes, and rich history.
The Climate in Mallorca
One of the many reasons tourists flock to Mallorca is its delightful Mediterranean climate. The island enjoys long, hot summers with temperatures averaging around 86°F (30°C) from June to September. Winters are mild, with temperatures rarely dipping below 50°F (10°C), making it an ideal destination for those seeking a winter sun getaway. With over 300 days of sunshine per year, it's no wonder Mallorca is a popular choice for beach lovers and outdoor enthusiasts.
What is Mallorca Known For?
Mallorca's diverse landscape and rich cultural heritage make it a destination with something for everyone. Here are some of the highlights the island is known for:
Beautiful Beaches: Mallorca boasts over 260 stunning beaches, ranging from secluded coves to bustling tourist hotspots. Some of the most famous beaches include Es Trenc, Cala Agulla, and Playa de Muro.
Serra de Tramuntana: This UNESCO World Heritage-listed mountain range spans the entire northwest coast of Mallorca, offering breathtaking views and challenging hiking trails.
Historic Palma de Mallorca: The island's capital city, Palma, is home to a wealth of historical sites, including the impressive Gothic-style Cathedral Le Seu and the Royal Palace of La Almudaina.
Delicious Cuisine: Mallorca's culinary scene is a delightful blend of Spanish, Mediterranean, and local influences. Don't miss out on trying dishes like ensaimada, a spiral-shaped pastry, and tumbet, a vegetable dish made with potatoes, eggplant, and bell peppers.
Direct Flights to Mallorca
One of the reasons Mallorca is such a popular tourist destination is that it's easily accessible from around the world. Mallorca's airport, Son Sant Joan Airport in Palma, or PMI, is the third busiest in Spain after Madrid and Barcelona, and it handles 57 different airlines flying 163 different routes.
While the vast majority of these routes are in Europe, with the busiest five international routes all landing in Germany, United Airlines recently opened Mallorca to the American market with a direct flight to New York. Due to the route's success in the 2022 season, there has been talk of opening more direct flights to the US in cities like Miami.
Hotel Deals in Mallorca