Mallorca is one of Europe's most popular destinations, yet being an island, there are geographical challenges that makes getting here—or leaving—more complicated than just jumping on a train. Direct flights around Europe abound, and there are an increasing number of flights to other parts of the world, including the United States. Still, there are some common routes people take, and some unconventional but fun ways to get to and from the island.
How to Get to Mallorca From Barcelona
Barcelona is the main setting off point for those traveling to and from Mallorca. As the unofficial capital of the Catalan countries and one of the closest mainland cities, Mallorcans travel to Barcelona regularly. If you're making your way to Mallorca, whether spontaneously or part of an itinerary, you'll likely pass through it.
Direct Flights Between Mallorca and Barcelona
Several companies run the route between Barcelona and Palma de Mallorca:
All of these companies fly the route seven days a week numerous times a day since the flight only takes about 40 minutes. Iberia is the highest-end of the four, but I personally try to fly Air Europa because it's the best value. Iberia recently purhcased Air Europa, making them one in the same company, though Air Europa's brand remains intact.
I advise against flying Ryanair. You may likely find their fares the cheapest but will inevitably be uncomfortable, saddled with hidden fees and disrespected by their unfriendly staff.
Depending on the day and time, flights can be as cheap as €30.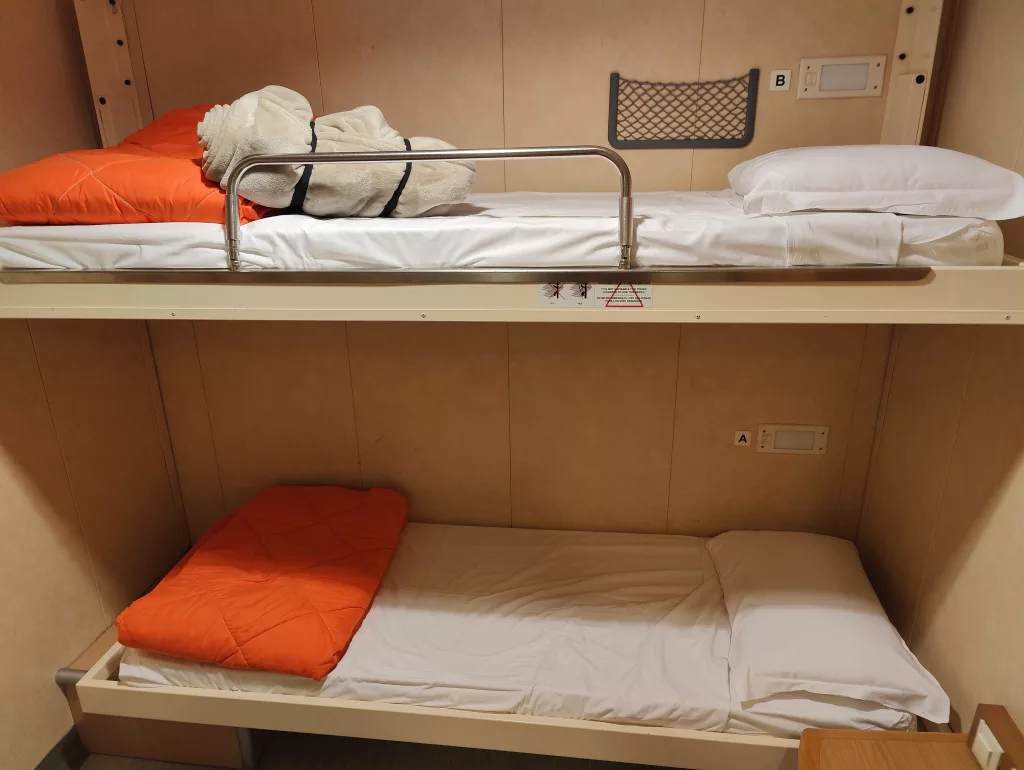 Ferries Between Mallorca and Barcelona
If you're not traveling to Mallorca as part of a longer itinerary, I prefer to take the ferry. It's far more comfortable, and though it takes six to eight hours, this isn't all that much longer than the flight when you take into account getting to the airport, going through security, getting your bags, etc. Plus, you can take your car.
One downside of the ferry is that at the moment, all the companies run the route to Barcelona from Mallorca during the day but return at night. As a result, when I travel to the mainland, usually to ride my motorcycle up to France, I buy a standard ticket to go to Barcelona but a cabin for the return so I can sleep in a bed.
Admittedly, a cabin is much more expensive than just a seat, €120 versus €40, depending on the day. Taking a vehicle raises the price considerably as well.
Three companies currently operate ferries between Palma and Barcelona:
GNV is an Italian ferry operator with routes all around the Mediterranean. With lower prices and better service, they've become my preferred company, though none of the three are bad.
Local Tip: If all that matters to you is price, I recommend using Omio to find ferry tickets. Not only can you see all the times and prices laid out, but you can compare them to flights on the same days. Plus, Omio can help you make itineraries. For example, I use it to get the ferry from Palma to Barcelona and then take the train up to France.

How to Make Other Connections in Spain
The two other primary ways to connect to Mallorca through mainland Spain are Valencia and Madrid. Madrid is a major layover point for international flights, and the same four companies fly the route as between Palma de Mallorca (PMI) and Madrid (MAD).
While there are flights to and from Valencia, it's mainly a ferry destination. Afterall, Valencia is Spain's busiest port. Due to the city's location, it gives you better access if you plan to explore mainland Spain, especially by car. For the rest of Europe, go to Barcelona.
How to Travel Between the Balearic Islands
All the Balearic Islands are worth visiting. Menorca has pristine natural beauty that's unparalleled, Ibiza is the party capital of the world, and Formentera has unbeatable access to beaches of transparent water. As the largest and by far most populated of the four, Mallorca is usually the launching point to reach the other three, though Ibiza also has an international airport with a significant amount of routes. Menorca has many connections throughout mainland Spain and western and central Europe via the airport in Mahon, but the flights are not as frequent. There is no airport in Formentera.
The flight from Palma to Ibiza is a short 20-minute flight, but you can also take a ferry on the two-hour trip. To get to Menorca, I highly recommend taking the ferry as the short one-hour trip is faster than flying, though you leave from Alcúdia rather than Palma.
Formentera is trickier. First you have to get to Ibiza, either by flying or ferry. Then you have to catch a specific 30-minute ferry. Balearia operates ferries between Ibiza and Formentera as well as two other companies devoted specifically to this route:
Trasmapi
Meditteranea Pitiusa
The ferries run every 30 minutes all day from 7 am to 9 pm and sometimes later during peak times.
How to Get to Mallorca From Mainland Europe
Mallorca's Son Sant Joan International Airport (PMI) is the third busiest airport in Spain, handling nearly 30 million passengers in 2019. Flights arrive at the Palma airport from some 151 locations. The vast majority are in Europe with some of the farthest connections being Reykjavik, Helsinki, Athens and Bucharest.
A good portion of these routes go between Germany, 21 in total:
Berlin
Hamburg
Munich
Stuttgart
Frankfurt
Cologne
Dusseldort (DUS)
Leipzig
Nuremberg
Memmingem
Karlsruhe
Hahn
Dortmund
Dusseldort (NRN)
Dresden
Friedrichshafen
Saarbruecken
Paderborn
Muenster
Hanover
Bremen
The United Kingdom has almost as many connections with 20:
London (LTN)
London (STN)
London (LGW)
London (LHR)
London (LCY)
Bristol
Birmingham
Manchester
Edinburgh
Bournemouth
Leicestershire
Liverpool
Leeds
Newcastle
Glasgow (GLA)
Glasgow (PIK)
Belfast
Durham
Southhampton
Southend

How to Get to Mallorca From the United States
Americans can easily get to Mallorca by connecting through the many European cities listed above and others. However, since 2022, United Airlines has flown a direct route from New York (Newark airport specifically) to Palma. For now the flight is seasonal, from May to September, and only flown three times a week, but this is already increased from the original plan.
The flight has been immensely popular, so United, and possibly other airlines, are likely to increase its frequency. There have also been talks of opening routes to Miami and Los Angeles.
Hotel Deals in Mallorca