If you want to be enraptured, humbled, and washed clean by an all-natural experience, Alconàsser is your spot. It is not comfy and cozy. There are no lifeguards or beachside bars. It's a natural landscape that demands respect for your safety and to keep it clean and wild.
Centuries ago, large boulders from the cliffside tumbled into the coastal waters of Alconàsser. The boulders now scattered under the waves have become part of a vibrant aquatic landscape. Thousands of fish swim below the shores snacking on marine fauna that clings to the boulders and sways with the waves.
An old boat ramp and a couple of stone boathouses were built in an outcropping of the rockfall. Many bathers choose this area for sunning, and the crescent shore to the north also provides plenty of spots. The large rocks of Alconàsser make for slightly uneasy walking and necessitate creative lounging choices. But once you get your towel laid out and snorkel gear on, nothing but crystal-clear waters await.
Alconàsser
Basic Information
| | |
| --- | --- |
| Type of Beach: | Rocky cove |
| Closest Town: | Sóller |
| Body of Water: | Cala de Alconàsser |
| Best Hotel: | Hotel Corazón |
How to Get to Alconàsser
This secluded rocky cove is hidden behind the indomitable restaurant Bén's D'Avall, between Deiá and Sóller. It can only be reached by car or on a determined pair of legs.
Driving
The cove is between Deiá and Sóller off the Ma-10. From Palma, it's a 50-minute drive. The shortest route is up the Ma-11 to Sóller, where you can connect to the Ma-10. The Ma-10 heads up a steep hill towards the northwestern coast of Mallorca. At the top of the hill, just past Hotel Corazón, an unnamed road veers to the right with a large sign pointing you toward restaurant Bén's D'Avall.
Wind down this road for about 5 minutes. On most summer days, you will see cars parked to the side of the road just before Bén's D'Avall. A wooden sign shaped like an arrow points down a path to Cala Deiá. You want to park near this sign, as the path beyond it leads you over a creek bed and onto a narrow road behind Bén's D'Avall and eventually down to Alconasser.
TIB Bus
Bus 203 from Palma's Estació Intermodal travels through Valldemossa and Deiá before ending its route in Port de Sóller. On this route, the bus stops at Can Poma 2, a small stop on the winding Ma-10.
From this stop, one must walk a minute up the highway. A small white sign reads "Alconàsser" before a road that winds its way down to Alconàsser's coast. The walk down is around 20 minutes. I do not necessarily recommend this approach as the walk back up is quite steep, especially on a hot summer day.
Hiking
Alconasser can also be reached on foot from Deiá. While more practical ways exist to reach Alconàsser, it makes for a fun adventure. From Cala Deiá—another ideal location for a swim—a gorgeous two-mile hike along the coast ends at Alconàsser. On your way, you will pass Es Canyaret – yet another pristine swimming hole. The trail can, of course, be done in reverse as well, from Alconasser to Cala Deiá.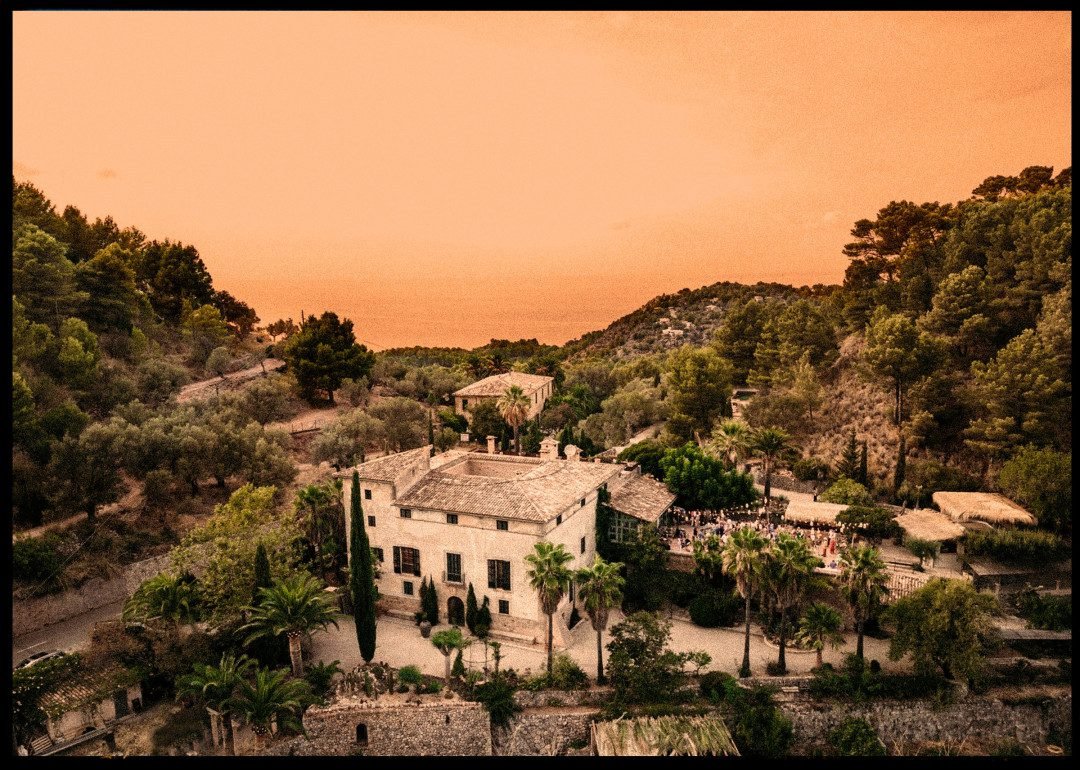 Hotel Corazón is hip and unordinary. Fashion photographer Kate Bellm and her artist husband, Edgar Lopez Arellano, invite guests to live freely amongst their zero-water cactus farm, jacaranda trees, and elegantly designed rooms at their refashioned 18th-century finca hotel. Stays are not cheap, from €550 to €1,800 euros, but the location and vibe of the place are astonishing.
Alconàsser Rankings
Natural Beauty: 7/10
Compared to the rest of the world, Alconàsser is a 10, but we get to be picky in Mallorca. I knock off a few points due to the manmade presence of the boat houses, ramp, and some of the spilled concrete left from their construction.
Family Friendly: 5/10
With no lifeguards, a steep approach, and a rocky coastline, Alconàsser is not the easiest of swimming holes to approach or settle down upon. That said, I have seen children enjoying the natural adventures the boulders and approach provide.
Accessibility & Parking: 5/10
Access to Alconàsser is relatively easy with a car as there is plenty of parking just before Bén's D'Avall. From the parking, a wooden sign points to a trail for Cala Deiá. This trail crosses a dry creek bed and passes behind Bén's D'Avall. It then comes to a rugged paved road that is quite steep (especially on the way back up.) Once the road ends, it is a bit of a scramble down to the water. This could prove difficult for small children and older adults.
Space & Crowd: 7/10
This is a secluded area that nearby locals mainly populate. Accommodating spots to layout, such as the boat ramp, are minimal, and since the cove itself is not enormous, you may be setting up near another group.
On the weekends, crowds can form as boats anchor near the cove to enjoy the snorkeling below, but everyone seems to agree that this is not a party cove. There are no boomboxes, beer guzzlers, or loud voices. Everyone is there to enjoy the tranquility that nature provides. Please respect these unwritten rules of Alconàsser's natural beauty.
Activities: 0/10
There is no infrastructure for rentals of any kind. For all rentable aquatic activities, head down the road to Port de Sóller.
Swimming: 7/10
The water is fresh, clean, and clear at Alconàsser. However, access to the water is not straightforward, as one must navigate large rocks. Waves, too, can get a bit pushy. And since you are swimming above, around, and between rocks, any motion in the ocean can make navigation around these natural obstacles difficult and slightly dangerous.
Sea Life & Snorkeling: 10/10
The sea fauna attaches itself to the tumbled rocks, catching enough sunshine in the shallows to flourish. Hundreds of fish of varying sizes and species come to snack on the sea vegetables and live within the nooks and crannies of the stone.
The rocky coastline also creates an obstacle course-like snorkeling experience where you can swim tightly through massive rock pillars and through underwater passageways.
Restaurants & Amenities: 4/10
Bén's D'Avall is regarded as one of the finest restaurants in the area, as described in our guide to Deià. Enjoying 10 courses of authentic cuisine before or after a swim at Alconàsser is an exceptional experience only Mallorca can provide.
Beyond Bén's D'Avall, there are no other amenities: no bathrooms, no ice cream, no beer. Bring a picnic and enjoy the location in all its natural splendor.
Nudity: 7/10
Alconàsser is a virgin cove, meaning there are no rules regarding nudity. While it may not be an explicit "nude beach," many bathers will swim and sunbathe in their birthday suits. The trick is finding a comfortable spot on the sharp rocks.
Safety: 1/10
Again, this is a natural space. There are no lifeguards, and getting down to the cove is steep and somewhat unsteady. Cell service is spotty, and the closest place to get help is Bén's D'Avall, a 10-minute walk up a steep road.
Hotel Deals Near Alconasser