Call me a nerd in English or friki in Spanish, but I love board games. From a five-hour game of Terraforming Mars to a 15-minute bout of Sushi Go, the combination of competition and socializing is one of my favorite pastimes. And what makes it even better is having a beer at the same time.
If you're looking for where to play board games in Palma de Mallorca, don't worry. There are a number of cafes, bars and shops that cater to the hobby. Whether you're new to the island or a long-time resident looking to branch out, it's a great way to meet people, practice your language skills and explore the local culture.
Board Game Cafes in Palma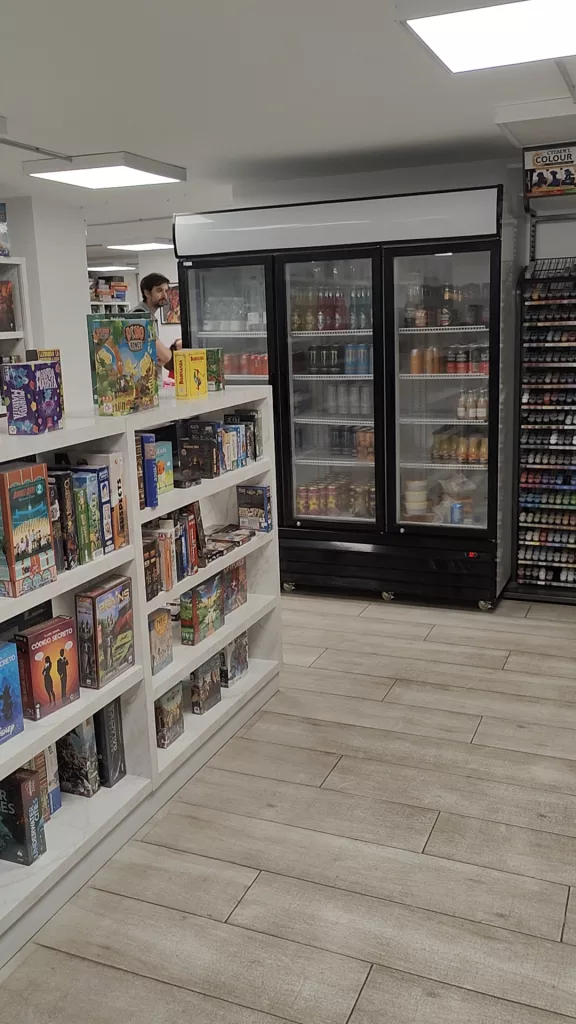 Neverwinter
Neverwinter is a great locally-owned board game shop in Palma. Not only is the store fully stocked, but the cafe in the back has coffee, beer and a huge selection of games from friendly party games to elaborate strategy games.
It's easy to get to as well. It's just a couple blocks from the Jacint Verdaguer metro stop near Plaza de Toros.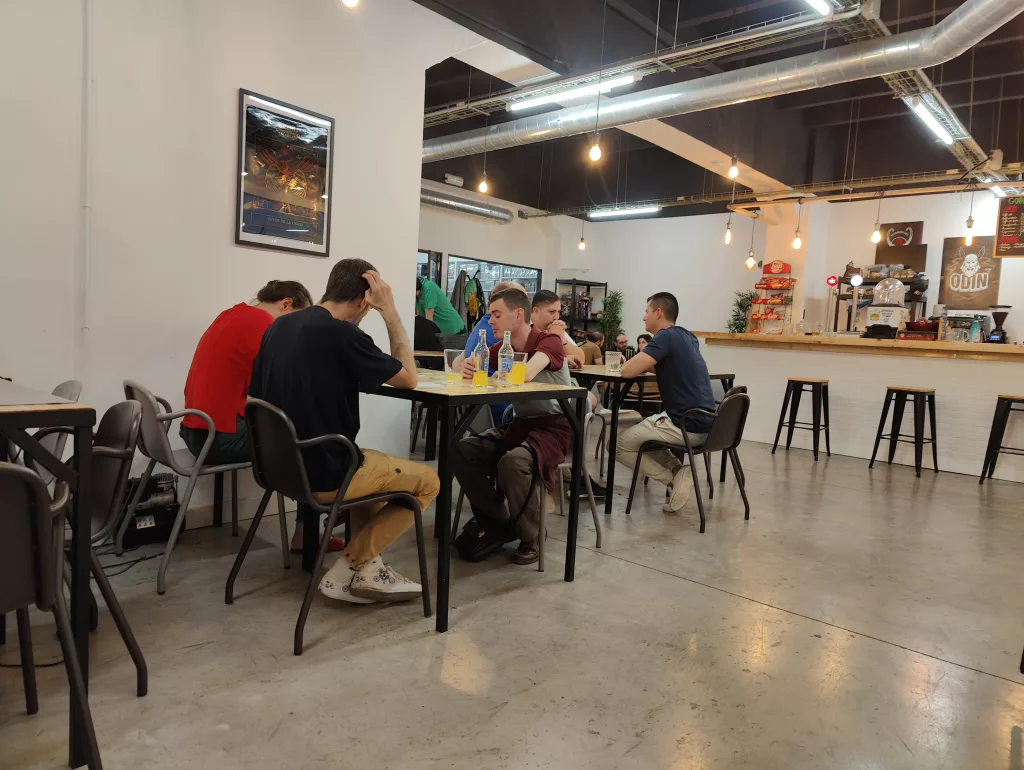 Goblintrader
Goblintrader isn't a Mallorca-specific store, but it is a small Spanish chain with a couple of stores in Madrid and Barcelona as well as Valencia, Alicante and Zaragoza. In addition to a well-stocked brick-and-mortar store, the online store is a good choice if you want to support a small business.
The Palma location has a pretty big playing space behind the store with a good cafe serving beer and coffee. The game selection for borrowing isn't quite as big as Neverwinter's, so you might consider bringing your own to play, but they do have a huge area for figurines and role-playing games that you can reserve ahead of time.
Ludicón
Ludicón isn't a cafe per se, but they do have some snacks for sale in their small playing area. It's a much smaller shop than Neverwinter or Goblintrader, but the staff is really friendly, and I'm a big fan of the enthusiastic, cozy vibe. Like a lot of smaller shops, it's focused more on card games like Magic, but they also have a regular Warhammer community.
Gamers Palma
Gamers is a super cool shop for board games in Palma. It's not just tabletop games. There's a "chill zone" for pool, air hockey and even karaoke, though you need a prior reservation. Additionally, they have a PC gaming and streaming center with powerful gaming computers.
Most of Gamers' tabletop play is focused on Magic and Pokemon. In fact, it might be the best place in town if you're into those card games. They do have some other board games for sale, though.
The Good Friki
The Good Friki is a shop just a couple of blocks away from Neverwinter and Gamers. A newer shop, their stock isn't quite as developed, but they do have a big space for playing and a shelf full of games you can borrow. What they do have a lot of are figurines, dice, collectibles, etc.
Board Game Stores in Palma
Gotham
Although dedicated more to comic books, Gotham still has one of the best selections of board games in Palma. It's an especially good place to go for expansions of games like Dominion and Carcassonne.
Gotham used to be in a great location too, right on Plaza España. Now they've moved off Blanquerna, which is a testament to how expensive real estate is on Plaza España because Gotham was always packed with customers. Hopefully they'll have success at the new location and a different local business will take their place and not a massive chain like the Fnac that opened right next to them.
Warhammer
Warhammer is a hobby shop dedicated to, you guessed it, Warhammer 40,000. As a result, it's probably the best place for finding Warhammer figurines and, in fact, figurine paints and brushes in general. However, you're not going to find much else.
Warhammer also has Warhammer events and tournaments, so if this is your game, make sure to check out their Facebook page.
Puzzles
I had to put Puzzles on here because I love niche local shops like this and would love to see them be successful in what is frankly a less-than-hospitable climate for small business. They don't sell your typical tabletop games. Instead, they're devoted to, well, puzzles! Not just jigsaw puzzles either, but those mind-bending wooden puzzles and toys like Rubik's Cubes as well.
Other Bars With Board Games in Palma
La Forja
La Forja is a fun Viking-themed bar that has a wide selection of board games you can play in addition to unique food and drink options. The atmosphere is unbeatable with Norse decorations and traditional wooden furniture.
La Forja is right in Santa Catalina, so it makes an excellent stop while you're enjoying Palma nightlife.
Cafe Barroco
Barroco is otherwise a standard Mallorcan cafe serving standard Mallorcan food including a delicious spin on nachos with sobrasada. Their desserts alone are worth visiting. They specialize in crepes and serve homemade pastries and artisanal ice cream from Pollença.
They also have a shelf with a lot of board games for patrons to play while eating or drinking. These are mostly your typical family games like Monopoly and traditional selections like chess and Chinese checkers in addition to fun social games like Exploding Kittens. They even have some Exit escape rooms.
Palma Board Game Groups
El Dragón Cojo
The main board game group in Palma is El Dragón Cojo, which means "the lame dragon" in Spanish. A large group, they meet regularly at Neverwinter and other places including towns outside of Palma. Of course, these are local players so make sure your Spanish is up to snuff.
Mallorqueta Board Games
Mallorqueta hosts regular board game and tabletop events in Palma at the above cafes and shops. We mainly focus on strategy games, but if there are enough participants, we break off into groups that play card games. We also organize in-person and online role-playing games.
If you are interested, please join the Mallorqueta discord and check out the board game channel.
Board Games for Language Learning
Board games are a great way to learn languages. When I taught English, I used games as much as possible. It promotes communication in a natural way. If you need to practice your Spanish, I highly recommend attending El Dragón Cojo or one of Mallorqueta's board game meetups.
Furthermore, I recommend you check out Gelbes Elend Press, Mallorqueta's publisher. They produce board games specifically designed for language learning and are in the process of creating a platform for online role-playing games as language classes. If you are interested in being a game master or beta testing the platform when it is released, please contact editor@gelbeselend.com.
Did We Miss Anything?
Hey, I don't know everything about Mallorca. I hope there are more board game cafes in Palma that I have yet to explore, so if I missed you, please contact me at editor@mallorqueta.com. If you are listed in this article and have photos or information you would like included with your business, please contact me as well.