As Hannah Montana once said, you can get the best of both worlds. Cala Agulla, located on the northeast coast of Mallorca near Capdepera, is a large, sandy, family-friendly beach full of amenities with a similar feel to the popular Playa del Muro but it still has all the charm of a cala.
It's also only steps away from a calmer, more rustic experience. This Blue-Flag beach is surrounded by the lovely pine forests and sand dunes of Llevant Peninsula Natural Park and is a short five-minute hike to the hidden Cala Moltó. Additionally, the cute medieval town of Capdepera (yes, they do have a castle) and the village of Artá are a short drive away.
Cala Agulla
Basic Information
| | |
| --- | --- |
| Type of Beach: | White sand beach (arenal) |
| Closest Town: | Cala Ratjada |
| Body of Water: | Cala de s'Àguila |
| Best Hotel: | Lago Garden |
Rankings
Accessibility and Parking
Restaurants and Amenities
Mallorqueta Superlatives
Best Family Beach
Best White Sand Beach
Best Beach for Vacation
Best Beach Restaurants
Safest Beach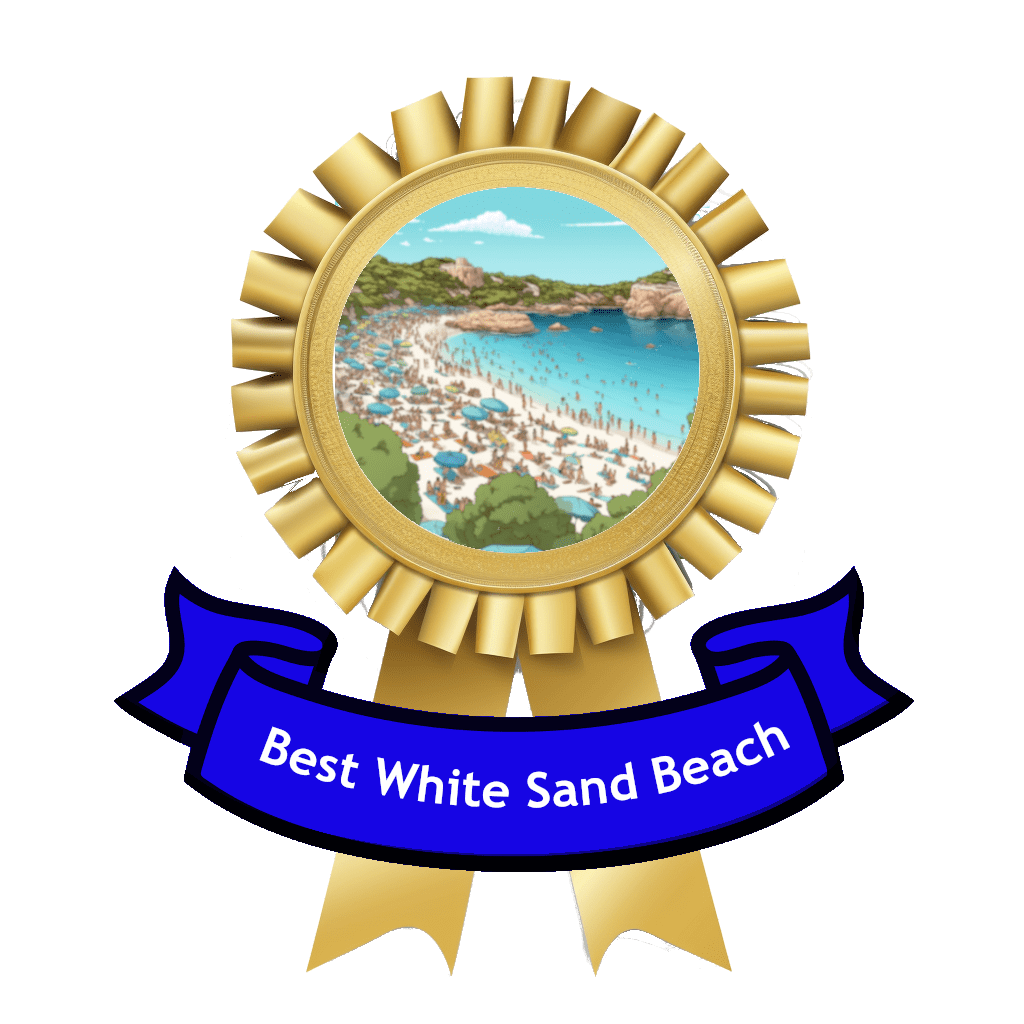 How to Get to Cala Agulla
Cala Agulla is more of a trek from Palma but it is worth it—all the best things are. I highly recommend going by car. Although I am someone who gets most places by bus or train, this area is somewhere I've only ever accessed by car and I've been three times. But public transport is still possible. It's just a little more tricky and time-consuming.
Driving
It takes approximately an hour and fifteen minutes to an hour and a half to reach Cala Agulla by car. You can take either Ma-15 or Ma-13 from Palma.
Ma-15 is slightly quicker and will take you past Manacor and Capdepera. I recommend stopping in Capdepera either on the way there or on the way back to visit the Castell de Capdepera. It is a steep walk up through the town (maybe not the best thing to do in summer heat), but the castle is very cool and there are nice views of the sea in the distance. After following Ma-15 for a while, past Capdepera, turn left onto Carretera Aguila.
Ma-13 is a little longer but it is still a pretty drive that will take you past Santa María de Camí, Inca, Artá, and Capdepera. Follow Ma-13 to Inca, then follow signs for Ma-3340. From there, you'll take Ma-12 and later Ma-15.
You'll see signs telling you where to park. The road to the main parking lot is across the road from horse stables through a pine forest.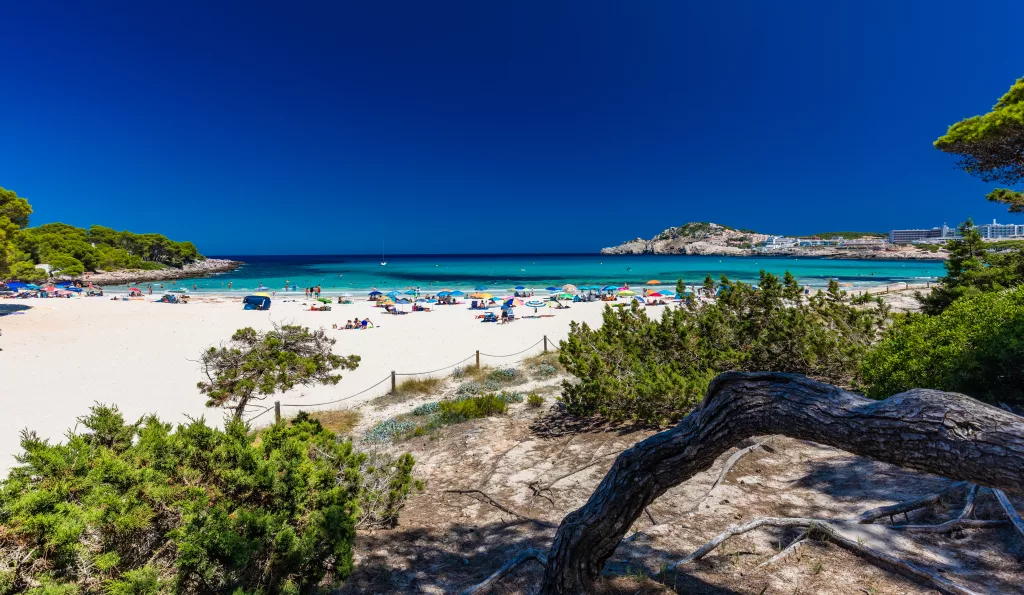 TIB Bus
Unfortunately, there is no direct TIB bus to this cala from Palma. You'll need to make a connection or two and set aside approximately two hours. There are a few options.
Bus 401: You can take the TIB Bus 401 from Palma to Manacor where you'll get off at the Molí 2 stop. The trip takes about fifty minutes. Then take Bus 411 to Cala Ratjada for approximately another fifty minutes and get off at the Cala Agulla stop.
Bus 302: Also, you can take TIB Bus 302 from Palma to Can Picafort. After approximately an hour and twenty minutes, get off at the Son Bauló stop. Then, take Bus 325 to Cala Rajada for approximately forty-five minutes and get off at Cala Agulla 2.
TIB Train T3
The train is also an option. If you take T3 to Manacor, the stop for Bus 411 is only about two minutes away by foot. Ride the train for about an hour until you reach Manacor Estació, then walk two minutes to the Sa Mora bus stop. Take Bus 411 to Cala Rajada for approximately another hour until you reach Cala Agulla.
Again, it's possible, but it's a long day and making connections can sometimes be tricky or take a while if buses are running late.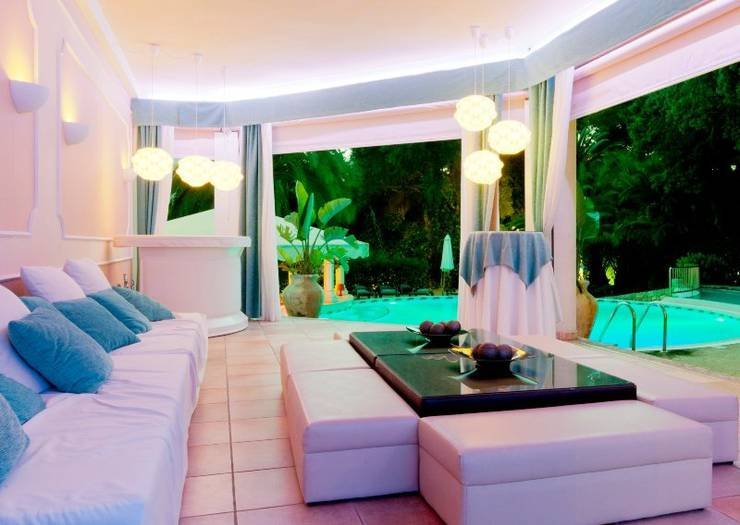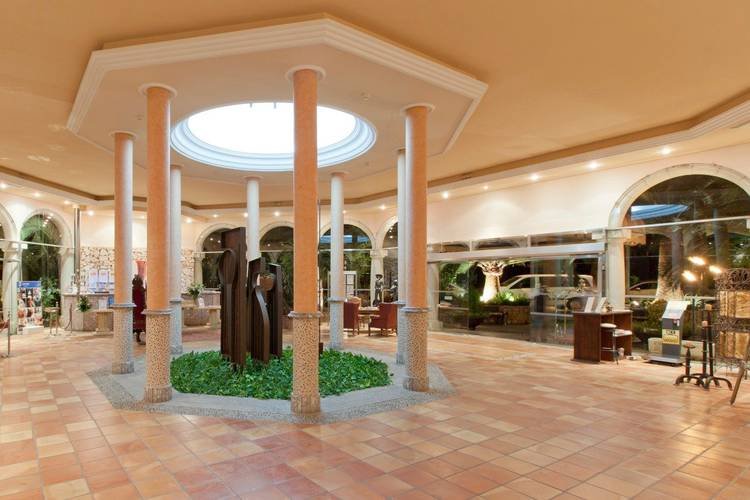 Most of the hotels in and around Cala Agulla are of the generic resort sort, so the more unique flavor of Lago Garden is refreshing. With close access to incredible beacches like Cala Agulla, Cala Gat and Platja de ses Cavasses, its foresty decore still makes you feel like you've been transported away from the crowds to a natural paradise. Be sure to enjoy the poolside bar and spacious rooms.
Rankings
Natural Beauty: 9/10
Cala Agulla has a lovely, white sandy beach and sparkling turquoise water surrounded by pine forest and sand dunes. A Blue-Flag beach, it is very clean and has good water conditions most of the year.. There is some development, but it isn't overdone. You can enjoy the natural beauty of the cala while feeling like you are still in civilization. There are rocky areas as well.
But if you get tired of civilization, a quick walk through pine forest, beach shrubs, and rocks will take you to the more hidden Cala Moltó. Cala Moltó is one of my favorites. It is steps away from Cala Agulla but it feels like a different world. Space is more limited since the sandy area is much, much smaller, but the water is gorgeous and shallow and an amazing contrast with the green of the trees surrounding the cala. It just feels more remote than Cala Agulla, even though they are side-by-side. And there are other hiking trails you can take from Cala Agulla, including one to Cala Mesquida.
Family Friendly: 10/10
This cala has something for everyone. Families can enjoy snorkeling, building sand castles, playing volleyball and any other beach game you can think of, going for a swim, and relaxing in the soft, white sand. There is plenty of space for all ages to have fun, even in the tourist season. The water is shallow and mostly calm.
Accessibility and Parking: 10/10
This cala is easily accessible by car. You'll see a sign from the road telling you where the parking lot is. After a short drive through pine forest, you'll reach a large, paid lot. I believe they only accept cash and the rate for a car as of August 2023 was €6.
The lot is also camping van friendly. Several were parked there while I was there. In August, despite how long it took to reach the lot with the long line of cars, there was plenty of space.
The parking lot is next to the cala.
Bus is possible, but it is trickier and much more time consuming.
Space and Crowd: 9/10
This is a popular beach (on some lists, it's one of the top 20 in Mallorca), but it is also a decent-sized beach. It can be pretty busy during the summer but there should be space. And if you get tired of the crowds, there's always the nearby Cala Moltó.
Activities: 10/10
Any beach activity you can think of, you can probably find at this cala. Besides the standbys of swimming and snorkeling, there is also SUP, kayak, and paddleboat rental. There is plenty of space to play some beach volleyball or frisbee. It can get windy, so bring your card games with caution.
Another unique activity you can find nearby is horseback riding. There are two different stables right across the road from where you can find the parking lot. I went with friends to Eddis Club Hipico Cala Ratjada and it was a lovely experience of riding horses for 2.5 hours past Cala Agulla, through the pine forests nearby, and to other sea views with paella at the end.
If you want to beat the heat, there are also nearby caves that are a short drive away: Cuevas del Drach and the Cuevas d'Artá.
Swimming: 10/10
This is a lovely place to swim. The water is shallow for a long distance and the bottom is sandy (although beware stubbing your toe on some shallow rocks, this is still a cala after all). It can get windy so there may be more waves sometimes, but all in all, it is a very nice place to swim leisurely.
Sea Life and Snorkeling: 8/10
While Cala Agulla seems more like just a really nice beach, it is still a cala with rocky places for fish to live and hide. I saw many people with snorkel masks while I was there. Fish surrounded us and were even nibbling at me and my friends.
Restaurants and Amenities: 9/10
This cala has all the amenities you need while still preserving its natural beauty.
There are beach bars and nearby restaurants, including one sit-down restaurant on the beach. But there are also more options a short drive away in Capdepera or Artá. Additionally, there are showers and bathrooms. If you forget something, shops aren't too far away.
Nudity: 4/10
This is a more crowded, family-friendly beach. I have not seen nudity there, but I spent the most time at this cala in January.
If you are looking for a nudist-friendly cala, check out Cala Moltó. There were a few people enjoying the sun without any tan lines while I was there.
Safety: 10/10
This cala is very accessible and there are lifeguards. Also, this beach has a flag system to let you know about the water conditions.
For the most part, the water is shallow and calm. It can get windy with more waves sometimes, so check the conditions, but overall, it is very safe to swim. The most dangerous thing I'm aware of are shallow rocks in the water that someone hypothetically might accidentally kick or trip on while playing volleyball in the water.
Hotel Deals Near Cala Agulla