The Mallorcan cook is famous around the world, but the Mallorcan baker even more so. In fact, many people realize that a number of internationally popular treats like ensaimada were originally desserts from Mallorca. If you're exploring the culinary wonders of Mallorca, make sure to try these seven Mallorcan desserts that are all delicious and unique.
Ensaïmada
Ensaïmada is the most famous and popular of all the Mallorcan desserts and Mallorcan foods in general. It was even exported to other Hispanic countries during Spanish colonialism when it was primarily a treat for festivals. You can find it in just about any bakery in any part of the island—not to mention the airport—and it's a go-to for native Mallorquíns at any time of the year. Usually, they bring it as a dessert for large get-togethers, and it sometimes serves as the equivalent of a birthday cake.
Made from a simple recipe of flour, water, sugar and eggs, ensaïmada, like most Mallorcan desserts, also includes pork lard, or saïm, from which it gets its name. Each bakery usually has its own recipe, and proportions of the few ingredients can vary widely. Mallorcans make it plain (llisa) or with filling, the most common versions being:
Crema cremada: a filling of carmelized custard usually considered to be the best variant and my personal favorite as well.
Crema: the same custard filling, just not carmelized.
Xocolat: Nutella or some other chocolate cream.
Cabell d'àngel: literally angel's hair, this is a filling made with stringy squash sweetened with sugar.
Tallades: a variant topped with sobrassada and squash, this one is usually only eaten at Carnaval.
Because ensaïmada is so widespread with so many bakeries making differing recipes, it's hard to recommend an absolute best. However, many native Mallorcans from the center of the island like to go to Forn Sant Francesc in Inca. If you don't want to leave Palma, though, Forn del Santo Cristo is famous for their ensaïmadas, and they have several locations around the city including one on Calle Sant Miquel.
Crespells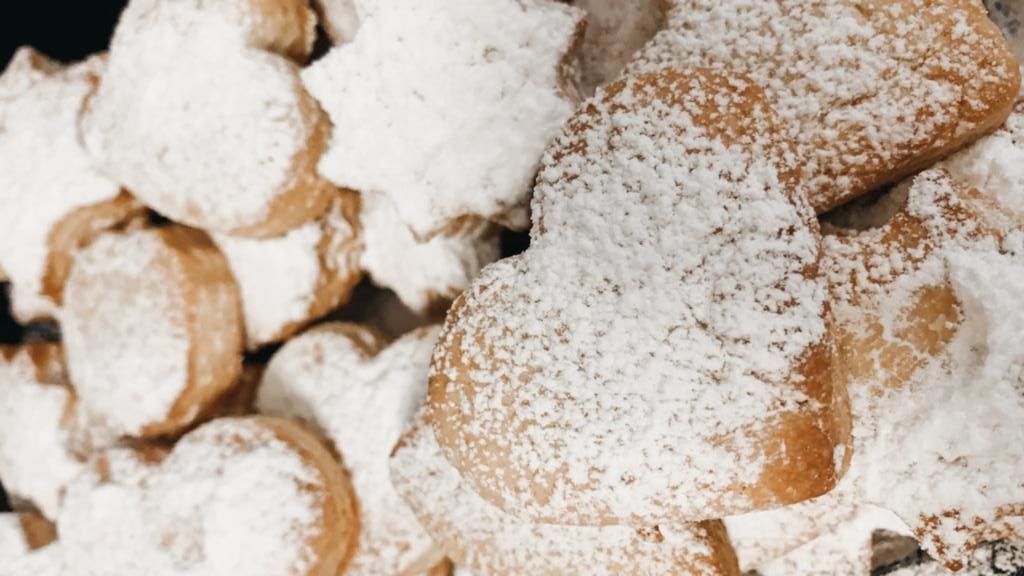 The crespell is the favorite treat of Mallorcan children across the island. Basically a sugar cookie made with pork lard instead of butter and a hint of orange juice, Mallorcans primarily make crespells before and during Semana Santa, the Easter holiday. In fact, just before school lets out, the kids usually spend a day making large batches of these treats in their classrooms, an experience almost as fun as eating them.
Although crespells are mostly an Easter treat, you can get them any time of year at just about any bakery. Since they're so simple, I don't really have a recommendation for you, but I would encourage you to go to a local bakery rather than the supermarket.
Rubiols
The rubiol is another Easter treat normally made with the same dough as panades (aka, empanadas), though some families like to use a sweet dough these days similar to that of crespells. During Semana Santa, Mallorcan families make rubiols as the dessert for a meal of empanadas. The dough is folded over a filling and then closed with signature imprints. The most common fillings for sweet rubiols are:
Apricot jam
Spaghetti squash jam (Cabell d'àngel)
Other fruit jams
Chocolate cream like Nutella
Ricotta cheese
Like crespells, rubiols are relatively generic and available in most bakeries. Just ask around.
Bunyols
Originally invented by Spain's Morisco population, the bunyol, or buñuelo in Spanish, is a fried dough fritter that you can find across the Hispanic world. The Mallorcan variety is a treat specifically made for Día de las Vírgenes on October 21. Normally made from wheat flour, Mallorcan bunyols can also include potato or sweet potato and are sometimes filled with cheese.
In October and November around Las Vírgenes, Mallorcans cook and fry bunyols at home and sell them from their front door. In many towns, you can find stands with people selling them by the dozen. While it's fun to grab some as you're walking down the street in Palma, I'd also recommend going to the Sunday market in Santa Maria del Camí where you'll find some of the best.
Coca de Patata
The coca de patata is a special sweet roll made from potato flour instead of wheat flour. While you can find it around Mallorca, Valldemossa in particular is famous for the treat. People travel to Valldemossa from around the island to have a coca de patata with hot chocolate and granissat d'ametlla, an ice slushy made from almonds. I personally recommend C'an Molinas.
Coca de Tallades
Coca de tallades is a cake Mallorcans usually make around Carnaval. Since Mallorcans have traditionally given up meat for lent, this cake includes sobrassada, the famous Mallorcan sausage, in addition to slices of apricot. While this might sound strange for a dessert, the sobrasada actually complements the apricot flavor for a delicious sweet-and-salty combination.
Coca de tallades is a rarer Mallorcan dessert, but you can still normally find it in bakeries around Carnaval in February.
Es Gató
Don't worry, it's not a cat. Often served with ice cream, es gató is a fluffy cake made from almond flour. That doesn't just make it delicious but ideal for people with gluten intolerances. Unlike other Mallorcan desserts and pastries, it's also lacking the usual pork lard, so vegetarians can give it a try (it does have eggs).
Aside from bakeries, you can usually find gatós in typical Mallorcan cafes, so try ordering a slice for dessert after lunch. Or you can try my mother-in-law's, which I'm partial to.
Dying to Try Some Mallorcan Desserts?
Mallorca is Europe's top tourist destination for a reason, and it's not just the desserts. From beaches to mountains and luxury hotels to villa rentals, there are ways to relax and explore year round, and now new flight routes have made it easier than ever to get here. Take advantage to enjoy island life like a local.
Last-Minute Hotel Deals in Mallorca